For over a month now, the Montreal-Antifasciste website has been effectively banned from Facebook. We're not sure why, but after a month of trying to lodge various complaints via the Facebook interface, at this point we think we need to let you know what we know, as Facebook remains one of the main ways people encounter and access our research.
While we have not been able to figure out why this is happening — and our repeated messages to Facebook remain unanswered — it is clear that our content remains available via other websites. I.e. it is the domain that is being censored, not the content as such. As a result, one thing people in solidarity with us can do to help us with this situation is to repost our content on your own websites so that it can then be shared on Facebook. At the moment, this is one of the most important concrete forms of support groups can do for us.
Another thing we are asking people to do is to try to share our website on Facebook. Facebook will respond with the following error message: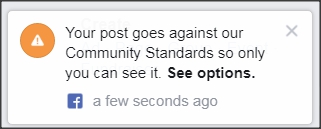 Please then click on the options and request a review of this decision.
We continue to look for long-term solutions to get around this problem, and will let you know as soon as we find one. Thank you for your solidarity, and in the meantime we encourage people to follow us on twitter: 
Postscript:
Anyone who knows anything about far-right movements online is well aware that Facebook has loads of fascists and nazis on it.
In fact, an article this week in
the Independent
has shown how several nazi organizations are completely tolerated by the moderators of this social network, because they "do not violate community standards":
Pages operated by factions of international white supremacist organisations including Combat 18 and the Misanthropic Division were reported, but Facebook refused to remove the content and told researchers to unfollow pages if they found them "offensive".
Meanwhile, a white supremacist terrorist was able to livestream the mass murder of 50 people over a period of 17 minutes without the Facebook moderators intervening to put a stop to the streaming.
And yet a modest little antifascist site from Montreal, which has as its mission to expose nazis and far-right activists to the community, is censored on the grounds of "community standards", with no further explanation given.
Right-wingers are always complaining about being censored by Facebook (which the most fanatical claim is controlled by a cabal of globalists!), but at the end of the day, it's a radical left anti-racist site which is banned by Facebook …
Notice anything fishy here?