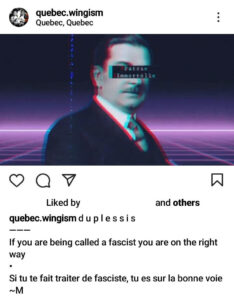 Warning: the following article contains extreme racist and transphobic content.
Almost exactly one year ago, Montreal Antifasciste released an article on the Front canadien-francais, a reactionary nationalist group. In that article, we included a quicklist of about 10 meme pages from the FCF's entourage that gravitated around hardcore reactionary themes – anti-immigrant, anti-feminist and LGBTQ2+, with accents of white nationalism and a strong ultra-Catholic leaning. With names like "Mèmes evangéliste Duplessiste" and "Mèmes clérico-nationalistes du Canada français", such pages provide a convenient way for far-right sympathizers to spread a wide range of reactionary and often racist notions like that of the notorious "great replacement" conspiracy theory (and a whole host of other dehumanizing ideas) to their followers and beyond.
Started in January 2020, the Quebec.wingism page on Instagram (originally called Rightwingism.quebec) is similar in politics and aesthetics to many of the meme pages mentioned above. Although memes are, by definition, meant to be spread, there is also a tendency for whole meme pages to multiply and be copied in style and politics as well. This is particularly the case for Quebec.wingism, which is modeled after other "wingism" pages – two articles have already been written about the beginnings of the wingism pages, reporting that the first Wingism page was started in Canada by a University of Calgary student.
The format is the following: in general there are multiple administrators identified by the first letter of their name, and although the pages purport to provide a platform for a variety of ideas, the range is generally firmly in the far-right spectrum: from eco-nationalism to fascism, often with some neo-nazi imagery thrown in for good measure. Many of the pages seem to coalesce around an obsession with the "great replacement" conspiracy theory, fascism, and a hatred of people of colour, LGBTQ2+ people (most especially trans and gender nonconforming people), and feminists, amongst others. It seems the format was easily scalable, as people from different countries all over the world slightly tweaked the politics and format (memes with fashwave filters and alt-right iconography) to their specific white nationalist context. As such, these pages contribute to the dissemination and development of an international far-right online cultural milieu.
Although Instagram has occasionally purged certain rightwingism pages, many accounts simply rename themselves ever-so-slightly and reopen (it is not uncommon to see "v2" or "v3" next to a name, signifying the second or third rebirth of the page since being banned).
Who are the moderators and entourage of Quebec.wingism? (go directly to the photo gallery)
Quebec.wingism is a meme page cast in that mould – fashwave filters on historical reactionary figures and fascists, Islamophobia, white nationalism, overt racism, anti-feminism and hatred of transgender people, mixed with bog-standard Quebec nationalism. Wingism pages specialize in taking tired and repugnant reactionary ideas and spicing them up with "cool" filters or "funny" cartoon characters, all with the plausible deniability of a good dose of confusionism and "irony". If it sounds like this is building on the cultural accomplishments of the alt-right movement from the USA, we most definitely agree. Wingism pages use the same tired Pepe memes and "based" Photoshop effects that reek of 2015-2019-style online American racism.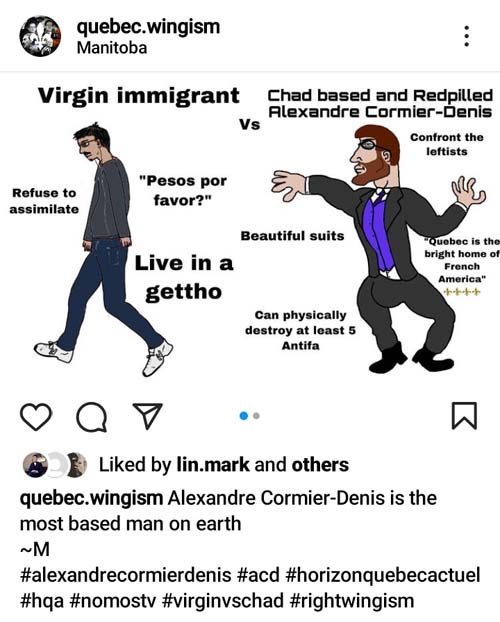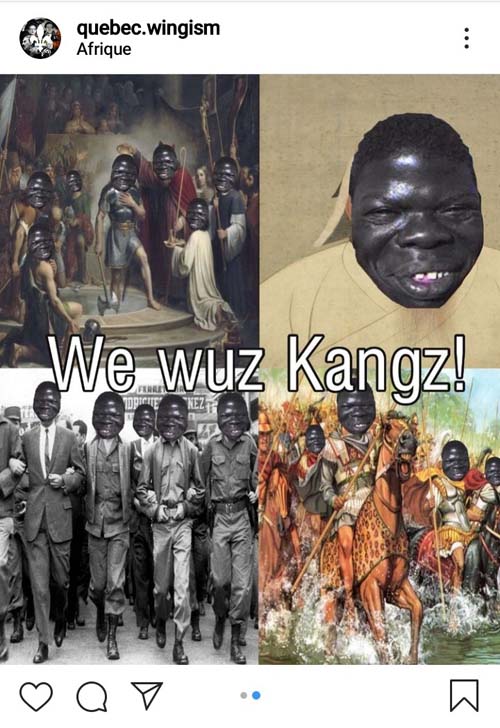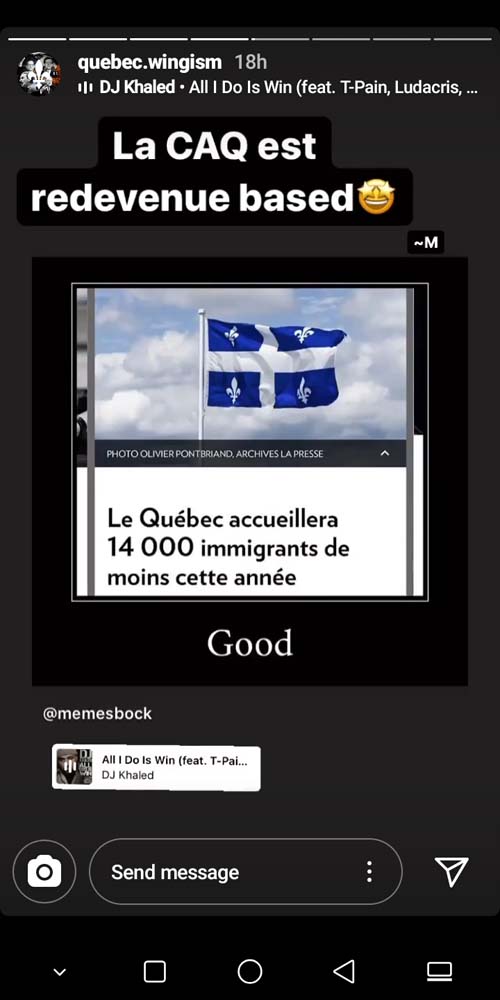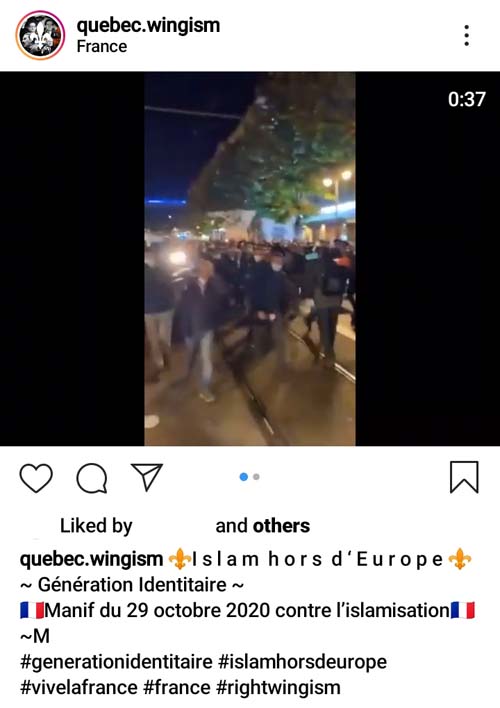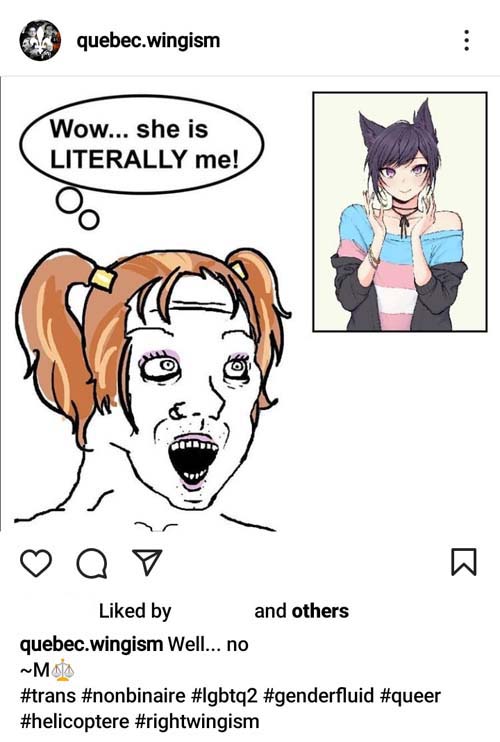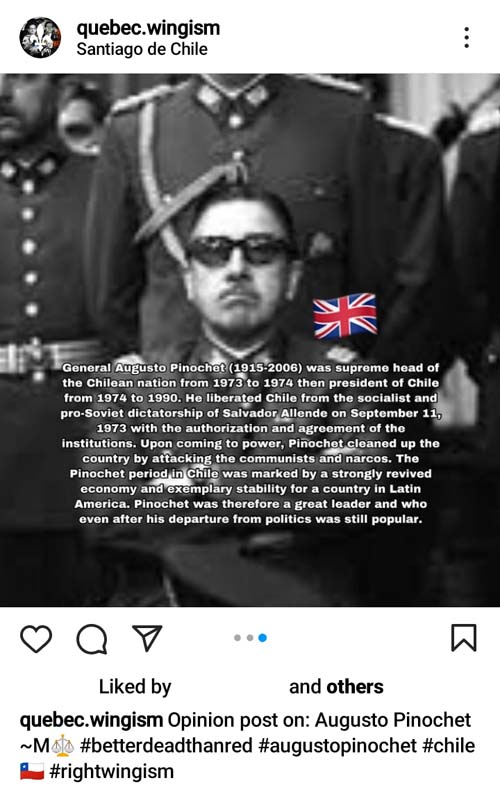 PRIVATE CHAT
When Quebec.wingism announced that they were starting a private chat on Instagram in November of 2020, they allowed a group of 20 or so participants a private window into their unfiltered thoughts, their strategies, and their entourage. Montréal Antifasciste has procured access to the chat, which has been ongoing for six months, and which provides insight into their campaigns of online harassment, moments of participants unwittingly self-doxxing, and even revelations of members' involvement with white nationalist groups like Génération Identitaire in France.
The "great replacement"
The predominant topic of conversation is the "great replacement" conspiracy theory. The theory, that elites in Western societies are purposefully flooding countries with "mass" immigration to "replace" white populations with immigrant people of colour, is a logical obsession for the far right in the West (reflecting anxieties felt throughout white "mainstream" society, as can be seen in the work of reactionary columnists like Mathieu-Bock Côté.  Like many conspiracy theories, this "great replacement" theory is based on an observable fact – there is definitely more mixing and migration from different parts of the world, which means that the relative percentage of the population in Western countries that could be defined as "white" is slowly declining. The conspiracy part of this theory is false, however, because this demographic transformation isn't a concerted effort driven by shadowy elites (often identified by the adherents of the theory as an elite cabal of Jewish people, with obvious antisemitic undertones) to cause a decline in the "white" population, it is the result of changing immigration patterns, the ongoing economic and ecological consequences of the devastation Global North countries have inflicted on the Global South, and the history of colonialism – and quite frankly, even barring these factors it would be a perfectly normal phenomenon stemming from an increasingly mobile world population.   The "great replacement" theory is very similar to other conspiracy theories of the past, having essentially the same themes as the "white genocide" and "Kalergi plan", theories that pop up sporadically in extreme right and white supremacist circles and which have no basis in reality.
Generally, Quebec.wingism and their followers try to intellectualize their racist concern about the ethnic makeup of Québec by giving two explanations for it: the first is that they say they want Québec to remain "as it is" to protect its culture. This varies in definition for them, but the large majority will specify this as white, Catholic and francophone. However, it is clear that they don't want society to remain as it is at all – they actually want a return to an imaginary, idealized version of Duplessis-era Québec, where the Catholic Church has great influence over the state and people's lives, women make babies on demand, and politicians behave as dictators. This nuance belies the hypocrisy of their claim to want to keep Québec as it is – they actively want to change Québec to a different regressive period and politics, which goes against what Québec is today (and even what Québec was then).
Their second reasoning is that they place the blame of the lack of interest in Québec sovereignty squarely on the shoulders of immigrants – they believe that as demographics shift, people will no longer be interested in Québec becoming a separate country. To which we have not much to say, other than that if your vision of a new independent country is deemed unappealing by the overwhelming majority of newcomers (including many who are not anglophone, who speak French, and who come from a variety of class, cultural, and political perspectives), maybe that says something about your political project.
Indeed, white anxieties about increasing numbers of racialized immigrants are a phenomenon prevalent throughout the white settler-colonies and Europe, and represent a cornerstone of far-right thought throughout this "white world"[i]. Such a development does indeed make their political goals more difficult to attain – wedded as they are to a vision of white majorities and white privileges, themes unlikely to appeal to large numbers of people of colour. Furthermore, systemic racism and white supremacy benefit white people in numerous tangible ways: better access to hiring and employment, less profiling and brutality from the police, better schooling, better healthcare, better access to loans. All of these injustices are already being resisted by racialized people, and this resistance will only become stronger if the majority of people don't identify as "white".
The fact that the "great replacement" theory that is so crucial to their analysis has inspired several white supremacist attacks all over the world, most notably the mass murder in Christchurch, New Zealand [ii], seems not to cause them to hesitate one bit in continuing to use it in memes, arguments, or as the ideological basis for their political worldviews.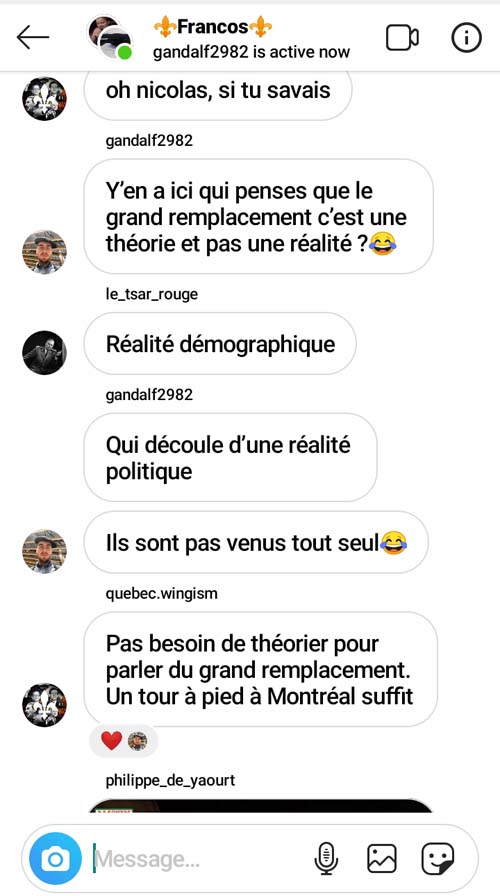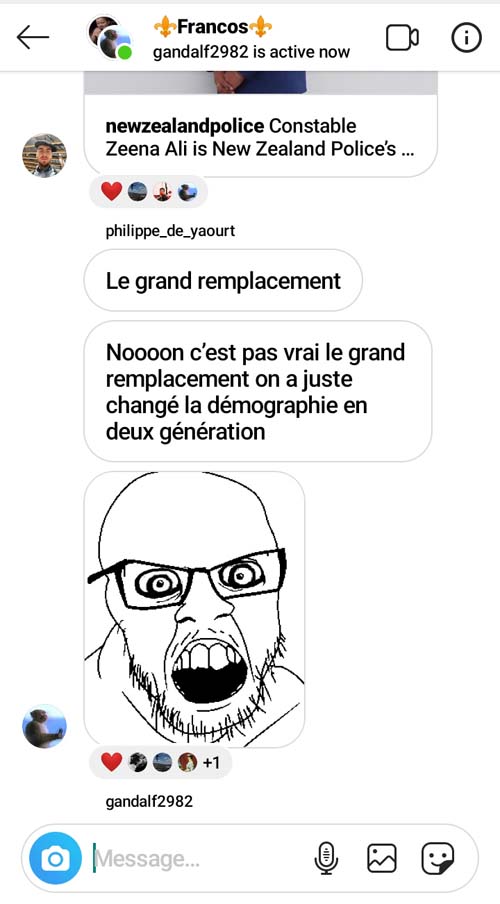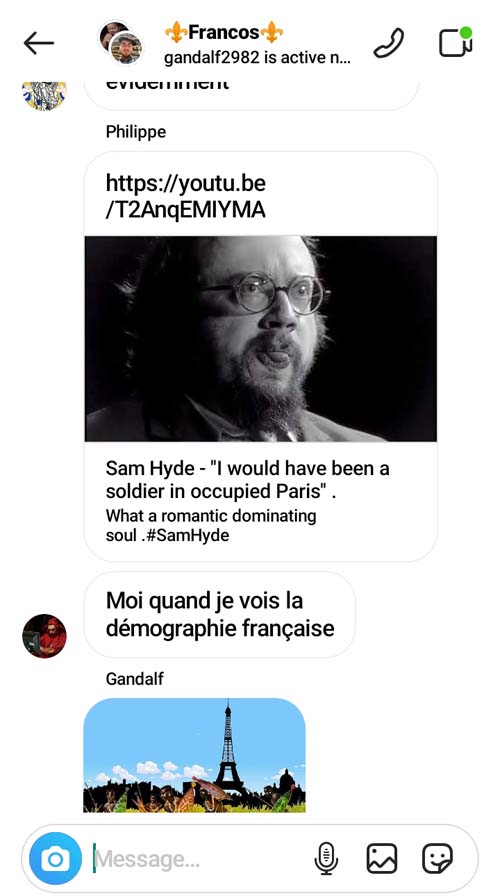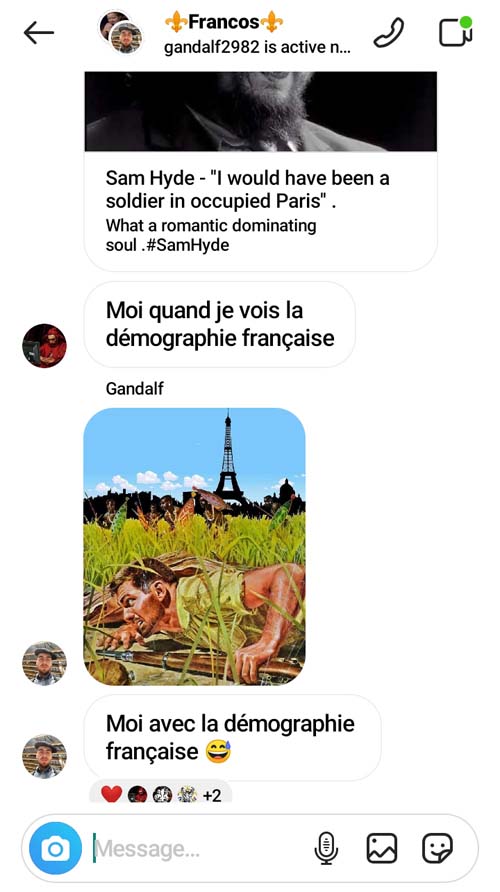 The Quebec.wingism moderators and entourage are obsessed with the "great replacement" (even if most of them don't seem to believe it is a conspiracy enacted by elites). They return over and over to the importance of the racial makeup of Québec, going as far as to say that if Québec isn't white and French, it "no longer will be Québec". As we will see later in this article, Quebec.wingism and their entourage bask in their own racism, and seem to get joy out of spreading dehumanizing memes of Black people and immigrants, even going on other mainstream Instagram, Facebook, and Twitter pages to spread their hatred.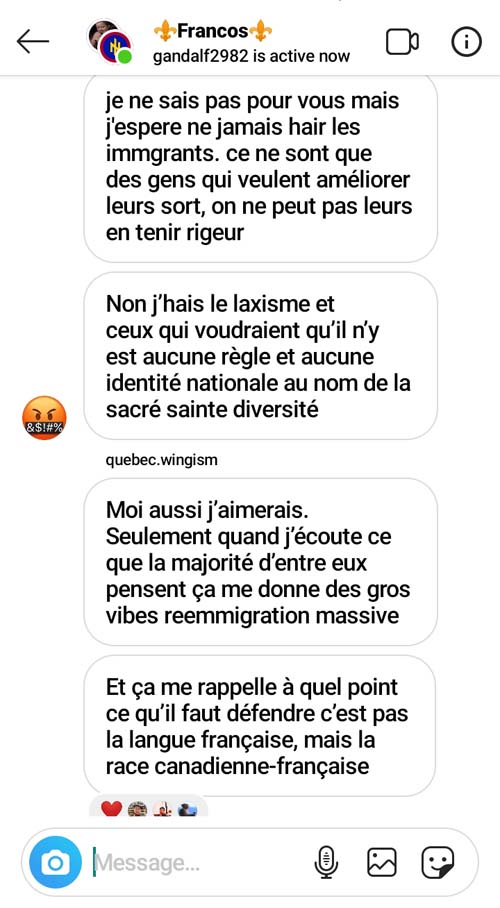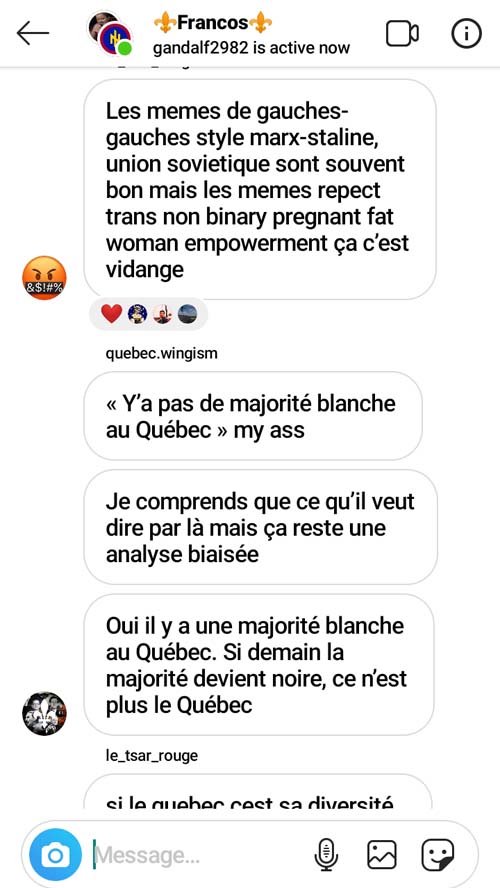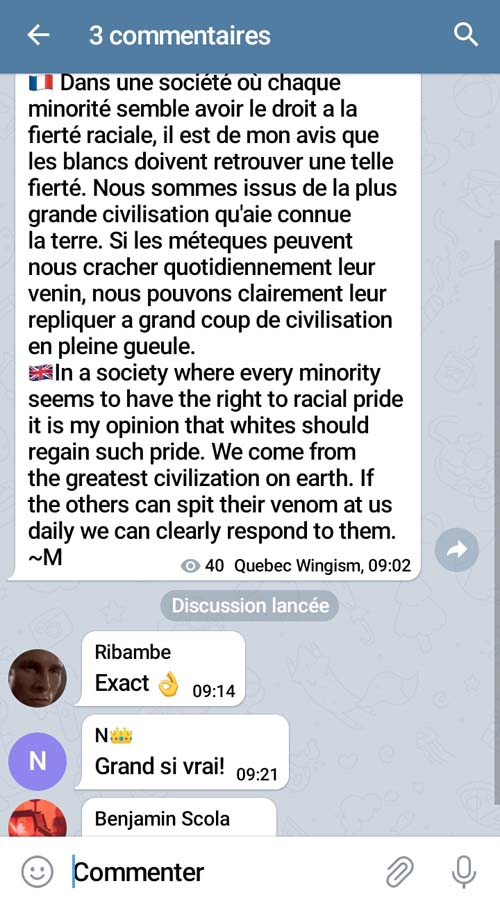 In fact, Québec sovereignty in itself seems far from being the top priority for this group, whereas racism, anti-immigrant, anti-feminist, and anti-LGBTQ2+ sentiments (especially anti-trans and gender nonconforming people) are at center stage, with sovereignty (and fascism) seemingly being proposed as means to an end to their reactionary dream project: a traditional and openly white supremacist Catholic state explicitly tied to the "French Canadian" ethnic group.
Transphobia
Also similar to the alt-right in the USA, transphobia and rigid gender norms are an important part of the discussion. Members of the chat are sickened by the mere existence of trans people on the web – they have dehumanized trans people to the point that they applaud their suicides, talk about putting them in camps/shooting them, with a consensus that they are suicidal because being transgender is in their view a mental illness (never once acknowledging that trans people's subjection to harassment, discrimination, and violence/murder contributes massively to mental health and depression).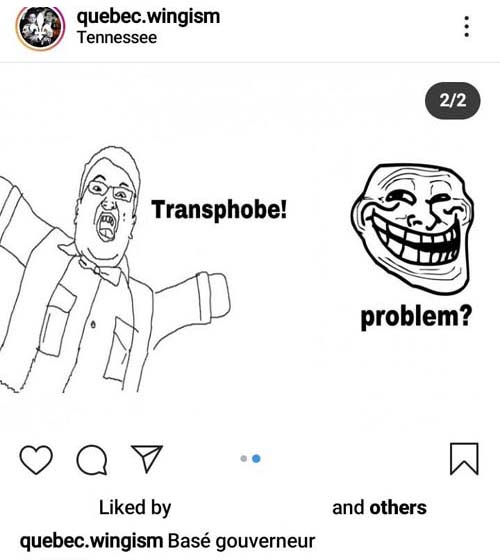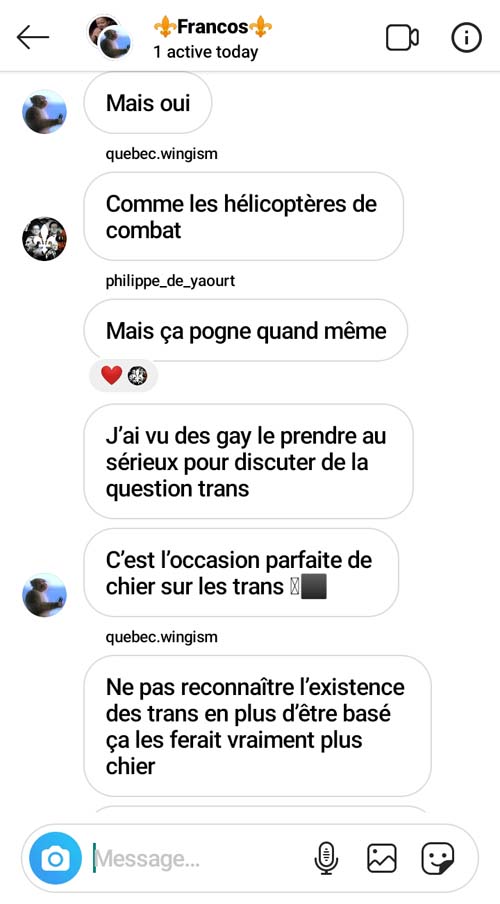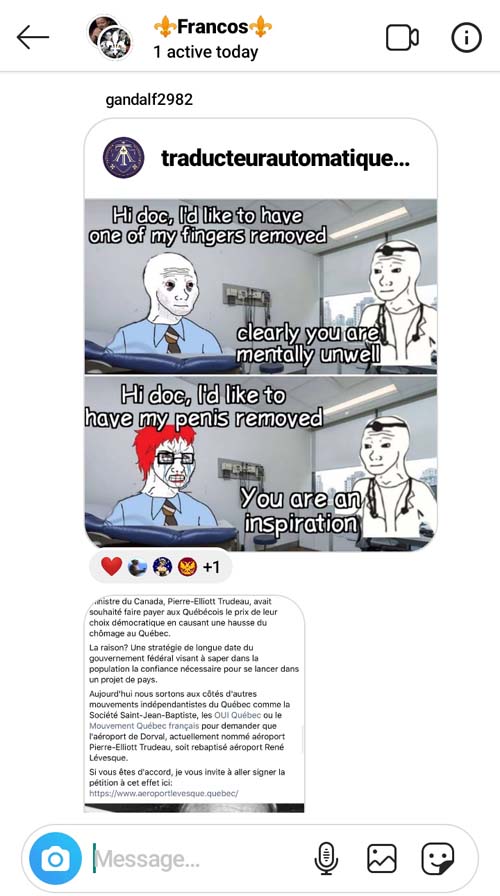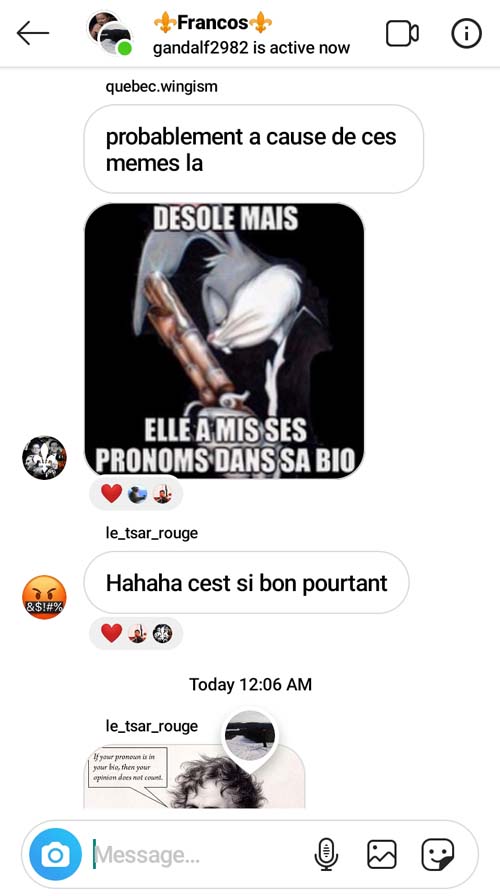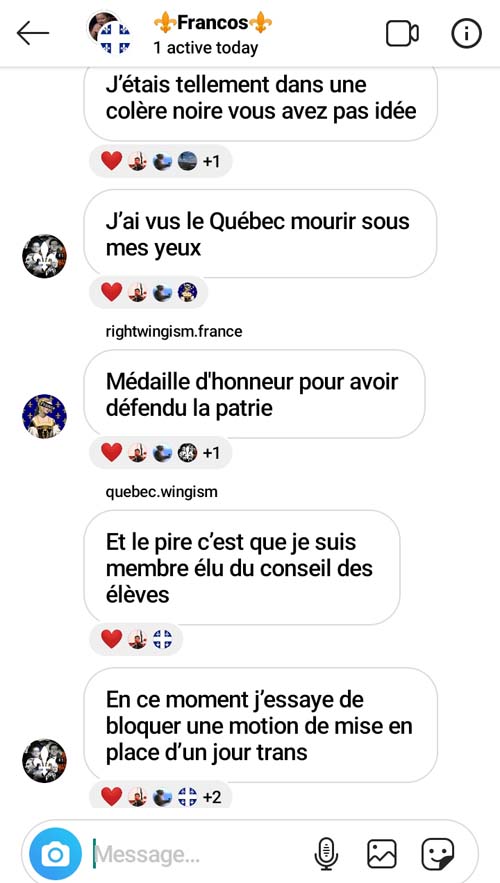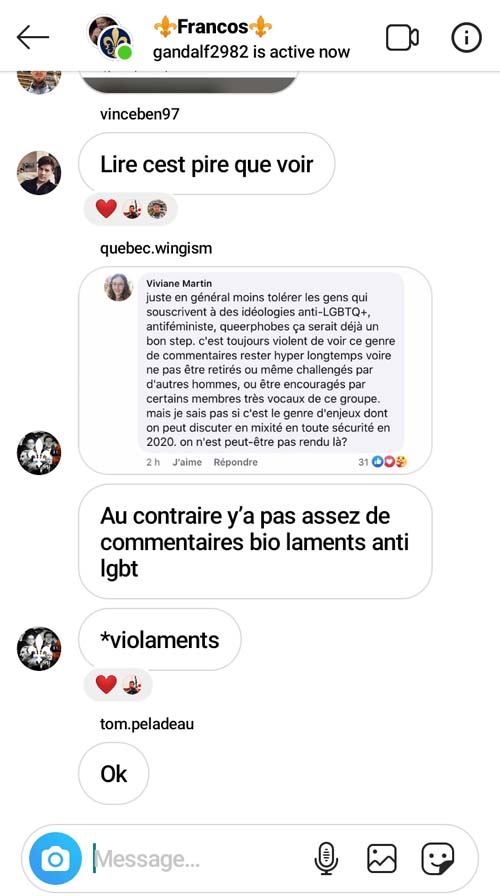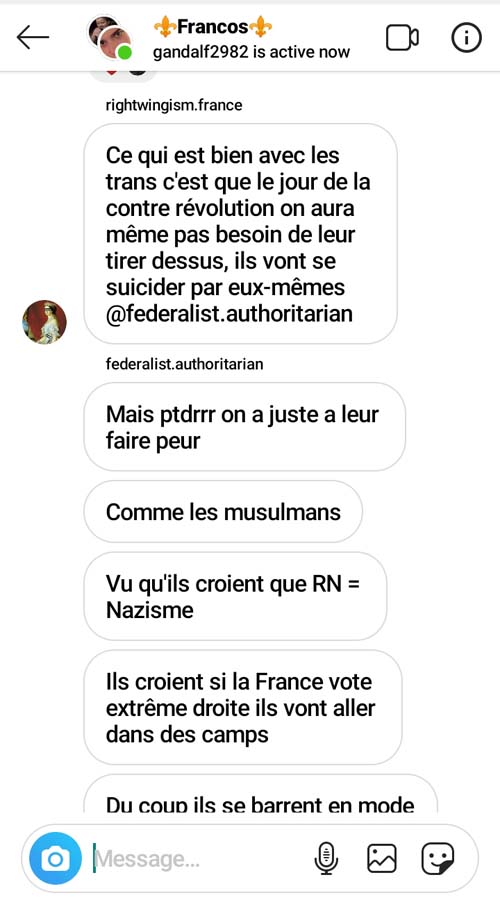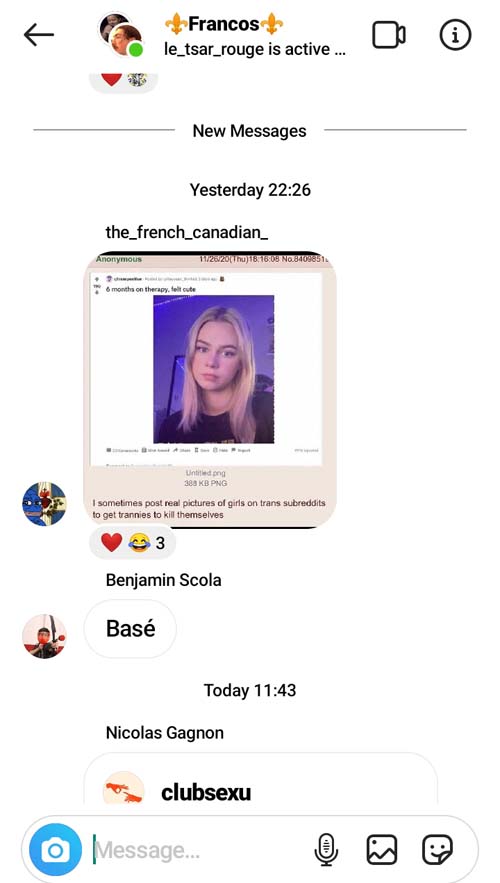 As with racism, while they craft long-winded explanations for their hatred, they in fact take joy in their transphobia, organizing "raids" on trans folks' Instagram pages to deadname them and harass them as a group. Although Quebec.wingism and their followers would never acknowledge their white cis-hetero privilege, surely harassing vulnerable communities without any understanding of the gravity and violence of what they are doing is a form of it. And, predictably, it is always these people who cry out about harassment when articles detailing their activities (like this one) surface.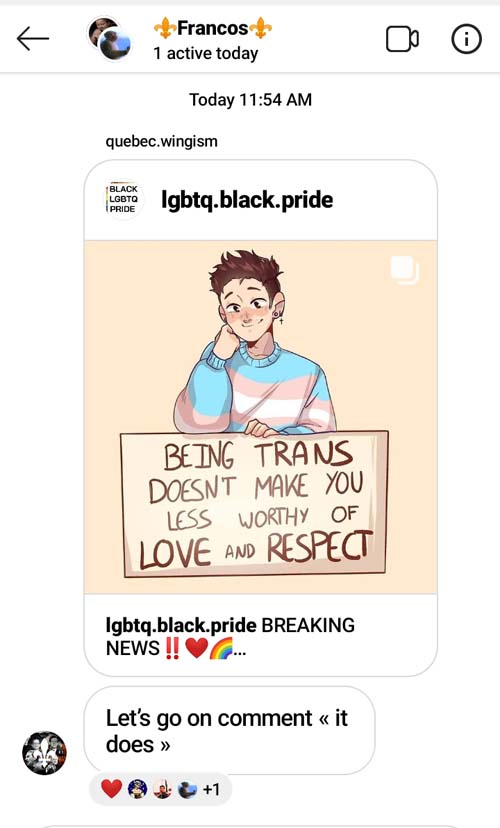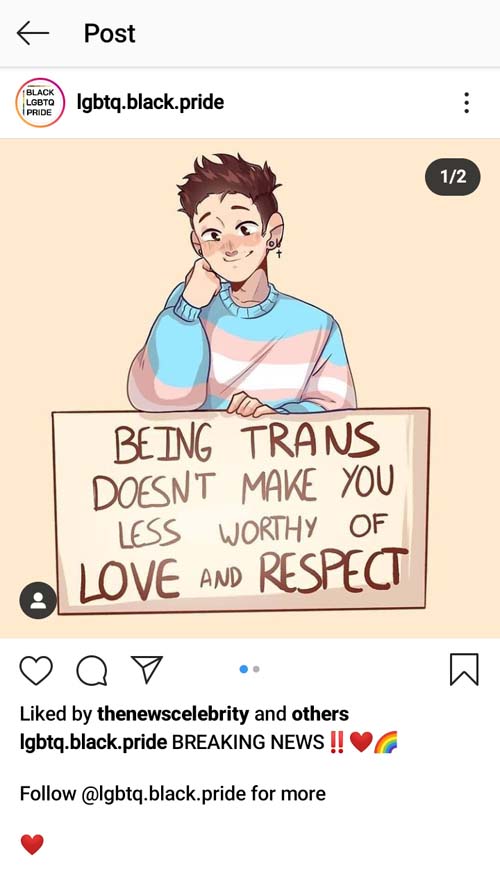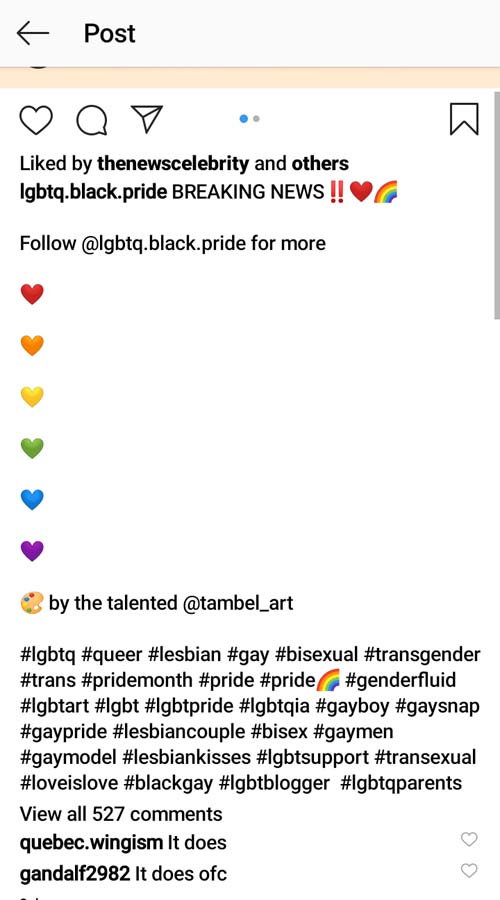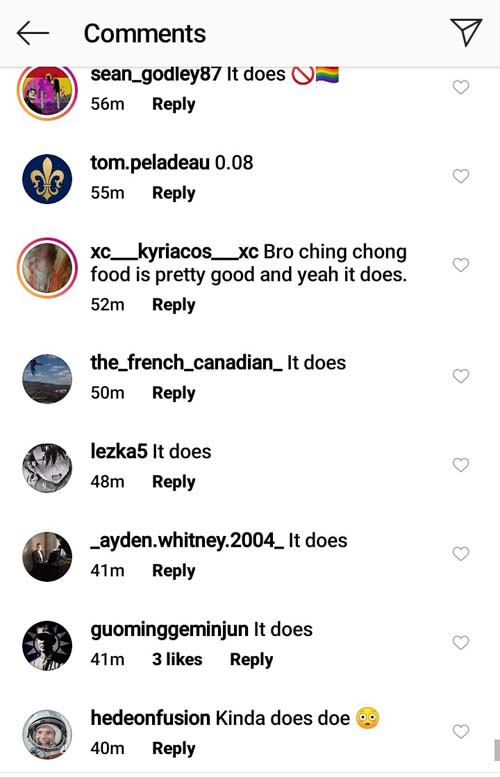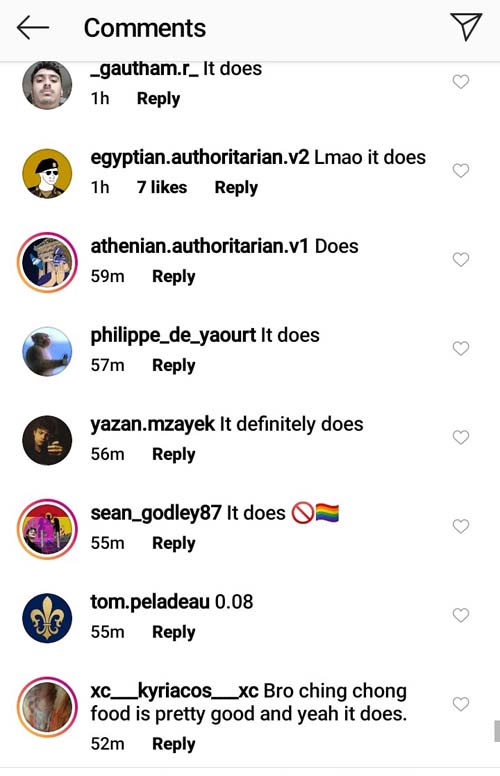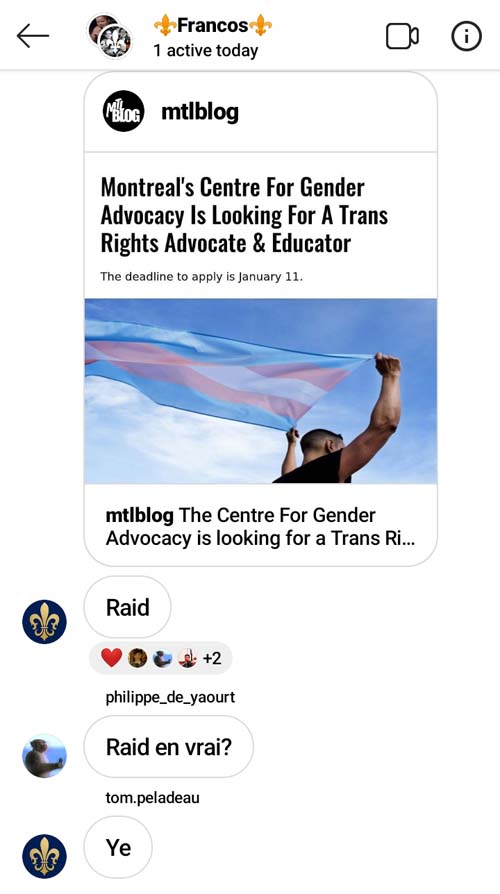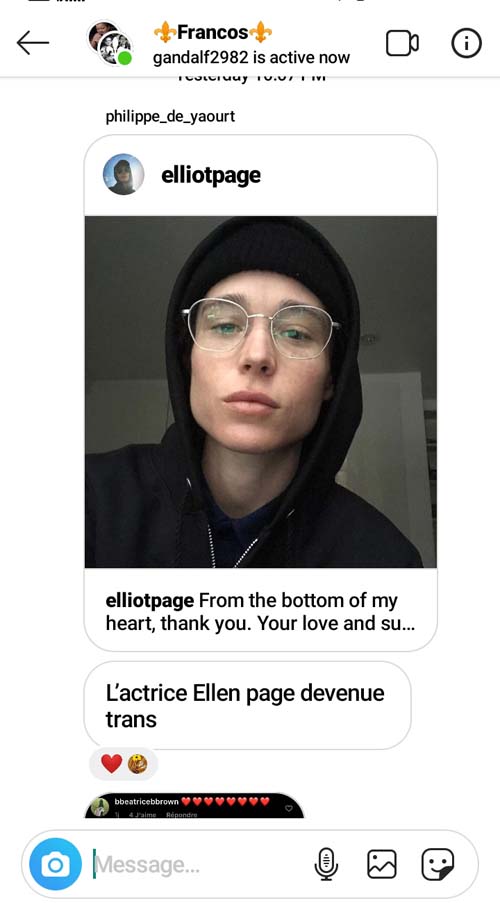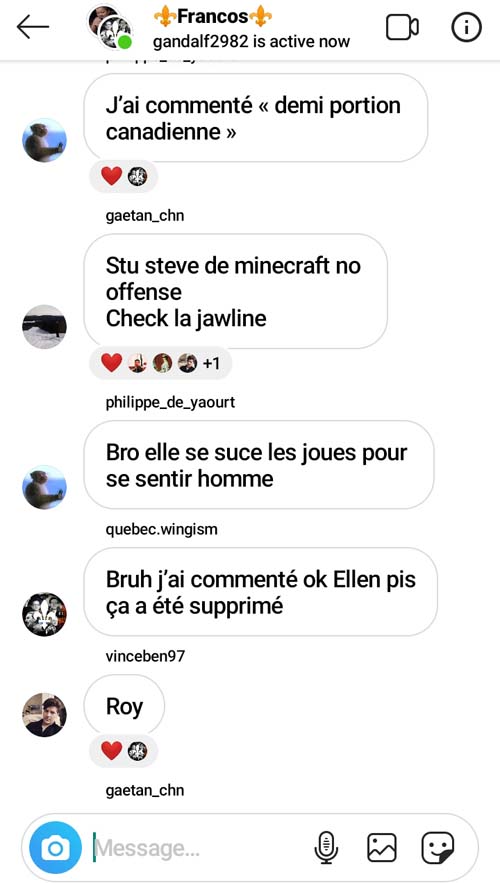 Anti-Black racism
Although much has been said above about white nationalism and the "great replacement" theory, one can't have either without dehumanizing the people that must be excluded from an idealized white society. This manifests itself in extreme racism, predominantly anti-Black racism. Whether mocking the death of Black people at the hands of the police, rejoicing over the use of the N-word, projecting criminality, rape, and backwardness as innate Black characteristics, Quebec.wingism and its gang of hangers-ons spew out the full spectrum of dehumanizing bile.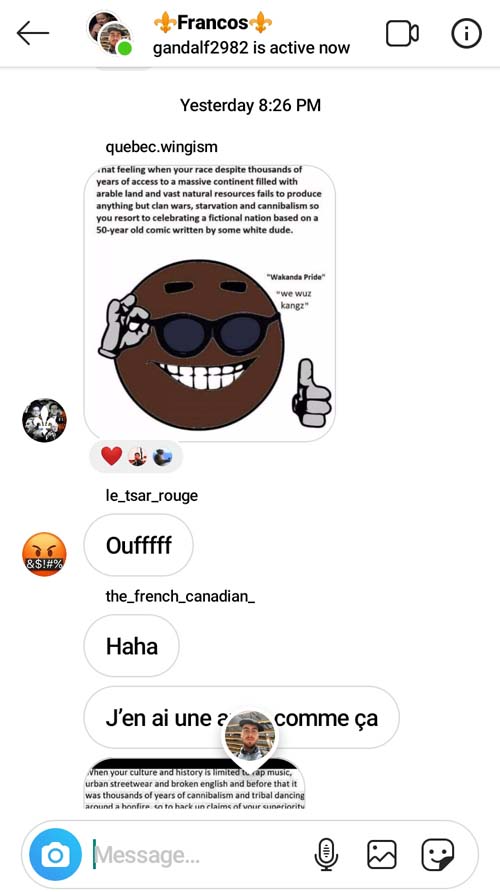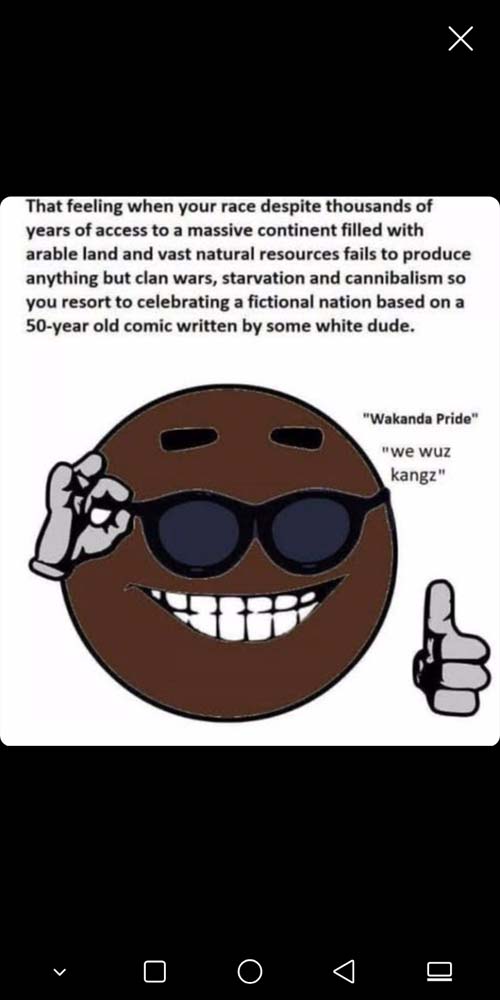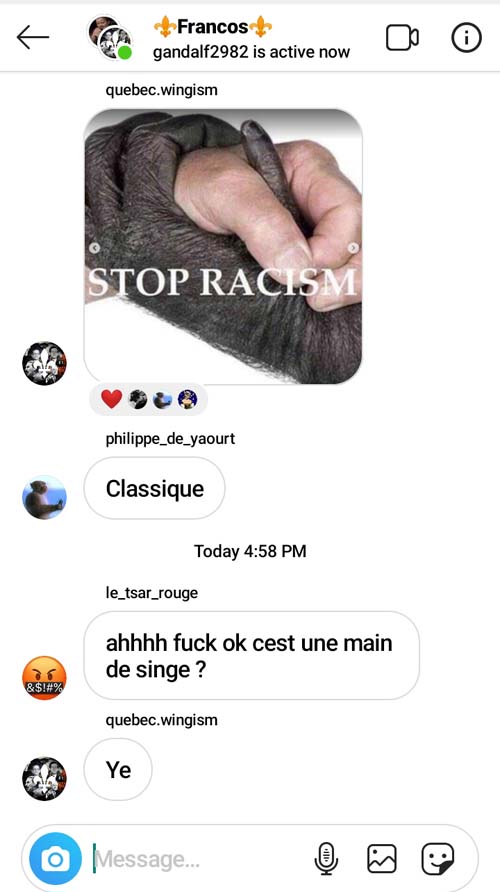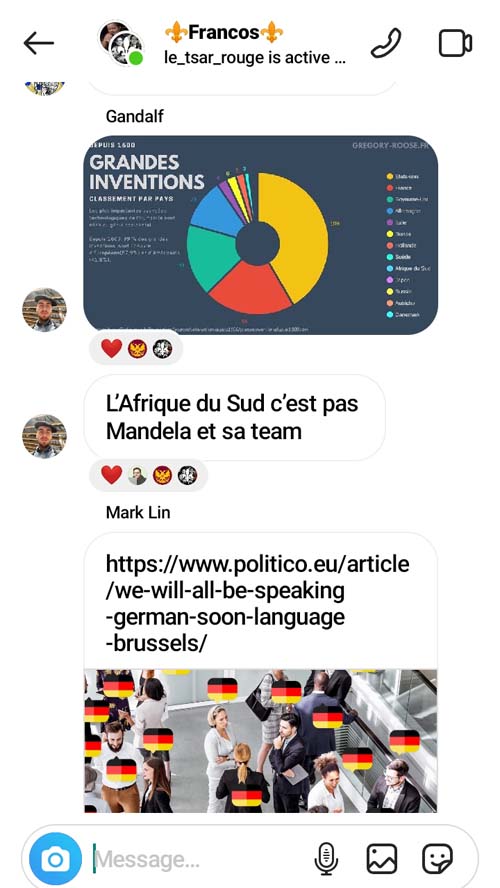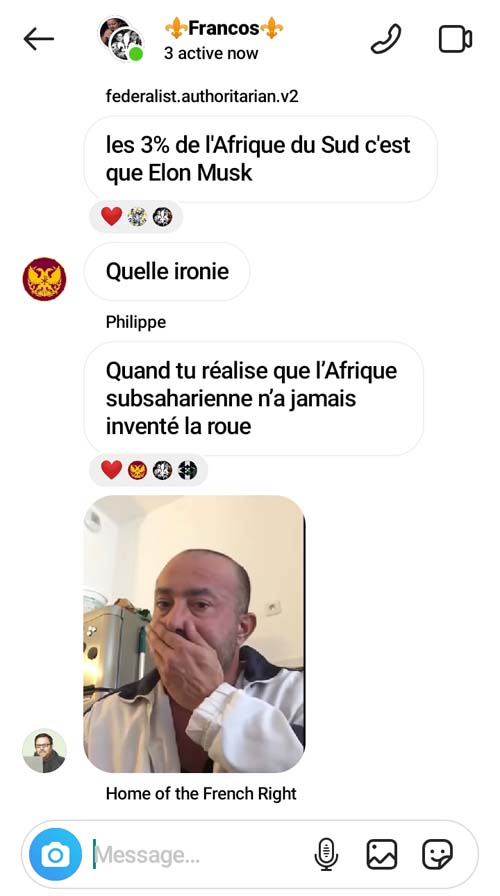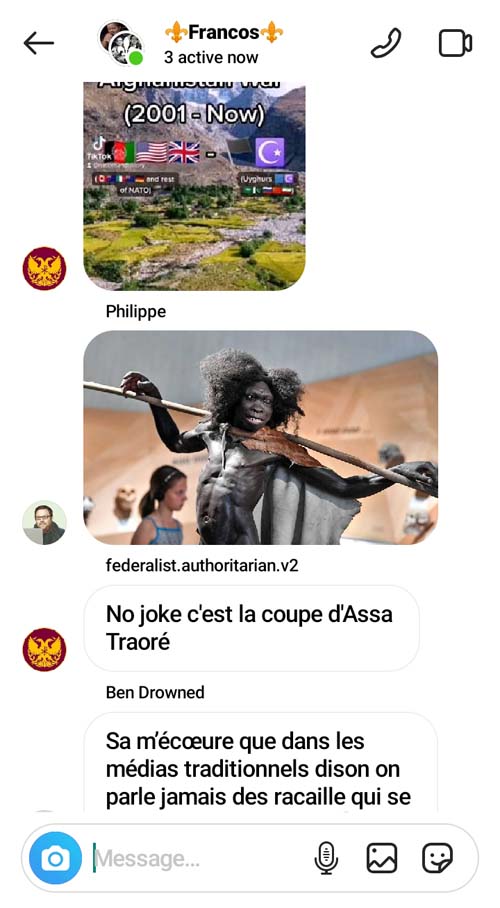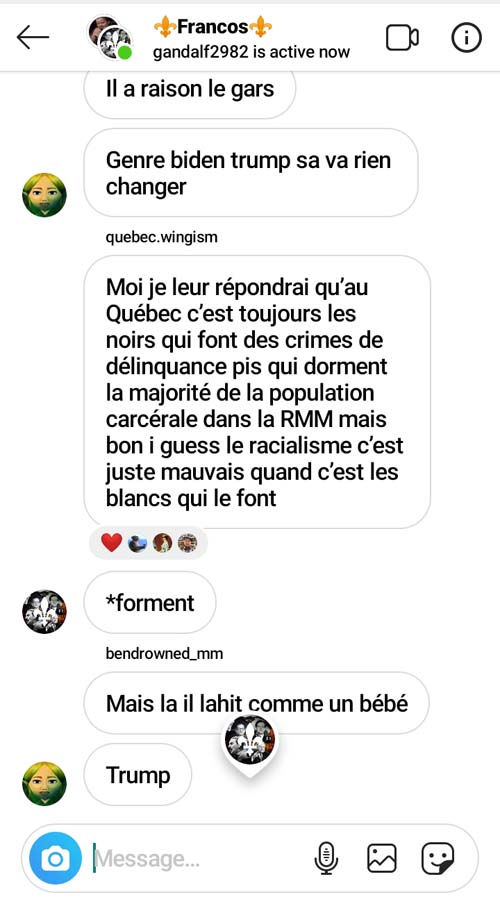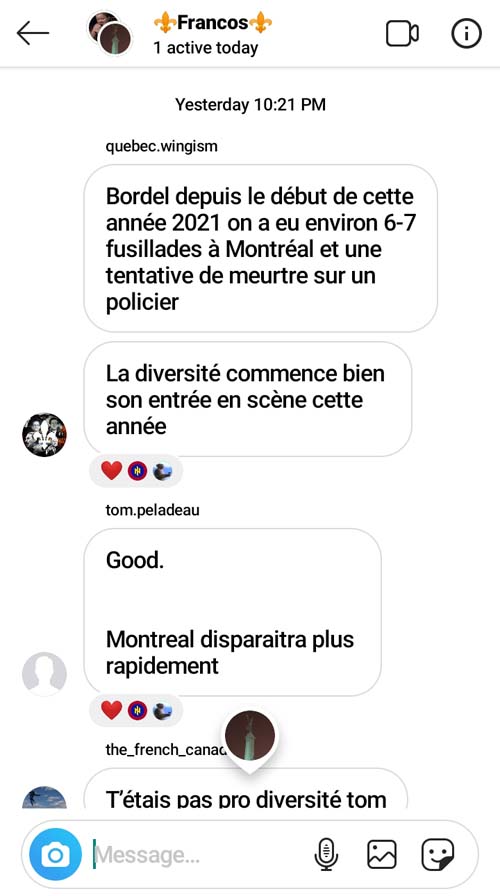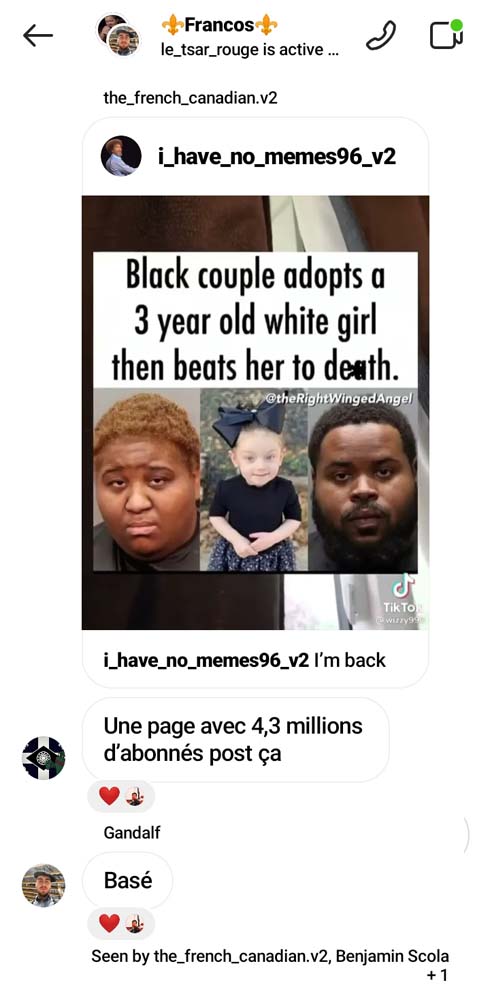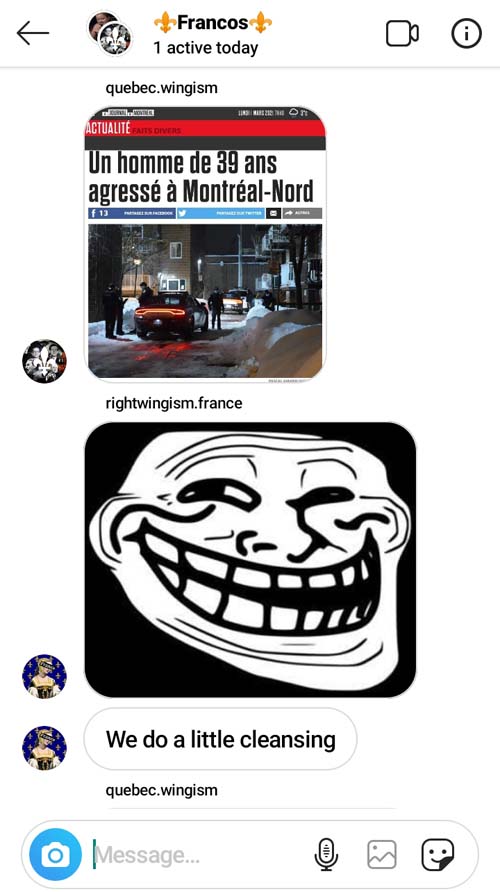 The trial of Derek Chauvin (the police officer convicted of murdering George Floyd) provided another good example of the way Quebec.wingism attempts to promote their politics in public – suggesting that "all they are saying" is that George Floyd is being elevated to the status of a saint – then having the comments section fill up with racist commentary (racism being the true political message of the post). This, juxtaposed with Quebec.wingism's true feelings on the topic in private conversations, completes our understanding of this tactic.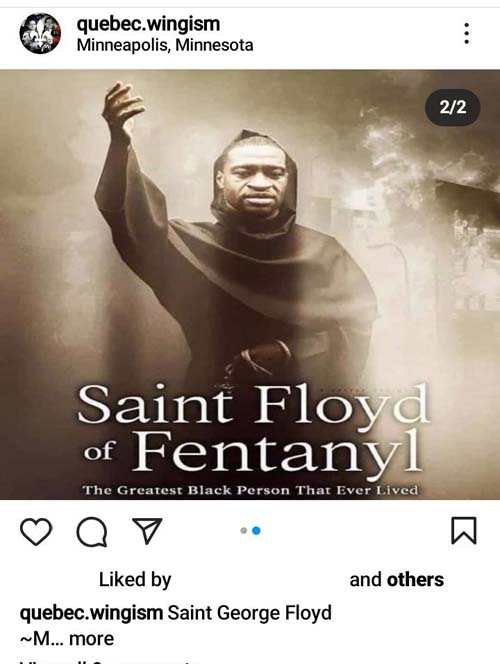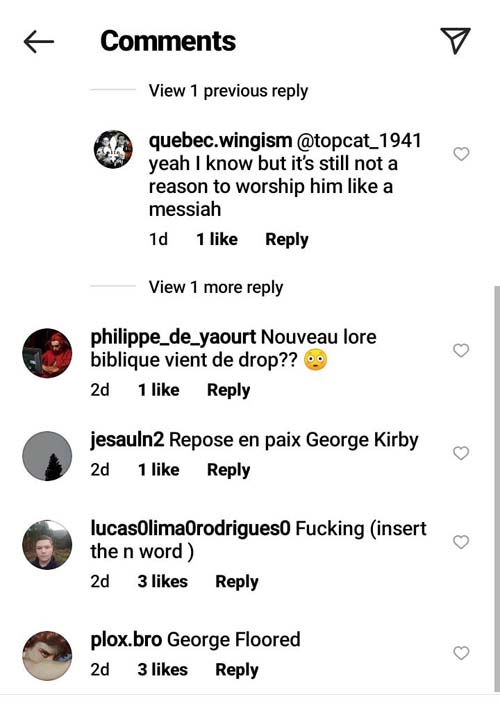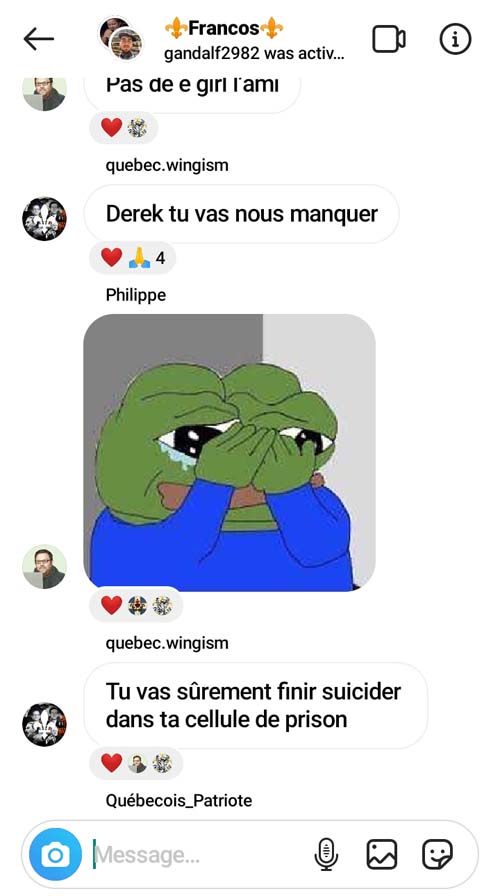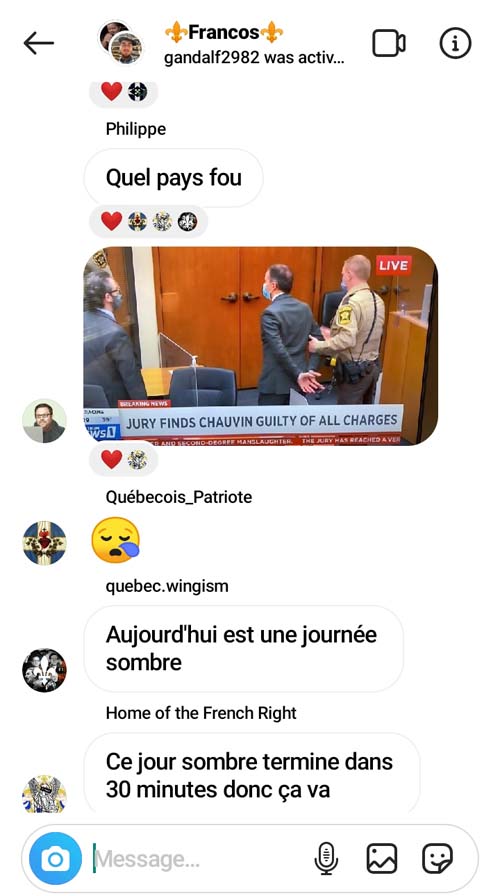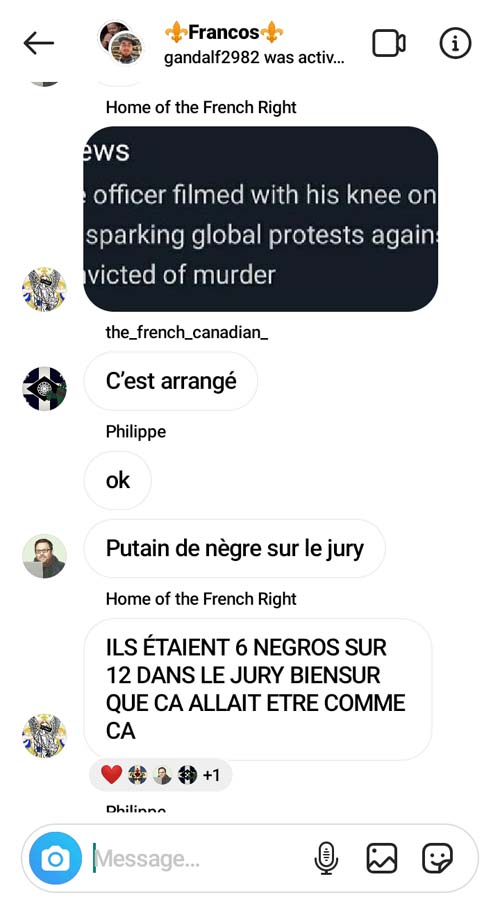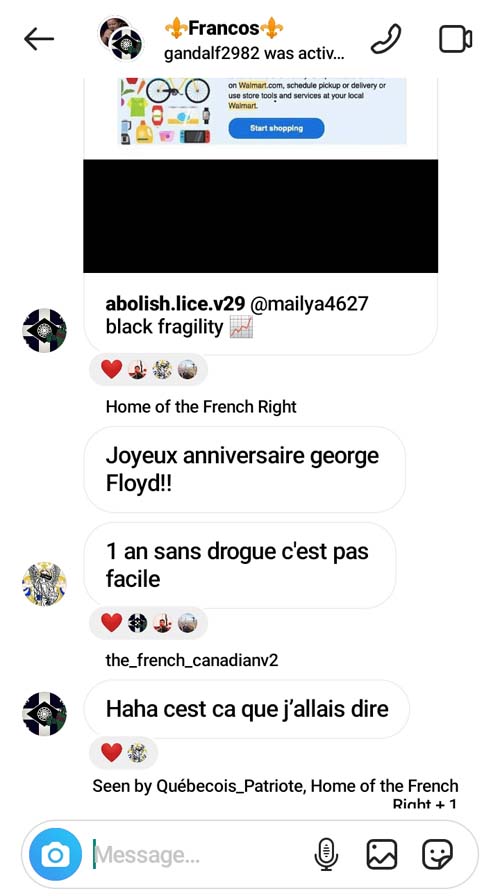 Their influences
As we will see later in the article, the participants tend to be young – mostly around 16-20 years old. It is striking that they became white supremacists at such a young age – a sad commentary on the prevalence of racism and the viciously anti-egalitarian tendencies in white culture (in Québec, as elsewhere). Another noteworthy aspect of their discussions is that they use the lingo from the alt-right –basé (based), redpillé (red-pilled), notregars (ourguy) – peppered throughout their conversations. Their strategies also repeat those of certain tendencies within the alt-right – whether it's by lending a "respectable" face to white nationalism in public by eschewing the tattoos and shaved heads of types like Atalante, these are guys who avoid national socialism (partly because it "turns people off") and hide their "power-levels" (here, code for white nationalism/supremacy). They also employ the confusionism so prevalent in the alt-right – purposefully cloaking everything in jokes and irony to enable them to deny they mean what they say.
Although none of the participants on the chat identify as neo-nazi – in fact they claim to repudiate national socialism – they have no problem including nazi imagery in their memes, for example this Québec flag mixed with the nazi "black sun" (sonnenrad). Although it is easy to dismiss these types of images as a joke, this is precisely part of the strategy used by the alt-right and the Groyper movement – to slowly push more and more far-right content into mainstream contexts, with the goal of shifting the contours of public debate (the so-called "Overton window"; https://en.wikipedia.org/wiki/Overton_window) rightwards, thus making the formerly politically taboo seem mainstream.
The Groyper Army
The Gr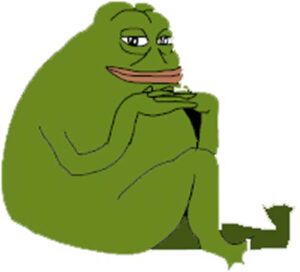 oyper movement (known as the Groyper Army) is a white nationalist movement started in the United States which attempts to rebrand white supremacist views as a return to "traditional values" like Christianity, and to reframe their racism as a desire to preserve the perceived white identity of their country. They also are quick to re-characterise any attempts to fight systemic or individual racism such as promoting diversity in hiring or advertising as "anti-white racism", moving the goalposts of discussions about how to fight racism into a debate over their new complex nonsense-world of anti-white racism, which takes time and good-faith dialogue to debunk (something severely lacking on the internet, especially with far-right trolls.
The Groyper movement fits Quebec.wingism like a glove – whether it's their "reject modernity/embrace tradition" memes, their insistence that Québec is fundamentally a Catholic nation, their obsession with white nationalism, their transphobia, or their entryist strategies with political parties and other groups. While someone who is not well versed in the current forms of far-right thought in the United States might mistake Quebec.wingism for an organic movement of free-thinkers, it is merely the latest incarnation of tired old racism.
Another major influence for Quebec.wingism and their entourage is Alexandre Cormier-Denis and Nomos.tv – they mention him and his show almost daily in the chat with glowing reviews. The main administrator (M) of Quebec.wingism is even quoted as saying Cormier-Denis is the reason he has the politics he does! The group chat mentioned Nomos.tv and Alexandre Cormier-Denis over 60 times and discussed inviting him to come to imagined future events (like their friends from Front canadien-français did).
Alexandre Cormier-Denis is a somewhat popular extreme-right propagandist, a sort of Québécois version of Marine Le Pen and the Rassemblement national (formerly known as the Front national).  With his Nomos.tv YouTube channel, Cormier-Denis is one of the biggest cheerleaders of a racist version of ethnic nationalism along with the "great replacement" theory in Québec.  He (as well as Philippe Plamondon) are the leaders of Horizon Québec actuel, a kind of Québécois version of Rassemblement national.  Cormier-Denis is also known for running in the 2017 provincial elections for the "Parti indépendantiste", a political party regularly criticised for it's proximity to known neonazis.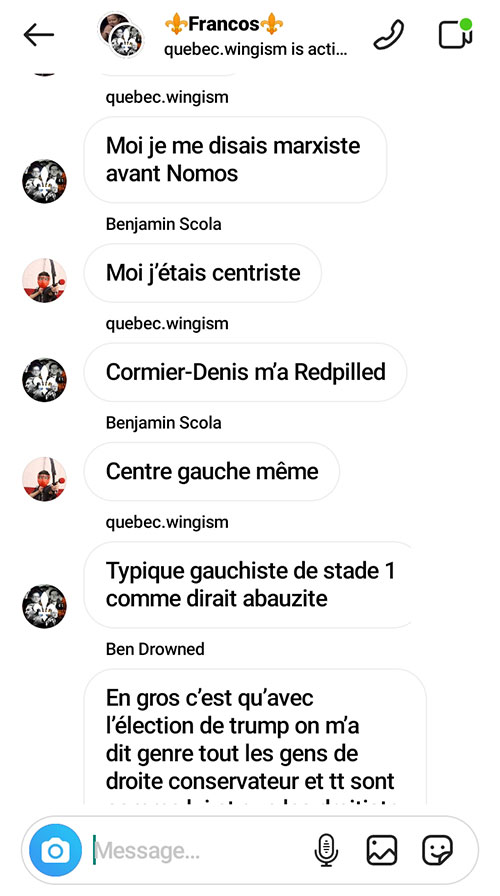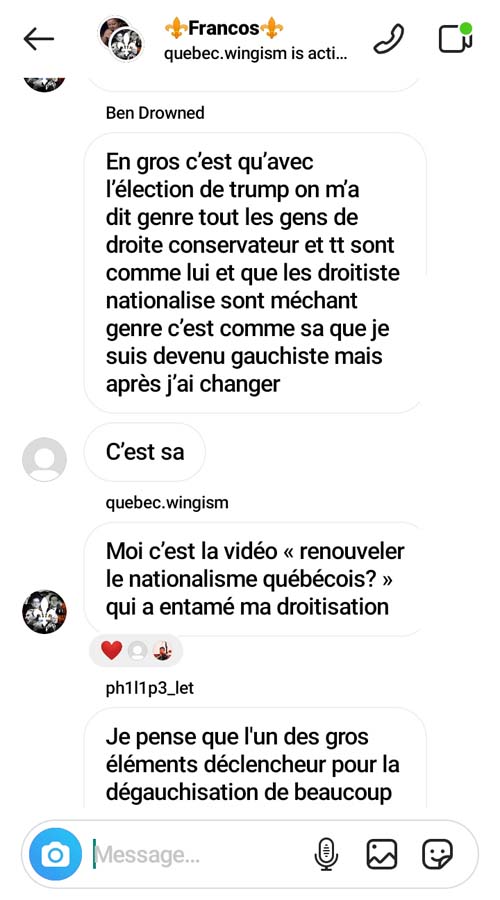 The beginning of the end of their anonymity
Quebec.wingism has three admins – identified only as "M", "D", and "H". Each of their posts to their public Instagram page are signed by their initial. It is clear that M is the main force behind the page, posting easily three-quarters of all content. He also is the most vehemently racist and transphobic. We can see that administrator "D" also runs the eco-nationalist @innawoods.qc page. Meanwhile, "H" posts nearly nothing and is almost completely inactive.
Identifying the three admins took some patience – they all fiercely guard their anonymity (although as we will see, some more than others) and are terrified of being doxxed. Unfortunately for them, "M" made a number of mistakes in the public chat, starting with a screenshot he posted of an argument he had with people at his school, where someone refers to him as "Mathis" (and we can see Mathis' profile picture has MD, indicating a last name starting with the letter D). Although this was enough to point us to Mathis Dubois-Lévesque, he ended up providing much more.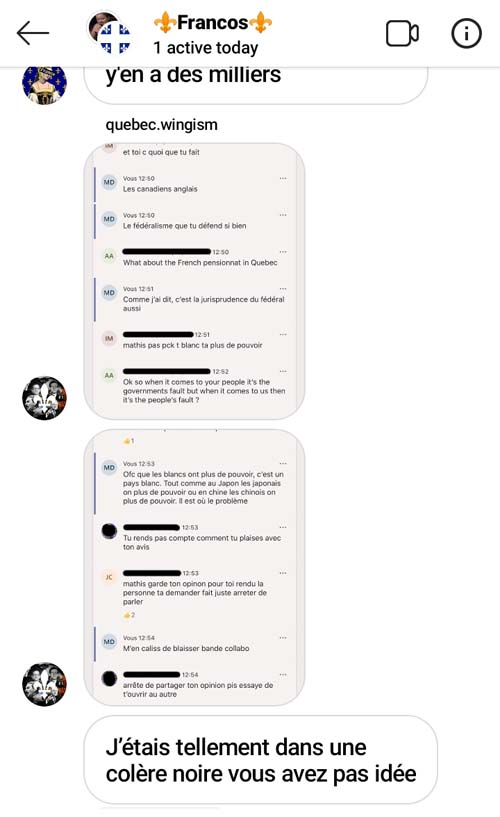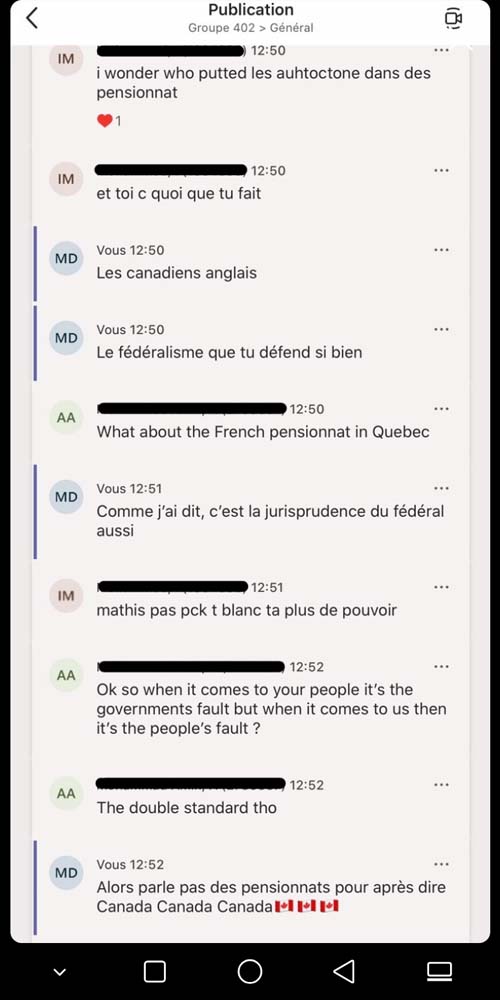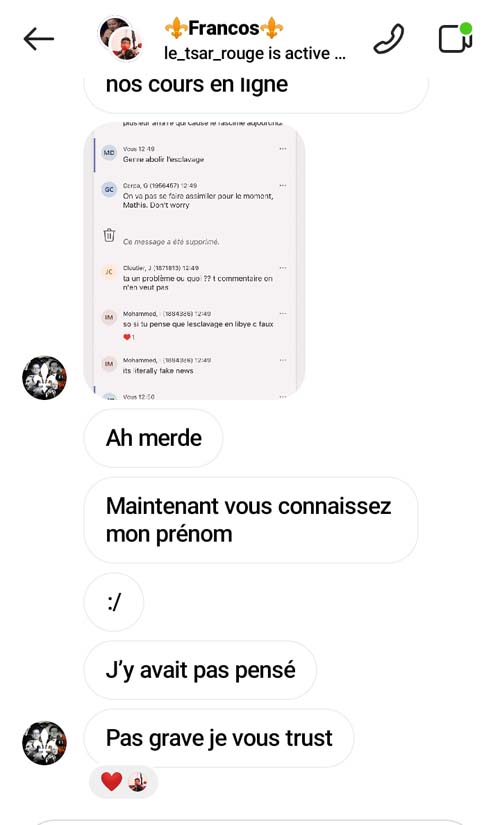 Fast forward five months later, and Mathis announces that he is going to the May 21st, 2021, "En français, c'est non-négotiable" protest organized by the Mouvement des jeunes souverainistes (a group that his buddies from the Front canadien-français were kicked out of, not that this stops them from being allowed to participate in MJS protests, oddly enough…). After attending the protest, Mathis self-identifies in the group chat as "the one wearing the tie" – and indeed, we can see Mathis Dubois-Lévesque wearing a tie (very out of place for a protest).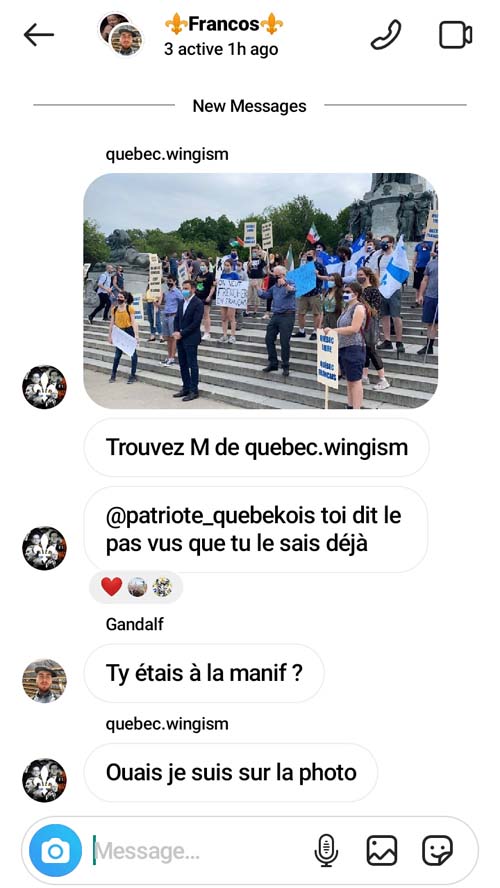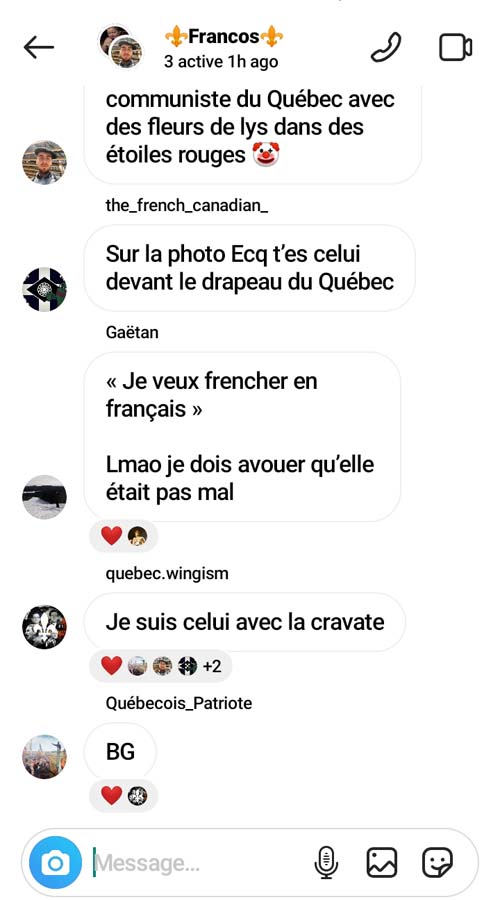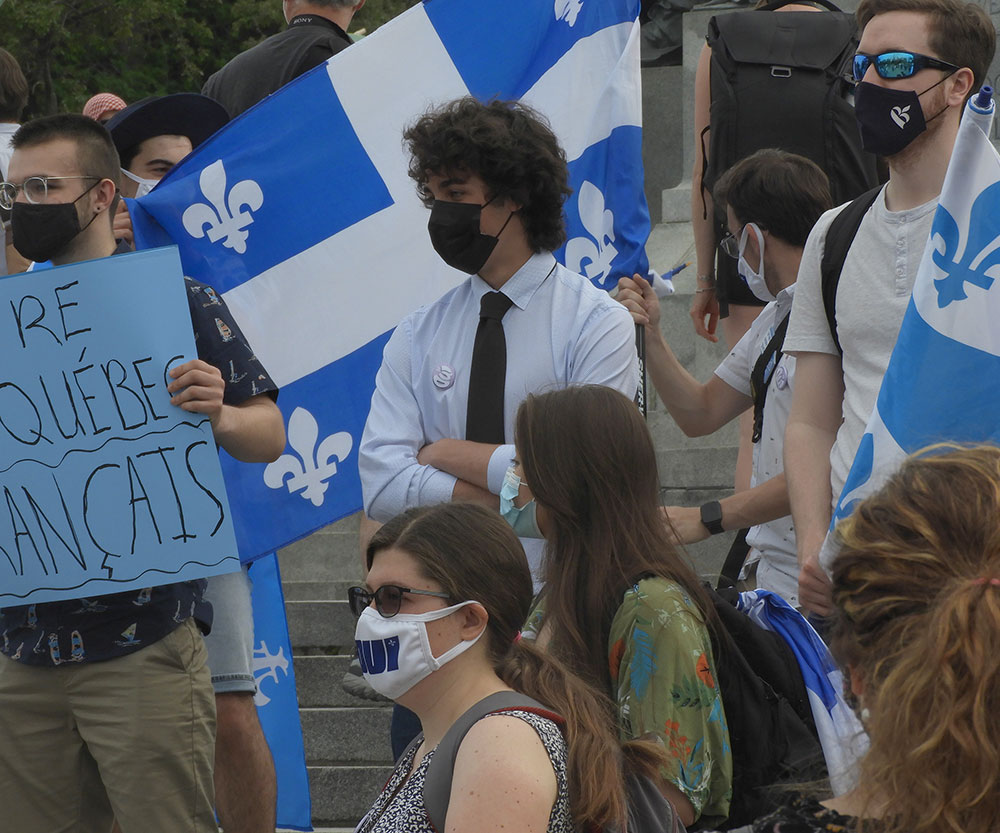 He even can be seen flashing the white power hand gesture in Bloc Québécois MP Denis Trudel's selfie at the protest.
Even better, Mathis went on the group chat afterwards and provided a very useful piece of information – "this is the first time the three admins were united in the same spot".
This was particularly interesting, as Mathis was photographed hanging out with two other guys for a good half-hour – (hello, "D" and "H")!  The third admin's name and image have been redacted from this article due to his unimportance in the project and his public statement against racism.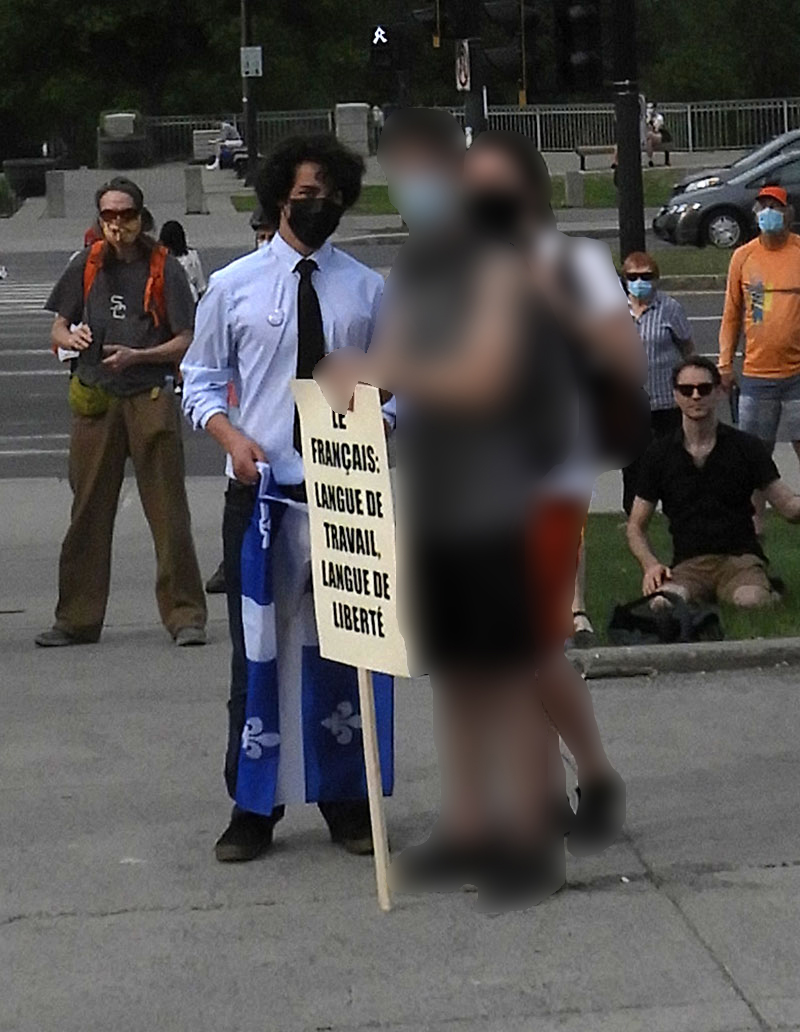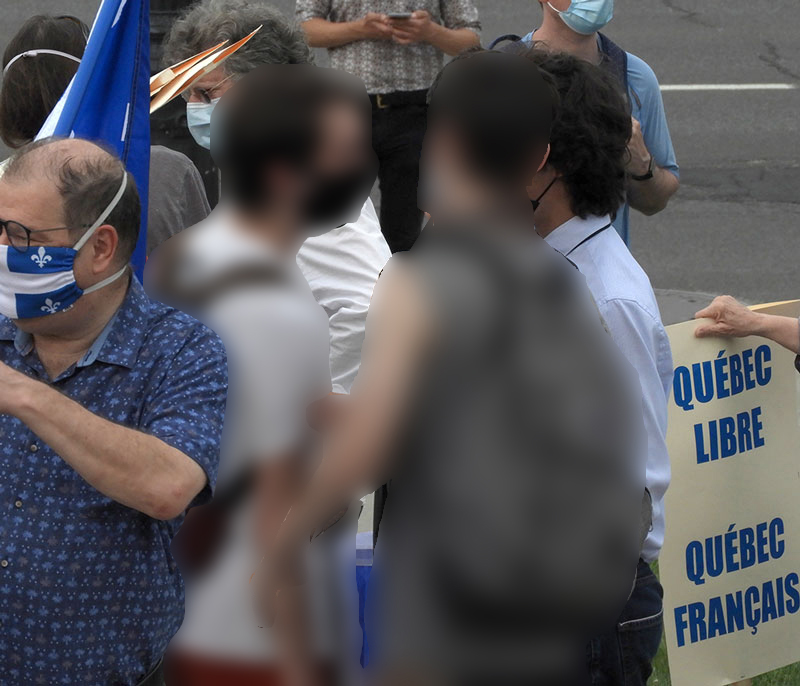 We had long suspected Xxxxx as being the admin named "D", collecting link after link between his Quebec.wingism (or his Innawoods.qc account) and his regular account in his real name. Whether it's him recommending a specific book with reference to school on both accounts, or his admission to having a crush on Catherine Fournier also on both accounts, we were sure they were the same person, but it wasn't until Mathis' mention that the admins were all together at the protest that we could lock the ID down.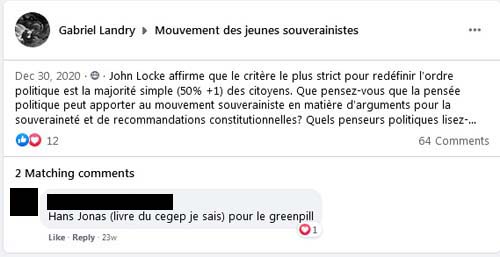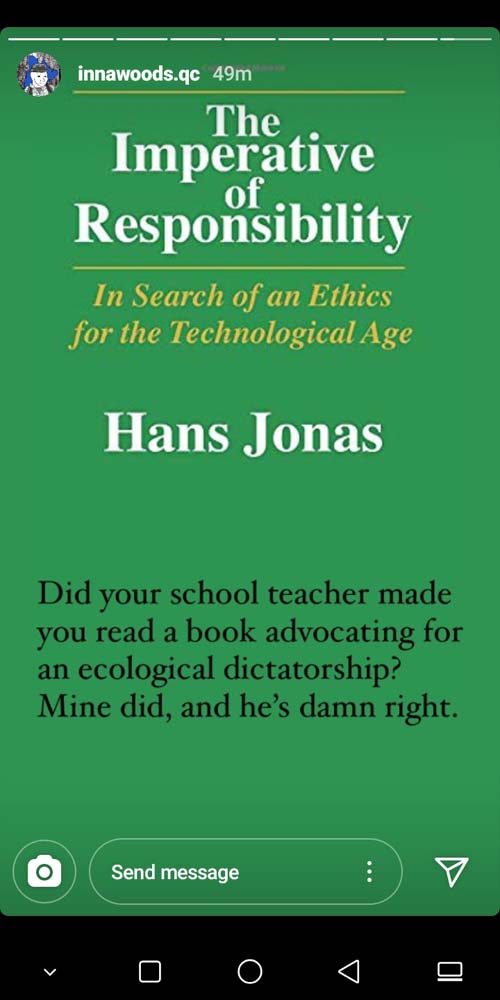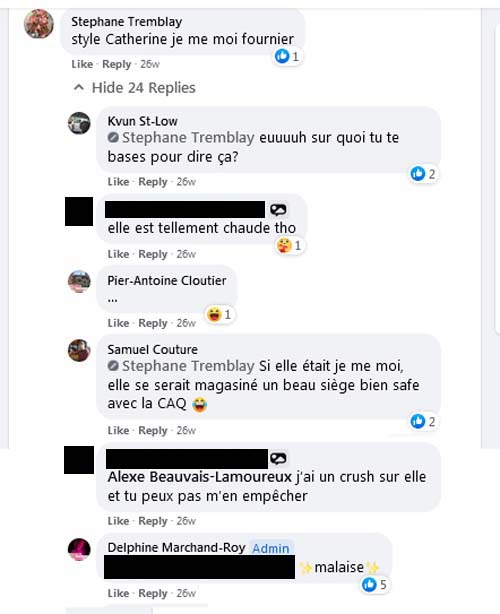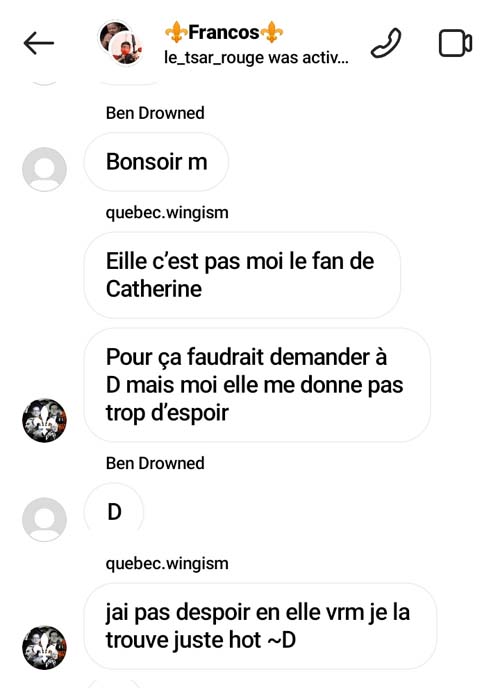 Montréal Antifasciste was also able to ID nearly everyone in the group chat as well, so let's get to it.
THE ADMINS
Mathis Dubois-Lévesque ("M")
Lives in Longueuil, QC
Youth representative of the Bloc Québécois in Longueuil/St-Hubert
Member of the Conservative Party of Quebec
https://www.facebook.com/mathis.dubois.16906
https://www.facebook.com/mathis.dubois.26386298
https://www.instagram.com/foetuz_/
https://www.instagram.com/foetuz__/
https://www.instagram.com/foetuz___/
https://twitter.com/DuboisLevesque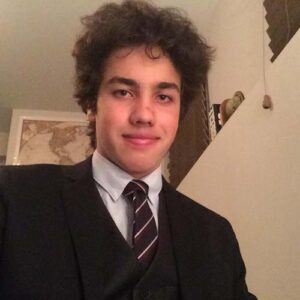 Mathis is the driving force behind the Quebec.wingism project – so much so that all the screen grabs of the posts on Quebec.wingism's Instagram that we used above are signed by him. He is also the only person who posts on their Telegram channel, and is extremely active in the private group chat. He also expresses the most white supremacist, xenophobic, and transphobic views of the admins. He is obsessed with the racial makeup of Québec, so much so that one is left to wonder if his other political views exist only in service of his white nationalism. For example, he rarely speaks at length of Québec sovereignty – but the "great replacement" theory is worth expounding on over and over, and racist comments about Black people and immigrants are also common currency.
Mathis also frequently approvingly mentions far-right political leaders, often posting praise of figures such as Augusto Pinochet ("a great leader"!), Duplessis ("my favourite historical figure") or about how Mussolini's second-in-command Italo Balbo was greeted by "young fascist girls" when he visited Quebec in 1933. His positive fixation with such undemocratic figures may put him outside of the "mainstream", but is in line with certain traditions within the right wing of the nationalist movement in Quebec, which have historically viewed far-right and pro-fascist governments as part of their intellectual and political heritage (as seen here and here).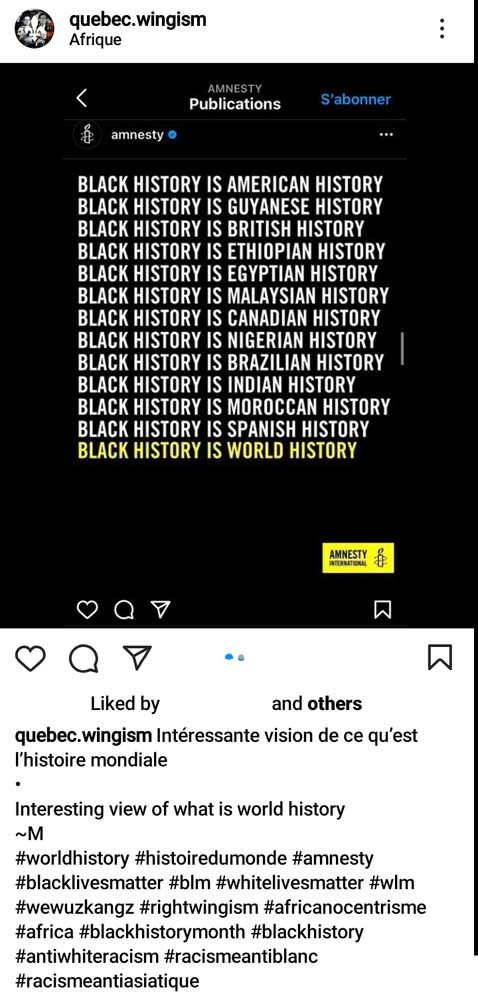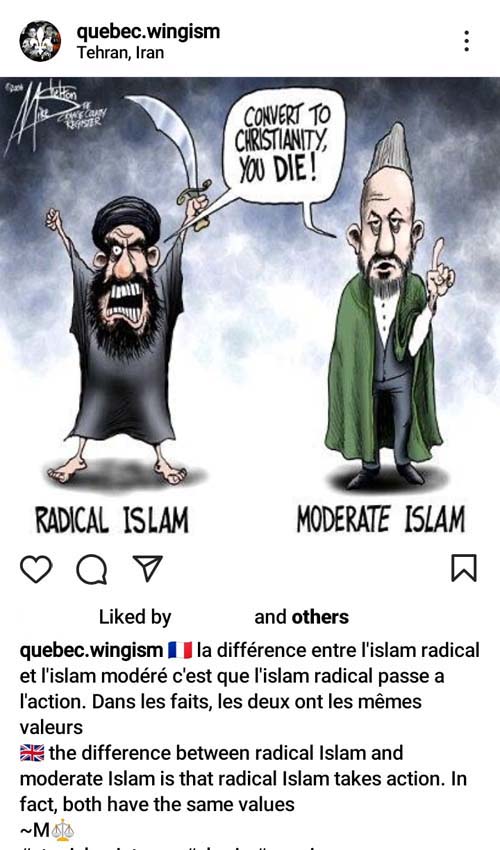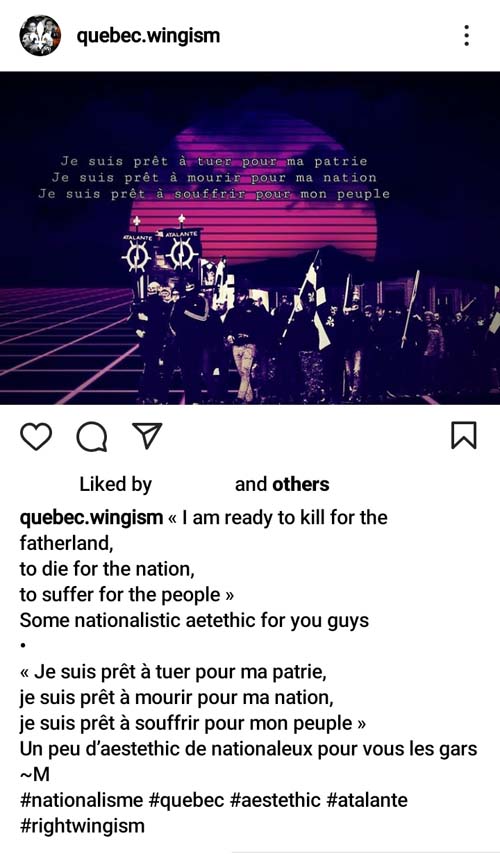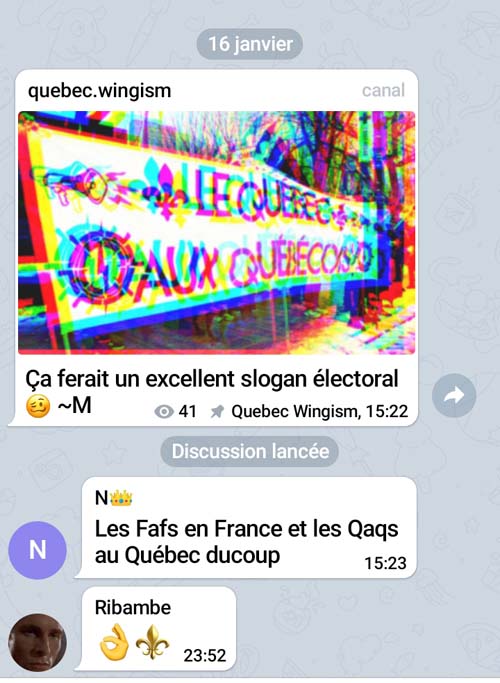 Mathis is active in the real world as well, a member of the student council of his school (where he gloats about trying to block a motion that would put in place a day to celebrate transgender people), is part of the youth wing of the Bloc Québécois, and although he didn't sign his name to the post, we assume it was him who stated that he had joined the Conservative Party of Quebec to try and push it further to the right with an entryist strategy. As such, Mathis, like the Quebec.wingism page itself, represents a recent example of the national-conservative wing of the Quebec far right connecting with and drawing on current political and cultural trends within the international far right.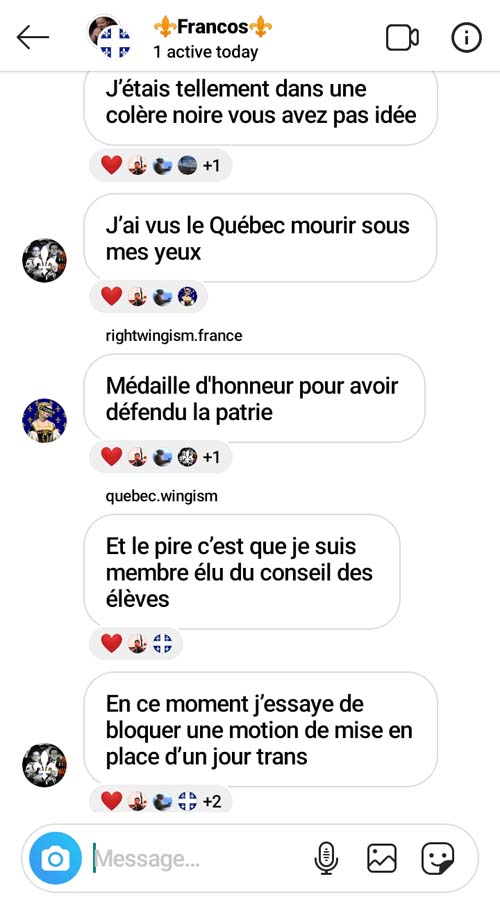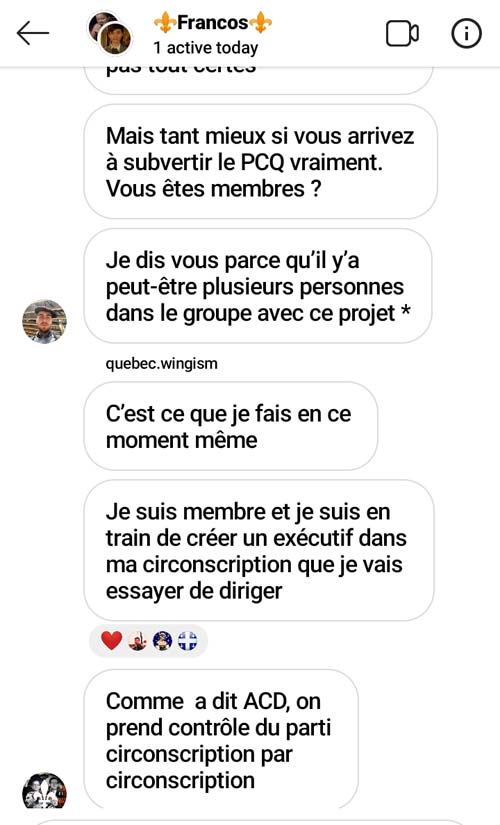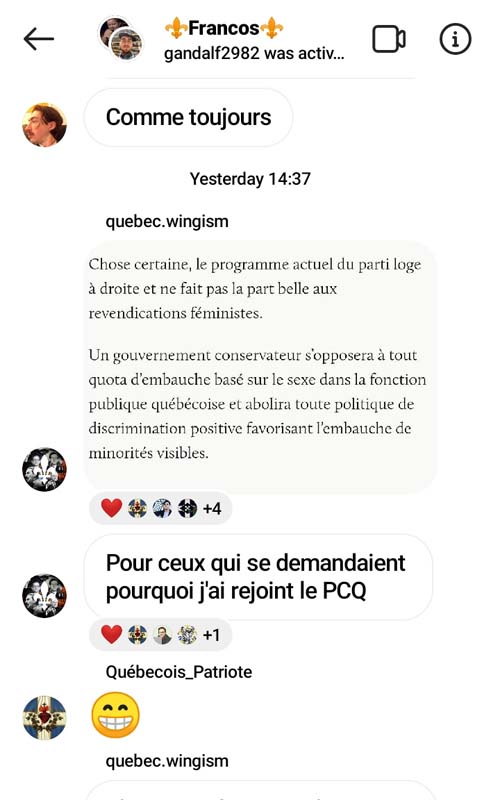 Admin ("D")
Although Xxxxx is the only other real administrator of the Quebec.wingism page, he is much less prolific than Mathis, most often posting content related to Québec sovereignty or general hostility towards English Canada. More recently he has come to identify as eco-nationalist, branching off and starting the Innawoods.qc Instagram page. "Innawoods" is a quite recent phenomenon within the eco-nationalist movement, spreading through meme pages and message boards in a similar way to (right)wingism pages– memes and politics are copy-pasted, with slight changes adapted to the local nationalist context. Eco-nationalism, a topic which merits its own article, is a mix of ecological back-to-nature ideas, with much of the baggage that comes with nationalism (borders, xenophobia, scapegoating of immigrants, etc.). Innawoods pages embody these eco-nationalist values while also integrating (increasingly tired) far-right memes such as "Virgin vs. Chad" or "Wojak". Although not much has been written about the Innawoods movement, it seems to have originated on 4chan's /k/ (firearms) message board with a story shared of someone who seemed seriously overstocked with firearms on a casual hunting trip with a friend. True to its origins, firearms (and machismo) feature heavily on Innawoods pages. Similar to Groyper and Wingism pages, one can find plenty of vapourwave "back to our roots/traditions" or "reject modernity" types of memes, which may sound enticing in this age of ecological collapse, but have clear subtexts of returning to traditional values such as patriarchy, colonialism, and xenophobia.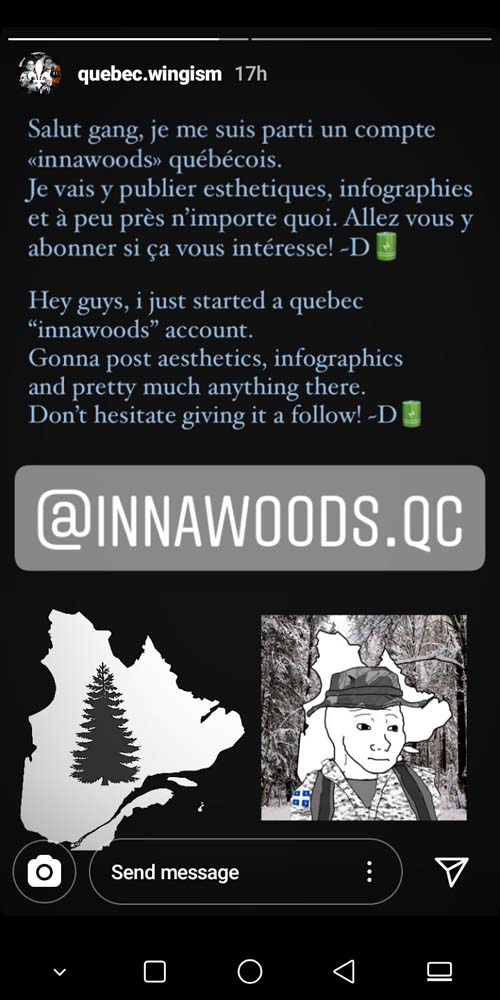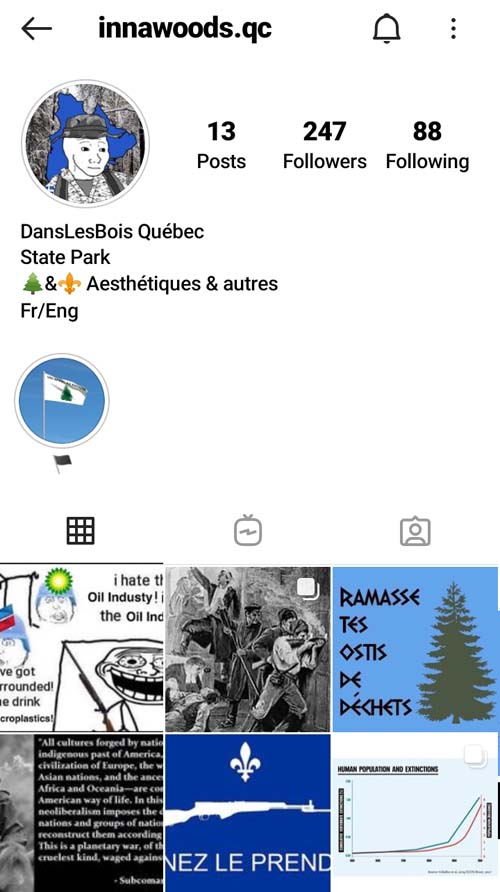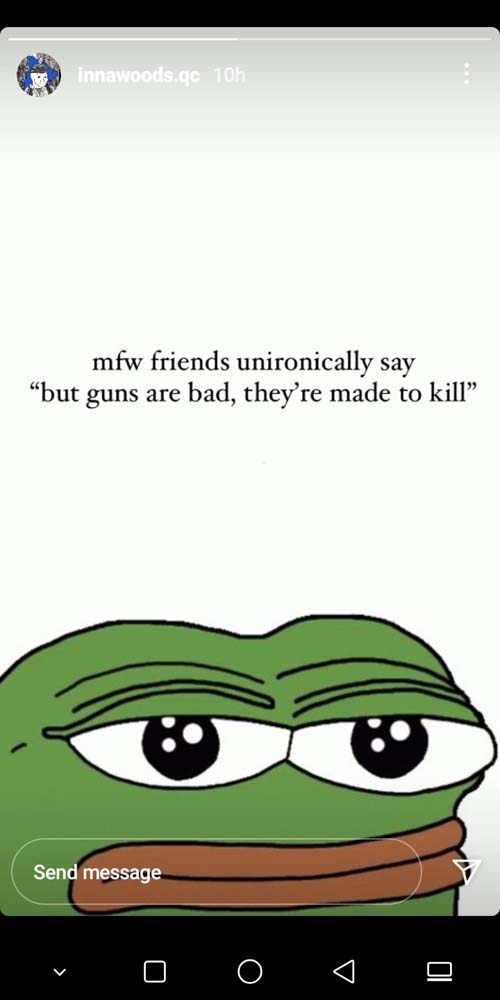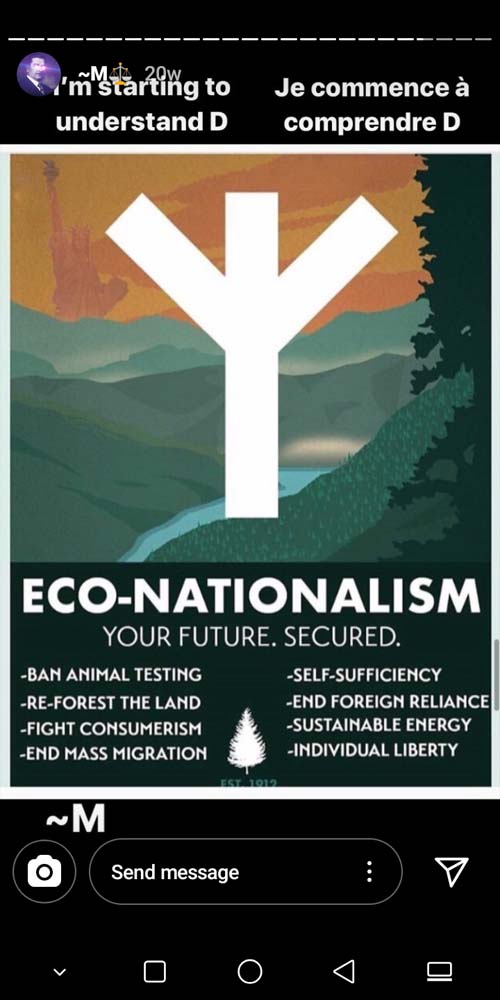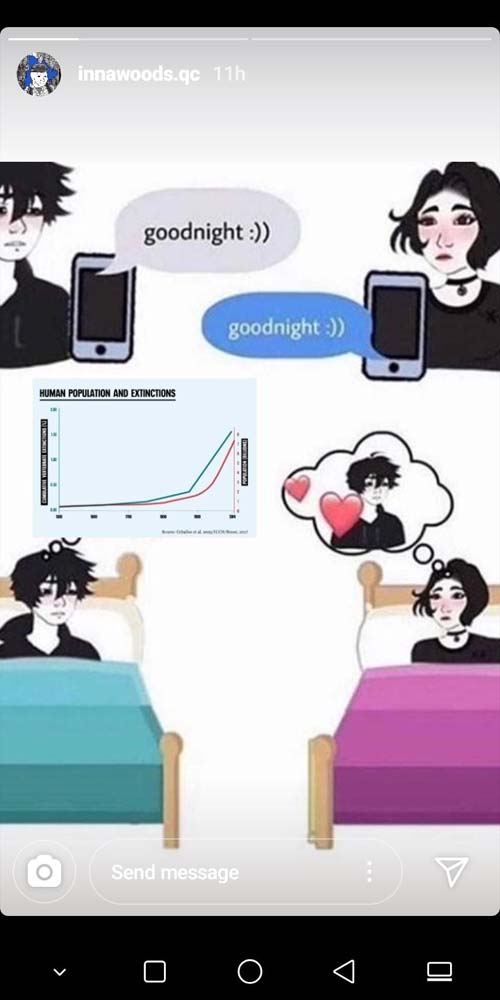 Xxxxx's posts regarding the "great replacement" raise the question as to what point does ethnic nationalism become white nationalism? This is particularly pressing question for people to come to terms with in Québec, where there is widespread support for understanding political and cultural developments in ethnic, cultural, and even racial terms. This has created a fertile terrain here for exclusionary and racist statements and developments – from Jacques Parizeau's statement about the "ethnic vote" to Legault's denial of systemic racism, to the hatefest against Muslims that has been ongoing for almost 20 years now. People might say that ethnic nationalism becomes white nationalism when whiteness (or explicit racism) is centered, but we can see many examples even where this is not explicitly done, for instance when people express anxieties about "protecting our culture" or "demographic decline". Mathis Dubois-Lévesque is very explicit in that francophone immigrants must be white to be desirable, whereas Xxxxx doesn't specify – though their collaboration on the same racist project provides a clear enough answer.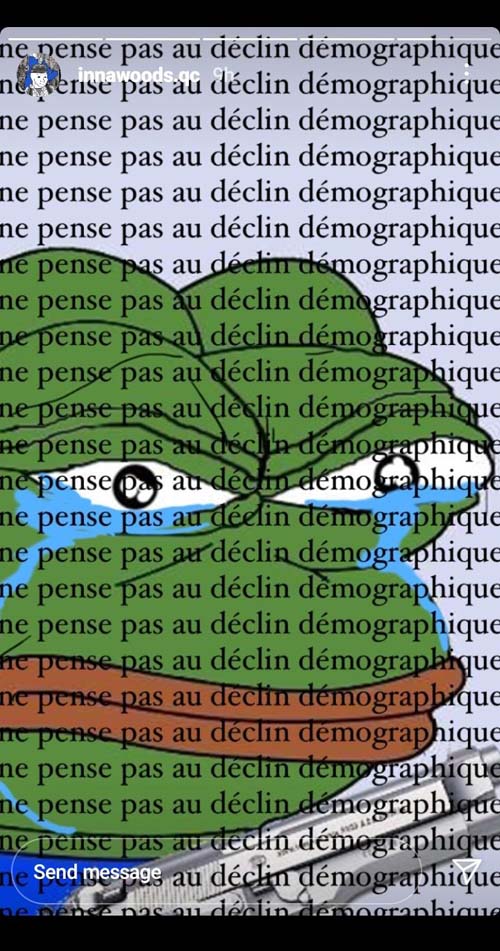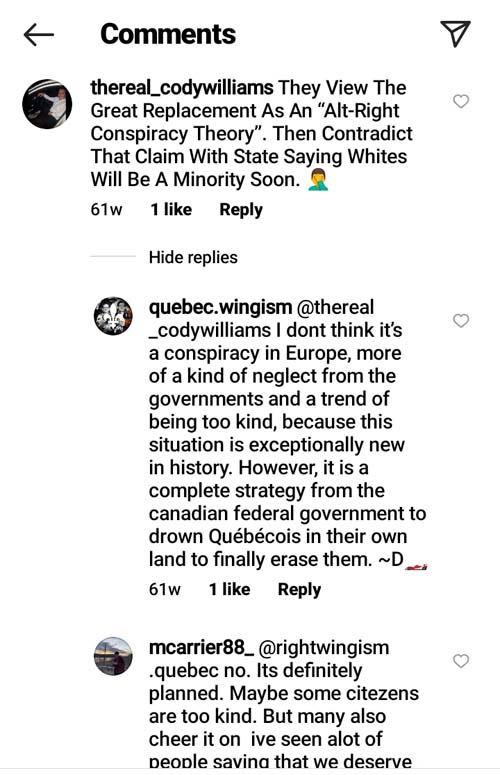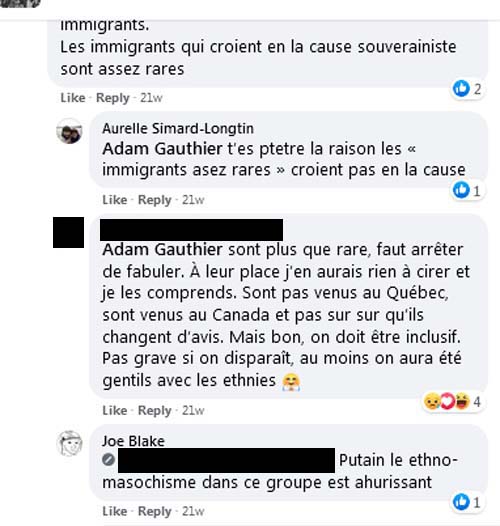 Xxxxx is quite involved with the Mouvement des jeunes souverainistes, for instance having hosted a public videoconference between MJS and a Catalan nationalist group, often taking photos of their protests, and participating on their Facebook page. One may recall that the Mouvement des jeunes souverainistes expelled members of the (very much connected to Quebec.wingism) Front canadien-français from their group last June, for their comments relating to white nationalism.
That Xxxxx's form of nationalism, hardly uncommon in Quebec, can coexist happily on a page with far-right white nationalist content speaks to the slippery slope that exists between nationalism and racism – and the difficult nature of finding ways to clearly define the different strains of political thought on the far-right, particularly in a world of memes, dogwhistle politics, confusionism, and ironic deniability.
Administrator ("H")
Although administrator "H" was identified by Montréal Antifasciste, we have decided not to identify him in this article, due to the fact that he posted almost nothing in the Quebec.wingism Instagram account, wasn't a member of the private chat, and has subsequently quit Quebec.wingism and publicly renounced their views.
THE HANGERS-ONS
In the private chat (and in the comments on the public Instagram posts), there are a dozen or so people who gravitate around Quebec.wingism, taking part in "raids" (generally transphobic harassment) on other pages together, sharing racist memes, and discussing plans for the future. Here are some of the most active:
Nicolas Gagnon (le_tsar_rouge)
Québec (Saint-Roch), QC
https://www.instagram.com/le_tsar_rouge/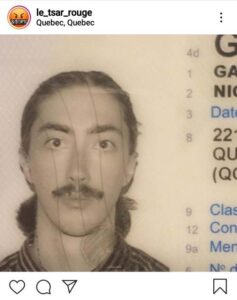 Nicolas is one of the only people in the group chat who uses his real name on Instagram. This is somewhat surprising, as he publishes hateful content daily in the form of public Instagram stories, often consisting of long diatribes against gender nonconforming people. He seems completely fixated, returning again and again to the subject and how ridiculous he thinks anyone who denies the "natural" basis of gender is. Although he spends a good deal of his time expounding on what he presents as his ideological reasons for such views, his laughter at a meme about shooting non-binary people or his assertion that he hopes they commit suicide makes his paternalist "these people are suffering" remarks seem somewhat disingenuous.
It is worth noting that this too is representative of an international trend, as freaking out about and being violent towards gender nonconforming and trans people has become a key theme for many far rightists, displacing traditional homophobia for many. This takes the form of scaremongering about trans adolescents and children and things like drag queen story hour, celebrating the murder of trans people, and engaging in organized campaigns of online harassment (such as the "raids" that are organized on the Wingism page). This is a phenomenon we need to be paying attention to, as rapid cultural changes overcoming long histories of gender oppression provoke a backlash that coincides and merges with the white racist backlash outlined above, and can also provide a bridge to disaffected sections of the left and feminist movements that cling to their own traditions of transphobia and gender conservatism.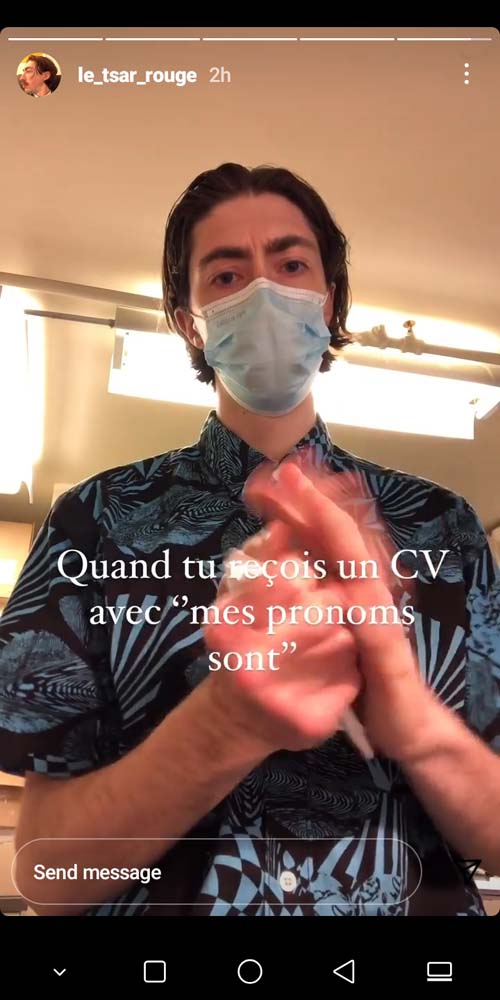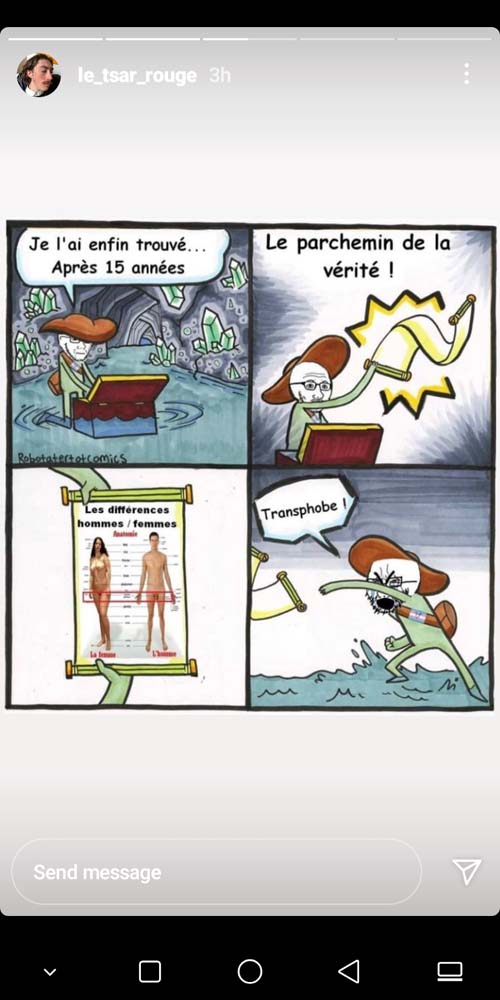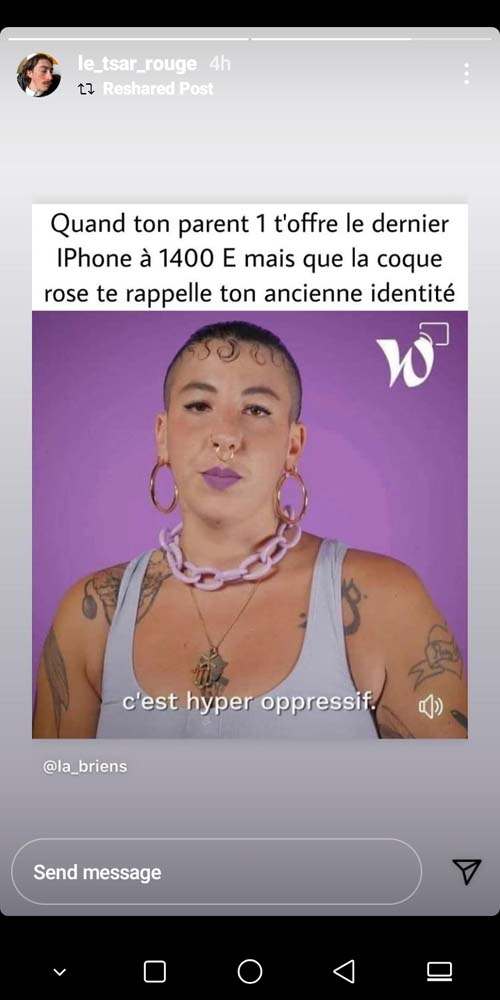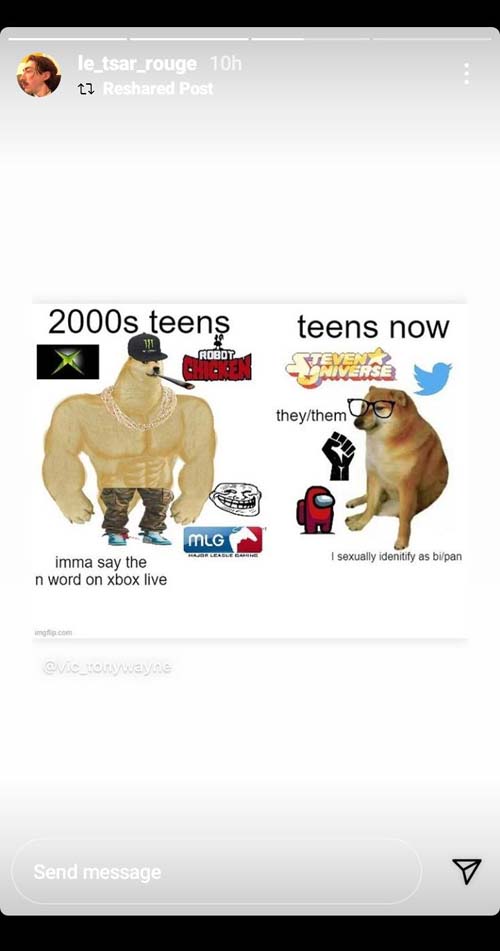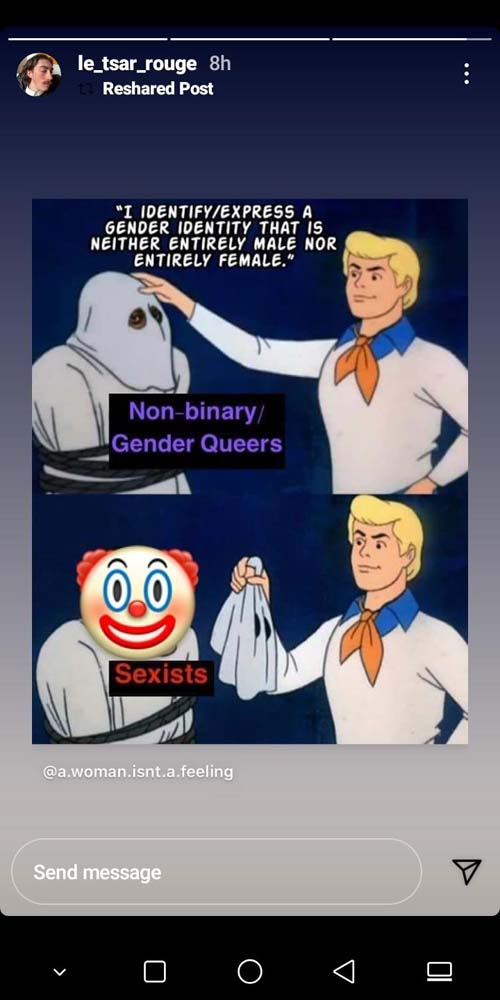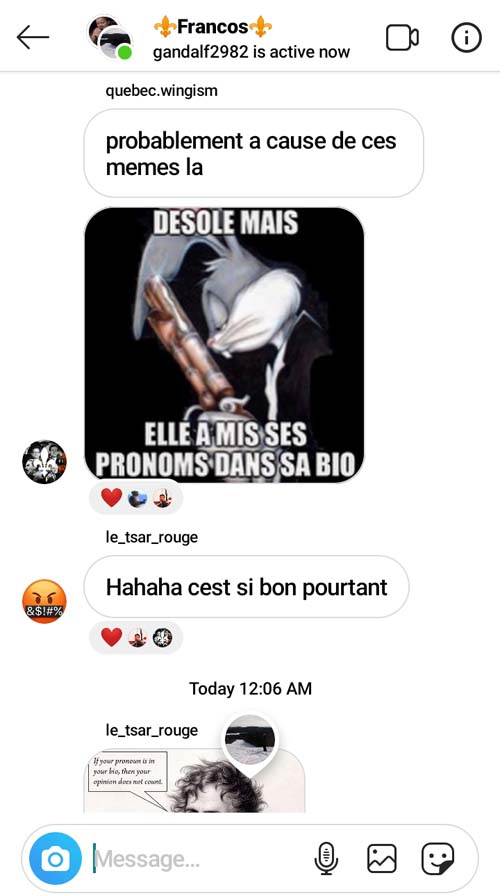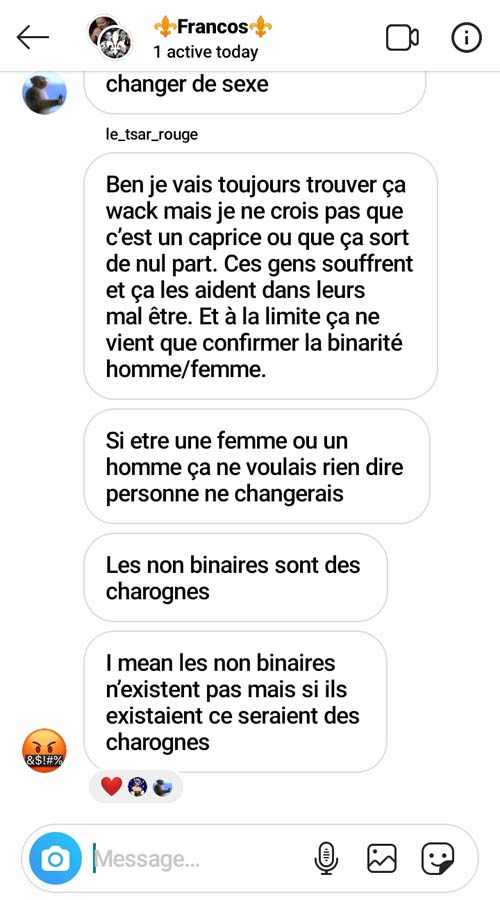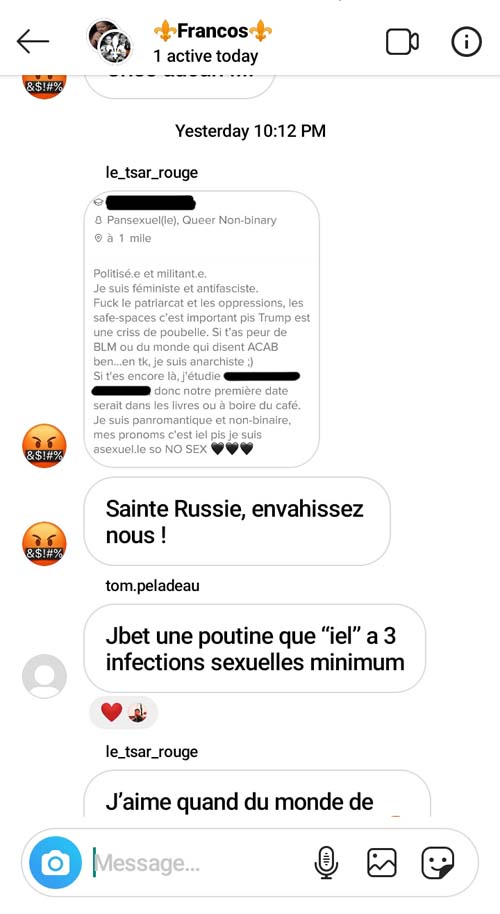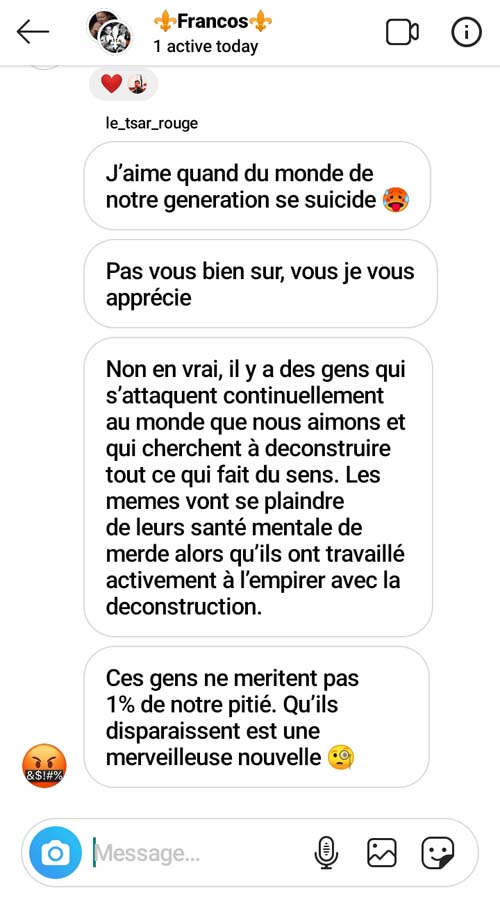 Nicolas' hatred isn't limited to people who challenge gender orthodoxies – he will often dance around the idea of race, publicly critiquing critical race theory or mocking the concept of systemic racism. In the private chat, he expounds at length on his xenophobia, saying that "Immigrants are being told there isn't ONE European culture, there's not ONE European religion … We're going to be diluted! The more there are unassimilated people, the more people won't assimilate". Another day, another diatribe: "They come here and take advantage of our comfortable countries and now we have to say that this country and culture was built together? Fuck off".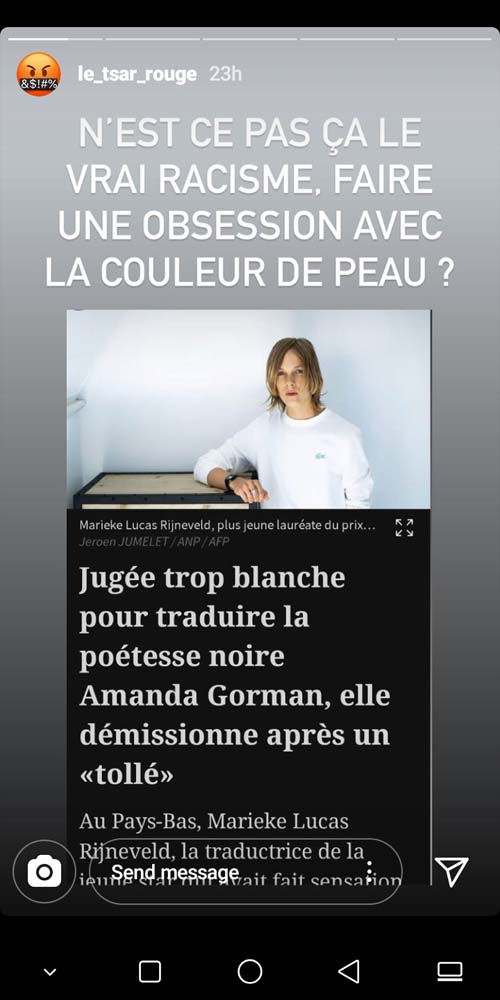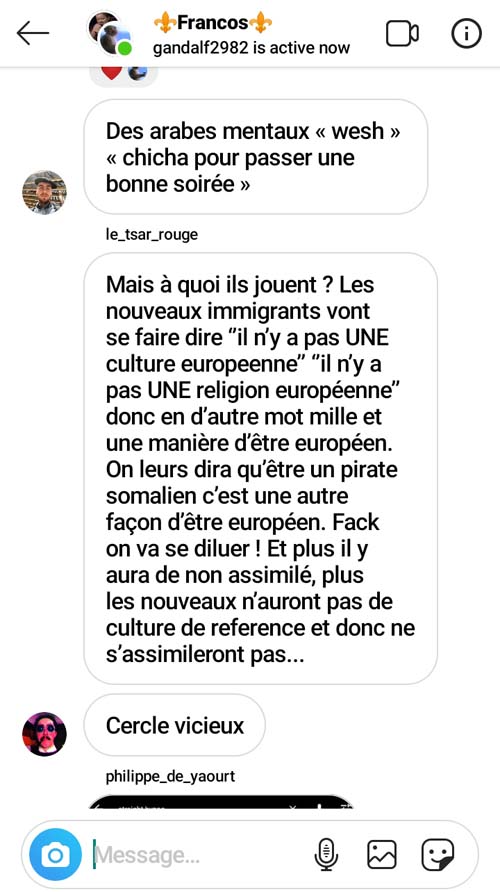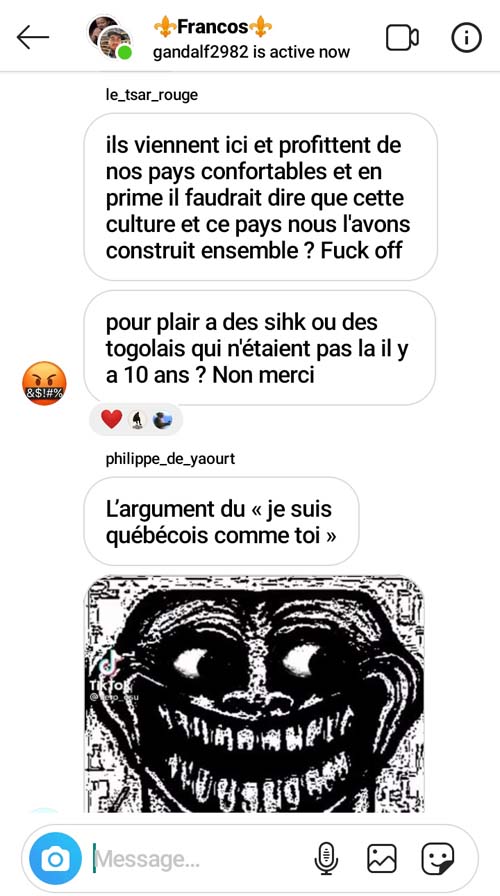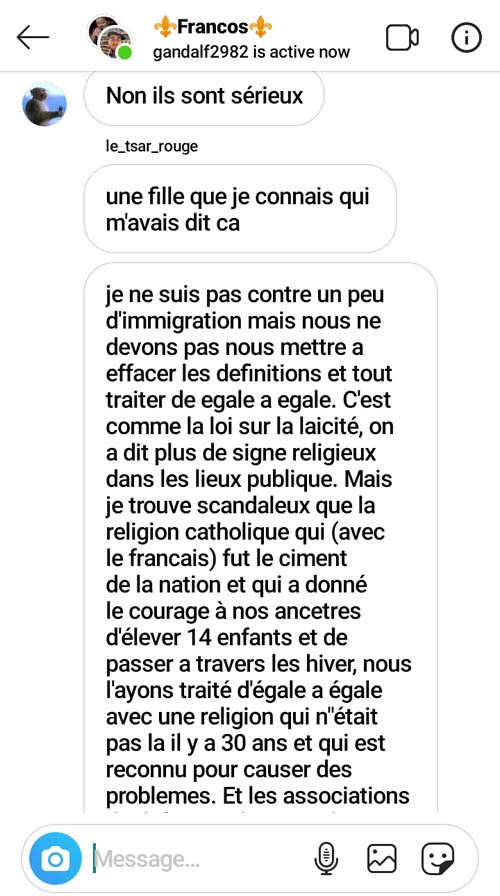 Arno Lucas
(nfs.wakhan, patria.nostra.media, federalist.authoritarian, federalist.authoritarian.v2, france.imperiale, french.authoritarian, arnomtp)
Member of Génération Identitaire (Montpellier, France)
https://www.instagram.com/nfs.wakhan/
https://www.instagram.com/arno_mtp/
https://www.instagram.com/sencry__off/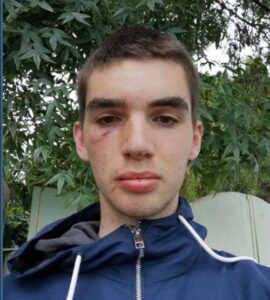 What would a right-wing Québec nationalist group be without some French fascists in the mix? Arno, a member of Generation Identitaire [iii] in Montpellier (France), seems to have missed a lesson or two when it comes to security culture (especially for someone who is a member of a group now banned in France). He gave an interview with his first name and uncovered face self-identifying as a "militant identitaire", and it seems even the Generation Identitaire folks were annoyed by his lack of restraint.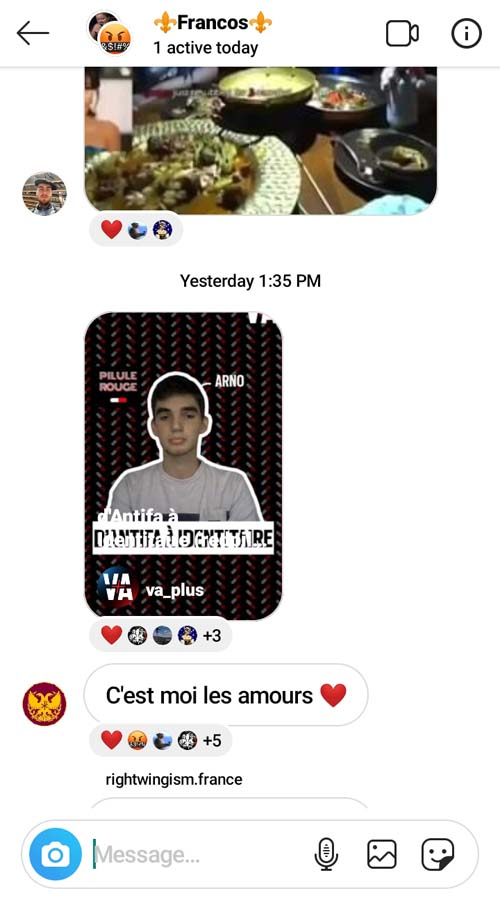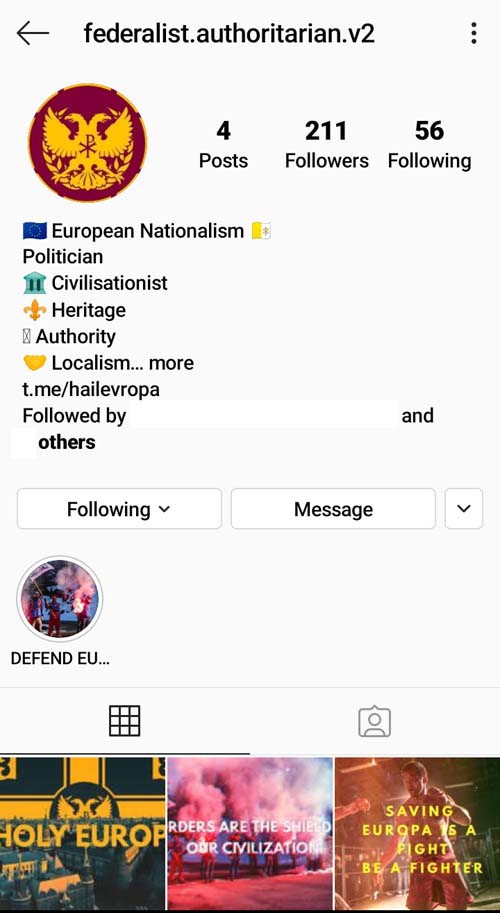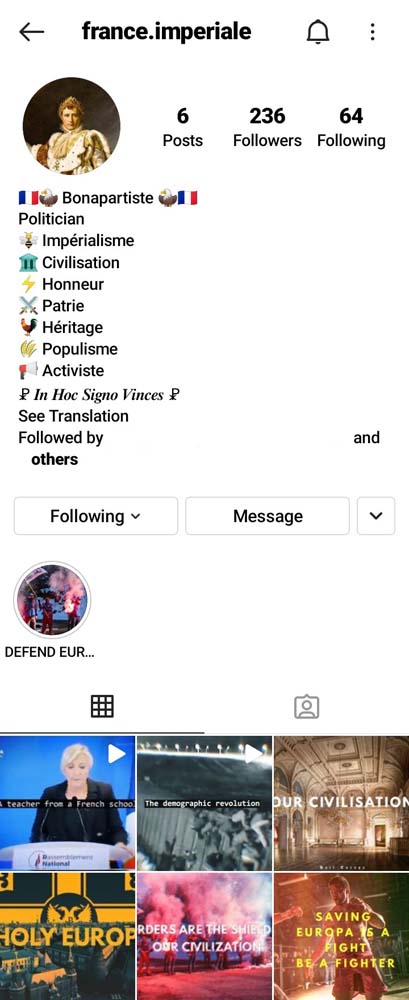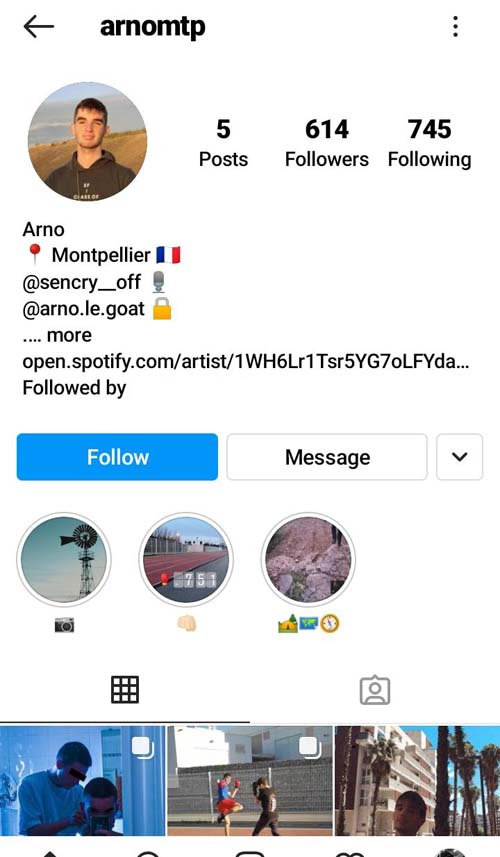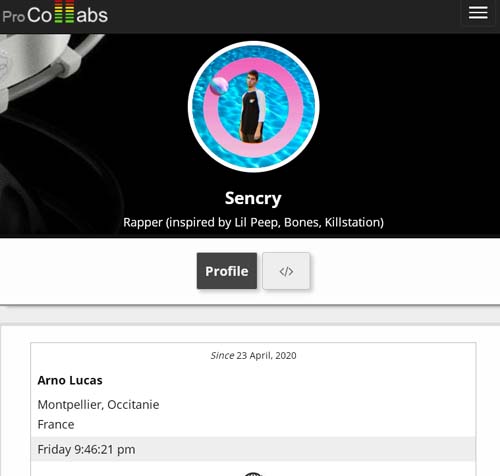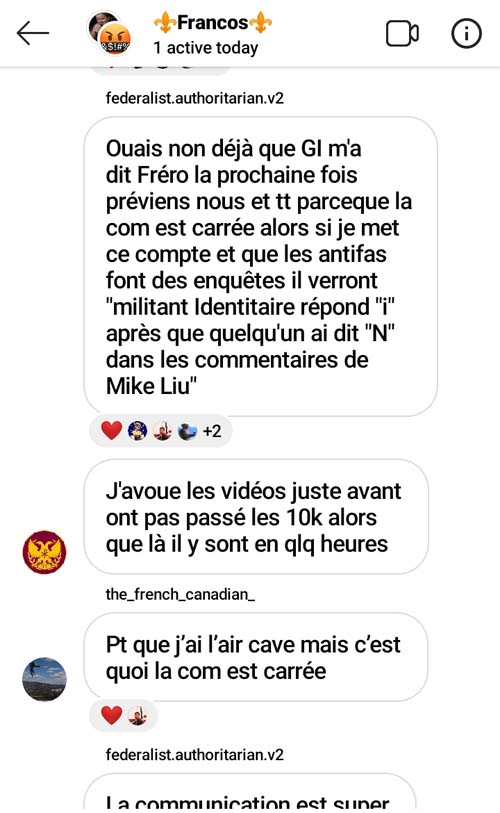 Arno is a prime example of how ineffective the current methods social media companies use to block hate speech are – his accounts keep getting banned (whether it's because of his use of the Generation Identity logo, or based on his other content), but he just opens another one and keeps going.
Quebec.wingism seems to align wholeheartedly with Generation Identitaire – they have nothing but positive things to say about the group, saying "we're counting on you" and encouraging people to follow Arno's Generation Identitaire related account.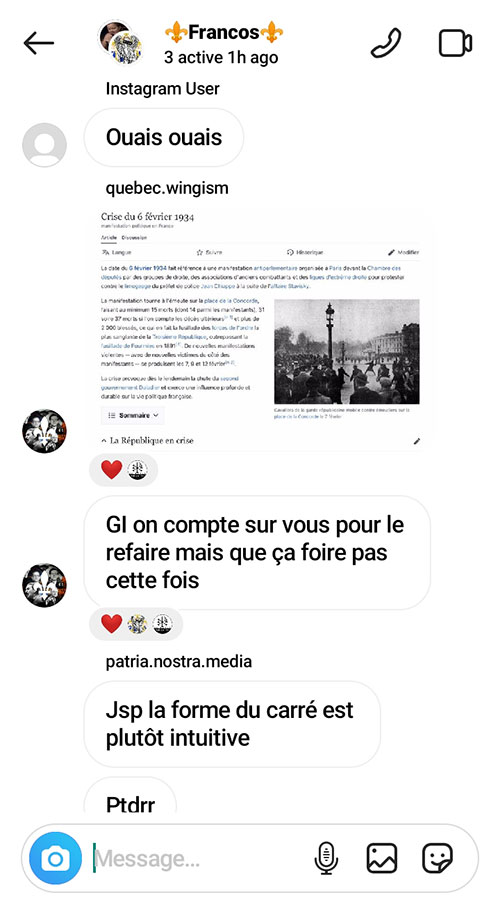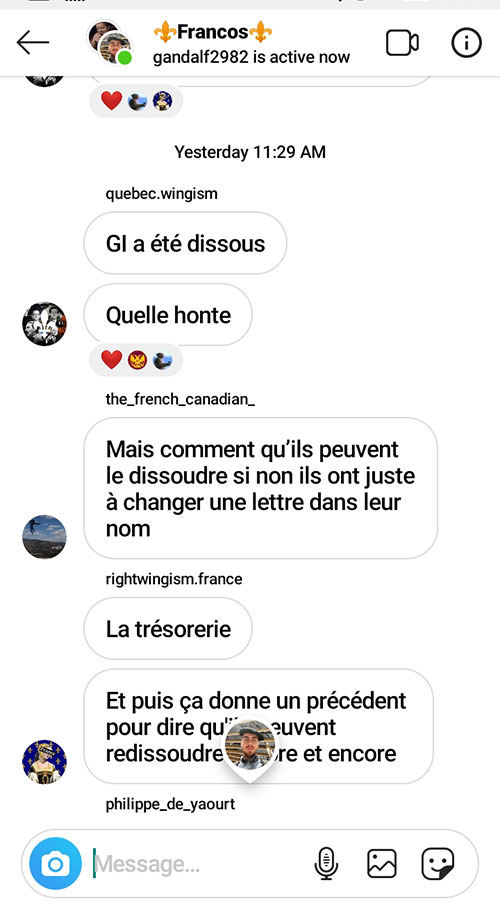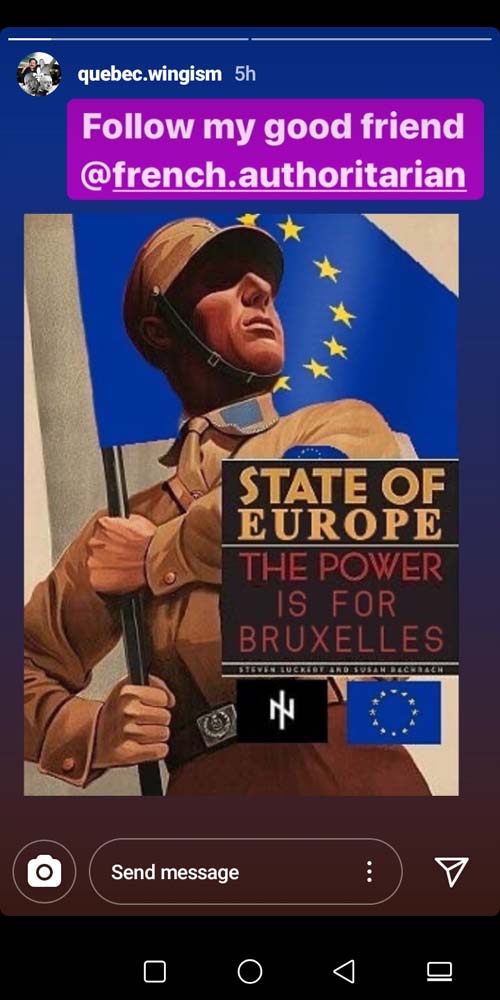 Arno drops bombshell after bombshell, posting that "if cops checked out my place, my cell phone is fucked, I have Kaczsynski's manifesto, and Anders Breivik's, and plans to make a firearm using a 3d printer, which is completely illegal in France". Although this was posted under one of his now-deleted accounts (federalist.authoritarian), we see people immediately reply to him by tagging his account name. He immediately follows this up with "BTW people who want to come and help prepare a military coup d'état to install a Pinochet-style state we're on it LOL".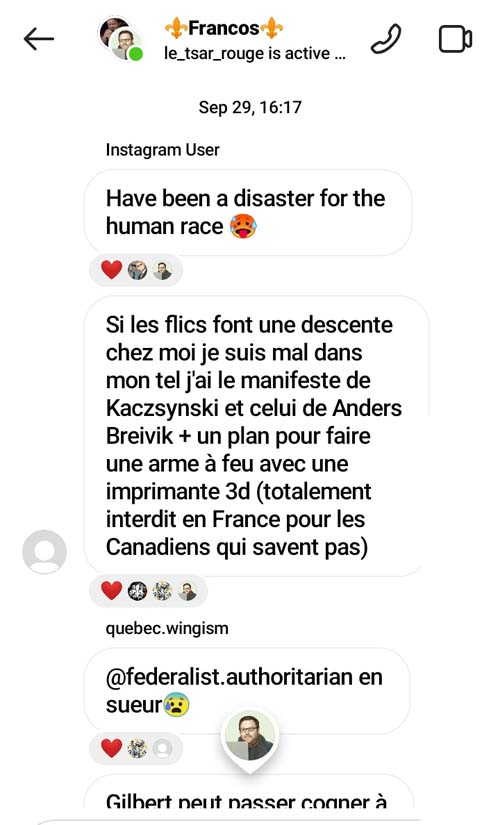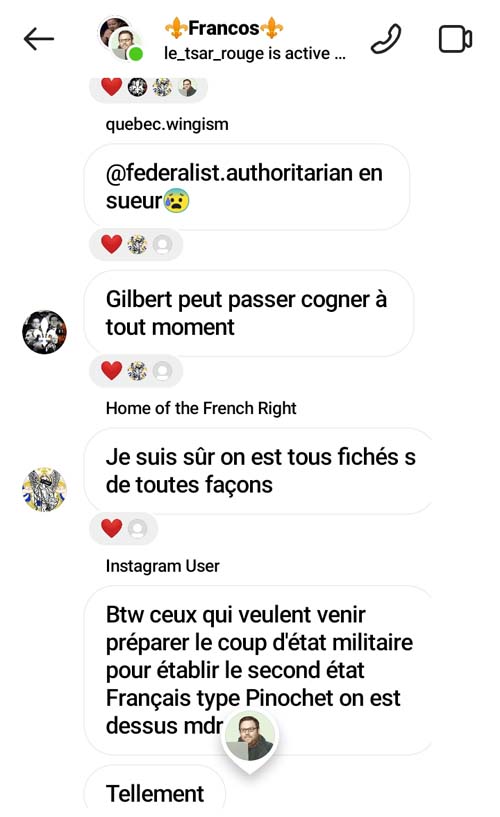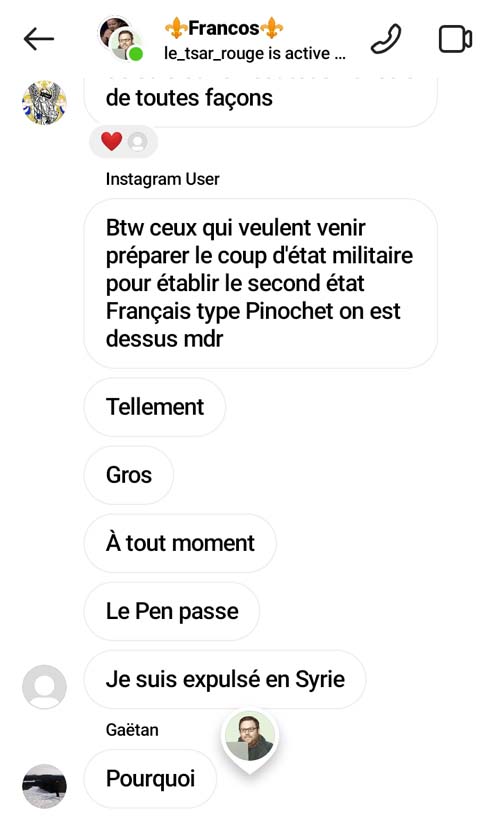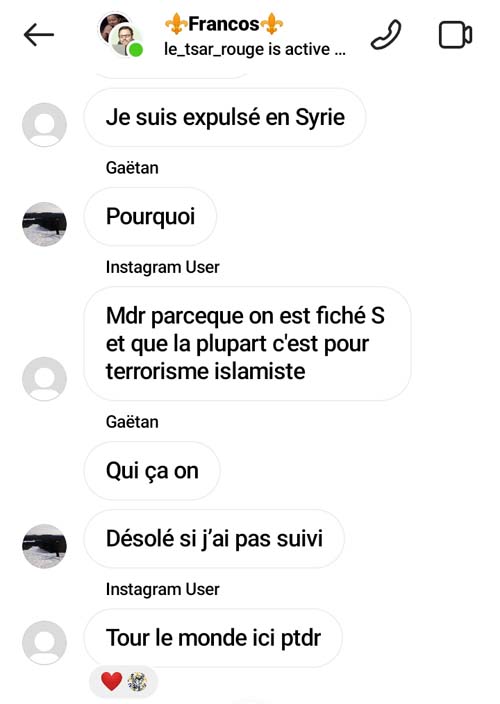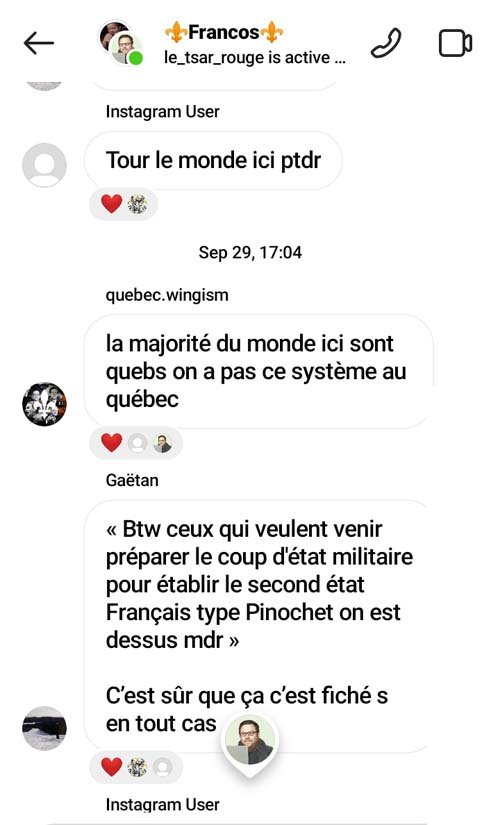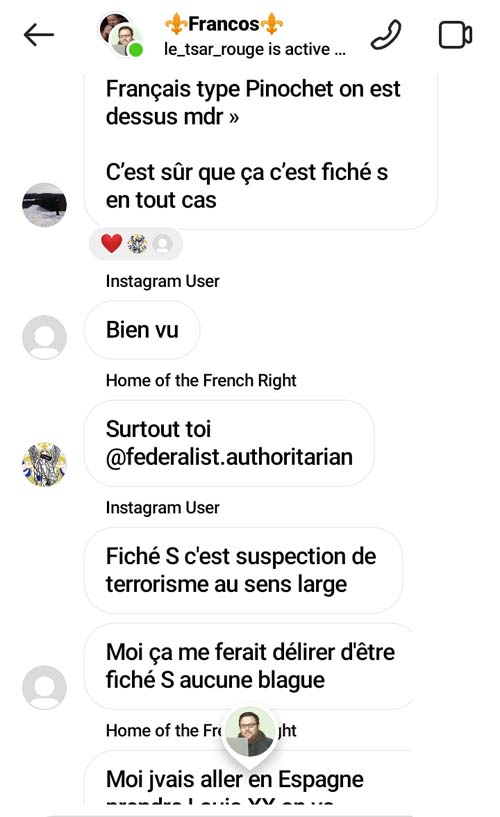 In a bit of a wakeup call as to what happens in the real world when you spread hate, Arno got his ass kicked by "three antifas" after he and his crew spent the day harassing an LGBTQ rally in Montpellier. Arno tells the story in detail, even generously giving the first names of his entourage, and begging people not to let his parents know why he was beat up, because if "my parents found out it was political I'd be in deep shit".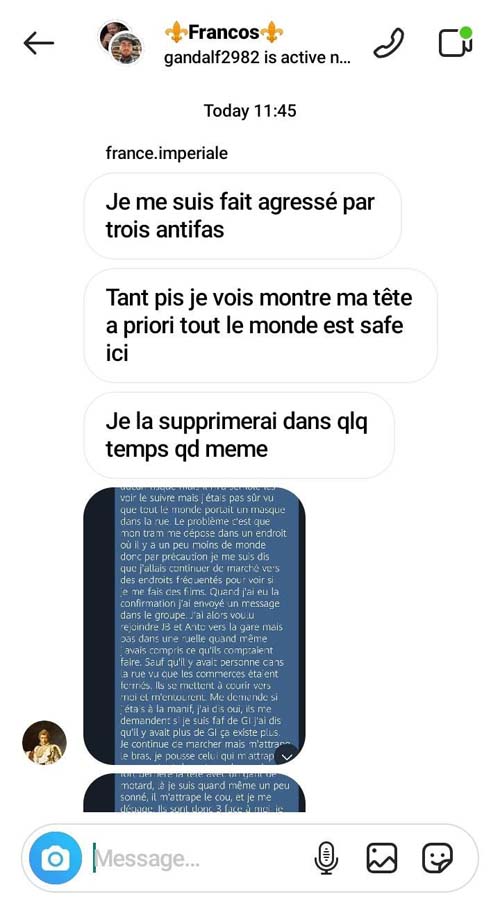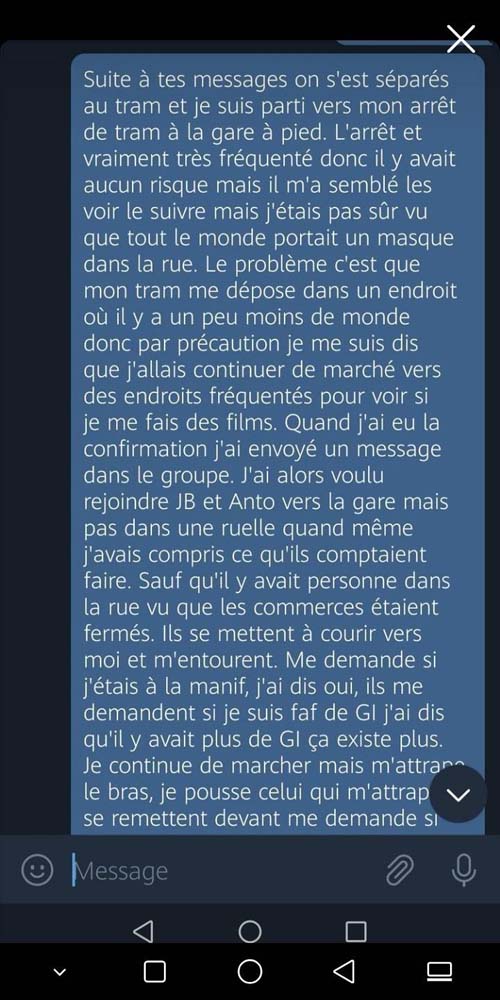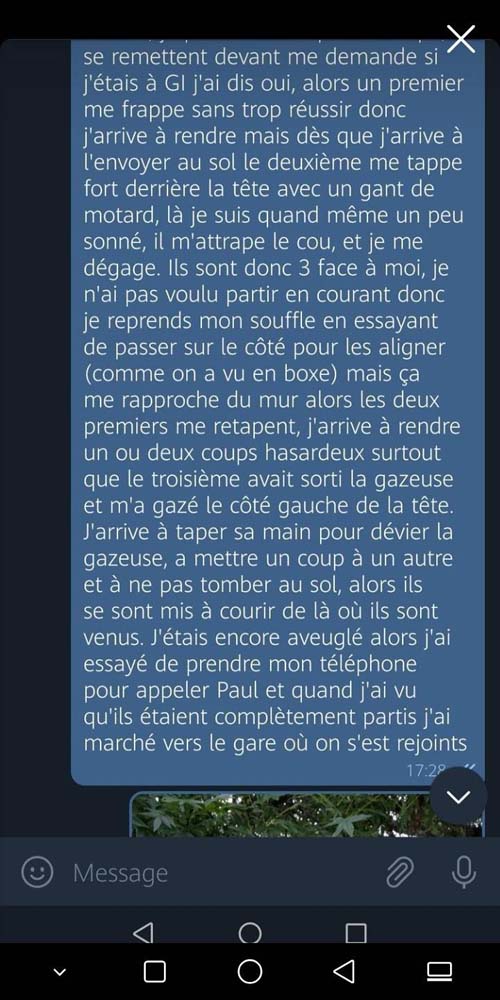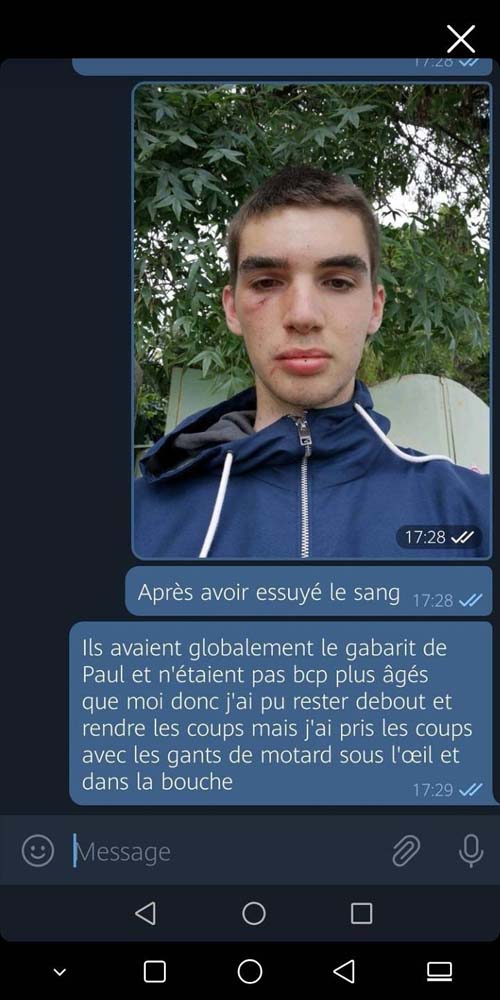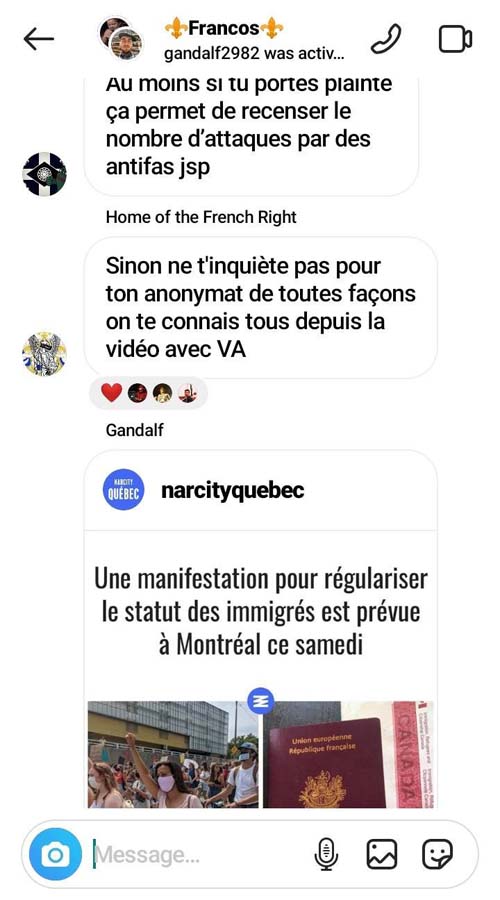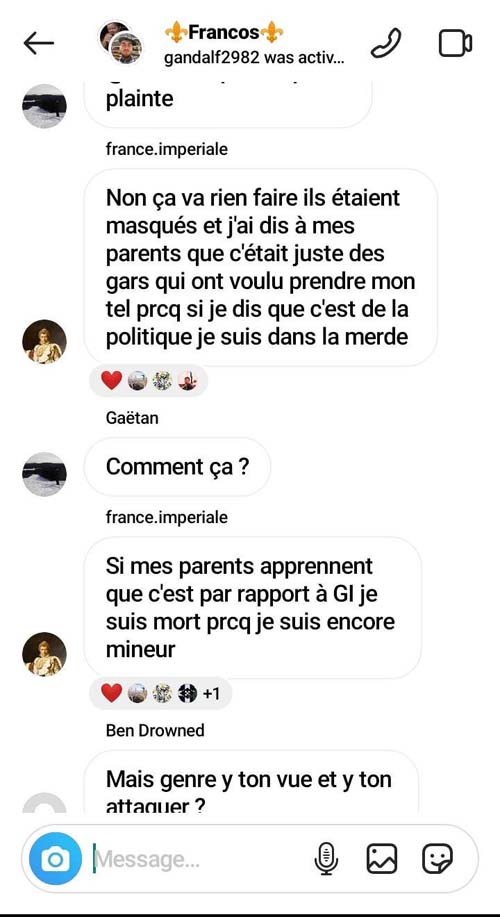 Baptiste Balanger (gandalf2982)
Montréal (Outremont), QC
https://www.facebook.com/baptiste.balanger
https://www.instagram.com/gandalf2982/
https://www.youtube.com/user/SpartanxD29/feed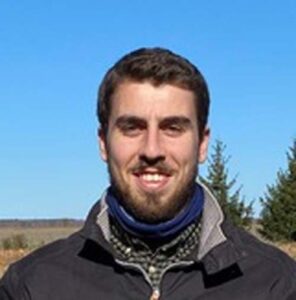 Also a French citizen (there are four of them in the chat), Baptiste lives here in Montreal. Originally from Montauban, he went to school in Toulouse (where he was also a member of Génération Identitaire). It seems he did a stint in the French Air Force before heading overseas to Québec.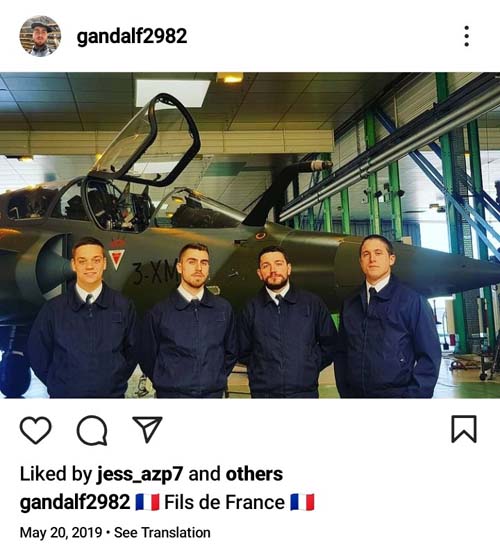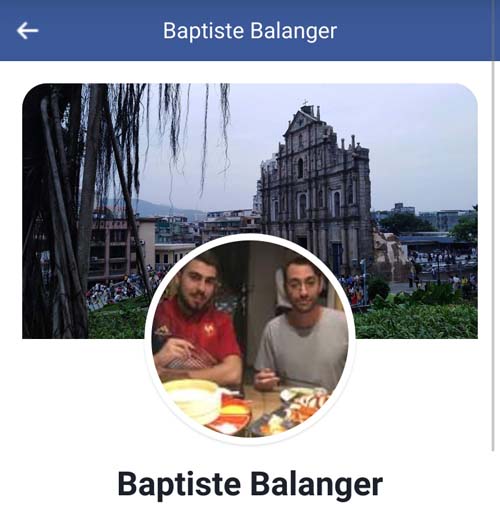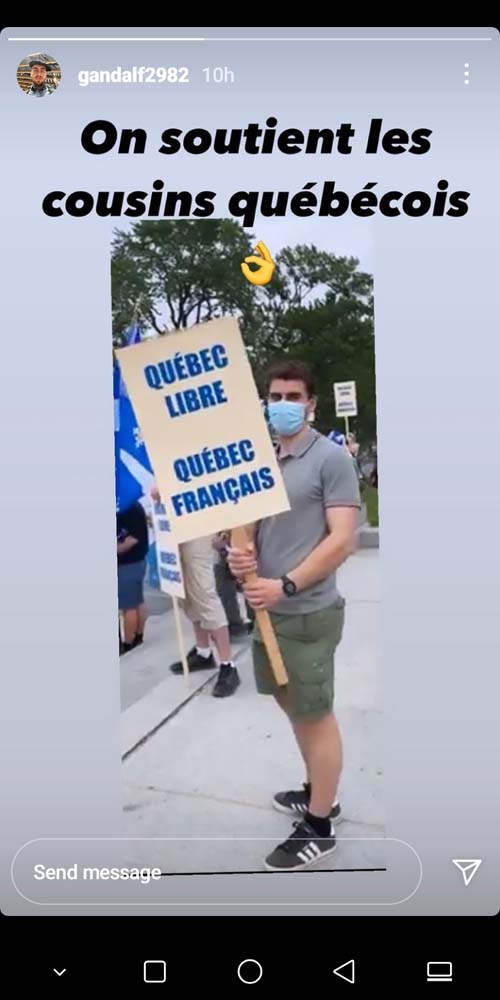 Baptiste is united with the others in his concern over "demographic replacement", posting comments like that "France thought they could integrate all the races in the world. The result is a country on the verge of civil war". A common refrain on the far-right is to blame immigrants for not integrating into society, ignoring study after study that they have their qualifications ignored and face systemic racism in the form of obstacles to hiring and housing based on factors as simple as a foreign-sounding name. This type of victim-blaming is similar in a way to this group's insistence that trans people are depressed, because they perceive being trans as a mental disorder (and not because of discrimination and harassment).
Baptiste was one of the first to mention that the Quebec.wingism crowd should organise a protest (or a banner drop) against the "great replacement", which indicates that some members of the group at least are open to moving their activities into the real world.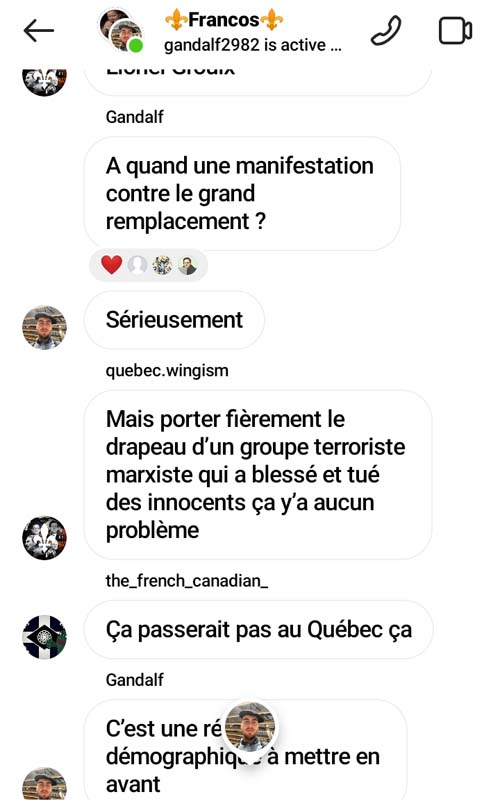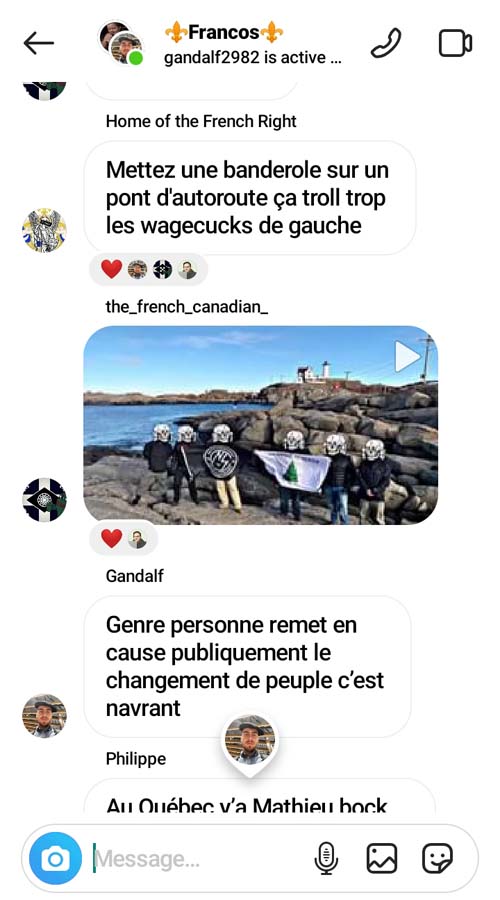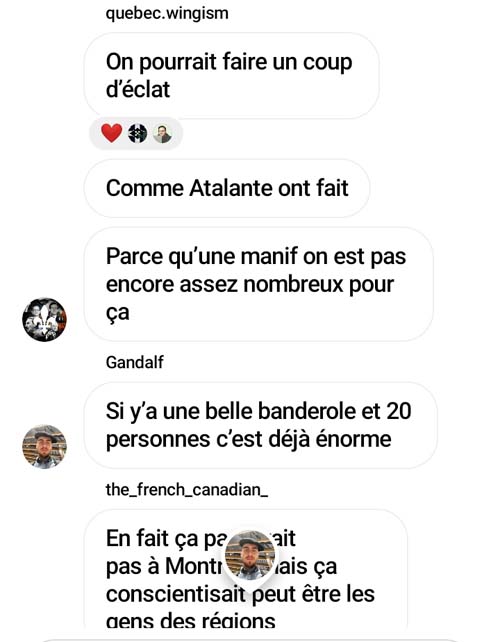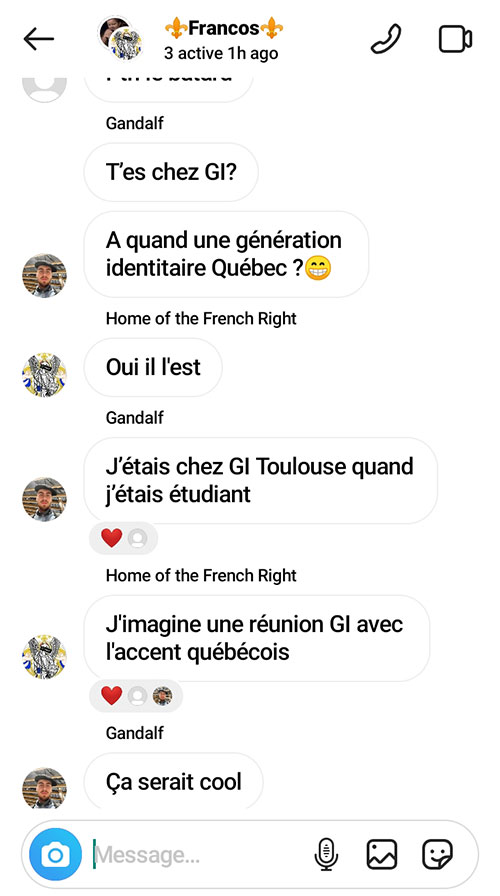 Philippe Provost (philippe_de_yaourt)
CEGEP de Sherbooke (arts visuel)
http://facebook.com/philippe.provost.3
https://www.instagram.com/de_yaourt/
https://www.instagram.com/philippe_de_yaourt/
https://www.linkedin.com/in/philippe-provost-0b018117a/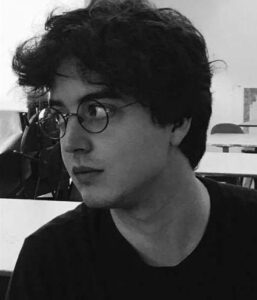 Identifying Philippe wasn't particularly difficult – he is friends with a large number of the same people on his far-right Instagram as on his real-name Facebook account (including Mathis Dubois-Lévesque). Furthermore, he admits in the group chat to being behind the Ribambe Twitter account, which happens to follow Philippe's family member (Gabriel Provost). His far-right Instagram account also follows family members (Pascal Provost). This, along with a half-dozen more identifiers, led us to the conclusion that Philippe Provost is in fact behind the philippe_de_yaourt Instagram account. Philippe guards his privacy dearly, the only photo we have of him (above) is from 2017.
His twitter account seems to exist solely to spread racial hatred and great replacement spam replies to more mainstream people's Twitter posts.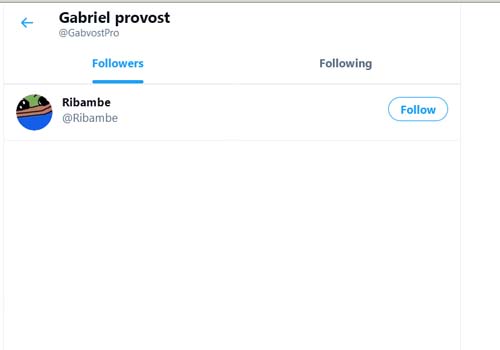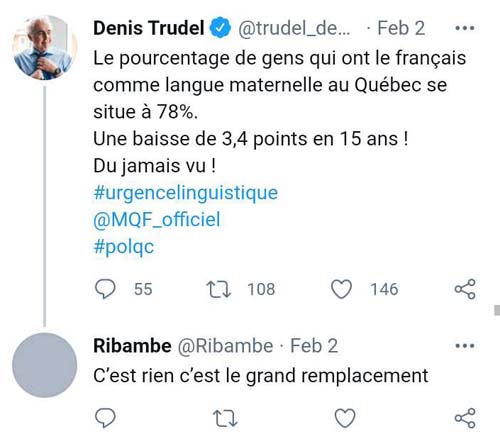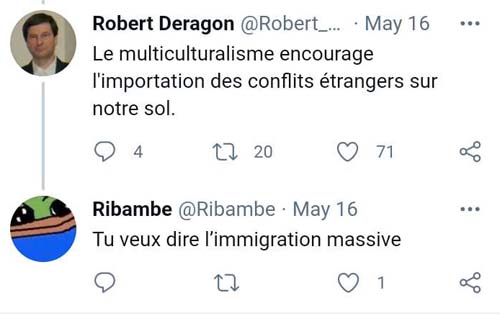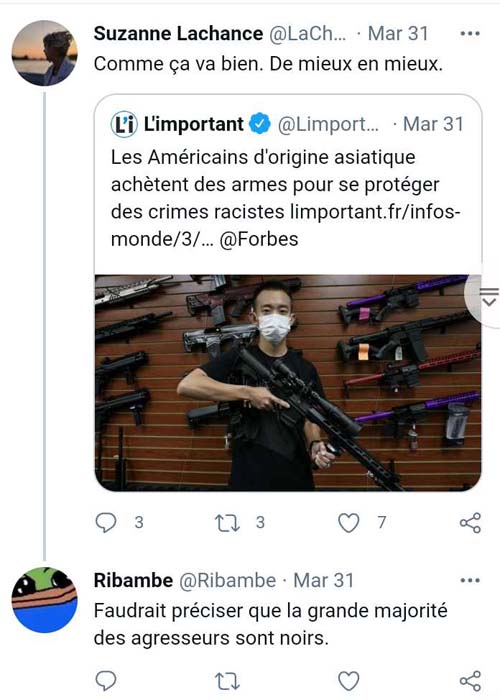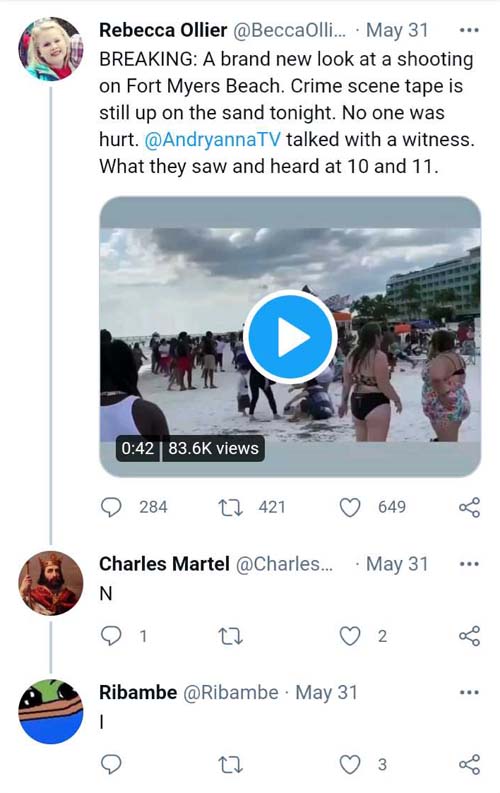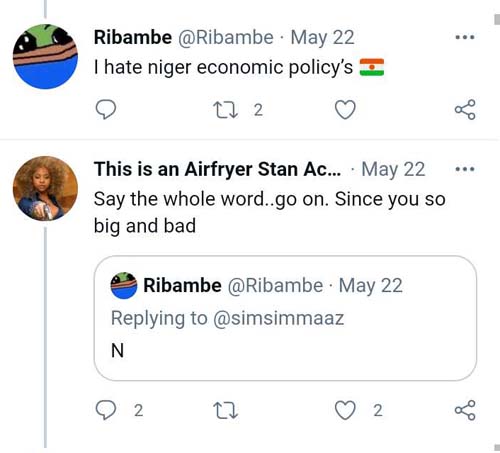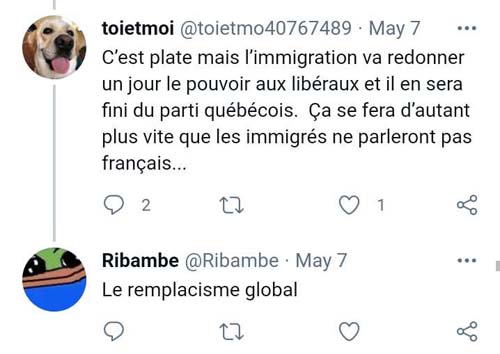 Whereas the others try and couch their racism in intellectual deflections or confusionist wedge issues, Philippe seems to be the embarrassingly vulgar racist of the group. He distinguishes himself as the person who is most apt to share racist shit in the group chat; he overflows with unabashed anti-Black racism, encouraging people to use the N-word whenever possible (telling people that the censored version, the N-word, is "gay"), sharing dehumanizing memes about Black people, hating on women who wear hijab, and basking in his own racism.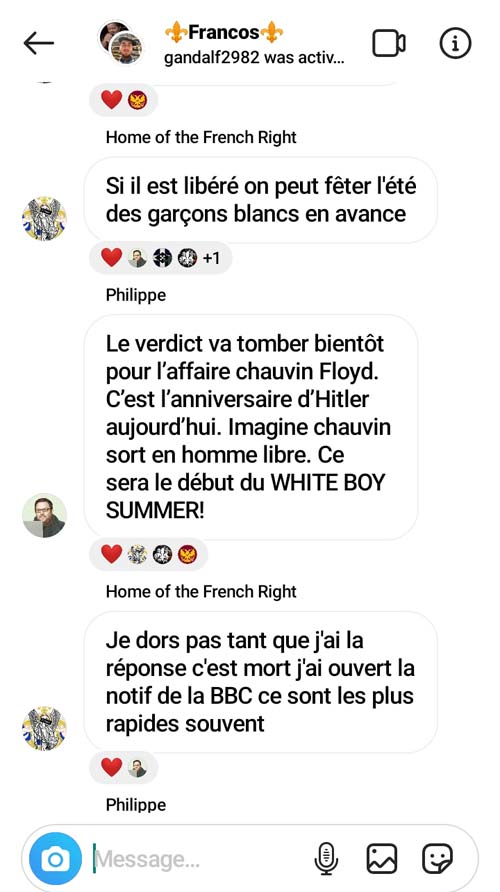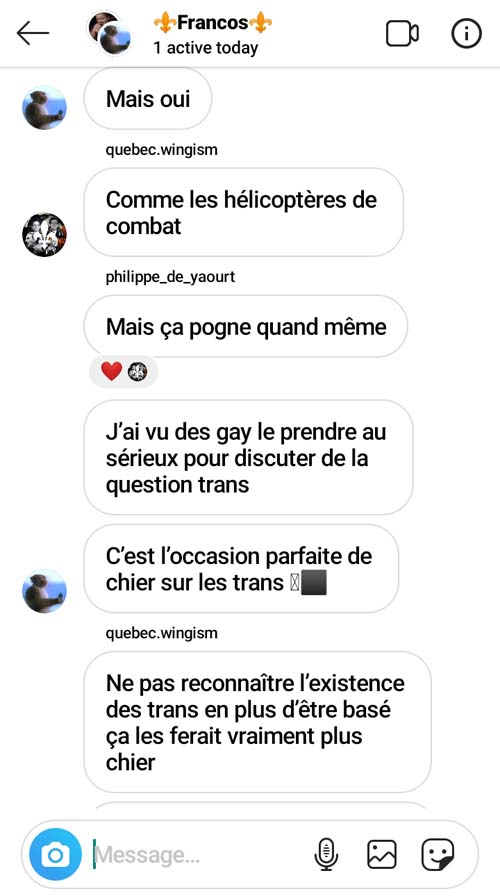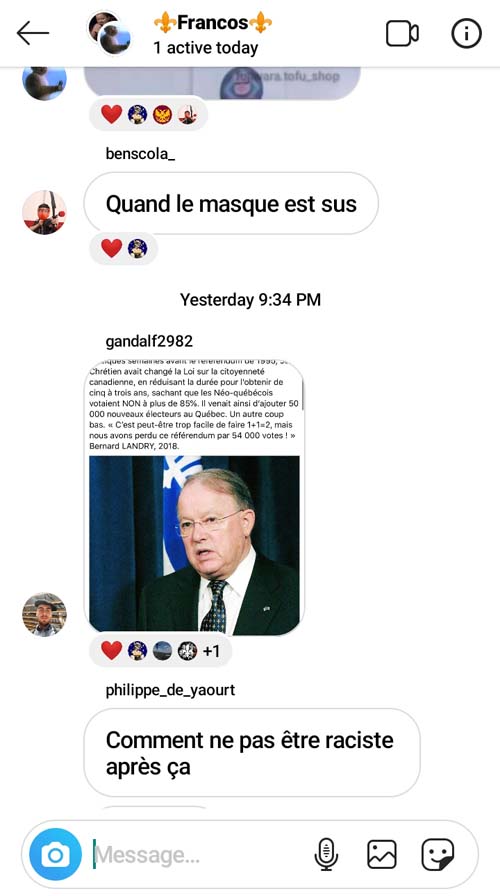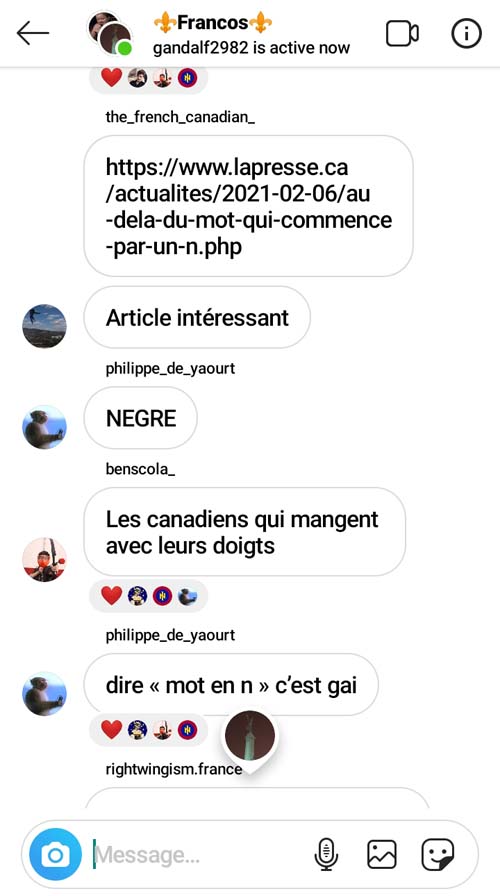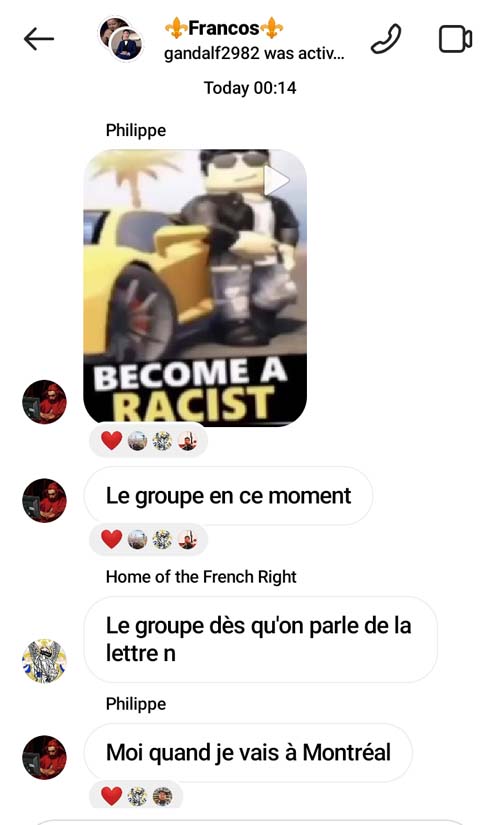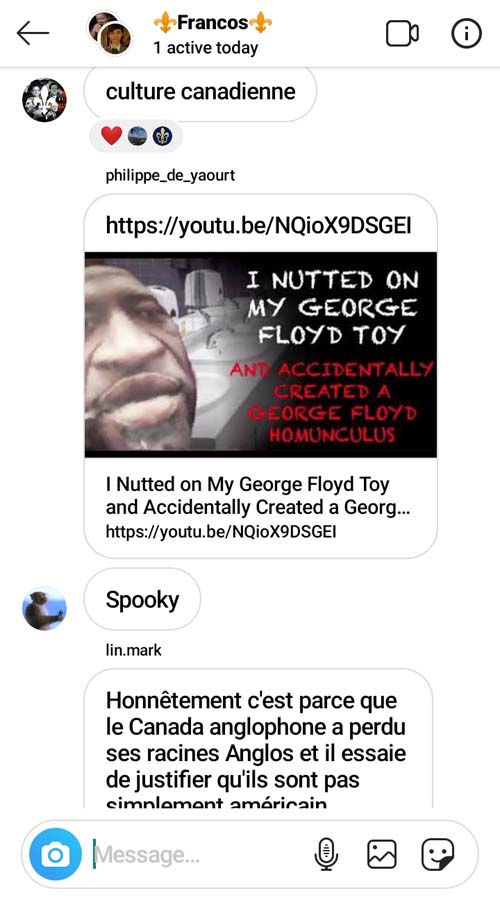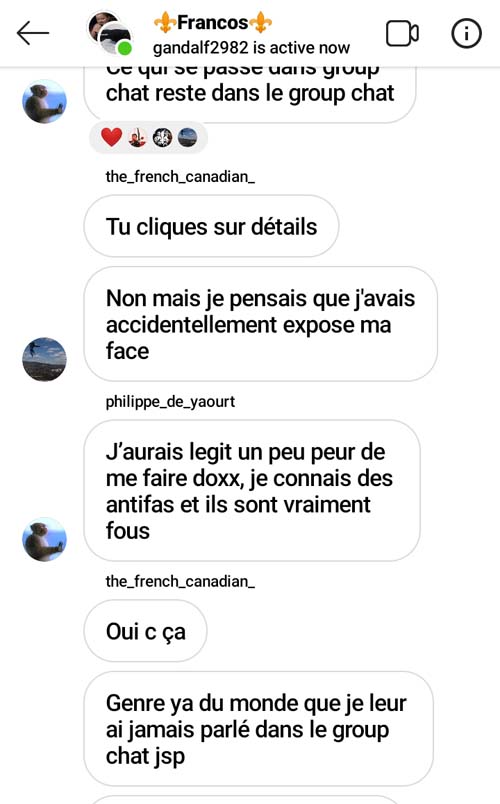 Vincent Benatar
Montréal, QC
https://www.facebook.com/vanbn924582
https://www.instagram.com/vbenatar97/
Telegram: @VinceBen24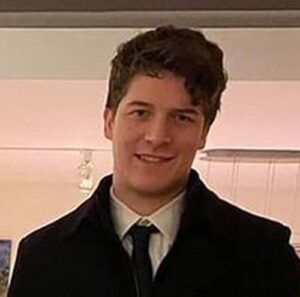 One of a few members of the Front canadien-français participating in the private Quebec.wingism group chat (the others being the official Front canadien français and Pensées laurentiennes accounts), Benatar (who we previously profiled here) doesn't participate very often. The only reason we include him in this article is one particularly revelatory discussion he had with Philippe and an unnamed Quebec.wingism admin – about the need for a young Quebec version of the Groyper movement. After the admin suggested "that could be us", Benatar replies: "I mean, we tried the Groyper strategy with MJS (Mouvement des jeunes souverainistes). We got banned. We got doxxed. We tried".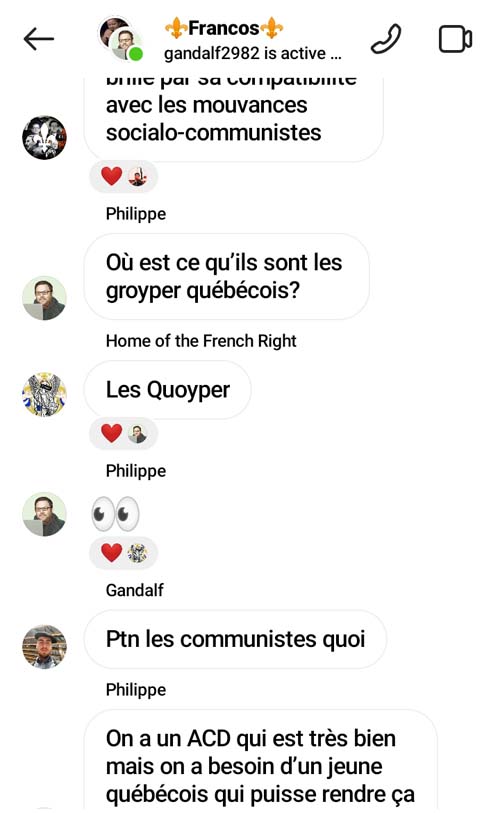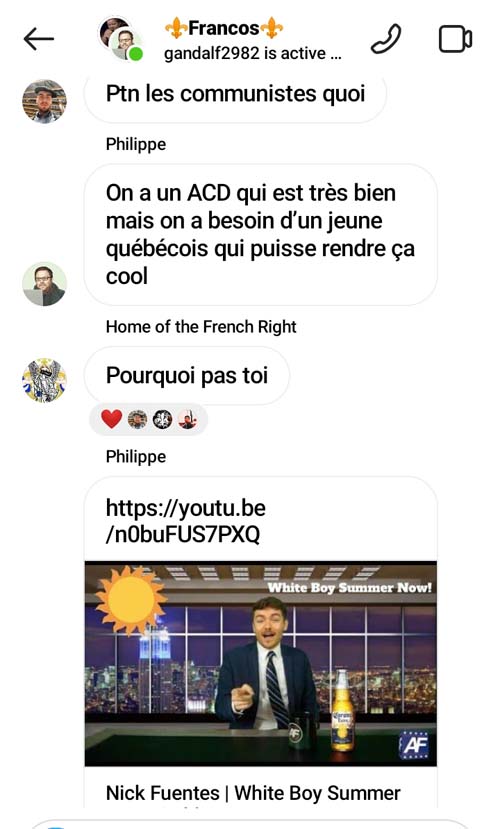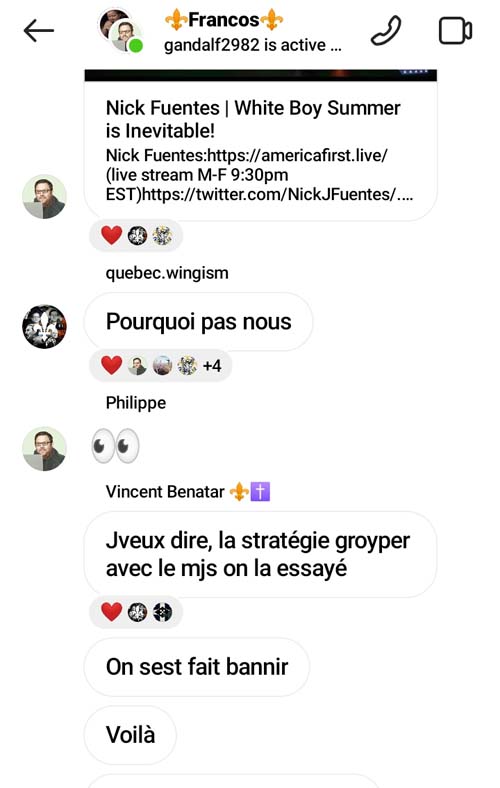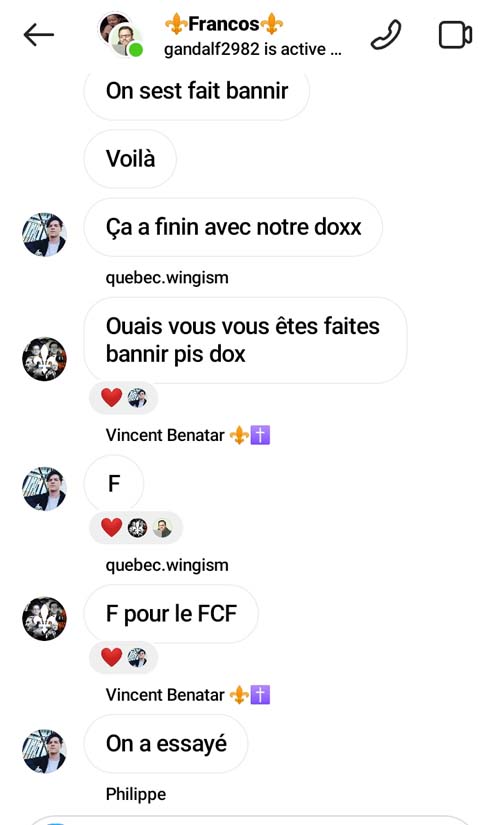 This seems to be him admitting to precisely what the MJS accused him and the FCF of doing – infiltrating the group as individuals, bringing up far-right topics such as white nationalism separately, but coordinating their efforts behind the scenes. Benatar's statement seems to confirm that they were indeed working with an entryist strategy to push the MJS towards white nationalist ideas, which is generally seen as the Groyper strategy. Furthermore, it shows that articles such as the one exposing the Front canadien-français work, alerting the broader community to what people actually are doing behind the scenes.
Conclusion and some final LOLs
As the lengthy nature of this article can attest, there is a fair share of different far-right political views on the Quebec.wingism page (and their private group chat) – anything from Quebec nationalism that blames immigrants for the lack of interest for sovereignty, all the way through to fascist hopefuls who dream of the day when gender nonconfirming people get lined up to be shot. What is clear is the unifying thread for all of them is the "great replacement" theory – one which they have mostly stripped of its conspiratorial aspect (that it is necessarily an organized plot), but which nevertheless remains an obsession that they use to justify a number of different views – either as an explanation as to why Québec will never be able to separate, or as an excuse to bond over racist abuse and white supremacy, or even as a reason why they believe fascism is a desirable political option. Unwittingly the group serves as a powerful reminder of what different types of right-wing nationalism can embody, and how these views (ethnonationalism, eco-nationalism, white nationalism, white supremacy, fascism) share enough common ground to coexist.
The proportion of people who identify as white is indeed diminishing in parts of Europe and especially in its historic settler-colonies – a natural phenomenon in a world that is more and more mobile, in which people care less and less about the race of their partner, or in which people realize cultural richness isn't achieved by bottling up an ossified racist vision of a country or "nation". Also, a predictable result of the centuries of European people going all over the world colonizing different peoples, devastating societies economically and ecologically, and stealing much of the world's wealth and bringing it back to these historically "white" societies. To interpret this worldwide phenomenon as a reason to embrace racism and fascism, centering white fragility and victimhood to perpetuate white supremacy, is based on an identification with this history of privilege based on racist oppression.
Quebec.wingism may revolve very much around one person (Mathis Dubois-Lévesque), but the various online trolls and hangers-on who have associated themselves with it show the potential for such projects to become meeting places and hubs for future activities. We felt it important to shed light on Dubois-Lévesque and the most active online trolls involved, as they attempt to push discourse into far-right territory by infiltrating other groups using innocent-sounding questions, dogwhistle politics, and racist memes with built-in ironic deniability. At the same time, their "raids" on trans and gender nonconforming people and promotion of traumatizing racist memes, even if they occur solely online, constitute real violence, for which they will need to be held accountable. We are sure they will absolutely not enjoy being named and shamed – whether they take this moment to reflect on why they have become so obsessed by whiteness and heteronormativity at such young ages or not, we will make sure they won't operate with impunity.
A bit of levity:
In the aftermath of the Front canadien-français being ejected from the Mouvement des jeunes souverainistes, a number of people came out of the woodwork to defend the FCF and cry out that the MJS was being "intolerant" and "fascist". Now that we know more about who is behind Quebec.wingism, we can look back on some of their comments and how badly they have aged in this new light:
We managed to make an article absolutely overflowing with only a fraction of the hate you and your friends post…
Meanwhile in private, it's a bit of a different story..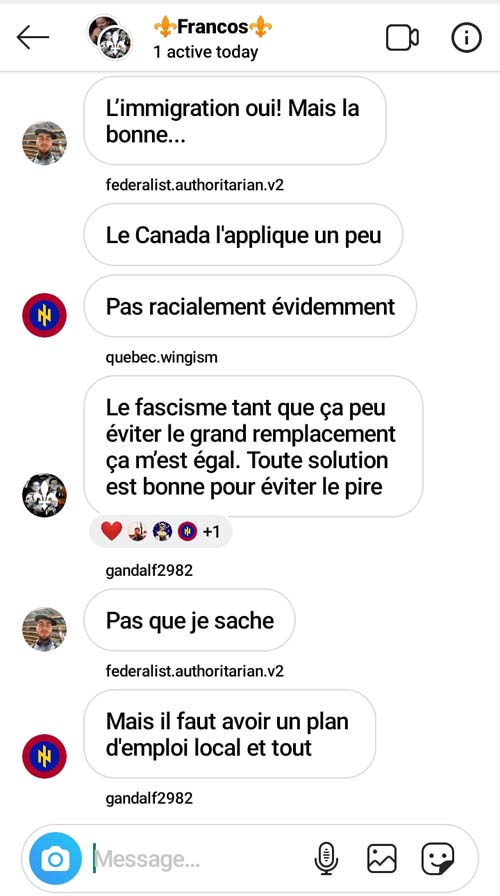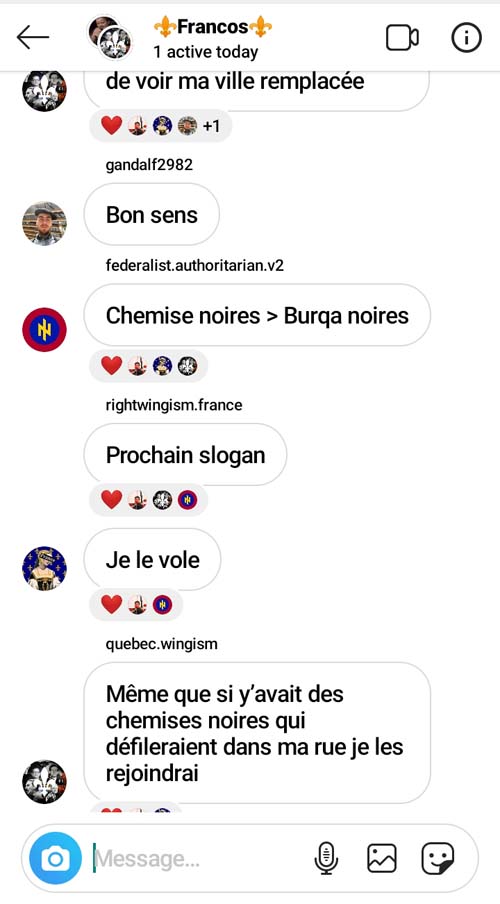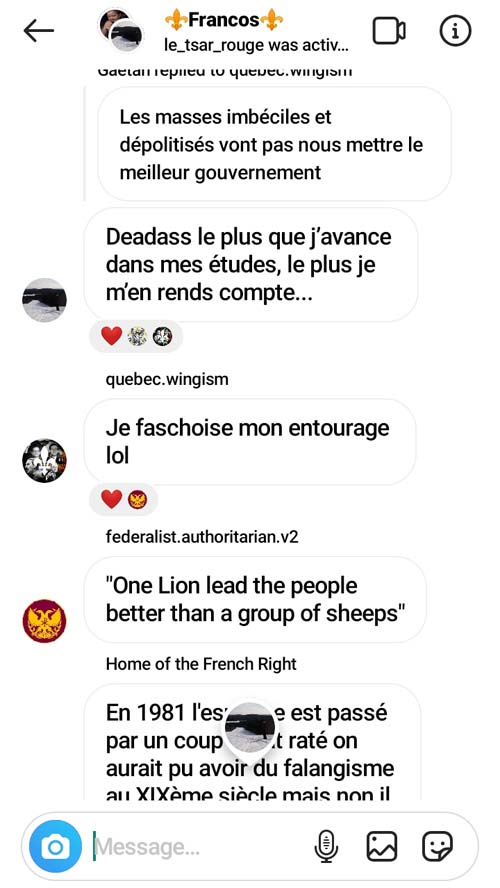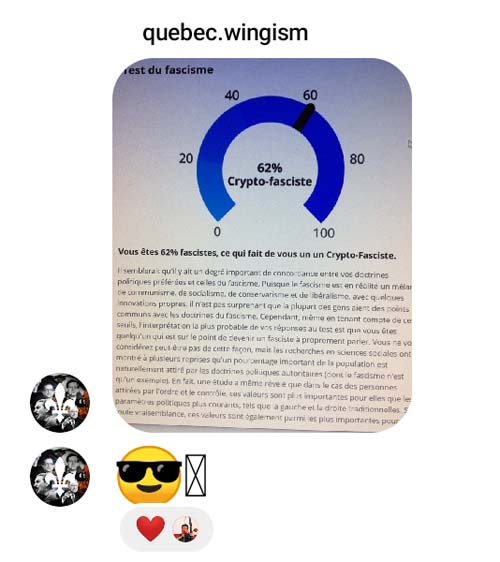 Another source of levity in such a depressing milieu: Quebec.wingism's conviction that "After the article came out" (about the Front canadien-français) "the admins" (of Quebec.wingism) "had a bit of a scare that we'd be targeted but in the end nothing happened". He follows with "Except we were much more discreet than the FCF so we haven't been doxxed".
---
[i] The "great replacement" theory is very similar to other conspiracy theories of the past, such as the "white genocide" and "Kalergi plan" theories which pop up sporadically in far right and white supremacist circles and that have no basis in reality.
[ii] Also El Paso, Poway, etc.
[iii] Génération Identitaire (originally the youth wing of the Bloc Identitaire movement) is a far-right xenophobic white nationalist group that originated in France. Part of the broader Identitarian Movement, which includes pan-European groups like Defend Europe or Identity Evropa (renamed American Identity Movement) in North America, the movement was infamous for raising funds to buy a charter boat in an attempt to intercept and ferry migrants back to their respective countries off the coast of Europe (details of the boat's spectacular failures documented here). Génération Identitaire actions such as dressing up as paramilitaries or border agents and trying to block migrants from entering France ended up getting them disbanded by a government decree in France this year.