Since its foundation, Montréal Antifasciste has received all sorts of messages from antifascists hoping to support our work and/or posing questions and sharing the fruit of their research and observations. It is much rarer for far-right extremists to communicate with us, except in the form of childish insults.
On June 18, 2018, someone using the name "Lola Parisi" sent us an e-mail from the address [email protected]. In September 2018, the same person also contacted us several times by Messenger using the pseudonym "Marie Dubois".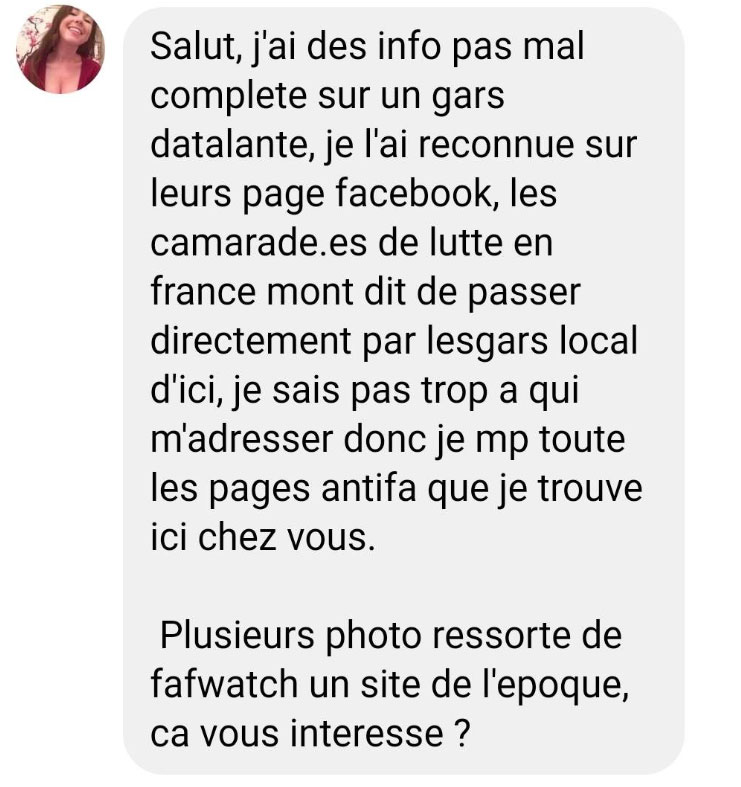 The message making contact was titled "Atalante spotted" and read as follows:
The person behind "Lola Parisi/Marie Dubois" claimed to have been referred to us by "comrades in struggle," but gradually it became clear that this person was a man who didn't particularly embrace progressive thinking and was generally misogynist, but who claimed to be a comrade in arms of Clément Méric. Between June 2018 and July 2019, "Lola" sent us at least forty-five e-mails and numerous messages by Messenger.
The contents of the e-mails, often very short, but occasionally detailed and accompanied by a photo, can be summed up thusly: a speck of original and authentic information that had to come from someone with privileged access to the hardcore of Atalante submerged in an ocean of disinformation. Let's dissect the content.
The information :
Some very precise information that we were able to verify permitted us to identify people we knew nothing about: Baptiste Gillistro, Louis Fernandez's accomplice during the attack at LvlOp, and Giulio Zardo, a former Olympic champion who trains the Atalante crew in Montréal at his private gym. The e-mails also gave us advance warning of trips planned by members of the group and information about the French National Socialist Black Metal band (Baise ma hache), which played in a Québec City bar in June 2019. Given this, it seemed likely that "Lola" was a core member of the group, and the explanation that "she" had infiltrated a private Atalante discussion did not appear credible.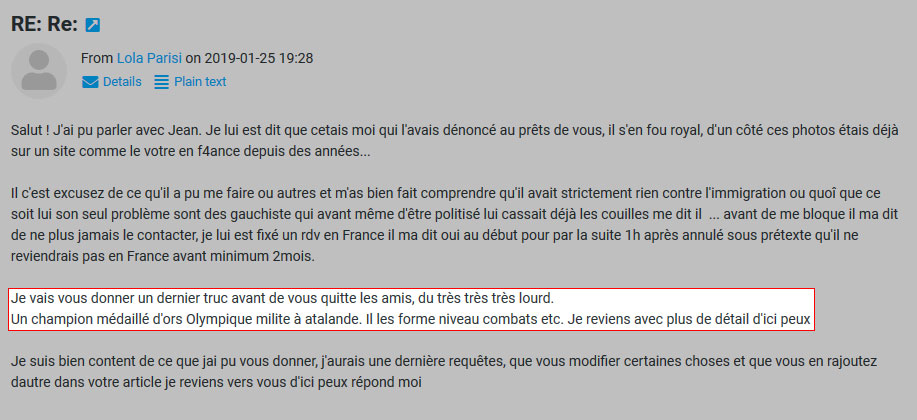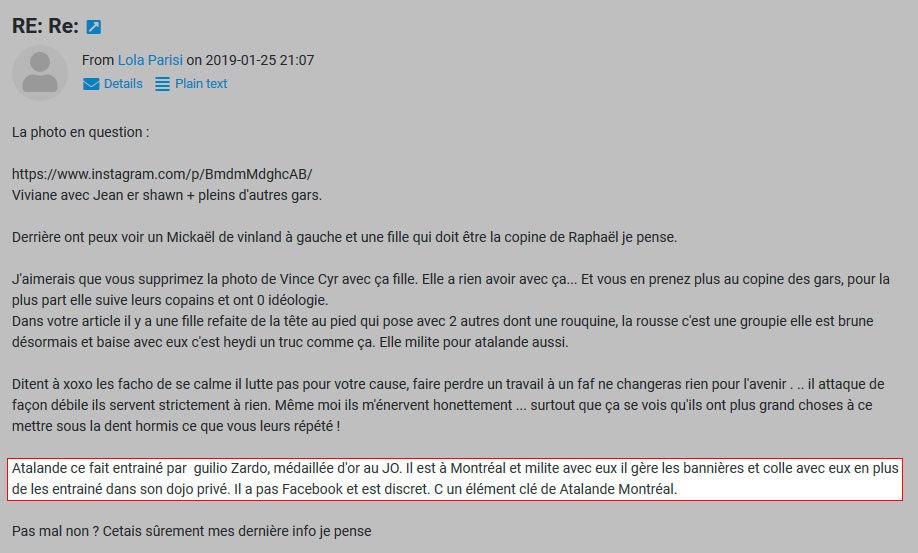 An important focus of the e-mails we received seemed to be to encourage us to publicly out certain women, with a particularly unhealthy fixation on Vivianne Saint-Amant, all the while insisting that they were not important Atalante members but were fangirls, followers, the "girlfriends of…," or "easy" women who were "good for nothing." That was another reason that we took "Lola's" information with more than a grain of salt.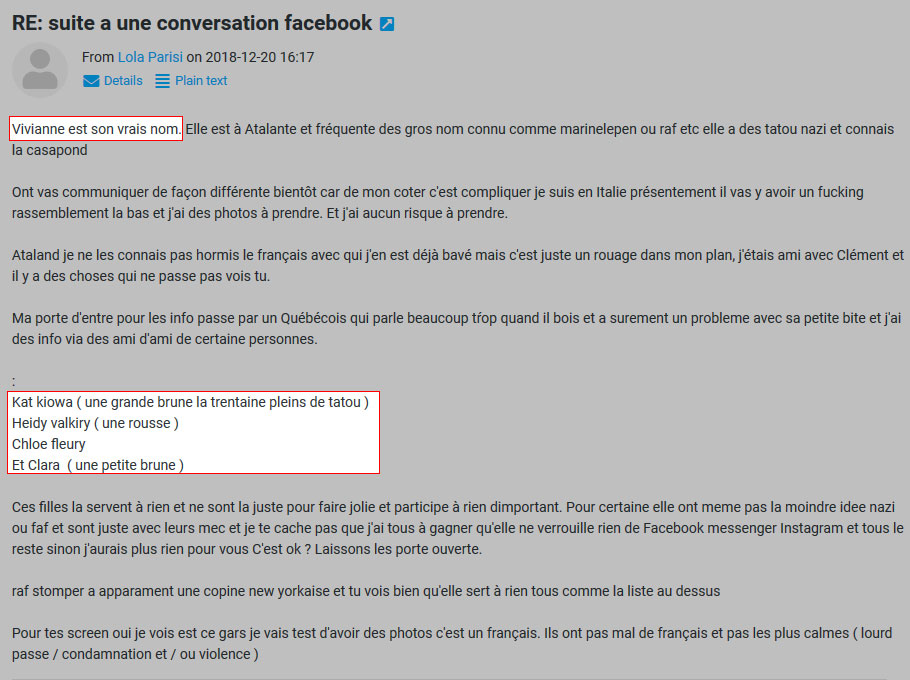 The disinformation :
A major thrust of the e-mails, on the other hand, was to lead us astray as to the real identity of Lucie Mergnac: her real name would be Chloé Fleuri or Fleury; in fact her real name was Merignac, not Mergnac; then she was Belgian, not French, and finally she wasn't really involved with Atalante.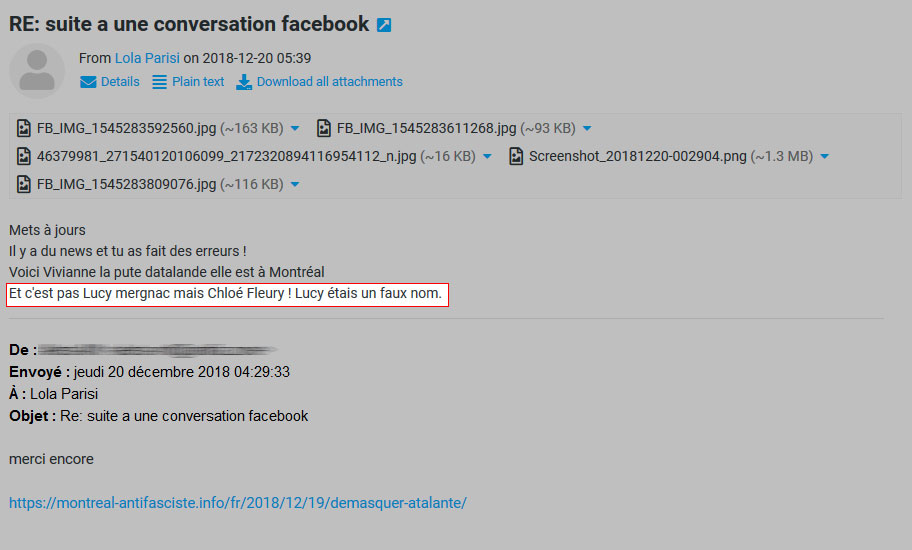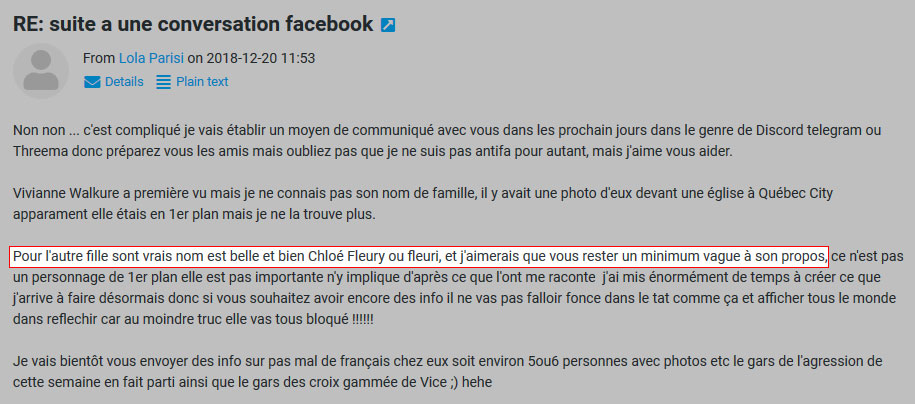 Toward the end of our exchange, the demand that we remove Lucie's name from our articles and publications grew increasingly insistent.

Far and away, most of the messages seemed to follow the life, adventures, and movements of Quentin Pallavicini, while trying to make us believe that his name was actually Jean Brunaldo, all the while describing Quentin having a fabled dream life: a young ultraviolent fascist who is a seasoned brawler close to the elite of European and Québécois fascism, who made a fortune speculating on cryptocurrency, who is independently wealthy and owns stores, houses, and luxury automobiles, who splits his time as he wishes between Québec, France, and Italy, who, with his hotshot lawyer, has won numerous court cases around acts of aggression… all of which we know beyond the shadow of a doubt to be pure fabrication.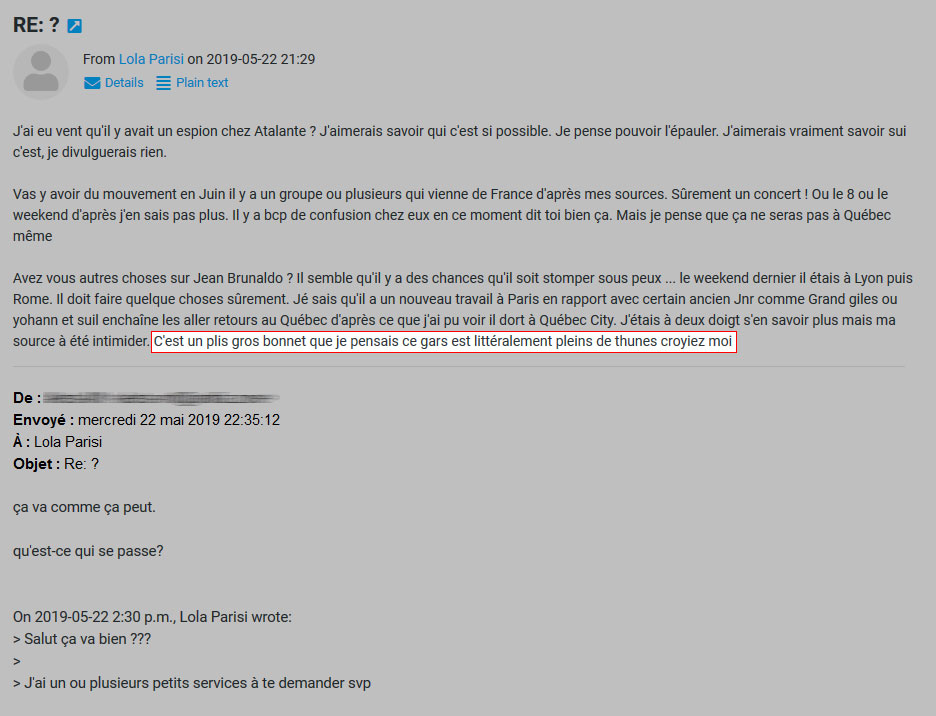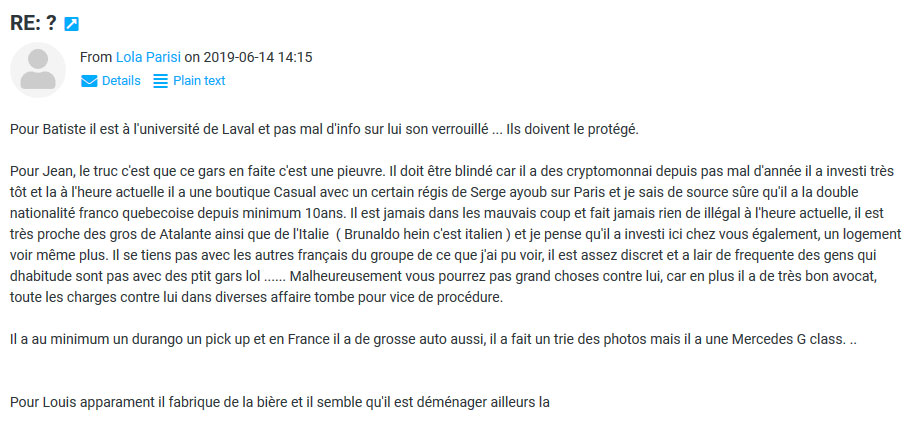 In reality, we know that Quentin is far from rich, that he rents an apartment in the Saint-Canut neighbourhood of Mirabel (after moving out of the flat he shared with his partner in Laval), that he has modest blue-collar jobs and that he rents cars to fake a high-style life. We also know, courtesy of our French and Italian antifascist comrades, that Pallavicini is not the "big-shot" he claims to be, even if he hangs out in the Serge Ayoub and Troisième Voie scene.
A careful rereading of our e-mail exchanges raised doubts for us. The multiple inconsistencies, the fixation on the Quentin/Lucie couple, the repeated attempts to protect Lucie, the odd piece of genuinely useful information embedded in a poorly written hagiography that bragged about Jean/Quentin's dream life, etc., allow us to now confirm that "Lola Parisi" is, in fact, Quentin Pallavicini, a member of Atalante Montréal (at least until the autumn of 2019) who, to protect himself and his partner, betrayed his organization and sold out his little comrades to antifascists—including asking for money in exchange for information! And perhaps—why not?—to increase his questionable credibility with the Atalante boneheads.