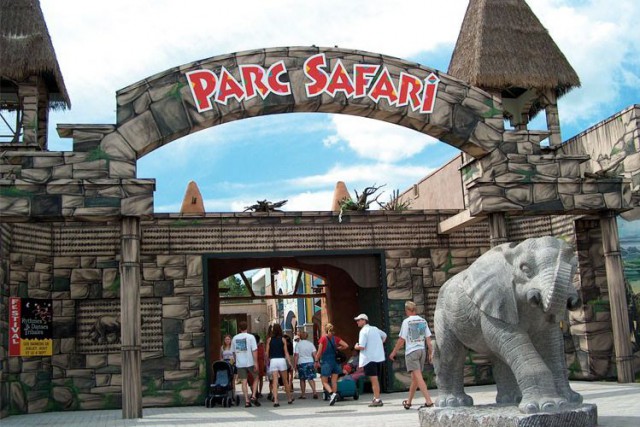 The media has begun commenting on a short racist youtube video, shot at Parc Safari (a zoo 45 minutes outside of Montreal) on July 2nd[i]. The video, seemingly shot by a woman who just happened to be innocently visiting the zoo that day, is in fact not easy to make out – one sees a crowd of people milling around of the grass, a woman in a headscarf walking by, and one hears something difficult to make out coming through a sound system. Nothing in fact out of the ordinary to anyone who spends any amount of time out in public in most big cities in North America.
Nonetheless, this anodyne 47 second video clip (linked to by several media websites now) has apparently provoked a storm of controversy, as it shows Muslims praying in public, and not only that but saying their prayers through a sound system. The number of angry complaints and demands for clarification, elicited an official response from the zoo[ii], which explains that the Muslim Association of Canada had organized a group visit to the zoo that day, that they had brought their own portable sound system, and that they had followed all of the zoo's rules. As Parc Safari explains, their zoo is open to everyone, regardless of nationality, religion, race, culture, language or sexual orientation, and that it is too bad that freedom of religion has offended so many people.

So far, all seems clear, if depressingly so: just another day in this Islamophobic society, just more of the media stirring up fake scandals about "reasonable accommodations." If anything, we are pleasantly surprised that the zoo issues such a good response.
Scratching a bit beneath the surface, though, there are other facts that should be brought to light.
First, who uploaded this video? On youtube, the video was uploaded by "guindon87" [iii]; this account specializes in uploading anti-Muslim videos, including footage shot by members of far right groups in Quebec. For instance, one recent upload is a video shot by Sylvain Gallant in 2016 in Drummondville[iv], in which he drives by a local mosque asking "Are we going to allow this in Drummondville, a mosque? Me I don't want any here … we are being invaded by mosques here, there are three, and I am completely fed up!" This video is part of the evidence that was used against Mr Gallant earlier this year, for inciting hatred, getting him 200 hours of community service and a condition of not going on social media for three years[v]. Within the far right, Gallant is seen as a hero being persecuted for free speech. Other videos uploaded by "guindon87" defend the recent St-Jean parade against accusations of racism; include two videos devoted to a local activist, in which he is subjected to racist slurs[vi]; and more in a similar vein, including one in which she calls for the murder of anti-fascists militants[vii]. It is unclear whether guindon87 shot the video in question (which first circulated on facebook), or whether they are simply the one who uploaded it to youtube.
The timing is also curious. The day before this video was shot, the small town of Hemmingford was invaded by members of the Quebec far right, as sixty or so people from groups like the "templar knights" and La Meute heeded a call by the anti-immigrant Storm Alliance to gather at the border to bear witness to irregular crossings by refugees, and to intimidate the latter for good measure. Their anti-immigrant protest was met with a boisterous counterprotest organized by the Montreal group Solidarity Across Borders[viii]. This was all ten minutes away from Parc Safari, which is actually where the Storm Alliance parked their bus. So that weekend, far-rightists from throughout Quebec had gathered in the area.
A further element to consider is that once this video was uploaded to facebook by Audrey Tremblay, it went viral, as of Wednesday having over 1500 shares and 500 comments. In the comments, one can read not only the most vile racism, but also links posted to far right groups such as La Meute. Indeed, the video has been avidly promoted by members of La Meute over the past three days. "Sue Elle" (real name: Sue Charbonneau), a La Meute member from Montreal, posted the video to the Mouvement républicain du Québec and Front Patriotique du Québec web pages, along with a model protest letter to send to the zoo, encouraging people to protest the fact that Muslims had been allowed to pray in public. At the same time, André Pitre (aka "Stu Pitt") used his youtube channel to promote the issue, tying the Muslims who were at the zoo that day to the Muslim Brotherhood and explaining that they want to set up a global caliphate, and that a key part of "conquest" by Muslims is to humiliate subject populations. According to Pitre, who claims to be nothing more than an ardent free speech advocate, this is what was being done when they broadcast a prayer on their sound system: it was all a matter of "invaders" humiliating their "victims"!
Muslims praying in public should of course not be cause for concern, and certainly should not be considered so controversial as to be newsworthy, any more than Christians saying grace at a restaurant, or people meditating at a park, or any of the other things people do to live their beliefs in a multicultural society. However, we live in a context where previous, equally innocuous, examples of minority groups daring to live in public and claim their place, have become hot-button issues, galvanizing broad racist opposition. Most famously, this racist potential has been harnessed by politicians of both right and "left" during the "reasonable accommodation" and "charter of Quebec Values" "debates".
Since earlier of this year, following the massacre by a far rightist in a Quebec City mosque, a national populist movement has been on the march. The July 1st demonstration in Hemmingford is just the last in a series of public displays against immigrants and Muslims. La Meute (who were present in large numbers on the 1st, providing most of the boots on the ground) is very much at the center of this racist wave, so far.
This is the context in which a simply trip to the zoo can become a flashpoint for racist organizing.
[i] https://www.youtube.com/watch?v=AAY9FoHHjYY
[ii] https://www.facebook.com/ParcSafari/posts/1555486877824473
[iii] https://www.youtube.com/user/guindon87/videos
[iv] https://www.youtube.com/watch?v=J_ksRxGtzn0
[v] http://www.journalexpress.ca/faits-divers/justice/2017/6/29/des-videos-hargneuses-contre-l-islam-le-mene-devant-le-tribunal.html
[vi] https://www.youtube.com/watch?v=Ar3SiS37iVw
[vii] https://www.youtube.com/watch?v=KDbbv9d4FDY
[viii] http://www.cbc.ca/news/canada/montreal/quebec-aslyum-seekers-crossing-roxham-road-canada-day-1.4187469