Please share widely;
If you can, get to Quebec City this Sunday by 1pm;
Buses are leaving from Montreal;
Anti-immigrant group La Meute, with links to Charlottesville neo-Nazi protest, attempting to demonstrate in Quebec City this Sunday.*
Anti-racists & anti-fascists are mobilizing to oppose La Meute, as well as other far-right demonstrations in North America.Reserve your spot on Montreal buses to Quebec City (more info below).
—–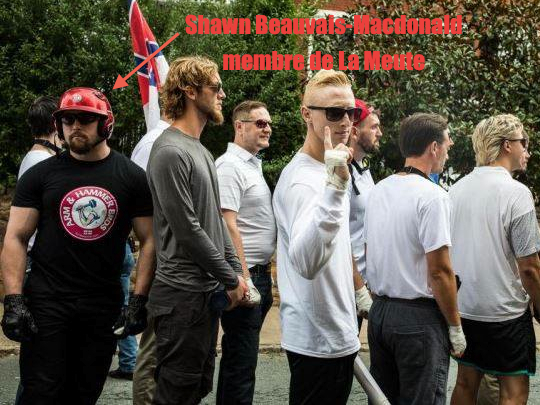 August 17, 2017 — Montreal Antifasciste, a local anti-fascist, anti-racist network, is encouraging anti-fascists to mobilize to Quebec City this Sunday against La Meute, while also sharing widely with the public the fact that at least one important La Meute member proudly attended the white supremacist demonstrations in Charlottesville.
Based on the work of anti-fascist activists behind-the-scenes, the presence of Quebec-based racists has been exposed in the mainstream media:
-> La Presse: Charlottesville: des Québécois parmi les radicaux:
www.lapresse.ca/actualites/201708/16/01-5125207-charlottesville-des-quebecois-parmi-les-radicaux.php
At least one high-level, now former, member of La Meute was among the far-right racists in Charlottesville. This is not not surprising as La Meute is a far-right, anti-immigrant group itself. Here in Quebec the group has worked with the Soldiers of Odin (a group founded by neo-nazis in Finland), the anti-immigrant Storm Alliance, and the one-person Mouvement Républicain du Québec whose leader is an avid promoter of anti-Semitic conspiracy theories about plots to enact "white genocide".Regarding the La Meute member spotted in Charlottesville, according to La Presse: "Shawn Beauvais-MacDonald, membre important du groupe La Meute … était modérateur de la page anglophone du groupe sur Facebook. Les nouvelles recrues devaient lui envoyer une demande formelle pour rejoindre la page privée de l'organisation.' [tr: Shawn Beauvais-Macdonald, an important member of La Meute … was the moderator of the English facebook page of the group. New recruits had to send him a formal request to join the private page of the group."]Because of the clear link between this high-level La Meute member and violent neo-Nazis being exposed in the media, La Meute has "suspended" Beauvais-MacDonald to try to maintain its public image.Despite the murder of an anti-racist protester in Charlottesville at a demonstration attended by at least one senior La Meute member, La Meute is still attempting to demonstrate in Quebec City (at a currently undisclosed location) this Sunday. It is in Quebec City where less than seven months ago an individual murdered six people inside a mosque in a context of fear and Islamophobia encouraged by groups like La Meute.La Meute is protesting in opposition to the arrival of mainly Haitian migrants to Quebec and Canada, playing into false and discredited racist fears about migrants leaving the anti-immigrant climate in Donald Trump's USA. Their demonstration is happening on the same weekend that far-right and white-supremacist groups are organizing protests in the USA (source: www.cnn.com/2017/08/15/us/white-nationalists-protests-tally-trnd/index.html). La Meute's demonstration this Sunday in Quebec City is clearly part of a broader surge in  far-right, racist ideas and organizations throughout North America.
We encourage anti-racists and anti-fascists to mobilize to Quebec City this Sunday (arrive early, by 1pm or earlier!).
-> Local Quebec City groups are planning a counter-demonstration; info:
www.facebook.com/events/183025858906169
-> Montreal-area anti-fascists are attending and planning transportation;
Info: www.facebook.com/events/412186305844166
Source: Montreal Antifasciste: United Against Racism, Patriarchy and Colonialism
www.montreal-antifasciste.info
[email protected]
More Background:
Beauvais-MacDonald, the former senior member of La Meute, made an angry facebook outburst regarding the media attention, saying "These people are idiots who drive forward the globalist media narrative set to silence anyone who is right of center. If you really believe that your friendly neighborhood fascist is a Nazi, then I suggest you climb in an oven and let your last thoughts be of me. But do unfriend me first."
Regarding Charlottesville, he defended his presence at a rally full of neo-Nazis: "The message of the rally was more important than that. First of all an expression of free speech which we don't have in this Orwellian state, and secondly demonstrating against the erasure of Western Civilization, from the deconstruction of it in the Frankfurt school infected academia to the physical removal of monuments to the culture of shame we are made to adopt."Beauvais-MacDonald is only the tip of the iceberg. La Meute itself is a racist organization that has welcomed collaboration with more extreme elements ever since the mosque killings in January of this year. Within days of that massacre La Meute was putting forth the line that the shooter was just a "madman", and that the real issue was that the murders would be used to suppress freedom of speech and political activity in Quebec. The consequences were immediately apparent, as racist boneheads giving Hitler salutes and alt-rightists shouting "race traitor" at counter protesters, mingled happily with La Meute members in the March 4 demonstrations against Bill M-103. This trend continued unchecked at the April 23 demonstration organized by the Front Patriotique du Québec through to its close collaboration with the Mouvement Républicain du Québec. When Remi Tremblay of the openly fascist and white supremacist Fédération des Québécois de Souche interviewed Sylvain Brouillette of La Meute's leadership council this summer, arranging for their talk to be published in the far right French magazine Présent, it was just more of the same.