Tuesday, December 12, TVA Nouvelles reported that female construction workers doing roadwork outside a the Ahl-Ill Bait mosque in Côte-des-Neiges had been reassigned to work in other areas, following a request to this effect from the mosque's directors. TVA initially claimed to have a copy of a work contract to this effect. If true, this would have been both sexist and illegal.
Within hours of this news report, there was a wave of outrage on social media. In no time at all, well-known far right and Islamophobic personalities were denouncing not only the Ahl-Ill Bait mosque, but Muslims in general, as well as various politicians who were apparently failing to take a stand quickly enough, not to mention the Fédération des Femmes du Québec, which was accused of remaining silent due to the fact that its recently elected president, Gabrielle Bouchard, is a trans woman (and as such, apparently, indifferent to sexism).
Before the end of the day, facts contradicting this narrative were beginning to emerge. The executive of the mosque explained that they had never made any request to remove women from the site. "We did ask for access to the parking lot, at noon on Friday, but we never asked that anyone be excluded. This request, if it was made, did not come from our organization,"stated Moayed Altalibi, the mosque's spokesperson,in a press release. This was confirmed by Serge Boileau, president of the Commission des services électriques de Montréal (CSEM), which is in charge of the work site, who pointed out that the person who oversees the work site for the CSEM is a woman. "She has been there for three or four weeks, and was never made aware of any request at all, not was she ever bothered by anyone."
Despite these facts clearly contradicting TVA's lies, social media networks connected to the far right continued to spread the claim that women had been removed from a work site due to Muslims. Indeed, the very fact that a spokesperson for the mosque was insisting that they had no problem with women's presence, was cited as proof that Muslims were liars who could not be trusted.
Not for the first time, a dishonest news report about Muslims in Quebec went viral. Not for the first time, the far right is mobilizing as a result. Not for the first time, it looks like the news story itself may be the result of far right disinformation, as screenshots from Mark-Alexandre Perreault (who seems to have been the initial source of this story) shows that he is not exactly a disinterested or unbiased commentator:
Following the TVA report, far right social media icon Josée Rivard was quick to put out a video, in which she first lambasted FFQ head Gabrielle Bouchard with transphobic invective, before turning her sites of Muslims who were apparently responsible for making a female construction worker lose a day's pay. Putting forward a false view of ethnic relations in Quebec, she shouted about how, "We always welcomed everyone and we never had any problems and now suddenly a bunch of morons are coming here who are messing everything up."
In short order two women close to La Meute – "Sue Elle" (aka Sue Charbonneau) and "Kat Baws" (aka "Kat Akaia")–called for a demonstration outside of the Ahl-Ill Bait mosque, with the express intention of disrupting the Friday prayers on December 15. Sue Elle has been involved in numerous racist mobilizations in 2017, attending demonstrations called by the Canadian Coalition of Concerned Citizens, the Front Patriotique du Québec, Storm Alliance and La Meute. Working with neonazi boneheads close to Soldiers of Odin and Atalante, she also attempted to organize a demonstration against Haitian refugees outside the Olympic Stadium on August 6 – an event that she was forced to cancel due to a large antiracist countermobilization.
Kat Baws is close to both La Meute (her partner "Pat Wolf" holds an official position in the group's Monteregie Clan 16) and Storm Alliance, and was one of the organizers of Touts Unis Pour Les Démunis, a (failed) far right PR operation on December 9.
Besides La Meute and Storm Alliance, Baws also sympathizes with Atalante, the Quebec City-based neofascist organization, and various pages that specialize in identifying and attacking antifascists: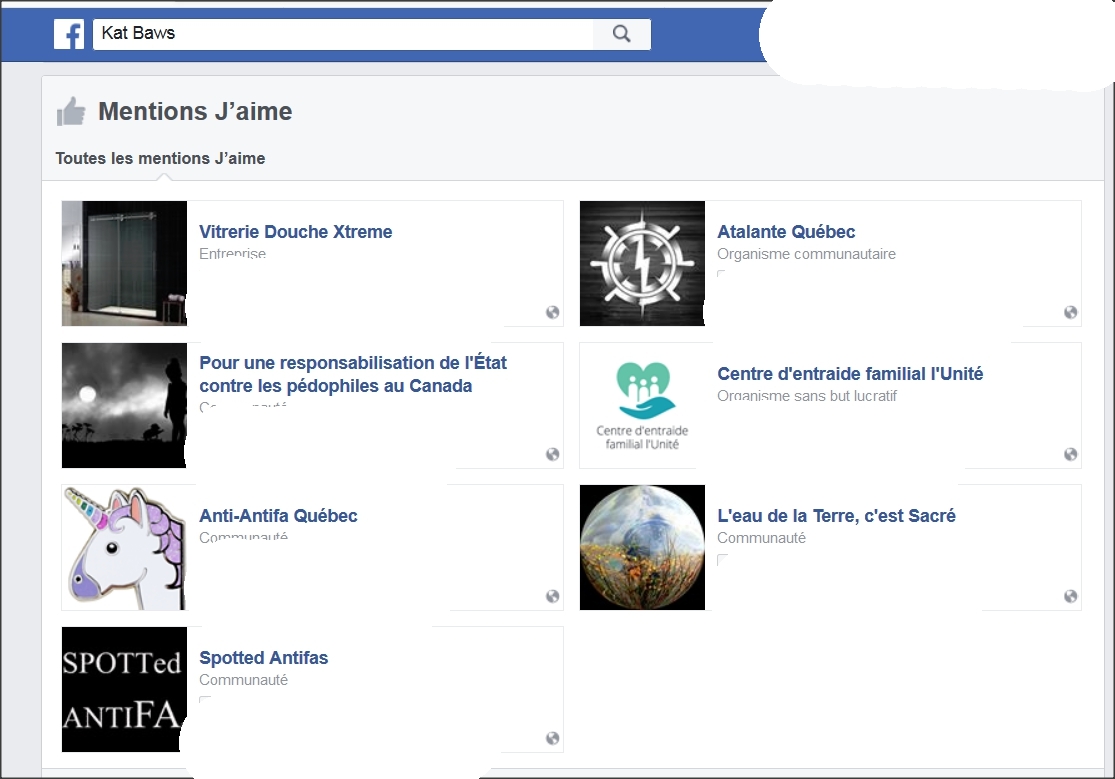 Both Storm Alliance and La Meute quickly moved to back the call for a demonstration outside the mosque on December 15. Meanwhile on the event's facebook page, it was quickly boosted by Isabelle Roy (aka Seana Lee Roy), former head of Storm Alliance Montreal and co-organizer of the TUPLD flop, and numerous others, as suggestions to sing Christmas carols to disrupt the mosque's Friday prayers, to hand out bacon or ham sandwiches, etc. began to come in.
At the same time, in parallel, the Association des Travailleurs en Signalisation Routière du Québec announced that it too would be demonstrating on Friday in front of the Ahl-Ill Bait mosque. Organizing via twitter, the ATSRQ warned its members to leave prior to the 1:30pm demonstration (which it said might get out of hand), and then as more and more news reports came out on Wednesday casting doubt on TVA's Islamophobic claims, finally canceled its plans on Thursday morning.That said –insisting she is acting on her own and now as a member of any group –Marie-Josée Chevrier had already made a public call for people to support the union demonstration, a call that was backed by individuals from various networks, including people close to the Front Patriotique du Québec. As of this writing it is apparent people may still be showing up Friday morning before the larger afternoon racist rally. It is worth noting that Chevrier, despite her disavowal, is a member of some interesting facebook groups: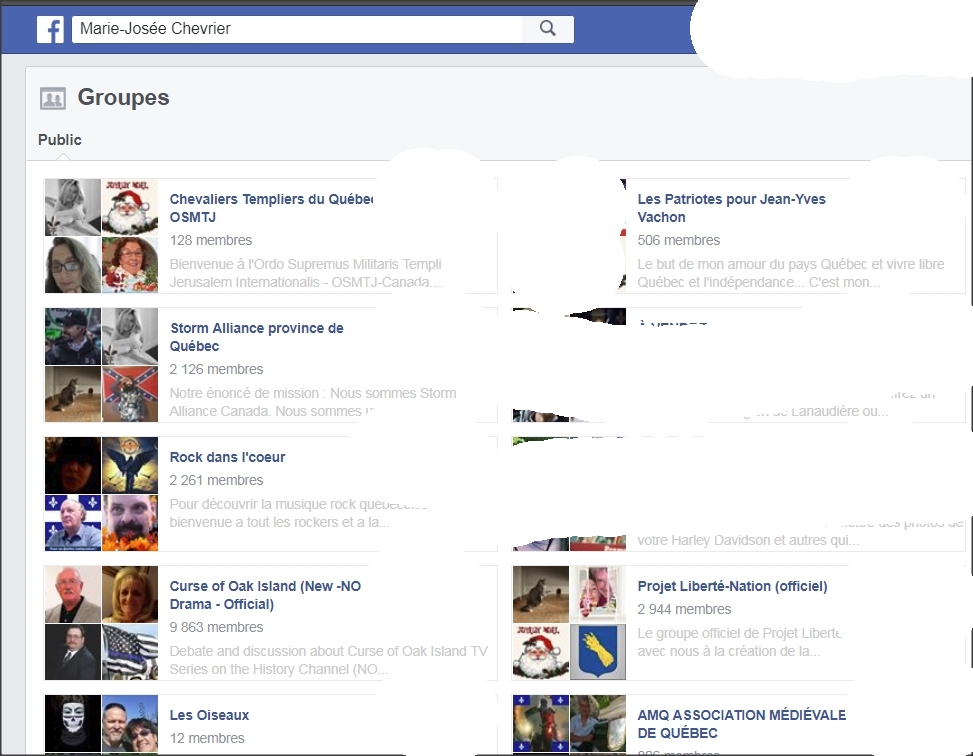 Storm Alliance, La Meute, and the Front Patriotique du Quebec are said to be organizing security for the Friday afternoon demonstration: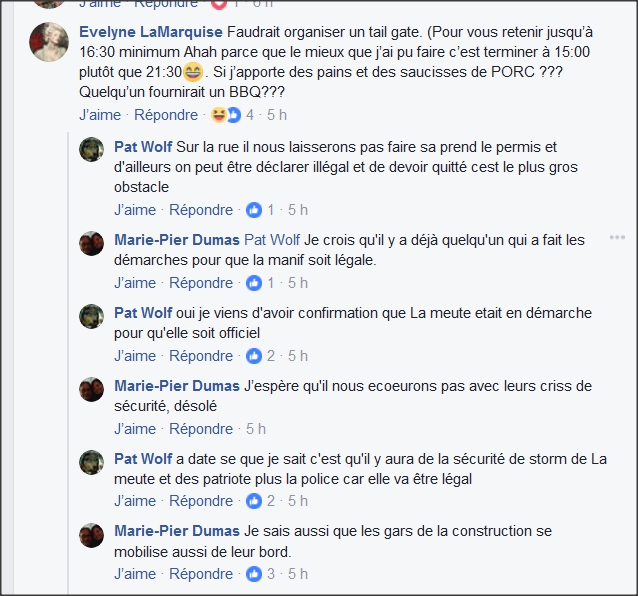 At the same time numerous calls have been made on facebook for more ominous action. Isabelle Lavigne (a member of the Storm Alliance facebook group) posted a video in which, while insisting she was not calling for violence, she warned members of the Ahl-Ill Bait mosque's executive that she had gotten their home addresses via a government website. Sébastien Cormier – whose family's immigration problems were exploited by Storm Alliance in their November 25 demonstration – put out his own video, bemoaning the fact that Québécois had been indoctrinated into Islamophobia by the government, yet at the same time warning Muslims that if they keep on making "unreasonable demands" that things would explode. (We have the impression that "Seb" really doesn't know what he's gotten himself into, accepting support from people who he himself seems to realize are racists.) La Meute member Patricia Celtique Gagnon put out a video calling for demonstrations in front of mosques across Quebec on Friday, a sentiment that was echoed by other social media denizens.
There have been numerous calls for mosques to be vandalized and attacked, amidst a swamp of racist memes and comments:
And this is of course just the tip of the iceberg.
The far right mobilization around this story – even though it is based on misinformation – is not surprising. In Quebec, a key element of racist organizing for the past ten years has been framed in terms of women's rights. This can take a racist but anti-sexist form, or it can take the form of straight out paternalism about "protecting our women" and "women are sacred in Quebec". This is part of a broader phenomenon in which, after years of racist rabble rousing from media and politicians alike, popular discontent here – even around actual issues – is increasingly frequently expressed by white people through Islamophobia.
Regarding these instant feminists of the far right, we also can't help but notice how selective their outrage is. For one woman to have lost one day's pay due to sexist constraints is indeed something that should never happen. But for a mass mobilization against this, in a society where on average every woman earns 88 cents to the male dollar (which translates into 28 days' unpaid work every year), is clearly about a lot more than gender equality.
If women are being excluded from any domain, that is oppressive, sexist, and something we oppose without hesitation. However, we are now all-too-familiar with the way in which these stories are made up by media outlets like TVA, quickly becoming something "everyone knows", never mind that the story is contradicted by facts. In this case as in so many others, lies have fed an anti-Muslim feeding frenzy.
Read our follow-up here: TVA'S FAKE NEWS AND THE MANUFACTURING OF ISLAMOPHOBIA (CONTINUED…)