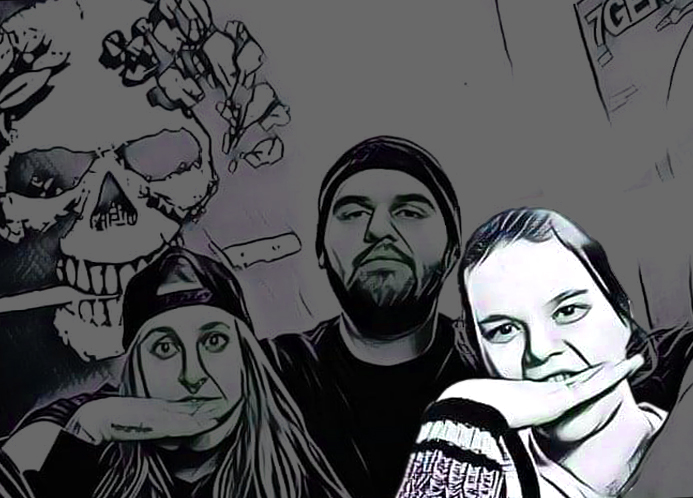 Foreword : Atalante projects an image of the white male warrior, the last line of defense against the degeneracy of multiculturalism and the modern world. The group—for the most part men—promotes a fascist ideology that is de facto patriarchal and antifeminist. Although women are underrepresented, since we began investigating the group, we've published a few articles about women members, Roxanne Baron and Heïdy Prévost, for example, and today we are turning our attention to Laurie Baudin. We have noticed that the impact of our articles seems to be greater in the case of those already experiencing gender repression (Roxane Baron seems to have been pushed aside, while Heïdy Prévost lost work-related contracts when she was exposed). Even if we take it for granted that anyone associating with a toxic organization like Atalante deserves to be exposed, we nonetheless think it is important to reflect upon what the active involvement of women in fascist and antifeminist groups means. That might well be the topic of a coming article.
Since 2018, Montréal Antifasciste has been documenting the activities of the neofascist group Atalante, to all intents and purposes, a Québec City group. We're starting to get a good grasp on the group's public façade, particularly with regard to its major spectacles (e.g., the Vice affair), its postering campaigns, and its distribution of sandwiches on the street, a strategy adopted from European neofascist organizations like CasaPound (Italy) and Bastion Social (France; the organization has disbanded and restructured itself as small autonomous local groups).
These activities all have something else in common: they are carefully staged, photographed, and publicized on Atalante's Facebook and Instagram pages, as well as on its website. While we knew and recognized most of the people who appeared in the photos, we had no idea who was on the other side of the camera, but it was clearly someone consciously avoiding appearing in the forefront. Observation of the group's most recent outings in the streets of the Capital City during the summer of 2020 make it clear that this person (one of them, in any case) is Laurie Baudin, a very low-key member of Atalante Québec.
In this video and these photos taken in August 2020 you see Laurie Baudin, her cell phone in hand, taking photos of Jonathan Payeur, Louis Fernandez, Sven Côté, and another person during a staged sandwich distribution action.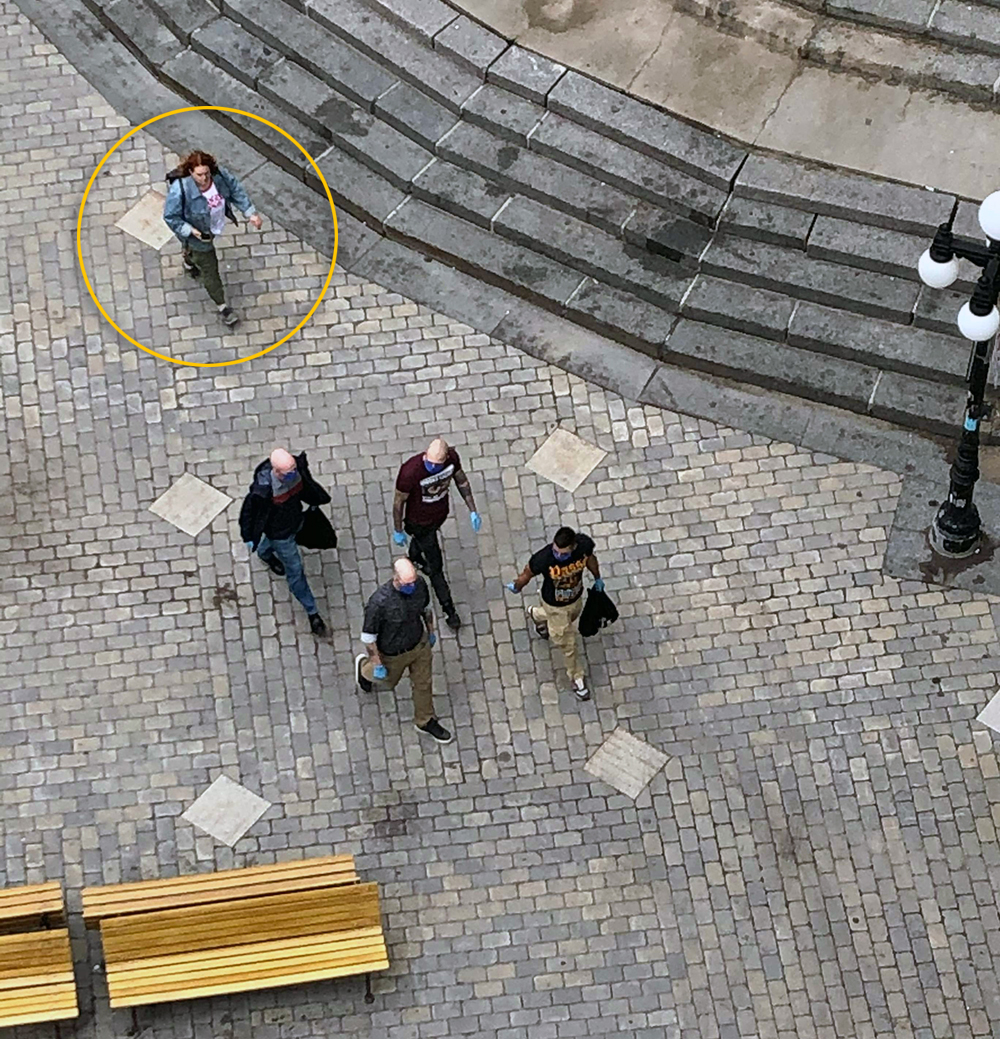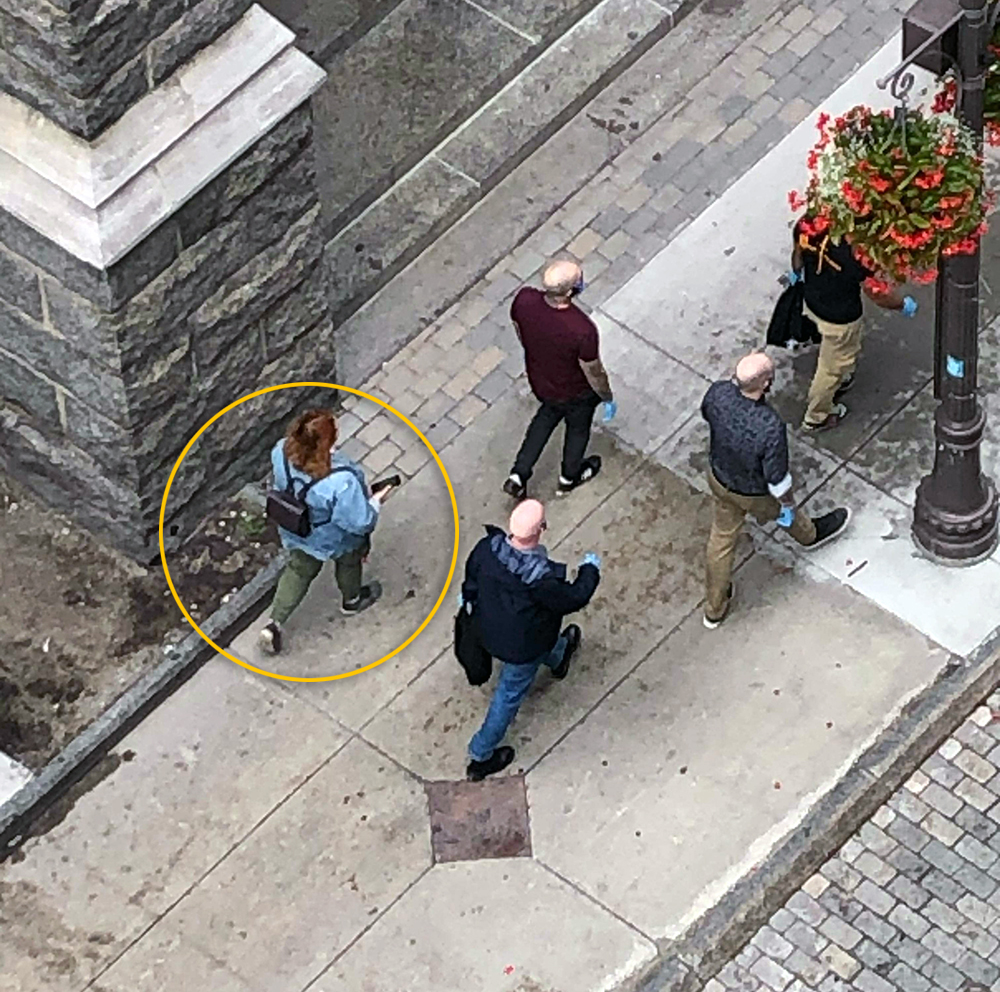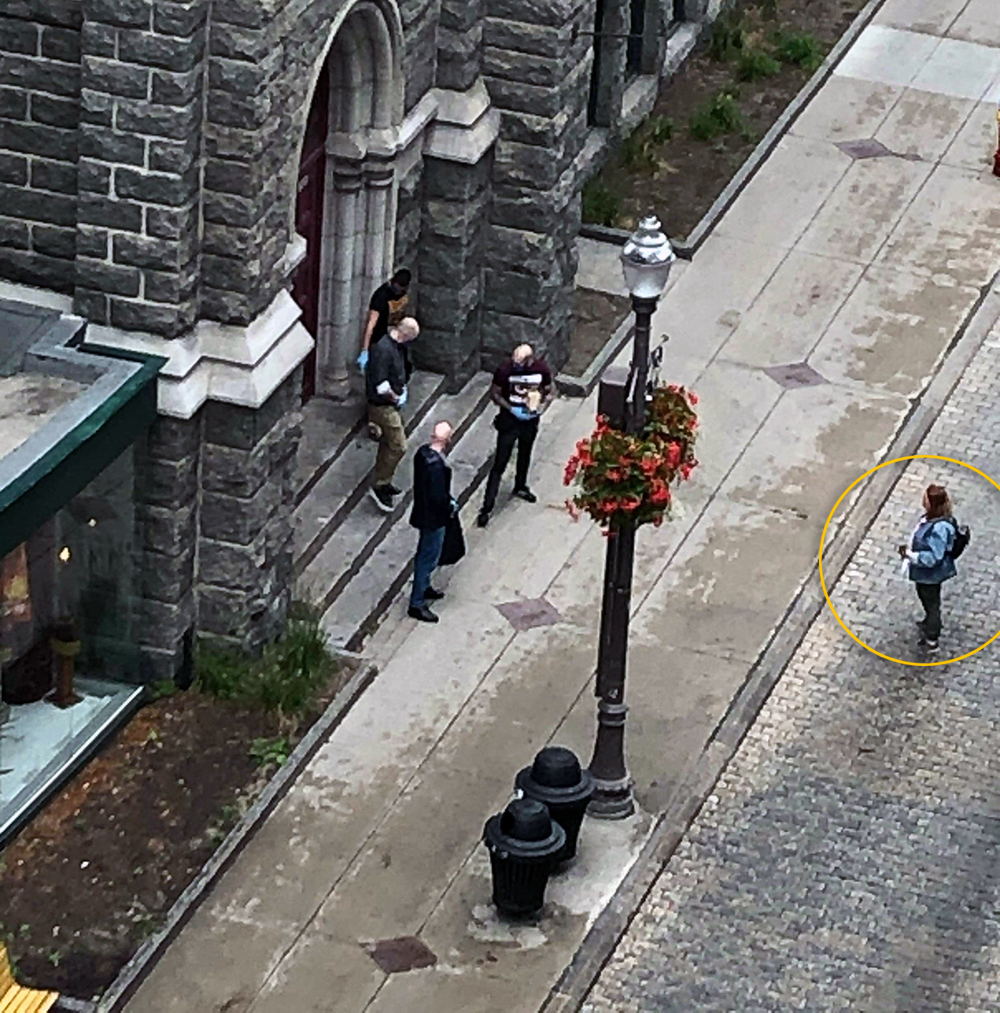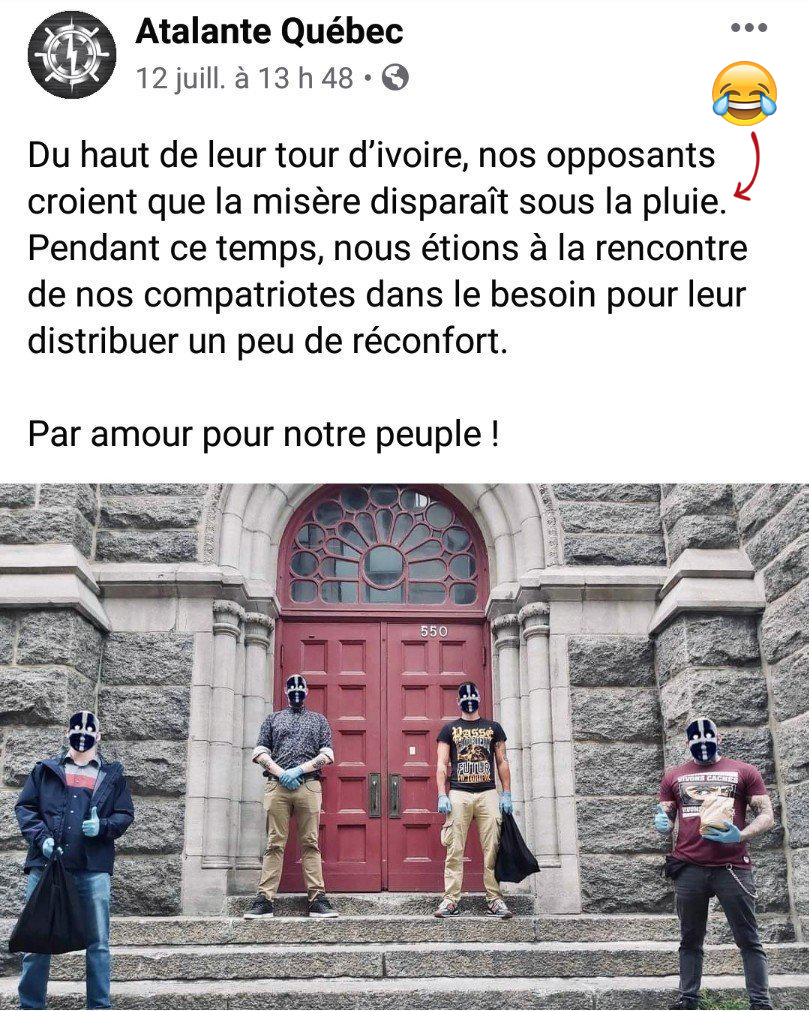 An antifascist sympathizer who personally knows Laurie Baudin from Cégep Garneau crossed paths with Atalante during a different outing in September 2020 and was able to identify her beyond a shadow of a doubt.
Who is Laurie Baudin?
When we published the article Unmaksking Atalante in December 2018, this is what we wrote:
"Dominic Brazeau's partner, she may well be more of an Atalante "hangaround" than an active member. Like Brazeau, she comes from Mont-Laurier and is a very visible member of the social circle around the Mailhot-Bruneau brothers. She is pictured in this photo proudly posing with the group's colours alongside Marie-Ève Mecteau, alias Evymay Lacroix, and HeïdyPrévost."
We are now in a position to say a little more about her.
We thought that Laurie Baudin was just a "hangaround," but we were wrong. Monitoring Atalante's social media, particularly that of Roxanne Baron (the true paparazzi of the fascist scene in Québec), indicates that Laurie has been present at most Atalante and Québec Stomper Crew (the bonehead street gang out of which Atalante developed) social events, that she has participated in preparing group actions, et that she is a close associate of the leaders of the organization: Raphaël "Raf Stomper" Lévesque and his wife Danielle "Duke" Doukas (from NYC), Jonathan Payeur, Yannick Vézina, etc.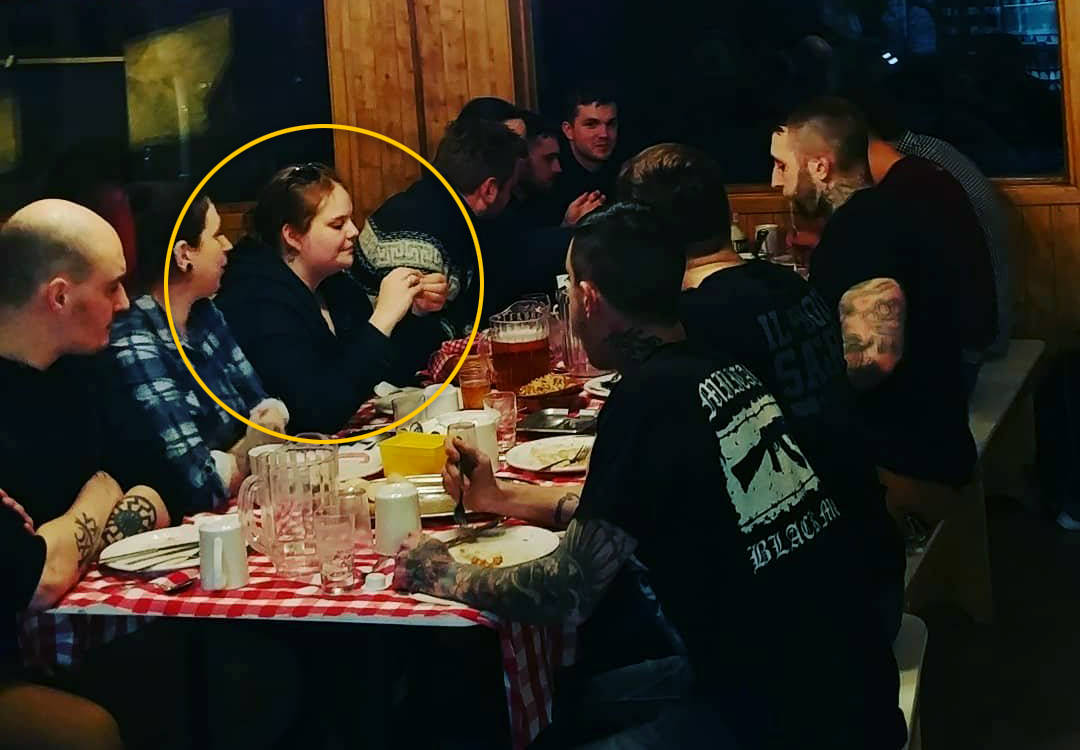 As we can see in these photos, Laurie is fairly discrete, posting very little compared to other Atalante members, who show off their tattoos and often wear explicitly political clothing. An initial glace at Laurie Baudin's social media might well lead you to believe that she is still the youth member of the Club Rotary Québec—Val-Bélair, who wants to "change the world, one person at a time."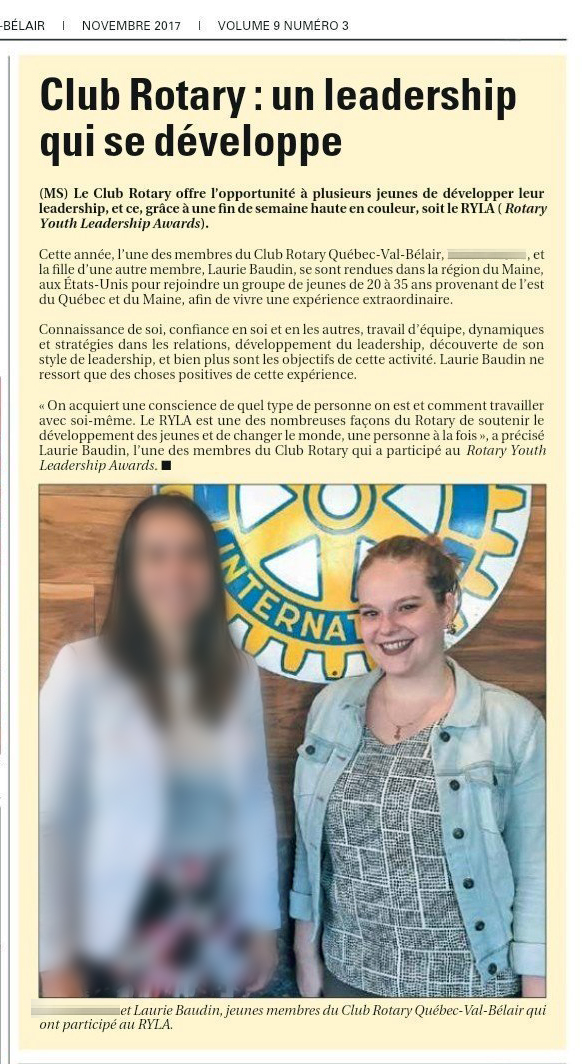 Uninhibited Fascism
We were surprised to discover that Laurie Baudin was the person behind the Instagram account @miss_revolt (now closed), which confirms that she embraces a fascist, white supremacist,and anti-LGBTQ+ ideology.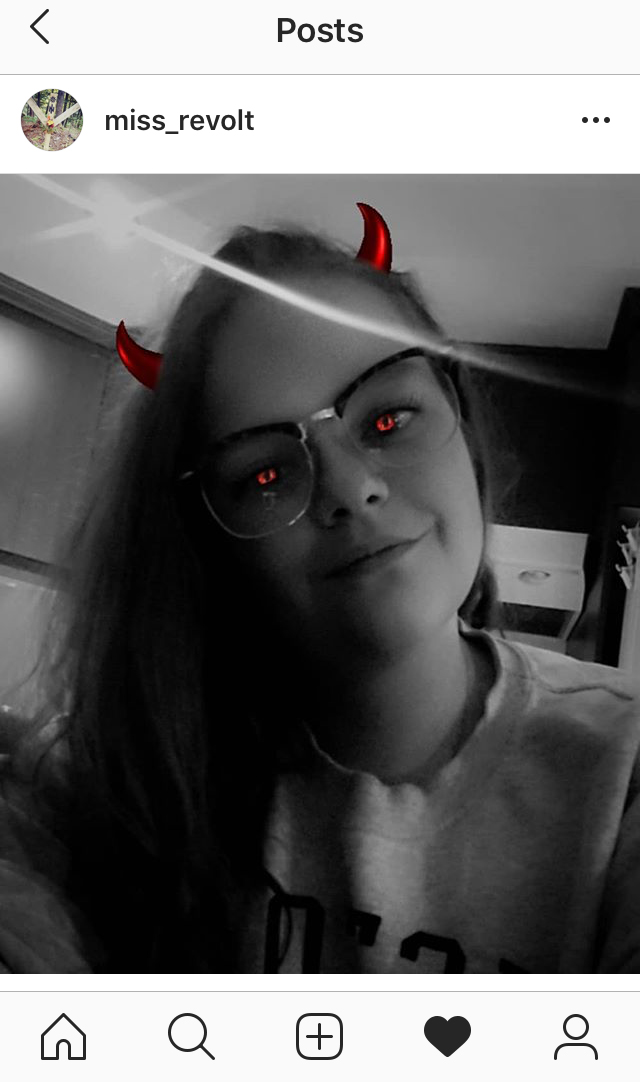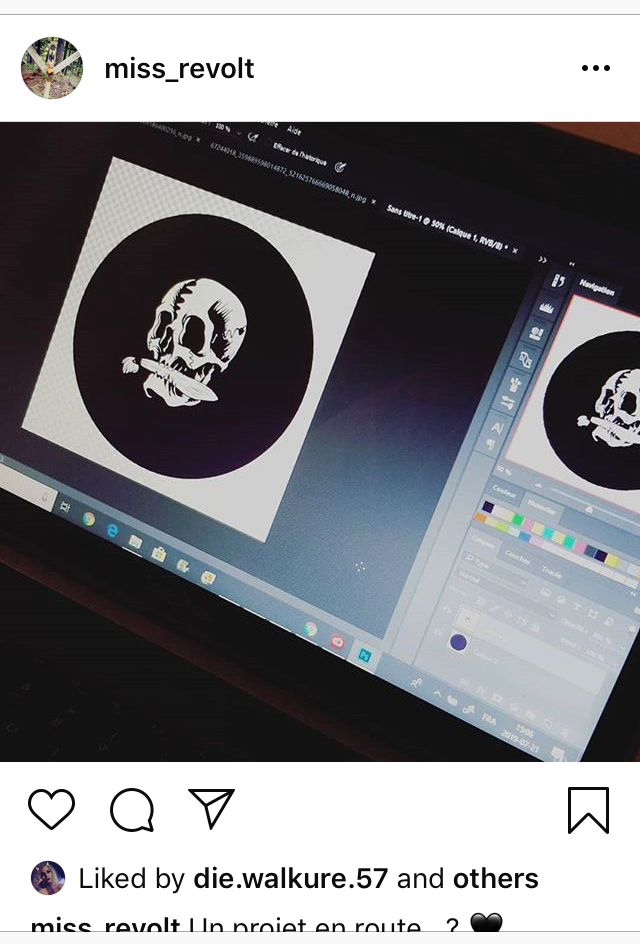 Without being able to confirm it, we nonetheless feel we have to ask if Laurie Baudin, the group's photographer, is not also providing her graphic arts services alongside Étienne Mailhot-Bruneau . We're keeping an eye on it.
If you have more information Atalante's member, entourage and sympathizers, please write to alerta-mtl @ riseup.net.