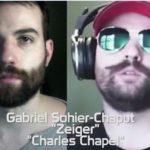 [Posted  on May 5th]
Anonymous post to  MTL Contre-info
Over the past year, Montreal antifascists have identified individuals (…) in their 20s and 30s, active online but trying to establish an "in real life" presence for neo-Nazism in our city. Occasionally operating as "Alt-Right Montreal" or ARM, or Arm and Hammer, these individuals are also linked to Generation Identity (rebranded as ID Canada), the phantom Northern Order, and other "groups" in the city.
This is a trigger warning for extreme racism, anti-Semitism and misogyny.
 You can read the full logs of the "Montreal Storm" Discord channel at montrealnazileaks.net
You can also download the complete logs here for offline viewing
Download the Zeiger Doxx video here
A callout to Help Doxx Your Local Nazi, and a Canada-Wide Callout to Track Down the Alt-Right Nazi Scumbags Next Door have also just been published.