What Is the "Vague bleue"?
The "Vague bleue" is a gathering that will be held on Saturday, May 4, at 2:00 p.m., at the TVA building in Montréal. It was initially announced as an extension of the weekly rallies of the so-called Québec "Yellow Vests" (we've written about this in the past), which has held rallies at the same location every Saturday since December 2018. Initially, the main objective of the "Vague bleue" was a call for a popular civic referendum to establish a Québec "citizen's constitution", a reworking of one of the Yellow Vest's demands in France. Initially, the rallies were contextualized as an expression of civic patriotism by identitarian groupuscules generally known for their online and social media activities. The one thing they all share is an obsessive and hard-line attachment to an independentist project that is openly xenophobic and proactively Islamophobic, with barely disguised racism.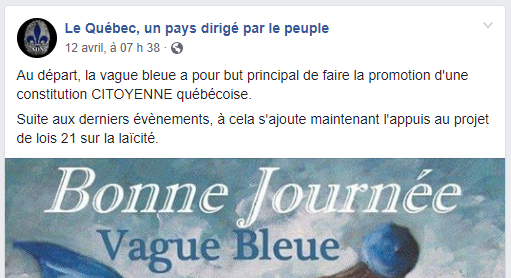 The social media echo chamber created by these so-called patriots has coalesced into a "fascistic milieu" of sorts in recent years, where a mix of toxic xenophobic and racist perspectives and fake news spread like wildfire supporting a confirmation bias that affirms conspiracy theories and increasingly radical ideas about immigration, multiculturalism, and diversity, ranging from reactionary comments to full-on fascist theories that draw on information sources moderated by white supremacists and other far-right individuals.
This nebulous movement, largely confined to social media and only occasionally leaving the realm of the virtual world, has seemingly made a few minor adjustments to its usual means of mobilizing, and we may well witness a reconfiguration of the Islamophobic far right in the wake of the "Vague bleue" (the disappearance of some groups, new alliances, fusions, new groups). We will see.
In the early weeks of the organizing, the "Vague bleue" mobilization already differed from other far-right mobilizations, with several hundred people expressing an interest in the event. But the decisive moment came in April, about a month before the rally, when the organizers shifted the "Vague bleue" messaging to focus on support for Bill 21 "on secularism" (which essentially seeks to legalize discrimination by forbidding state employees from wearing religious symbols). In a matter of weeks, the Facebook event blew up: hundreds upon hundreds shared the event and signalled their interest, resulting in the callout being sent out thousands of times. One would not necessarily be remiss in thinking that the many successive mobilizations against Bill 21 in Montréal (in particular, on March 24 and April 7 and 14), some of which included thousands of people, have pushed the Islamophobes to come out of the woodwork for a mass mobilization.
As such, the tiny "Yellow Vest" mobilization has strayed from its initial objective, an eventual Québec constitution, which few people are now talking about, to reorient around a vociferous support for the CAQ's secularism bill.
To sum up, what we have here is:
a rally of frustrated xenophobic nationalists;
outside the (nationalist) media empire Québécor's television studios, which daily stoke the fires of xenophobia and Islamophobia in Québec with an army of reactionary commentators;
in support of the anti-liberty and Islamophobic bill advanced by the CAQ, a conservative party leading a majority government!
It's hard to even imagine something so entirely absurd!
Who's organizing it? Who's participating?
A number of organizations and groupuscules have supported the rally by sharing the callout. It is not a straightforward proposition to untangle which of the groups that are mobilizing are more than a "one-man show," as is, for example, Donald Proulx's Parti patriote. But we can identify the main groups at the heart of the mobilization, both on social media and, in the case of some of their more overexcited members, "in real life." Keep in mind that even when these individuals are associated more intimately with one group or another, they associate and interact on Facebook with innumerable other individuals of their ilk.
The screenshots below should suffice to demonstrate that the run-of-the-mill "patriotic" militant is more marked by a rabid Islamophobia than by any genuine concern for the independence of Québec.
— Québec Libre en Action (connected to the Recours collectif contre Revenu Québec), a group formed by Jonathan Héroux (known as John Hex on Facebook) after he left the anti-immigrant group Storm Alliance, in which he used to hold an executive position. His biggest achievement to date was organizing a rally of fifteen people in Malbaie during the G7 summit in Jun 2018. Héroux/Hex appears to be the initiator and main organizer of the "Vague bleue." He is well regarded in the Québec fascist milieu, with numerous people following the video livestreams he produces at the identitarian right's various gatherings. Jocelyn Houle, another crank who genuinely believes "the mass media and politicians are controlled by Freemasons", is another active member of Québec Libre en Action.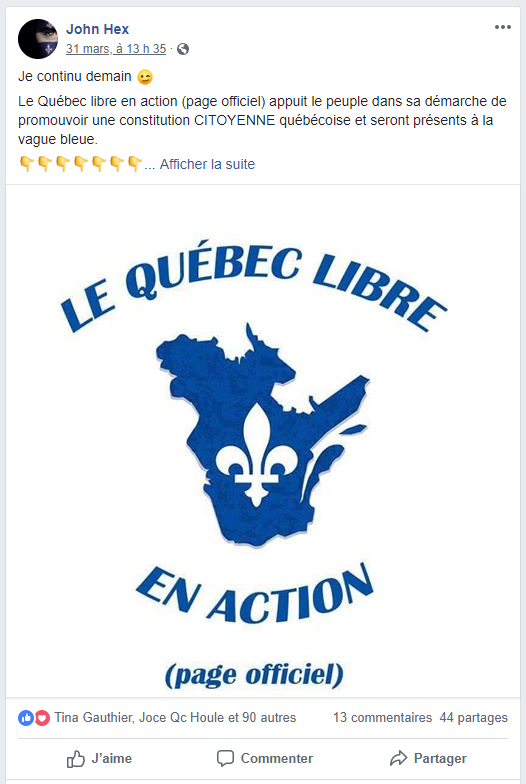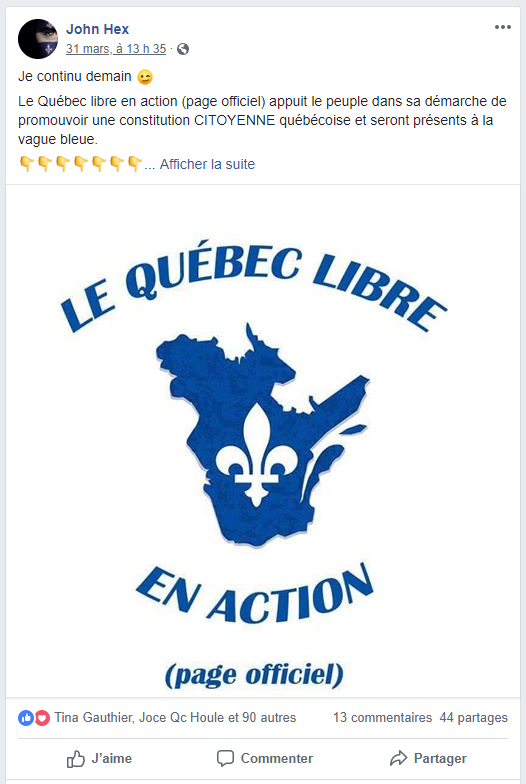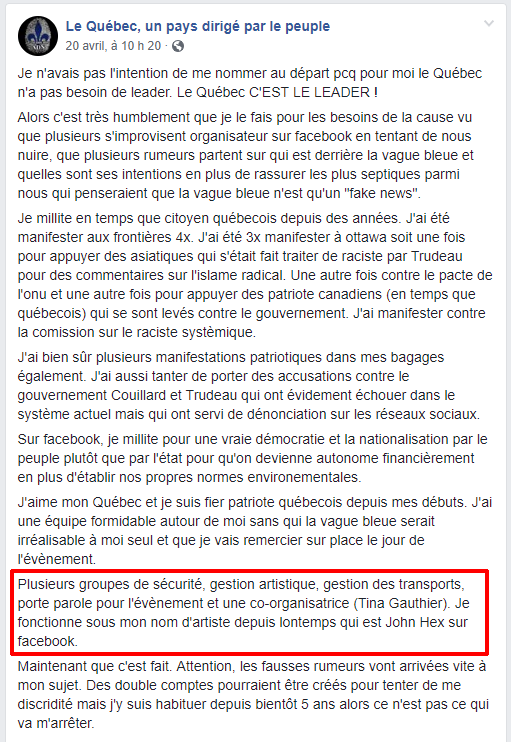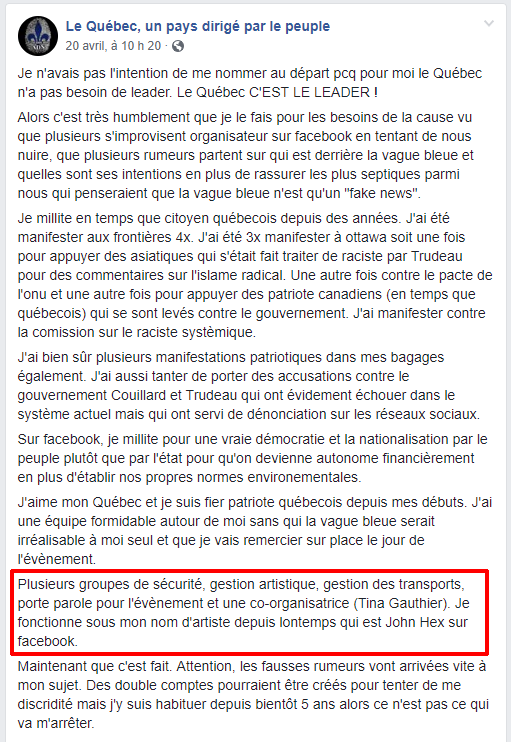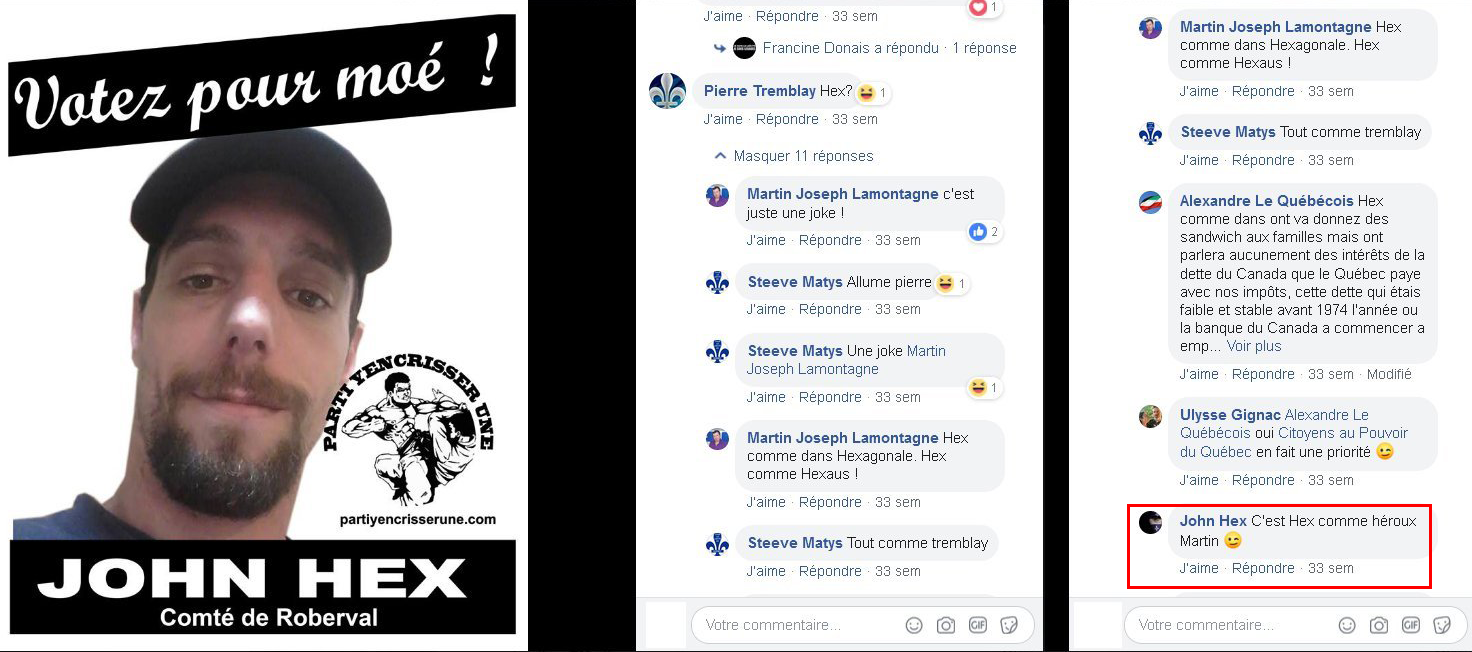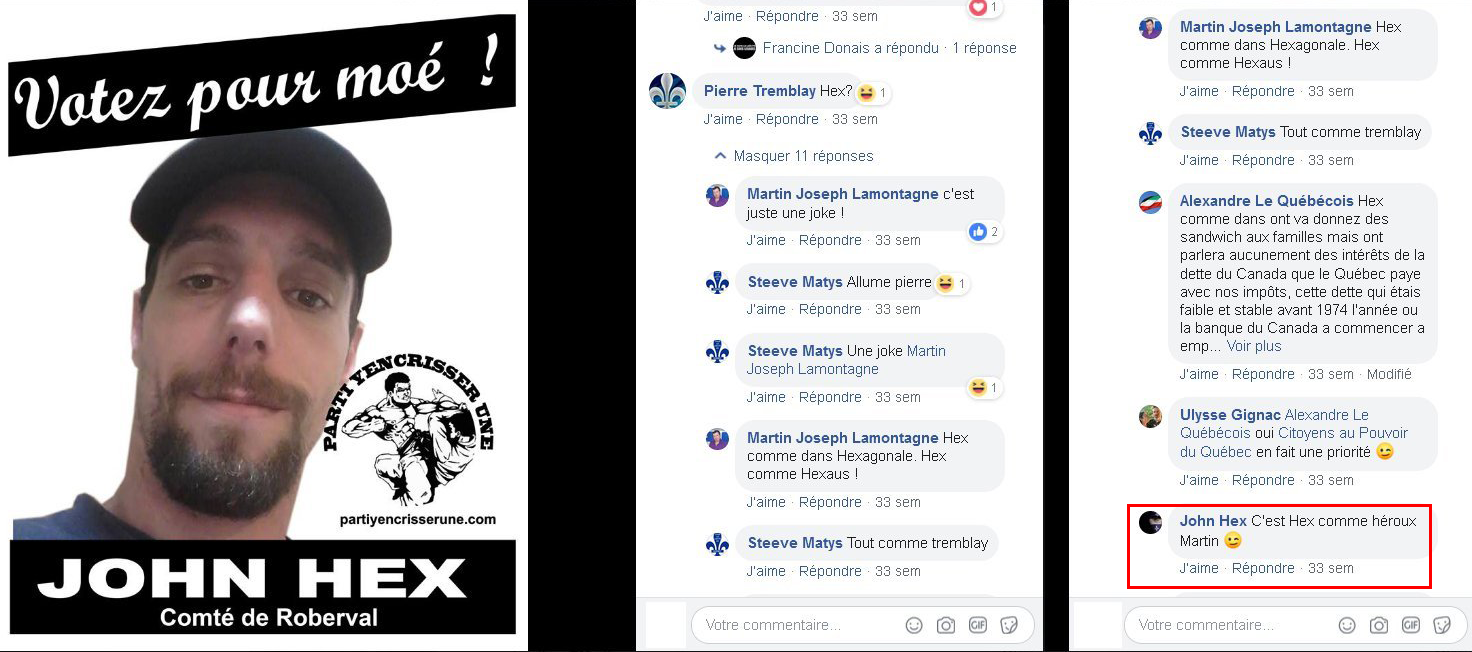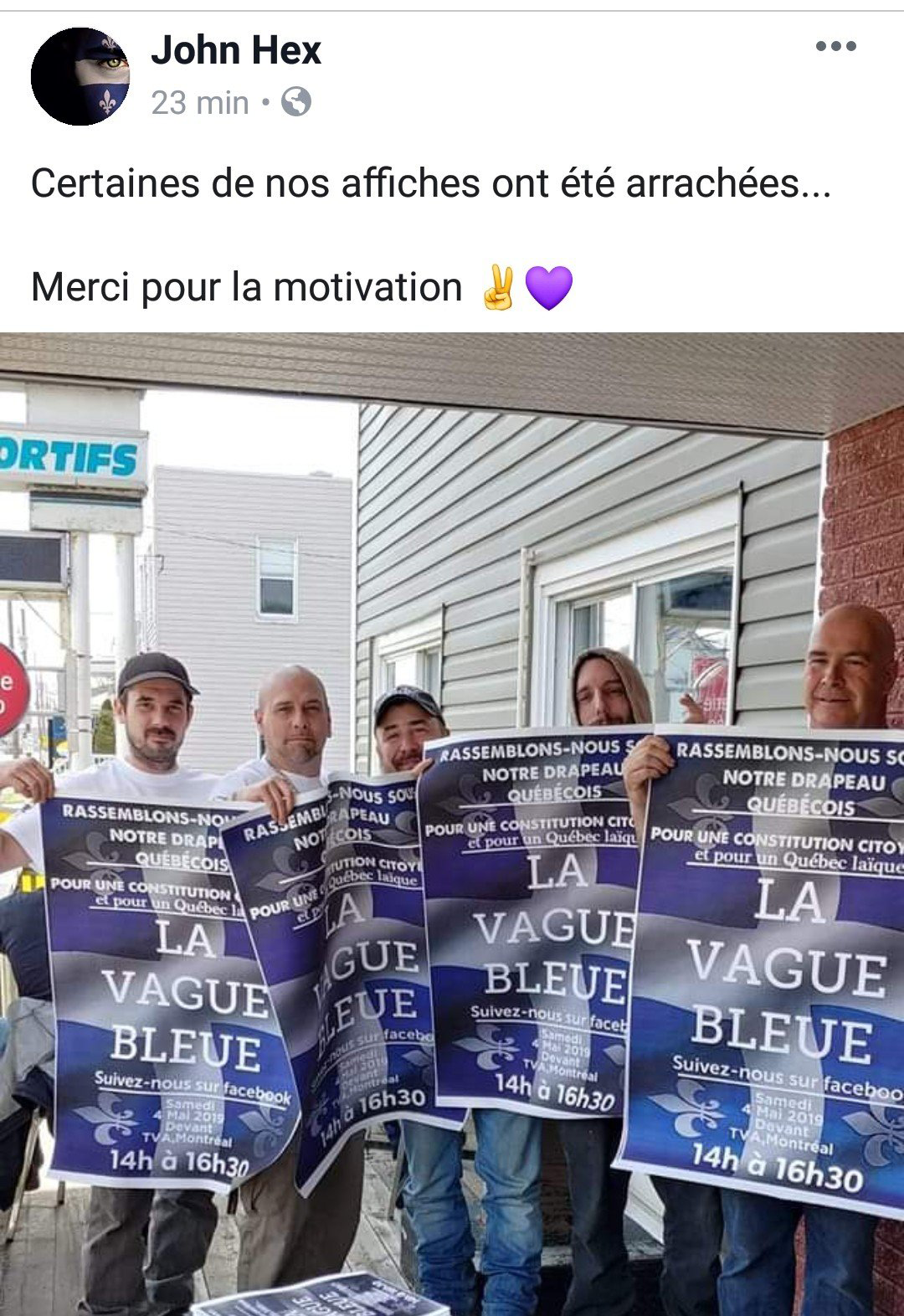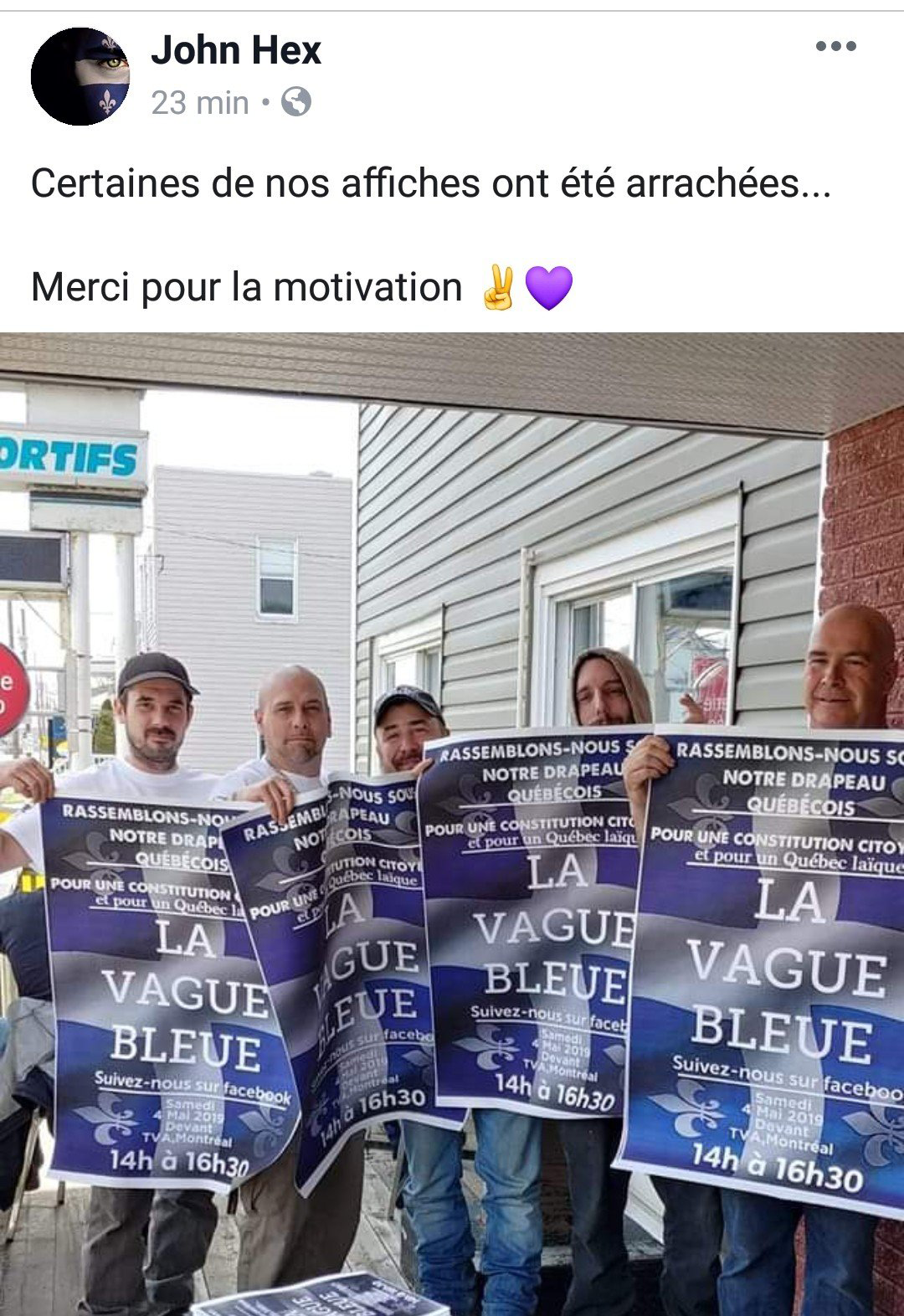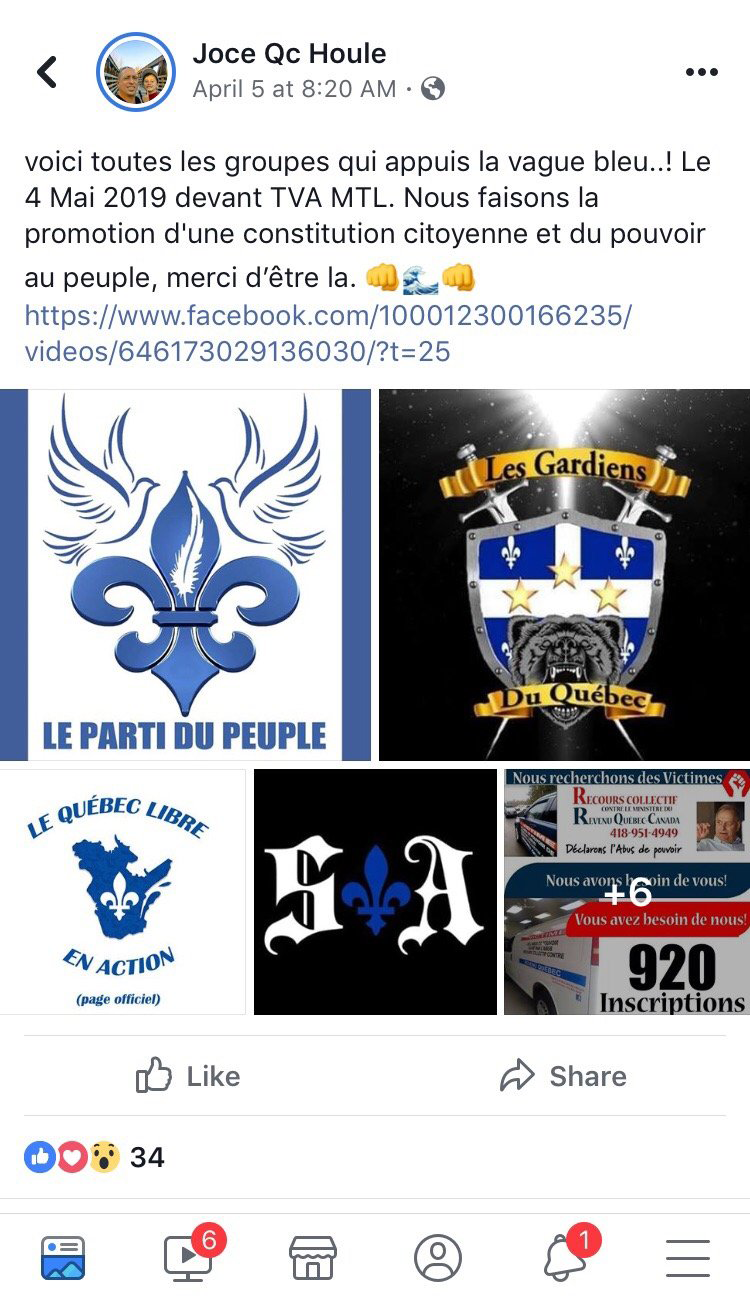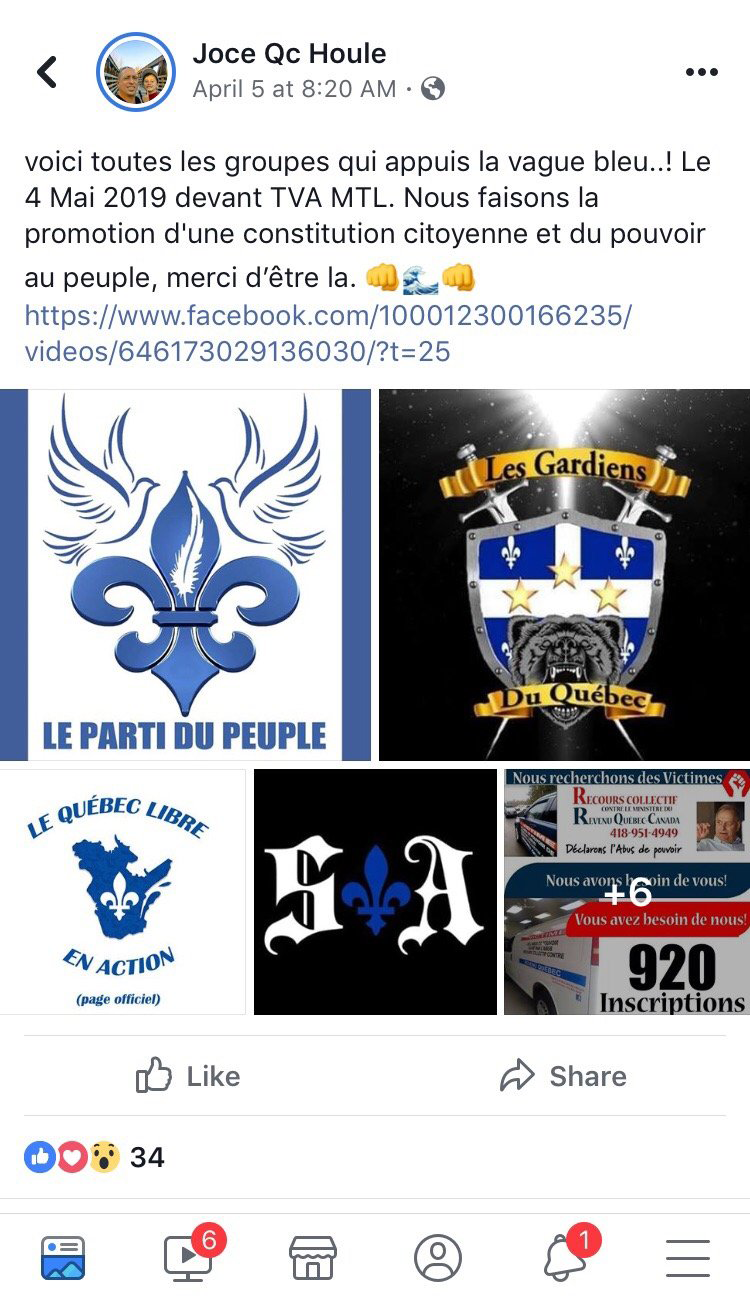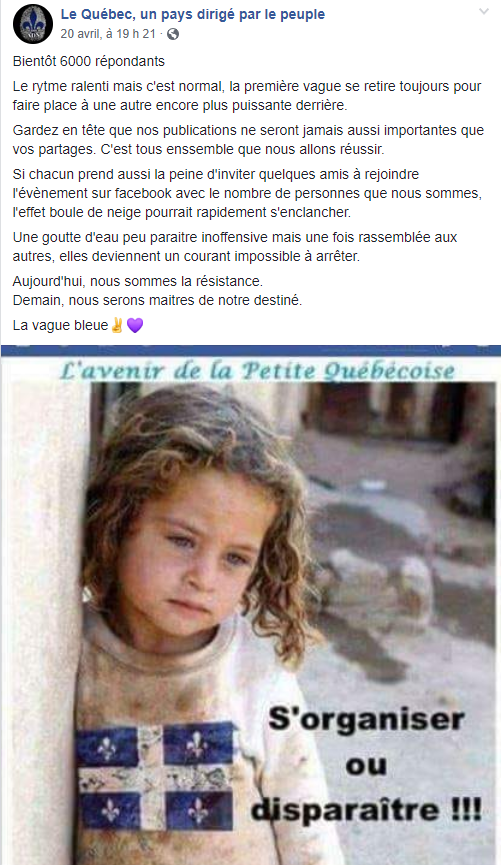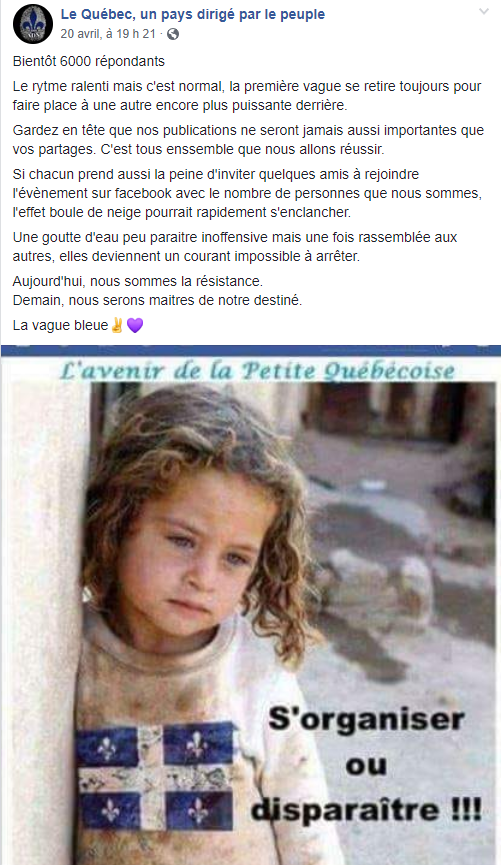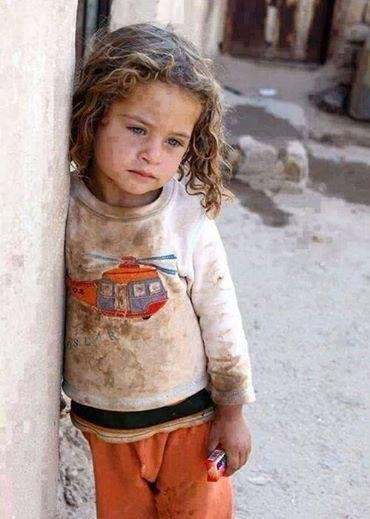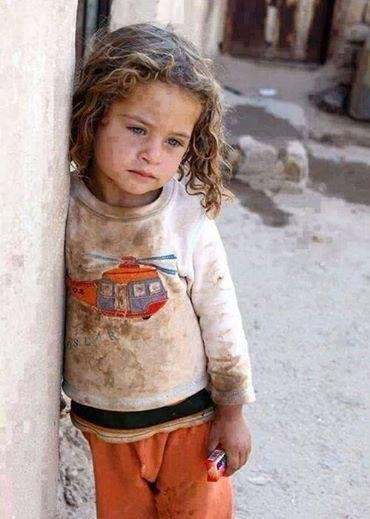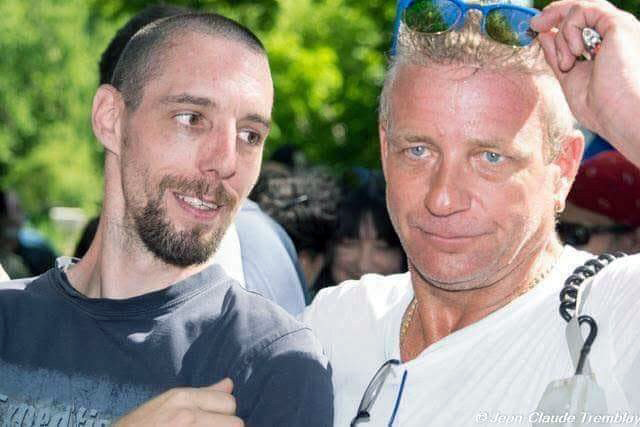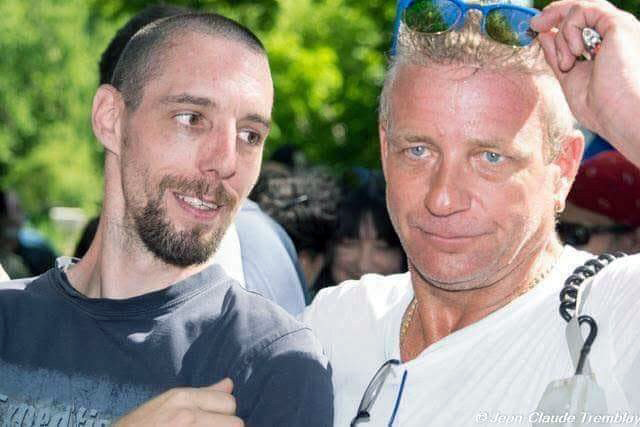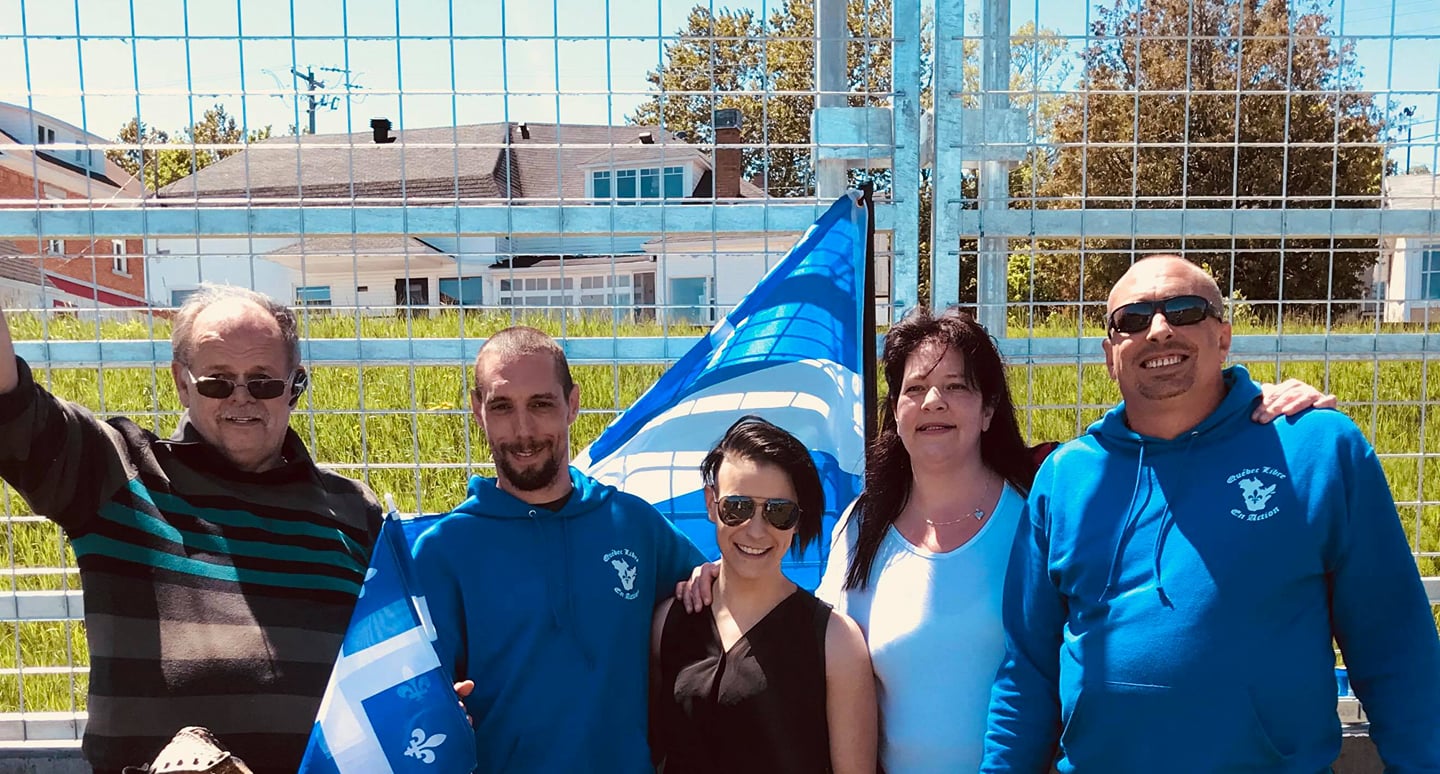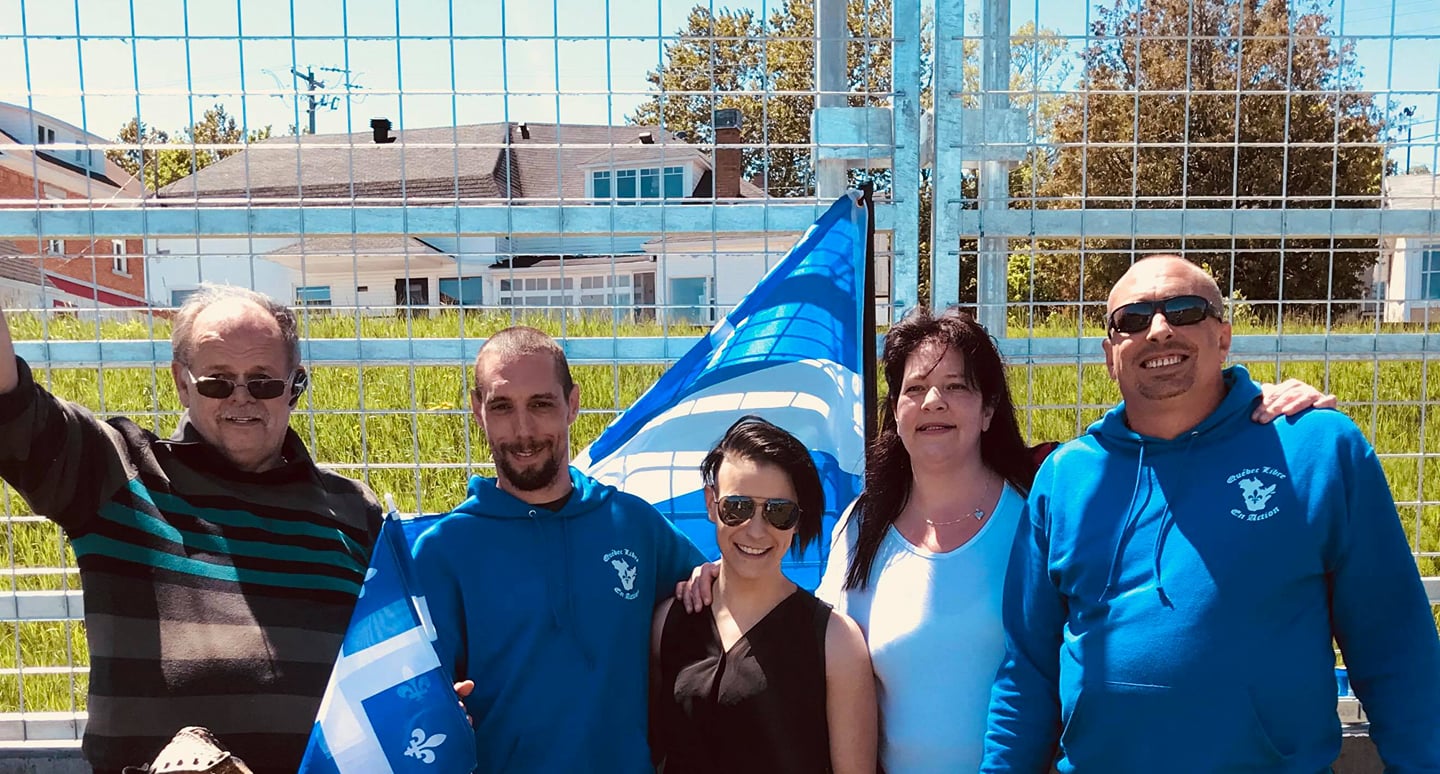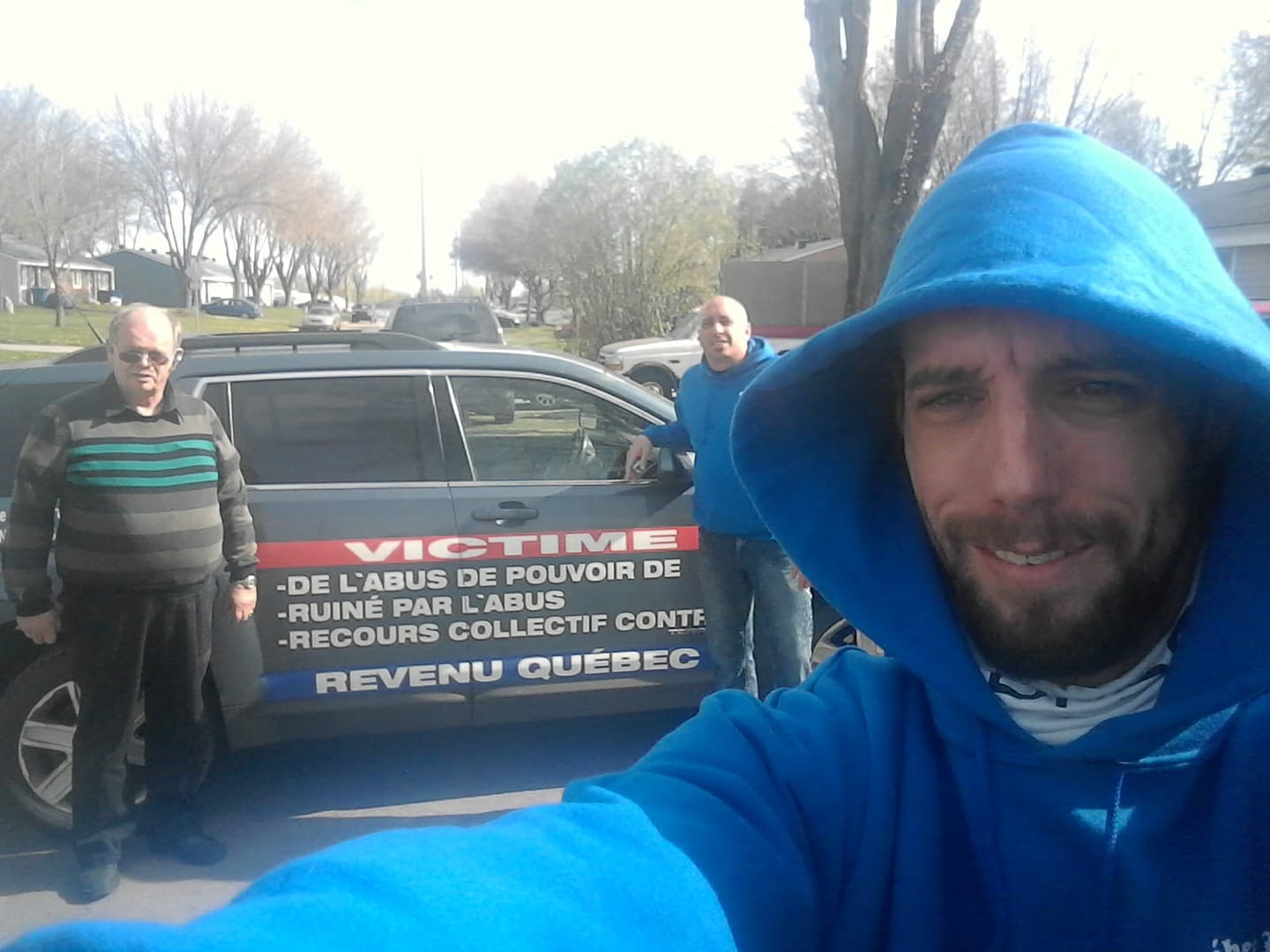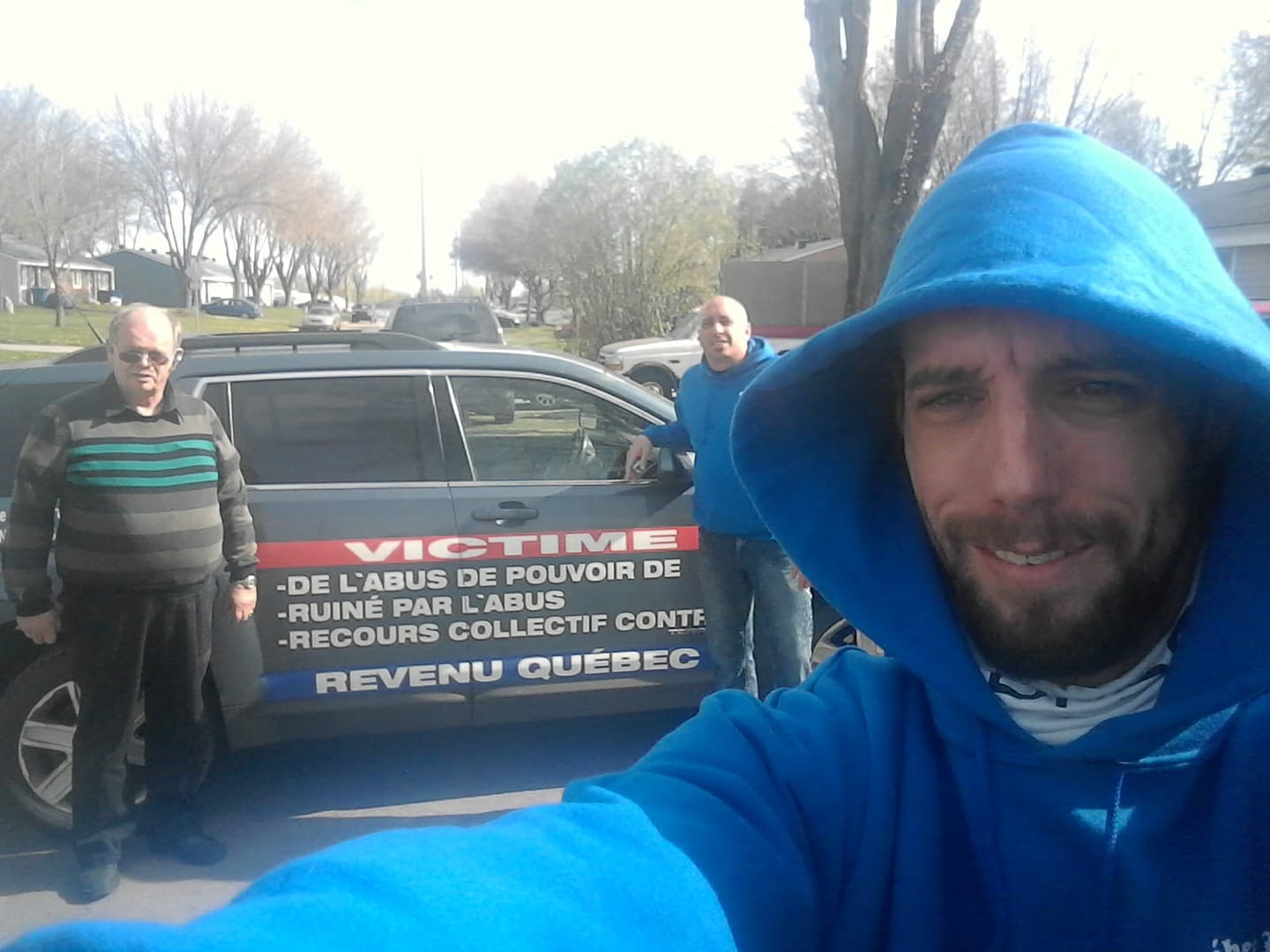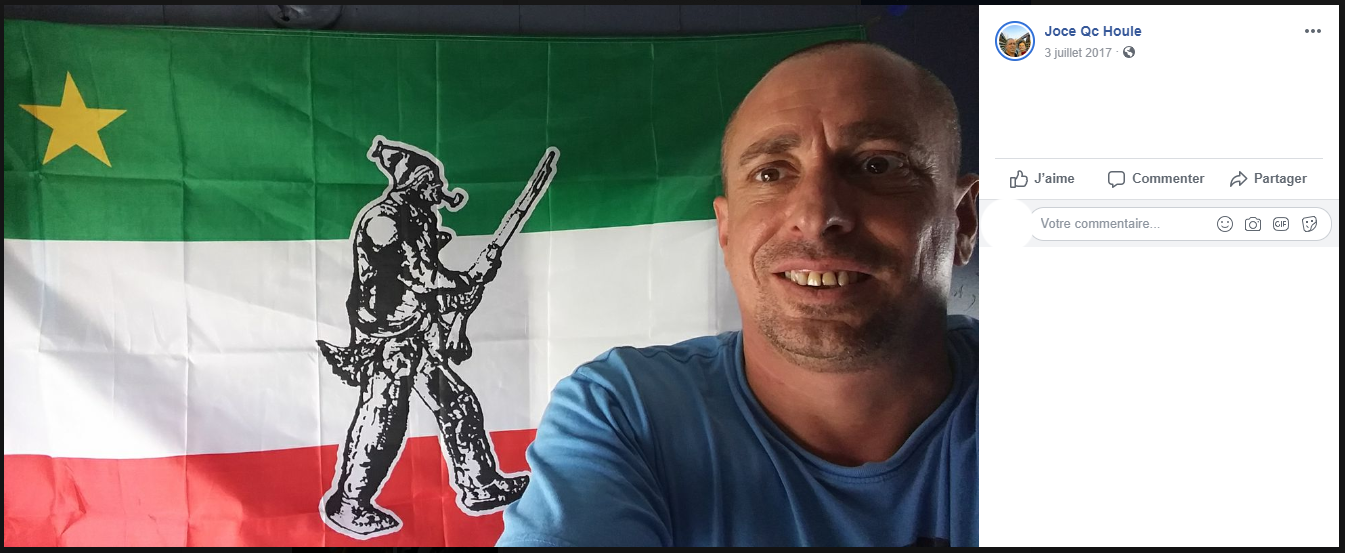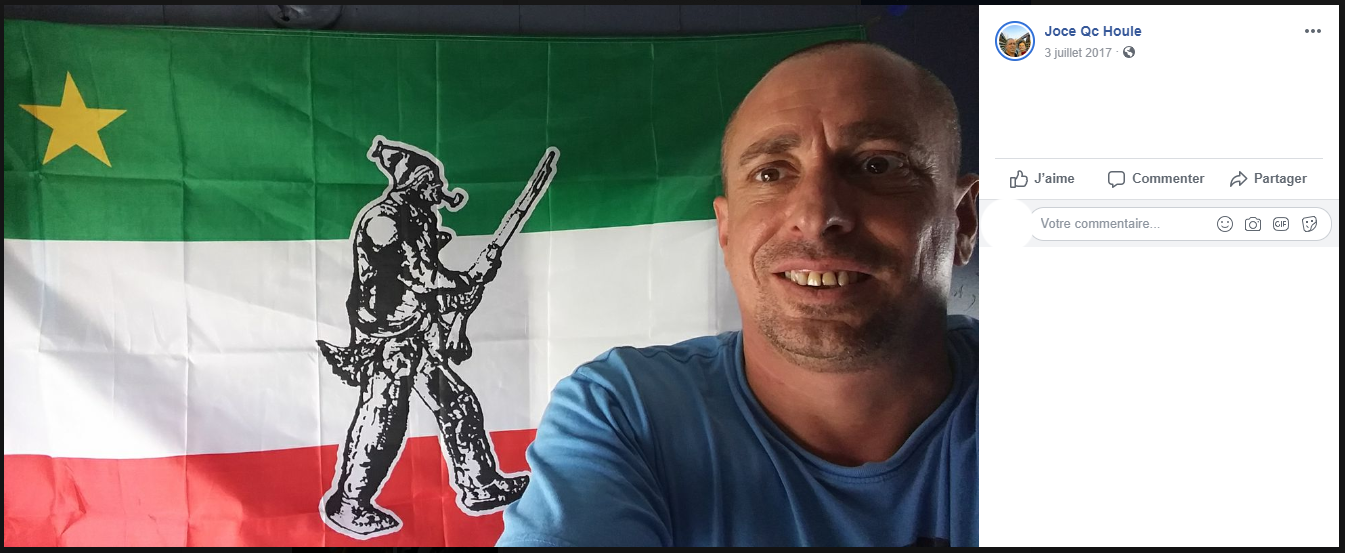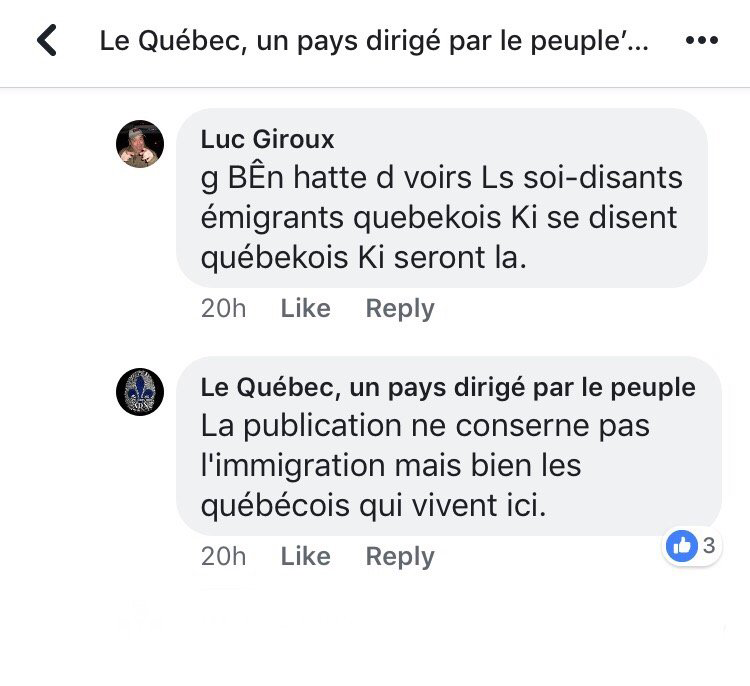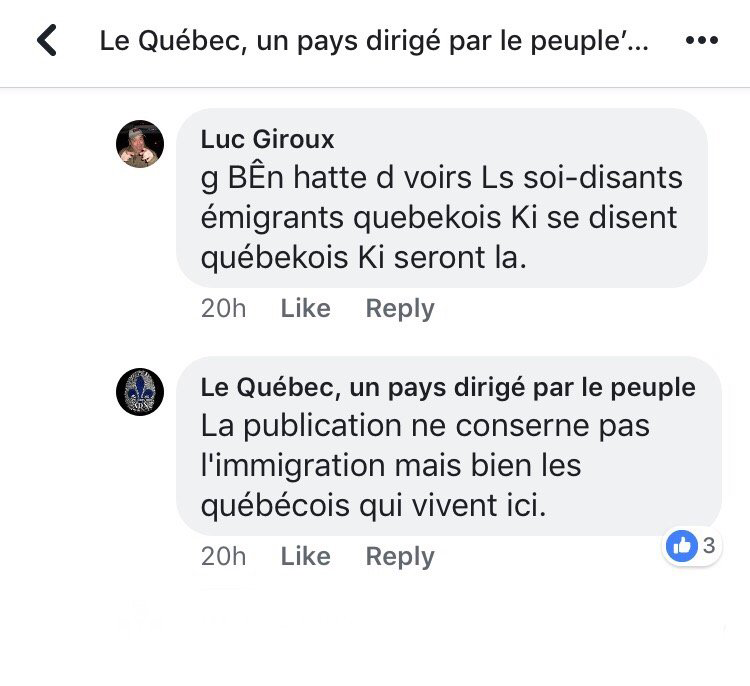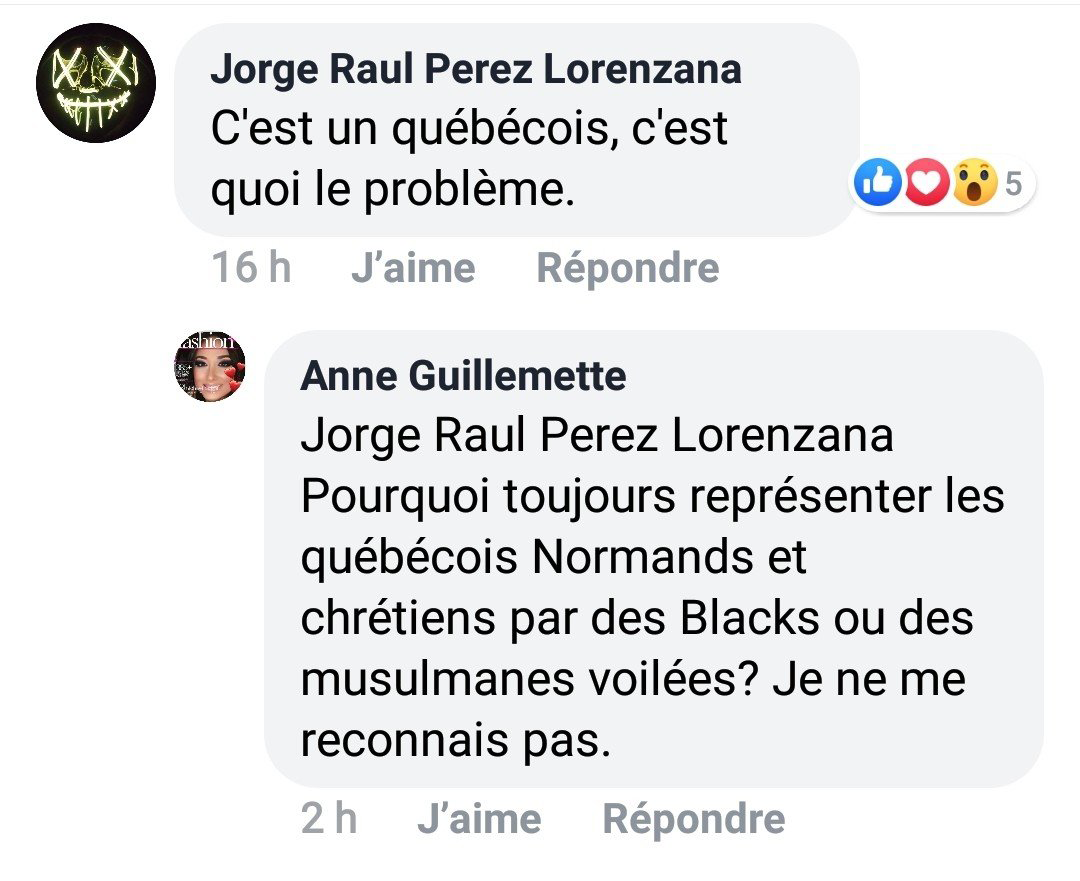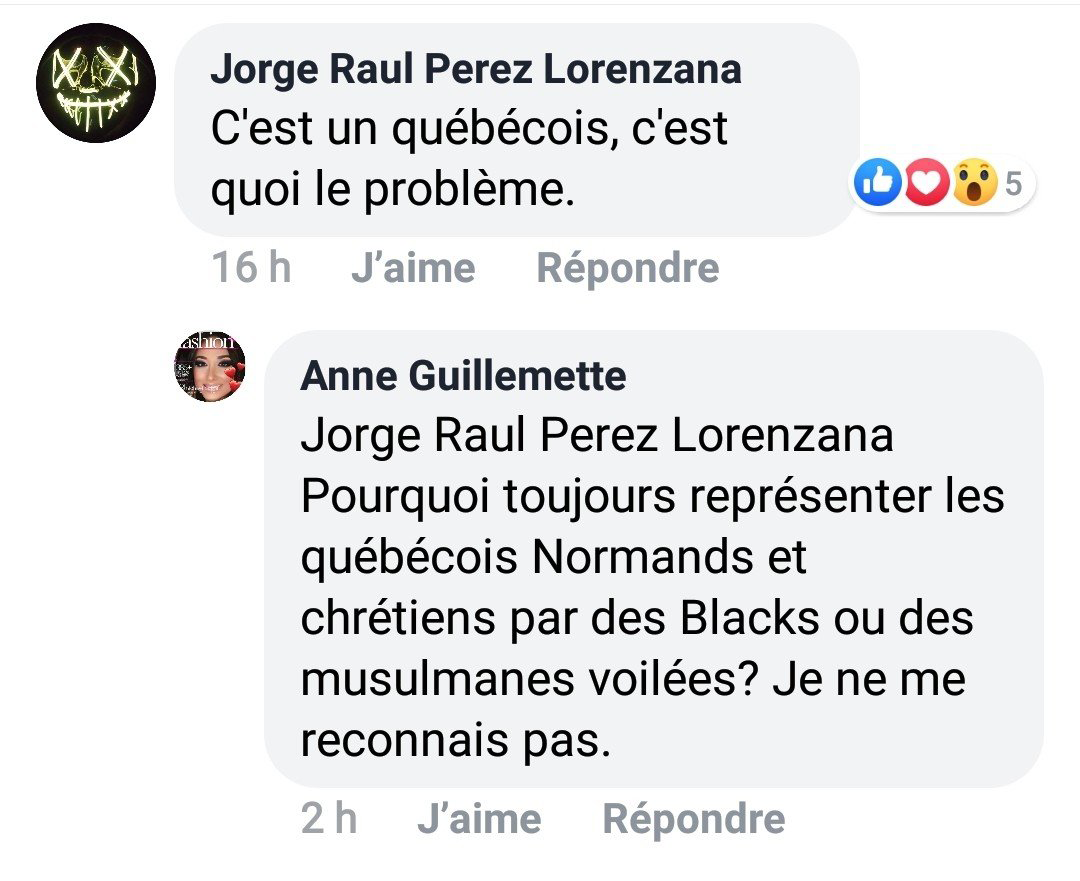 — Les Gardiens du Québec is a "security" group that offers "operational support on the ground." LGDQ is the organization that replaced La Horde, an on-again, off-again splinter from La Meute. Jonathan Héroux designated Martine Tourigny, alias Tina Gauthier, the coordinator of the "Vague bleue." Martine Tourigny's partner, Stéfane "Gizmeaux" Gauthier, is another key member of the security group. Éric "Wild Wolf" Rochon is another very active member of this group.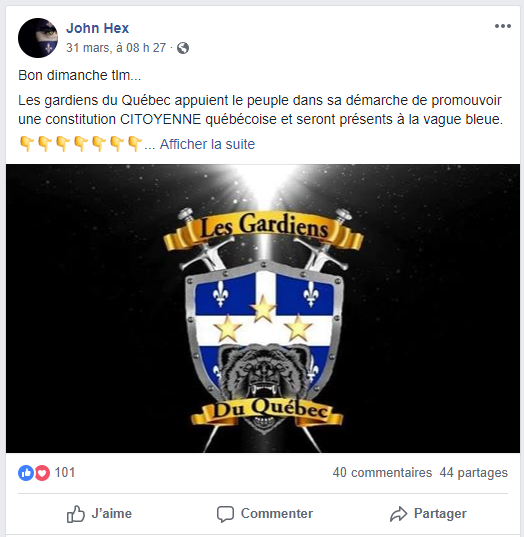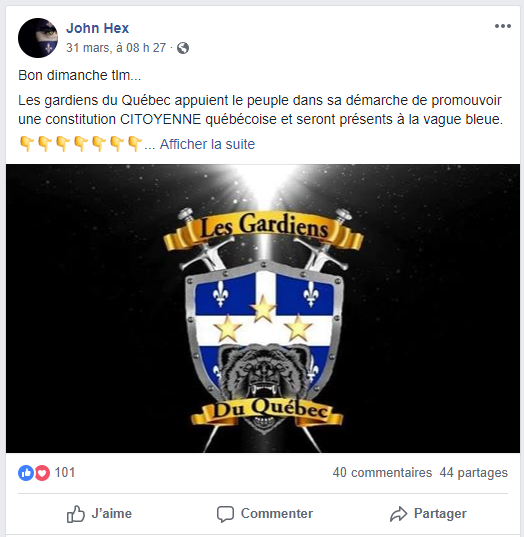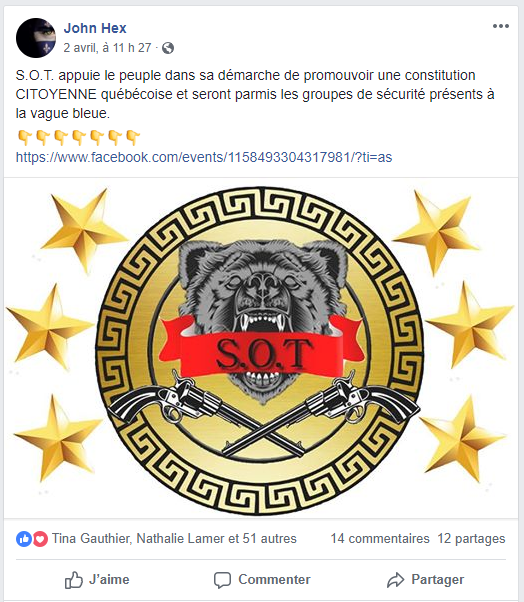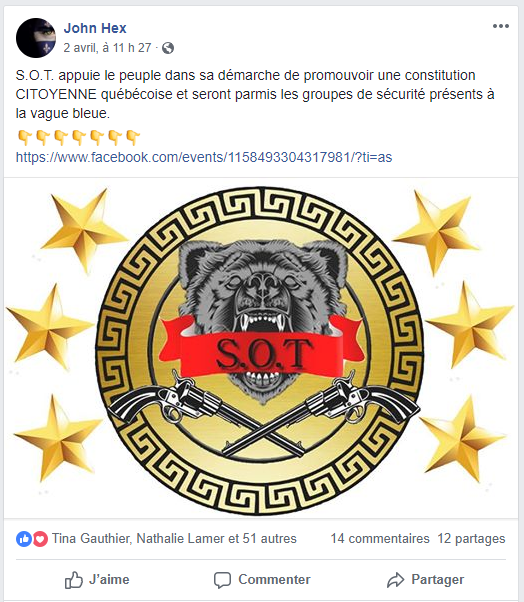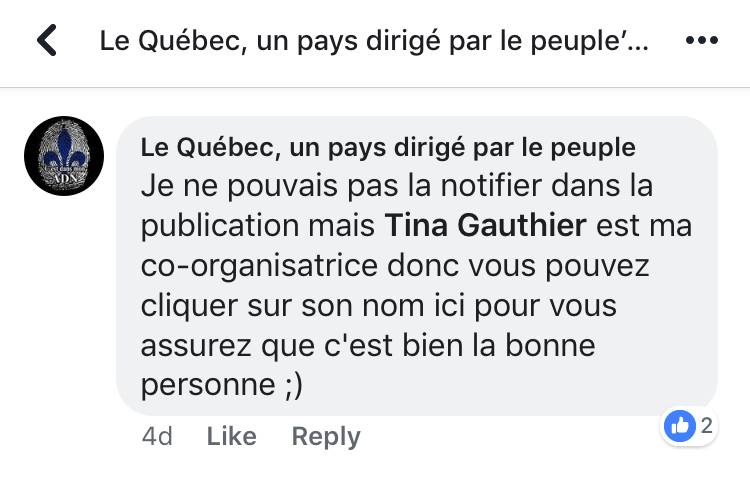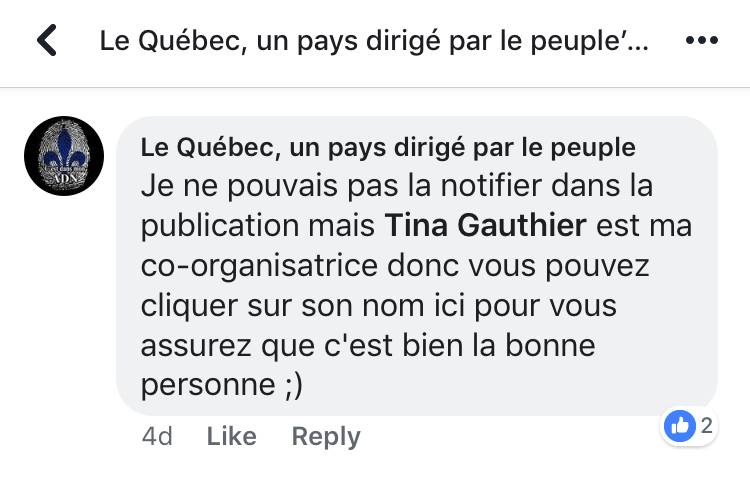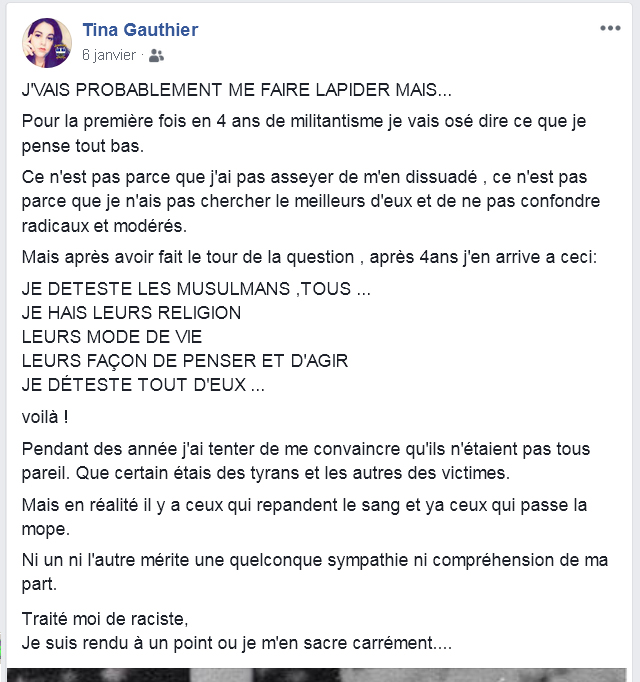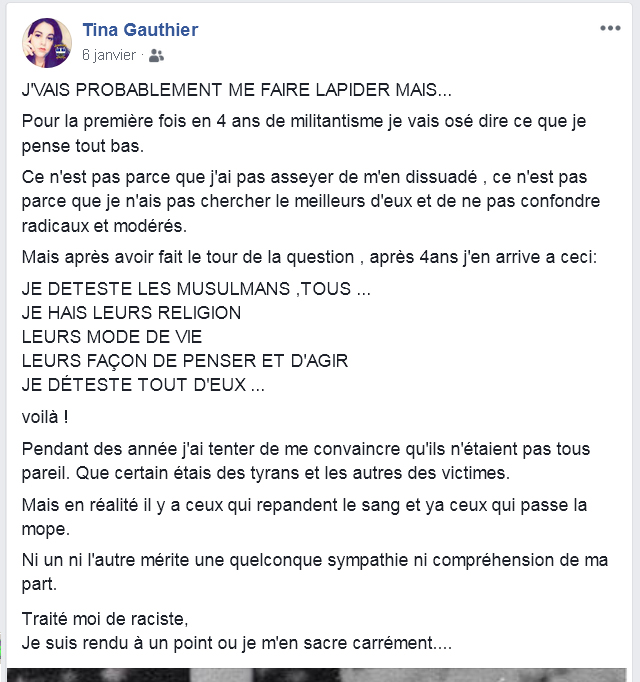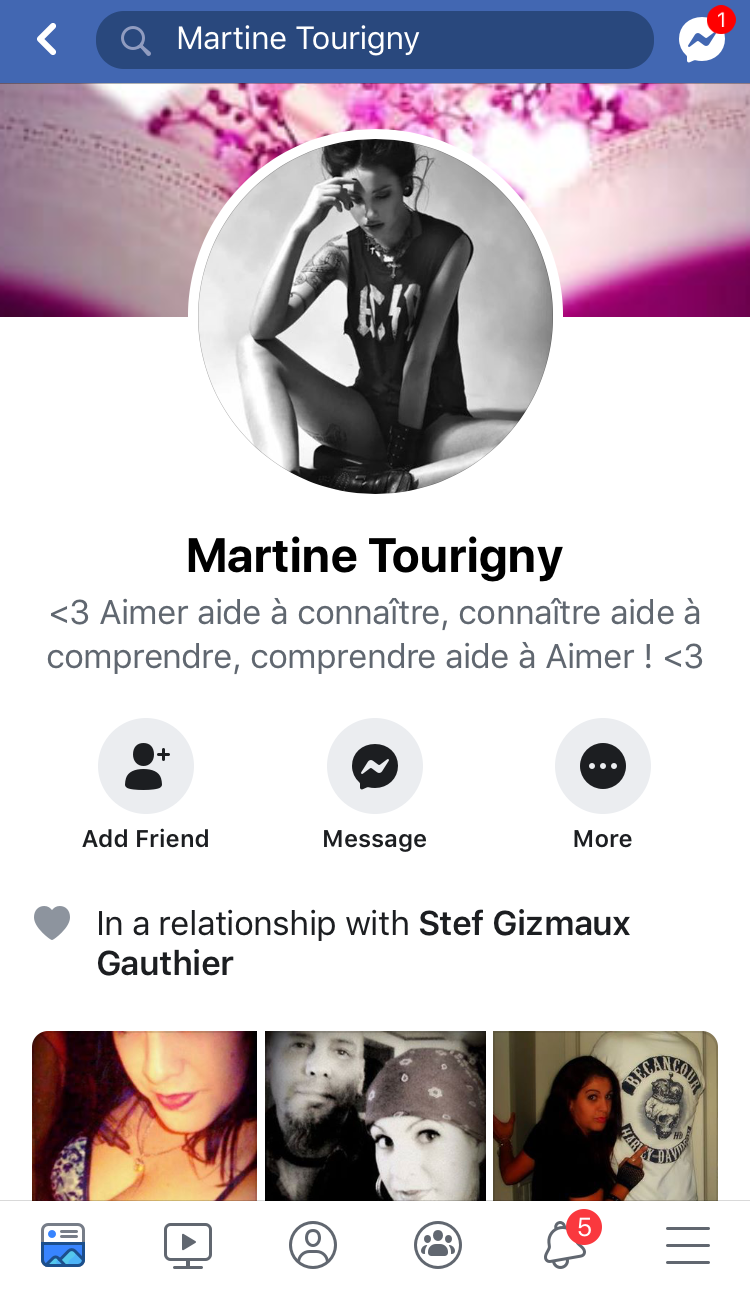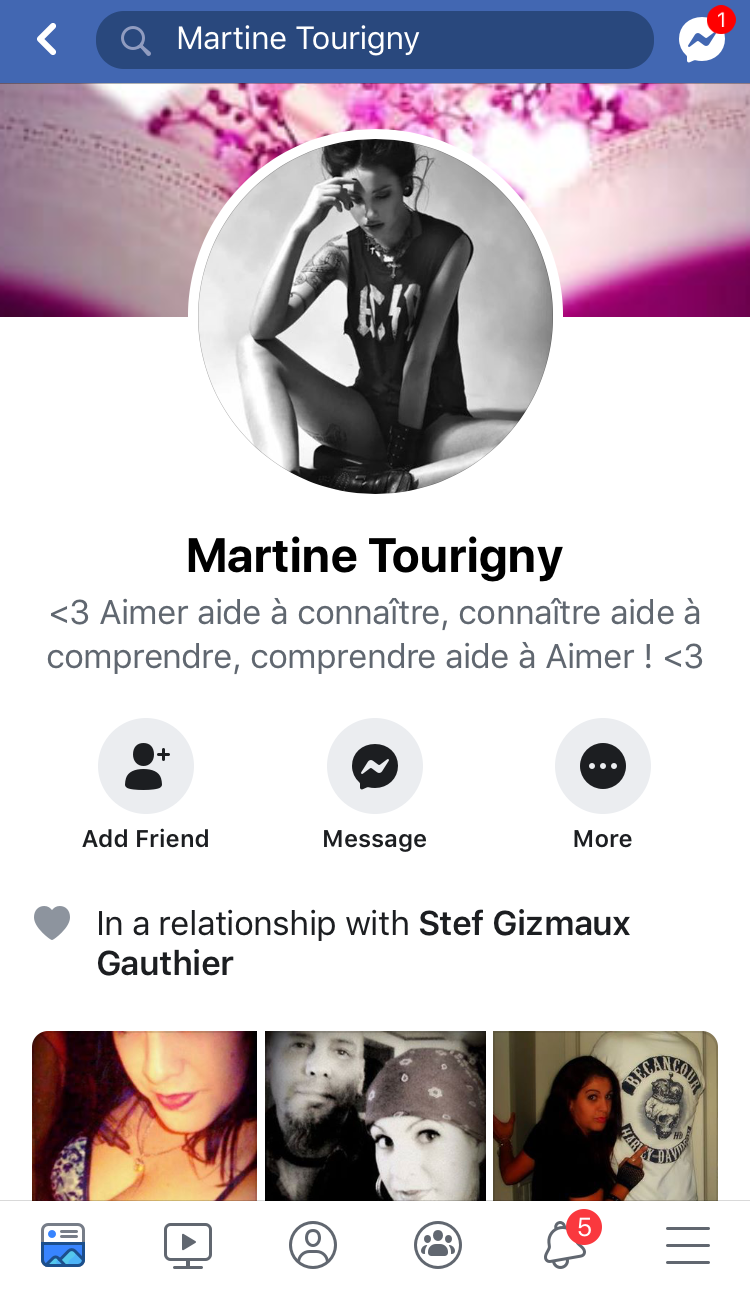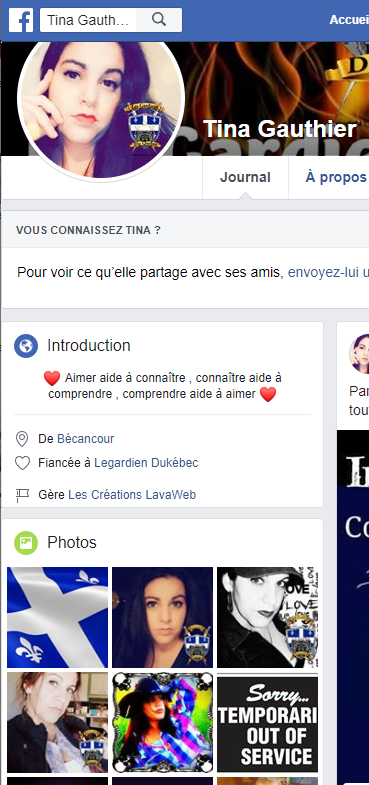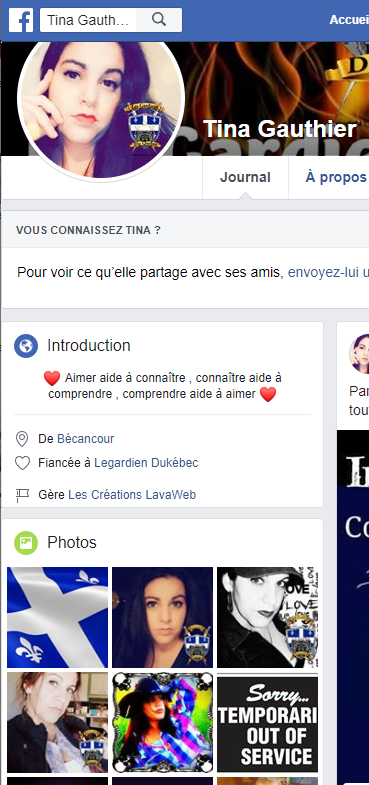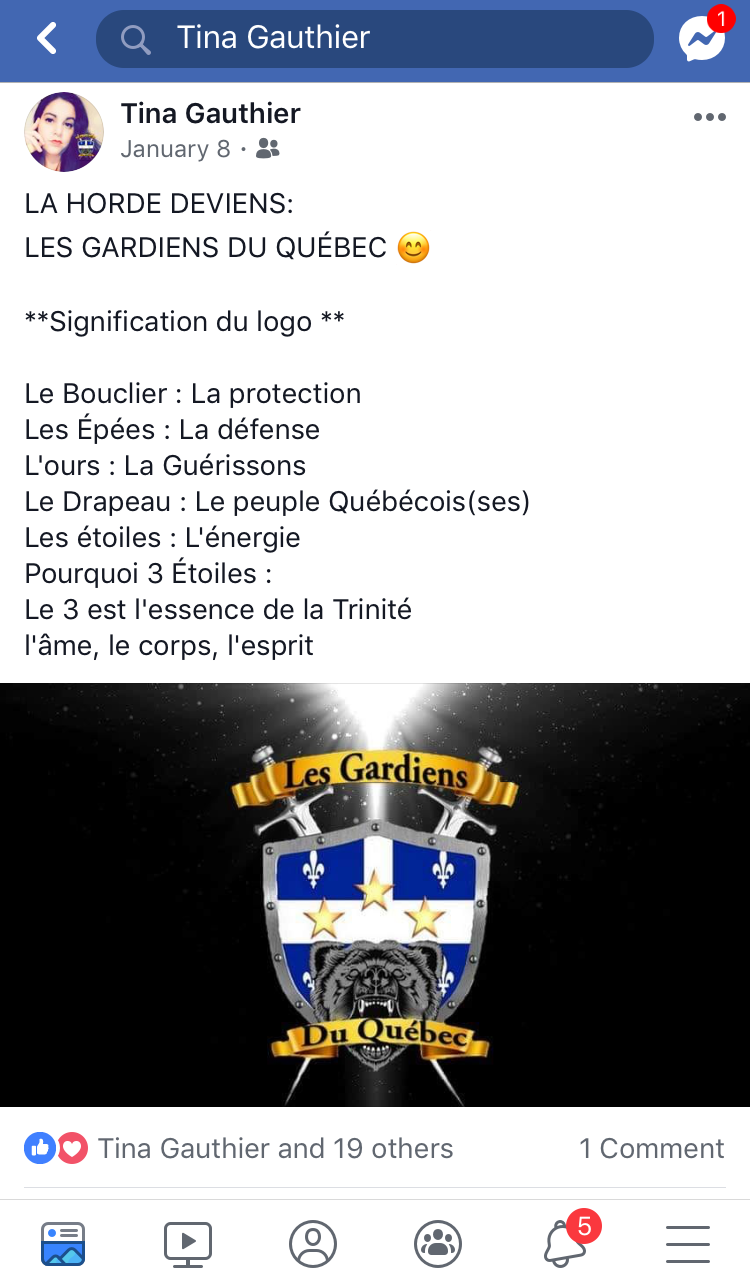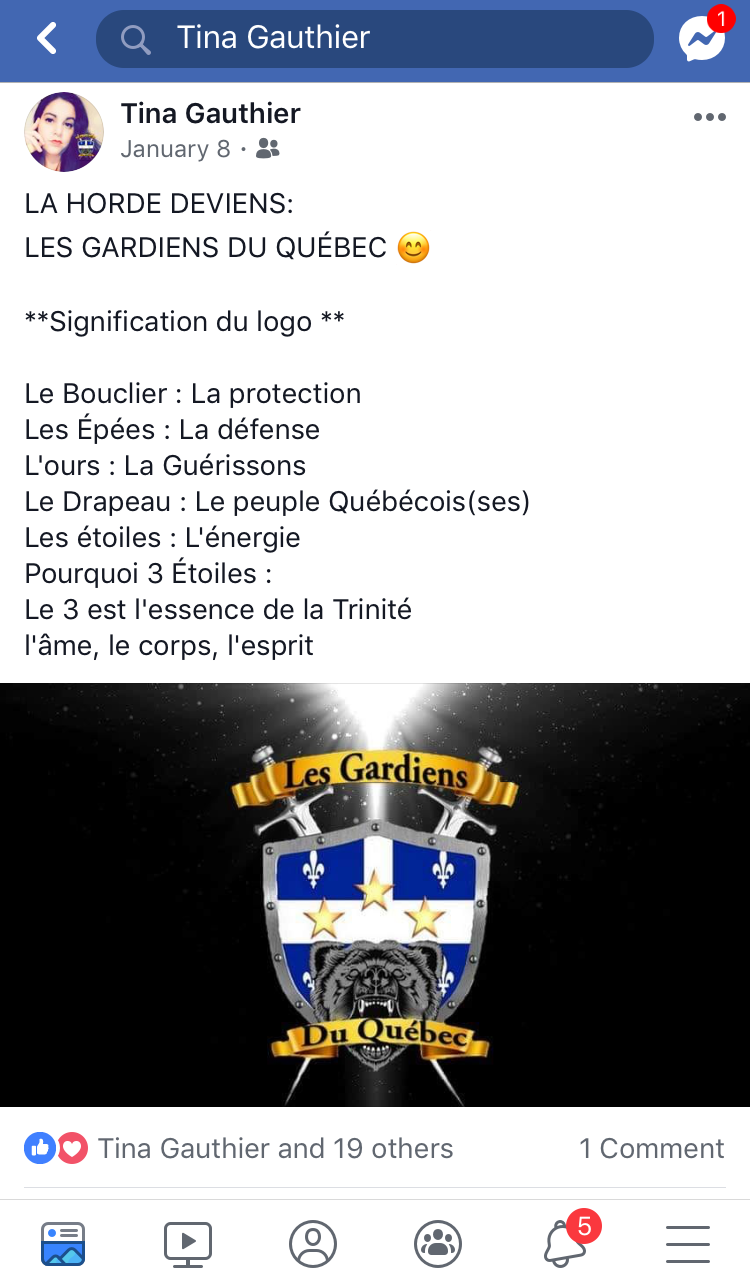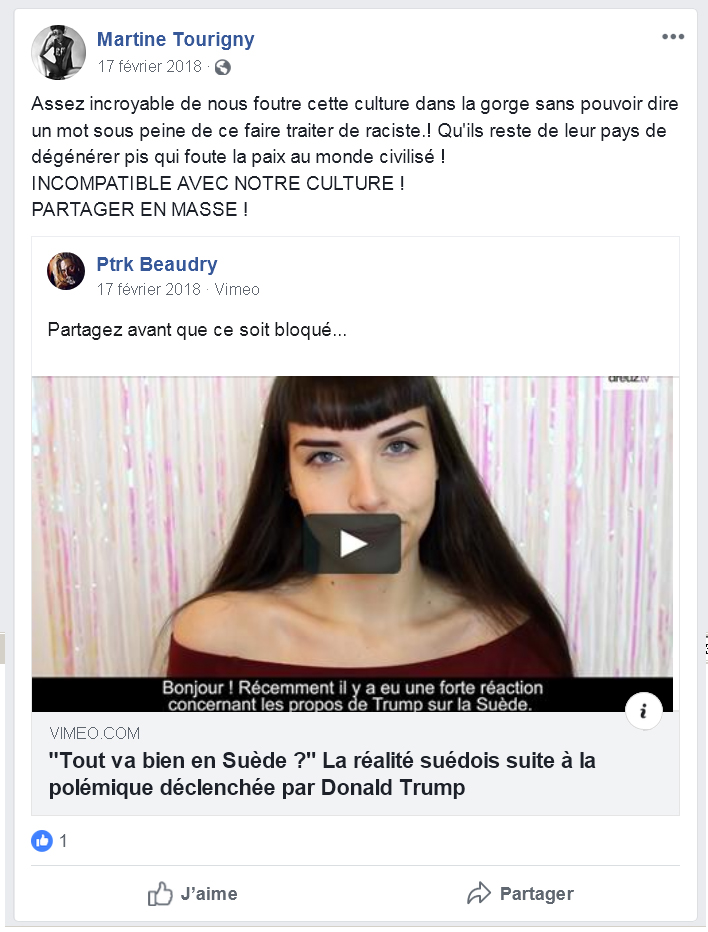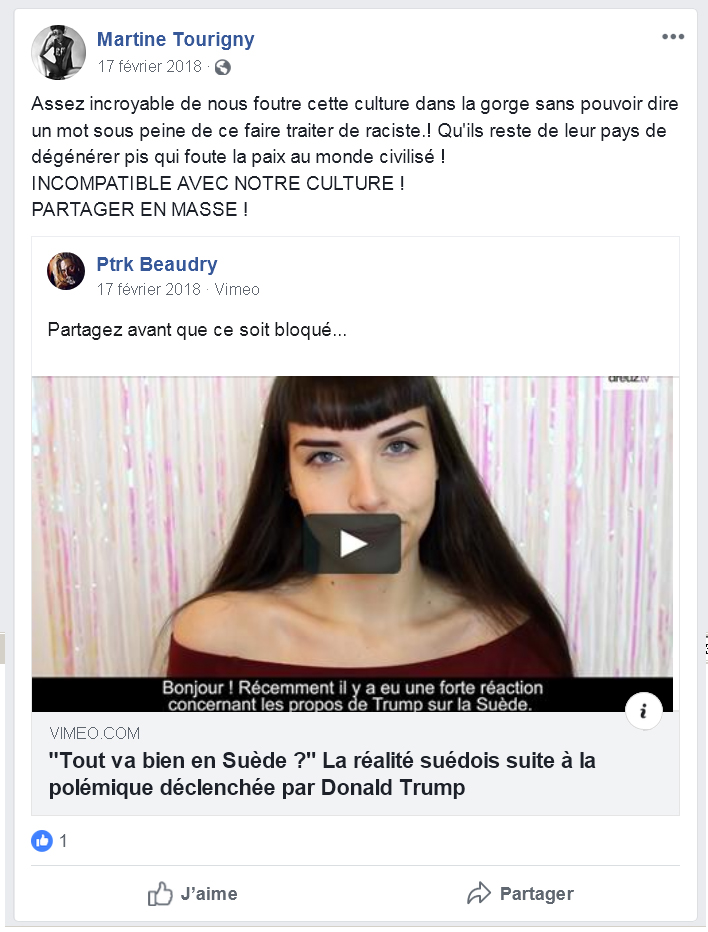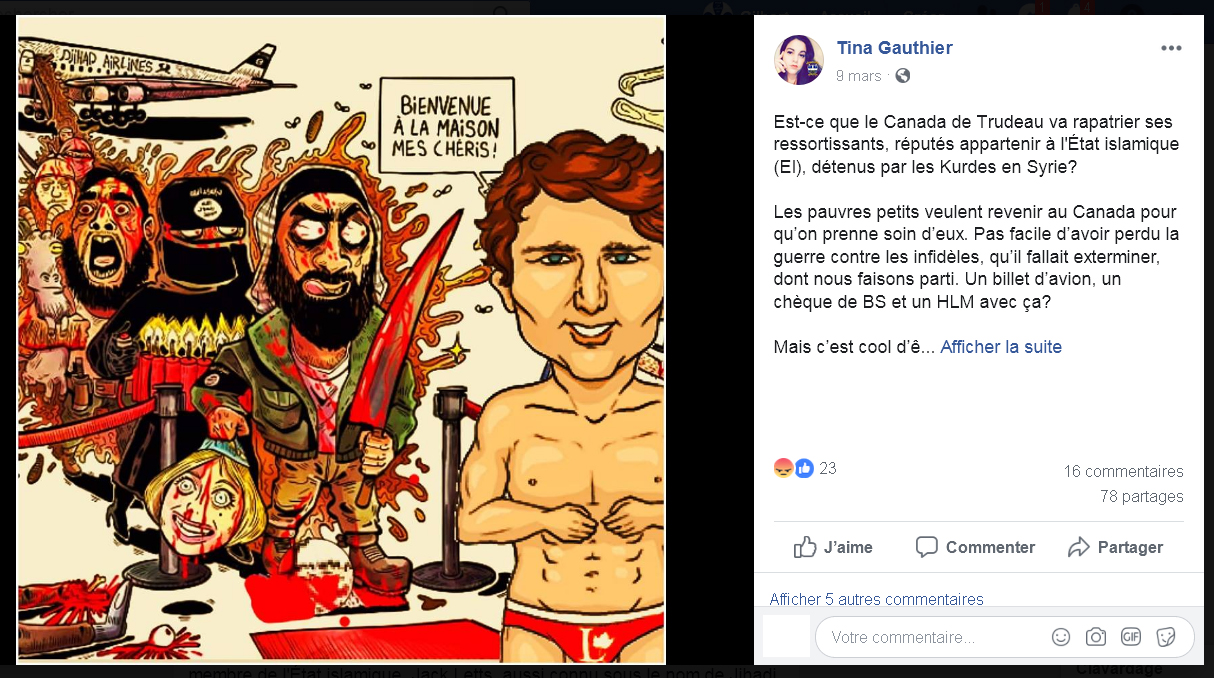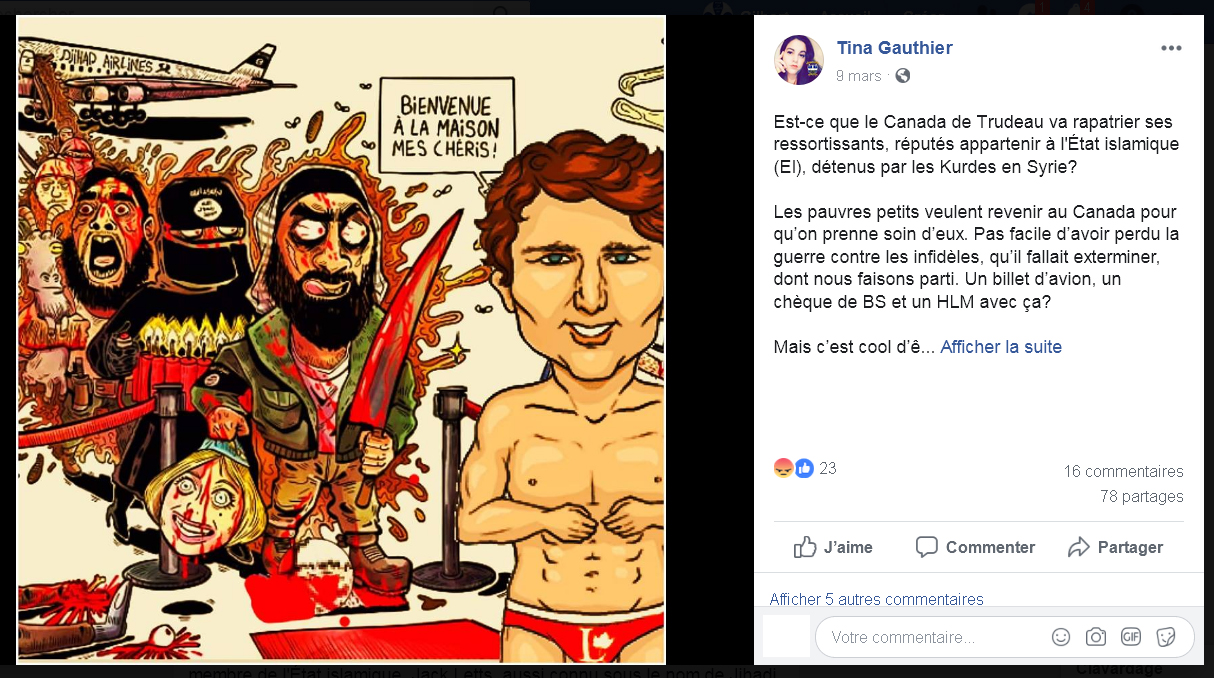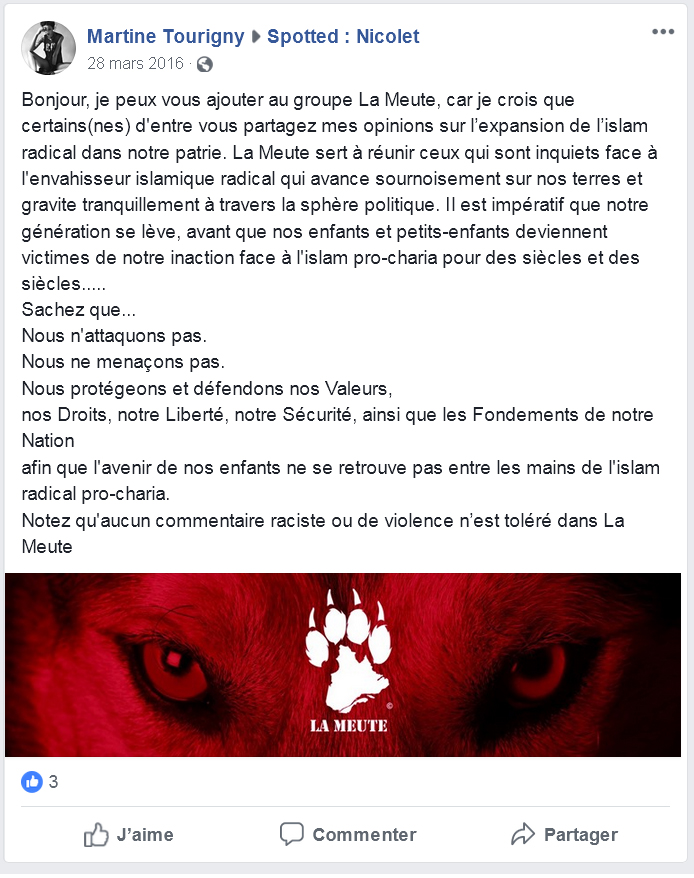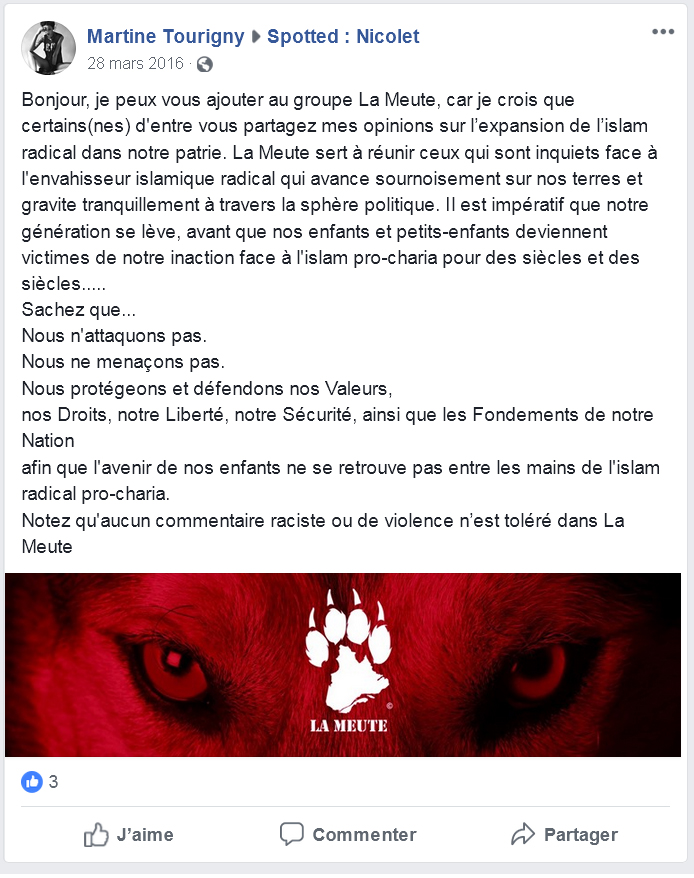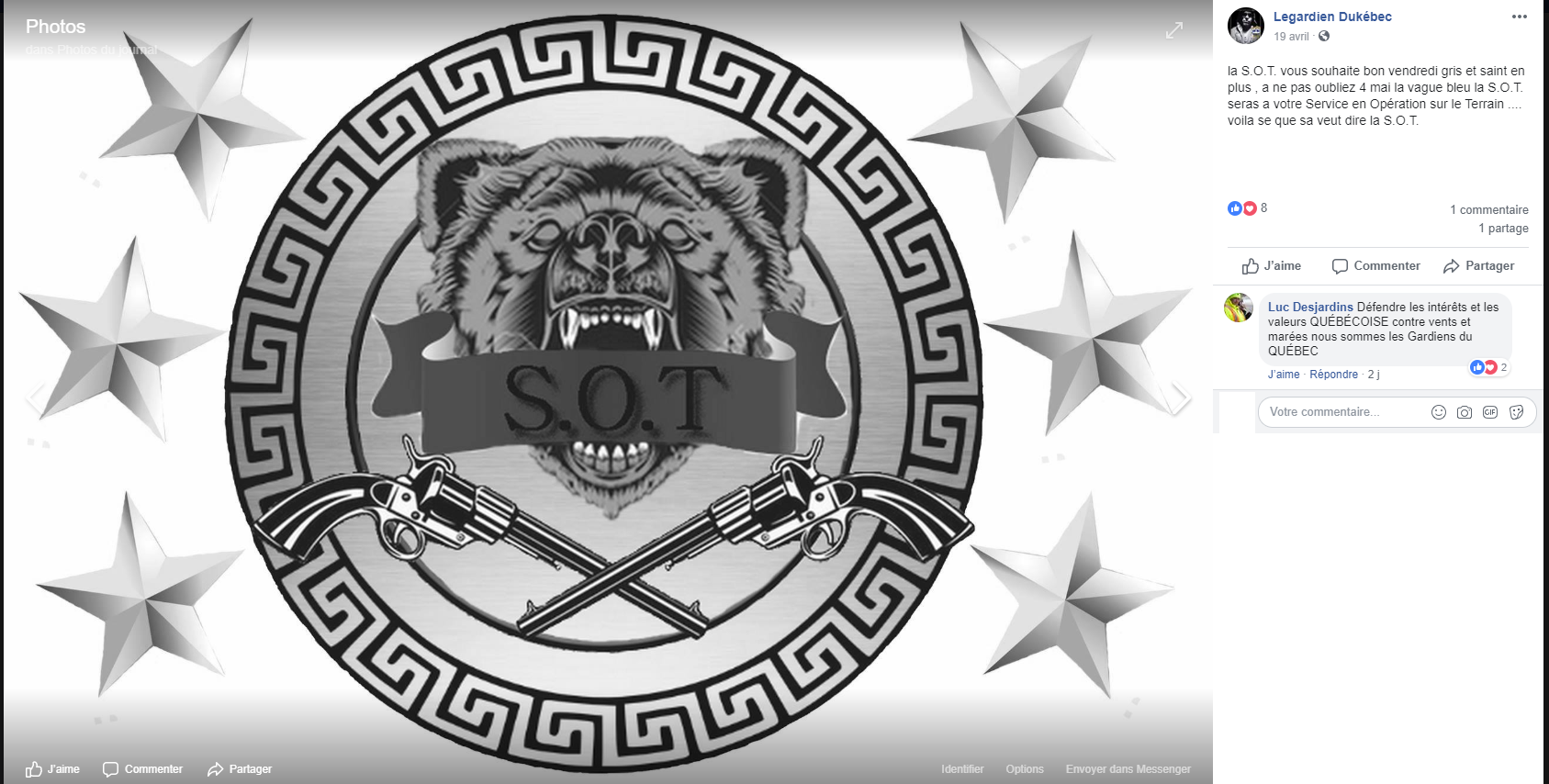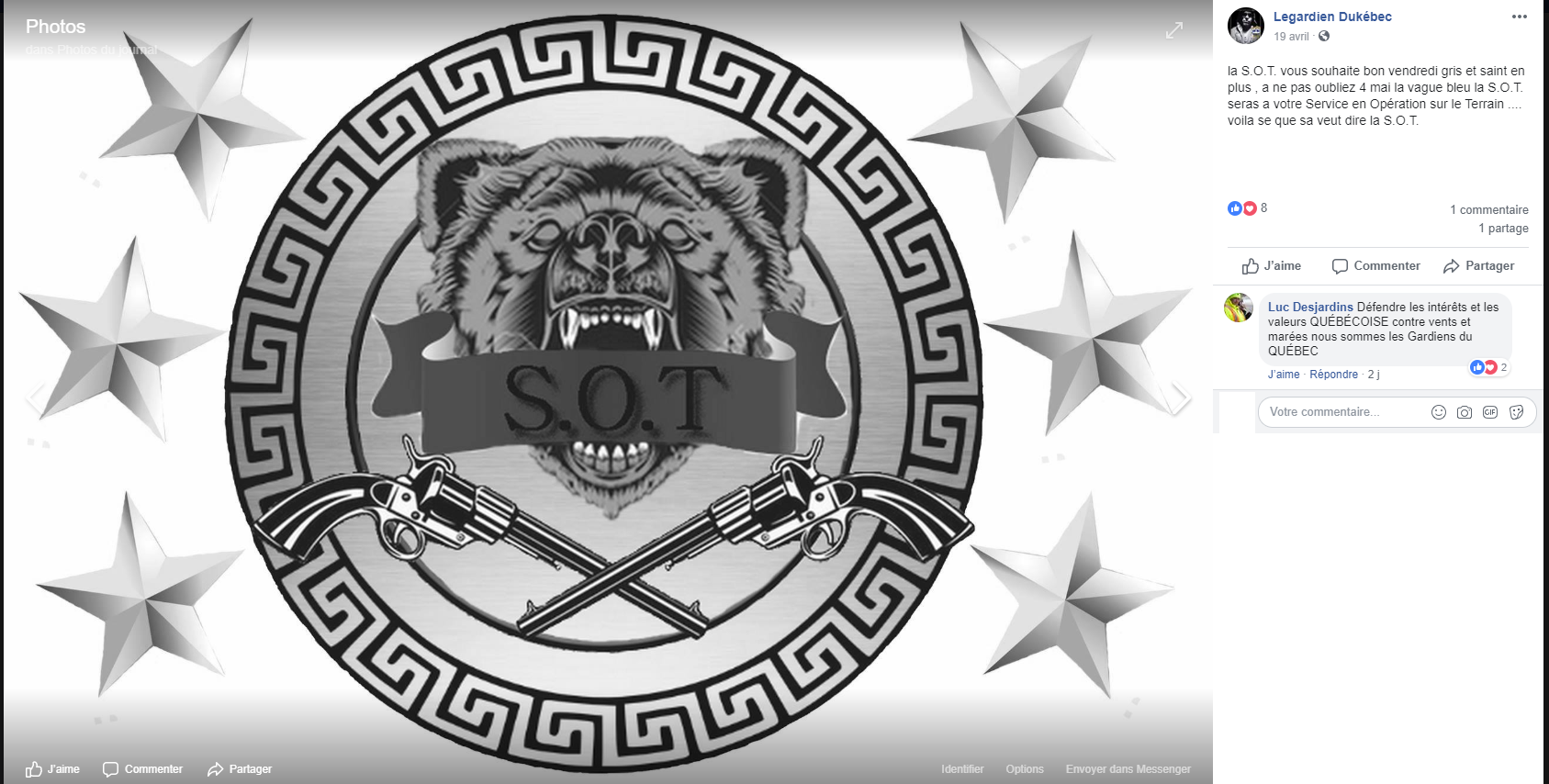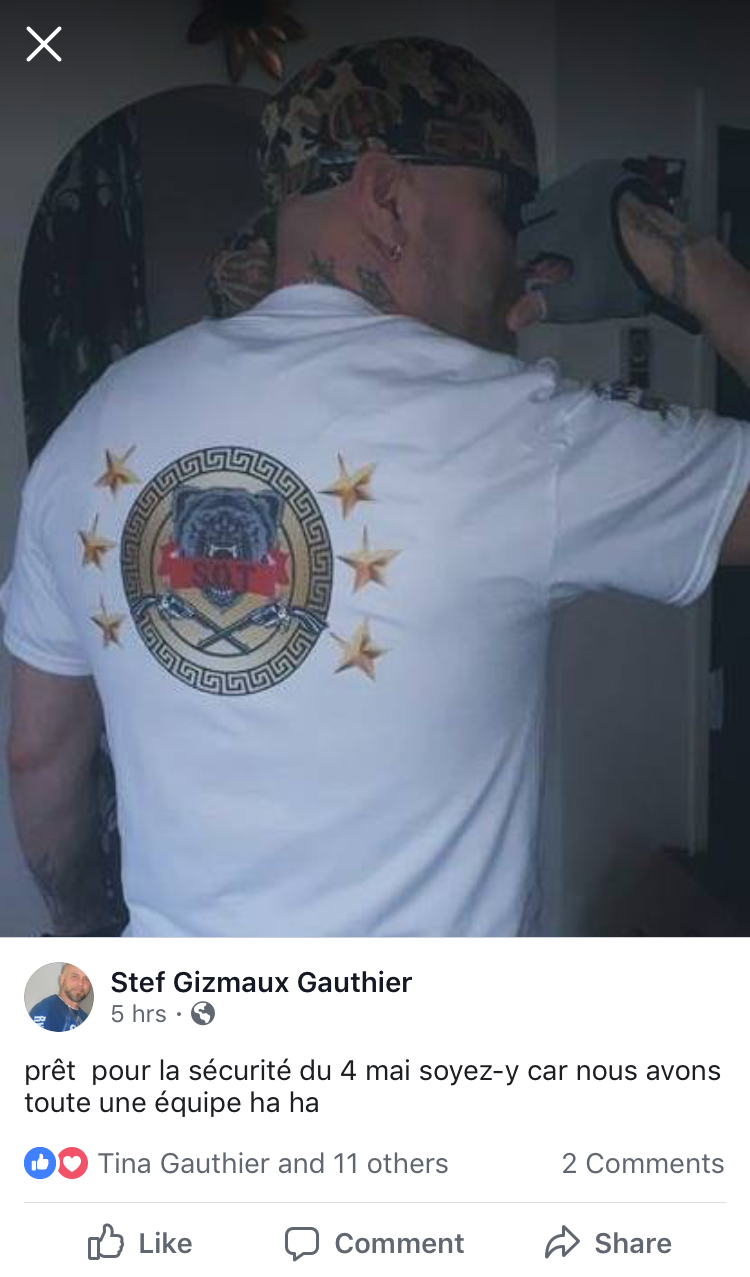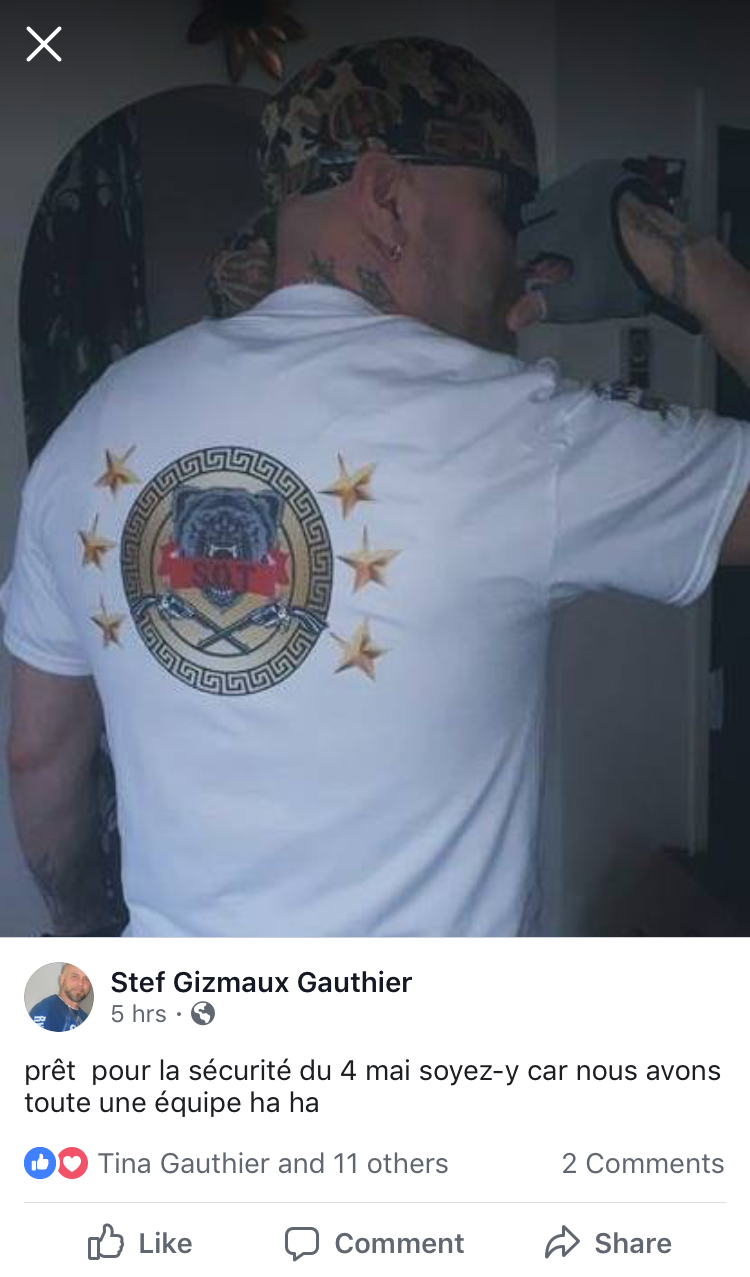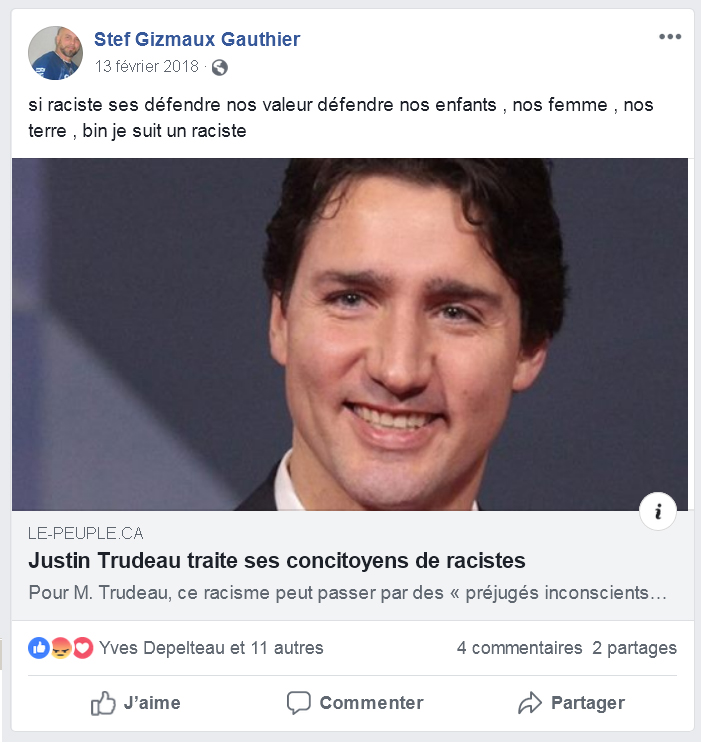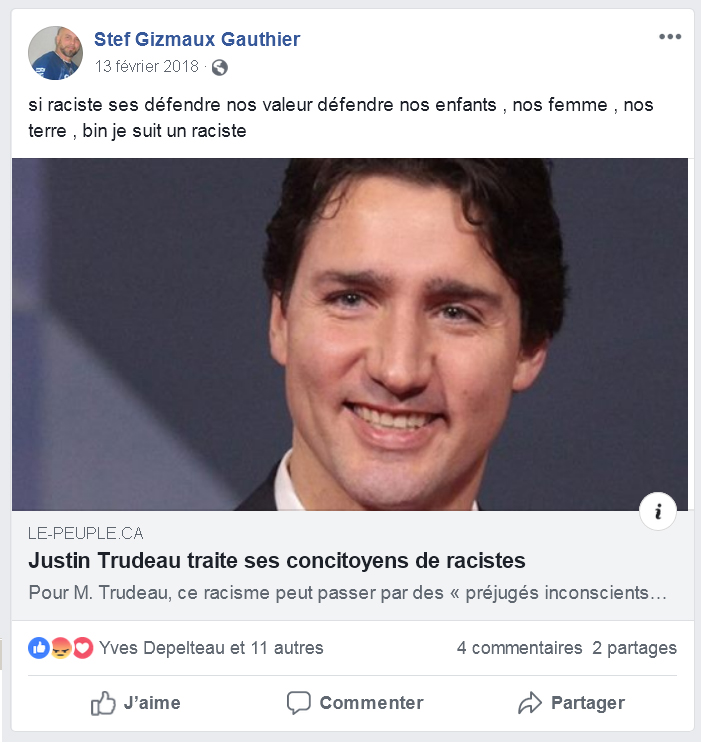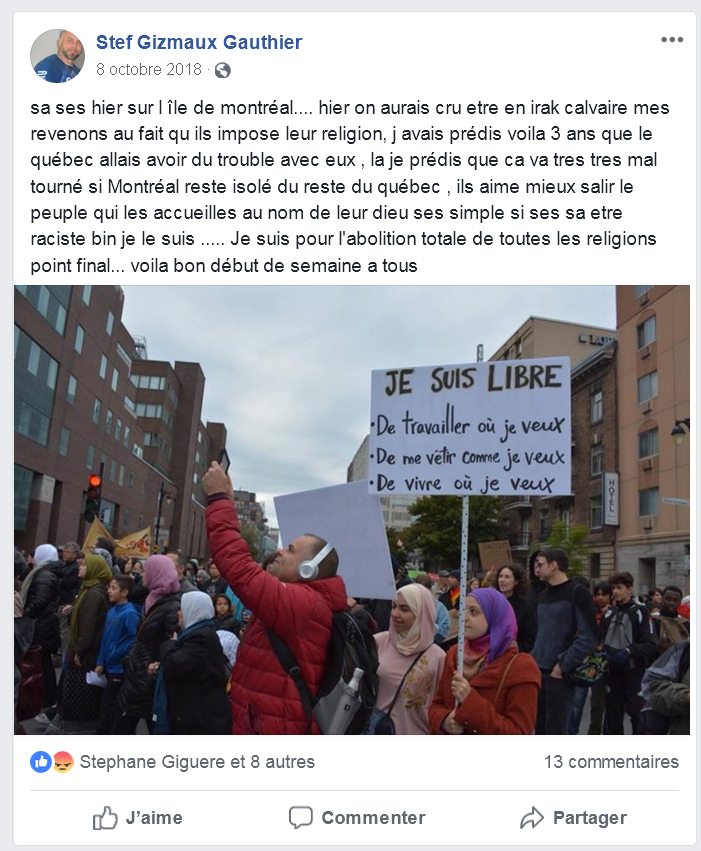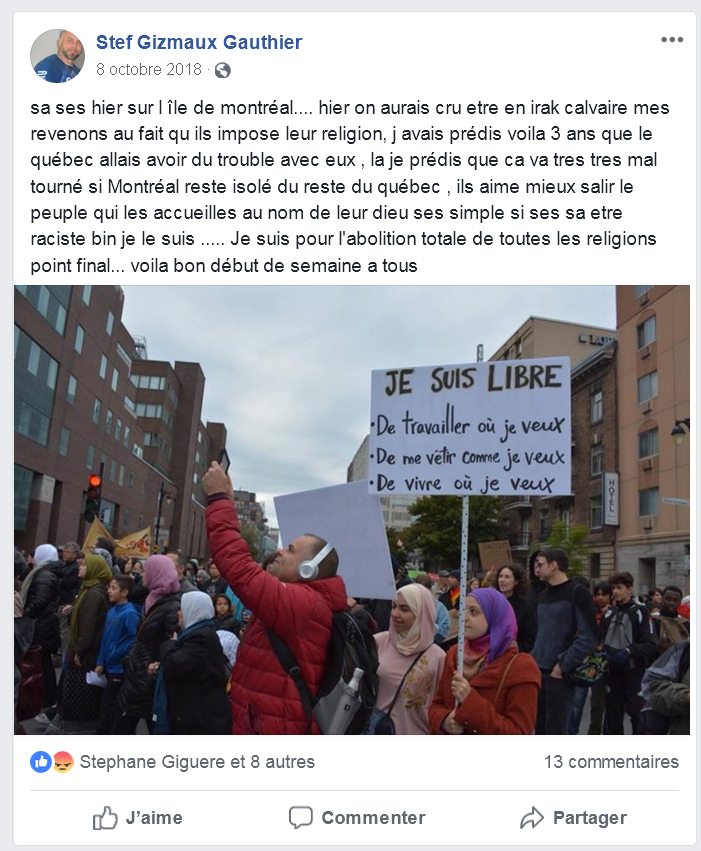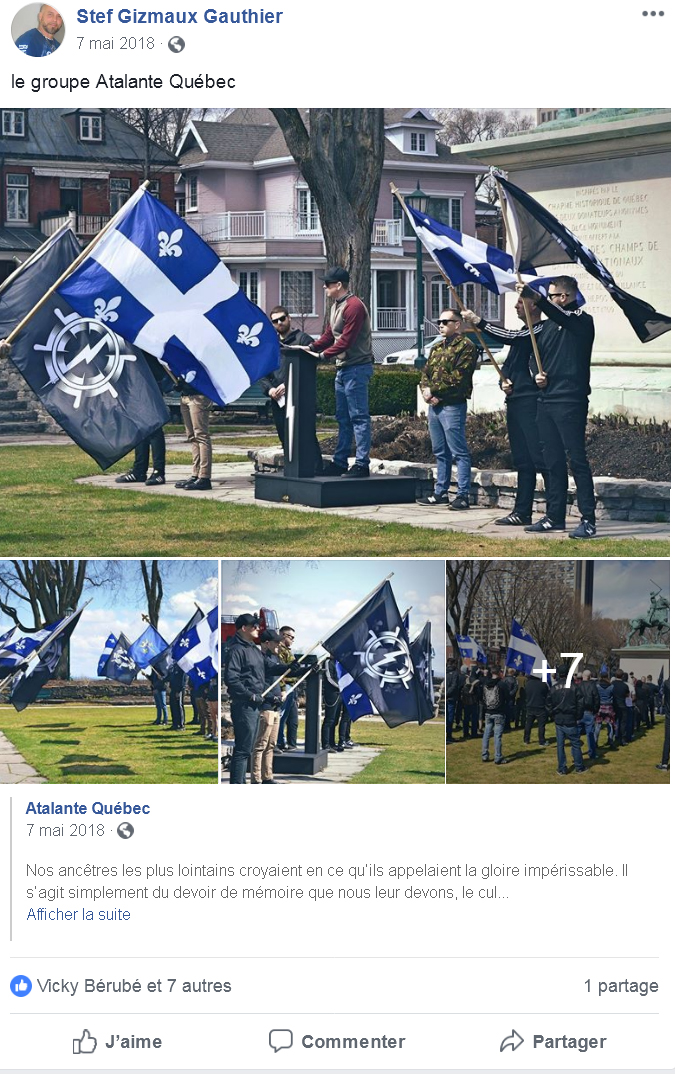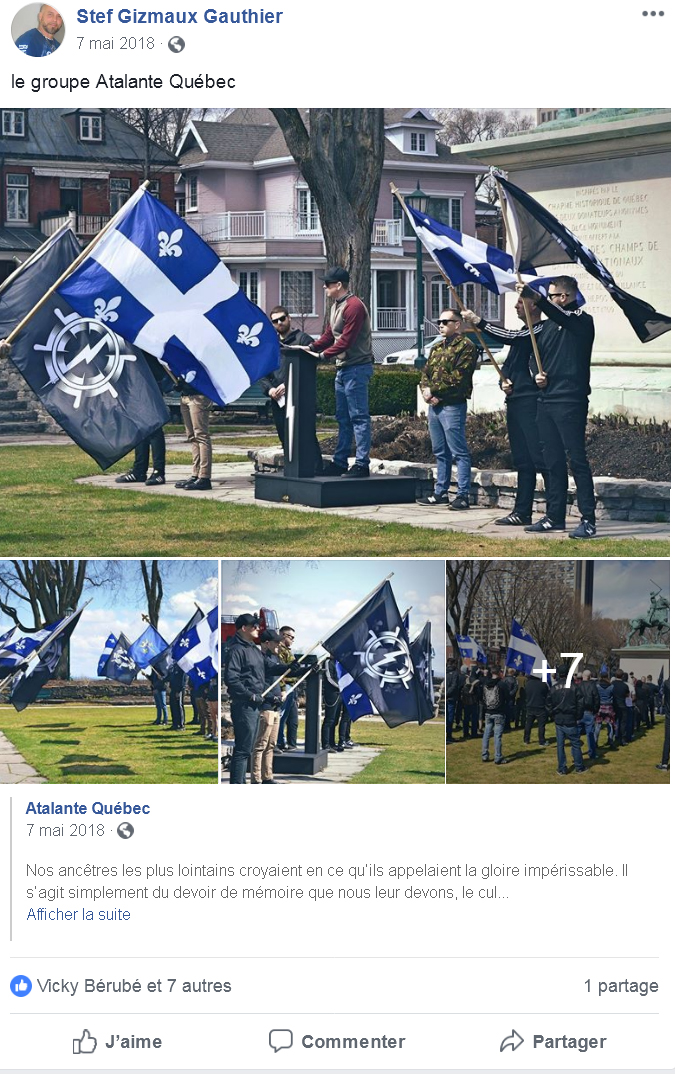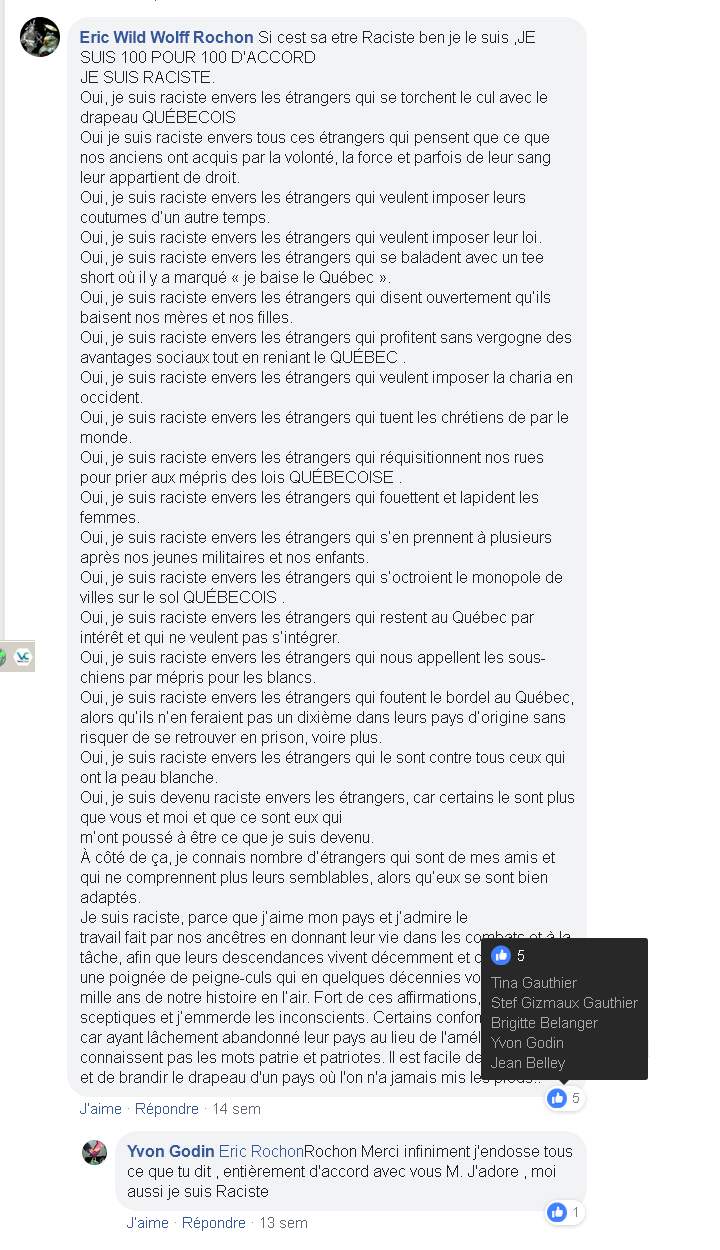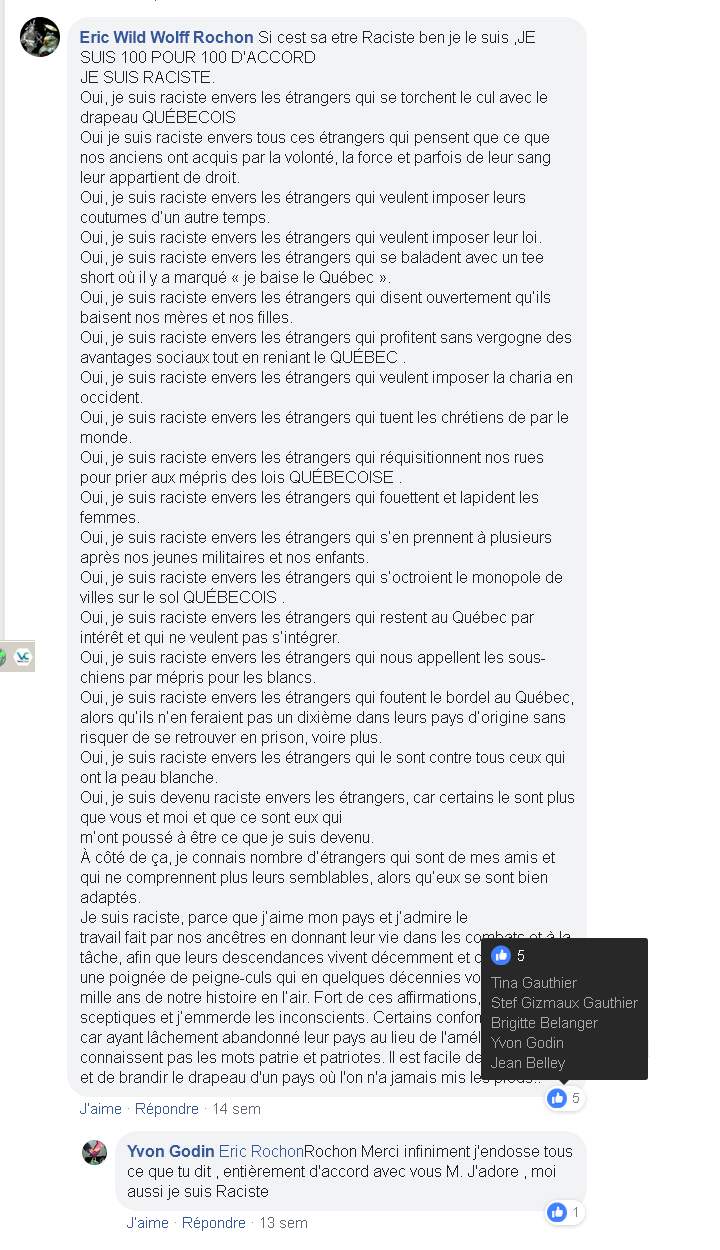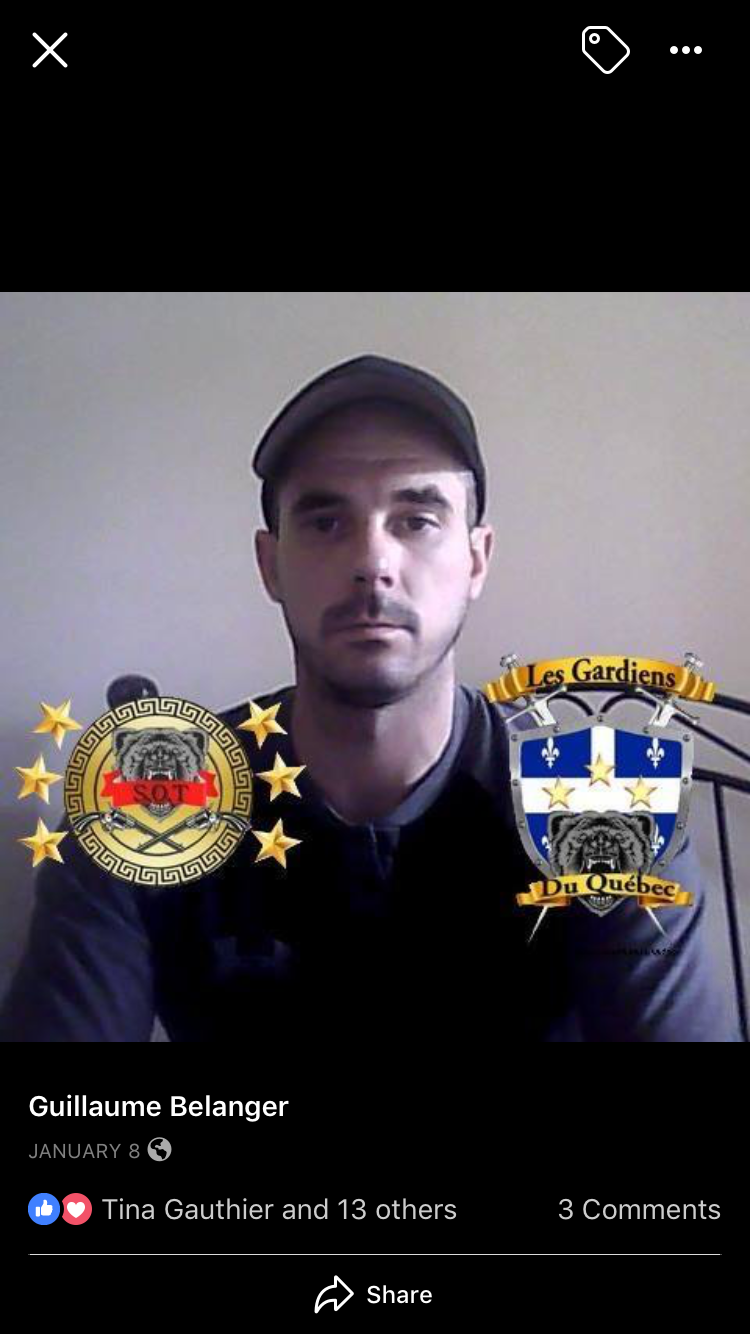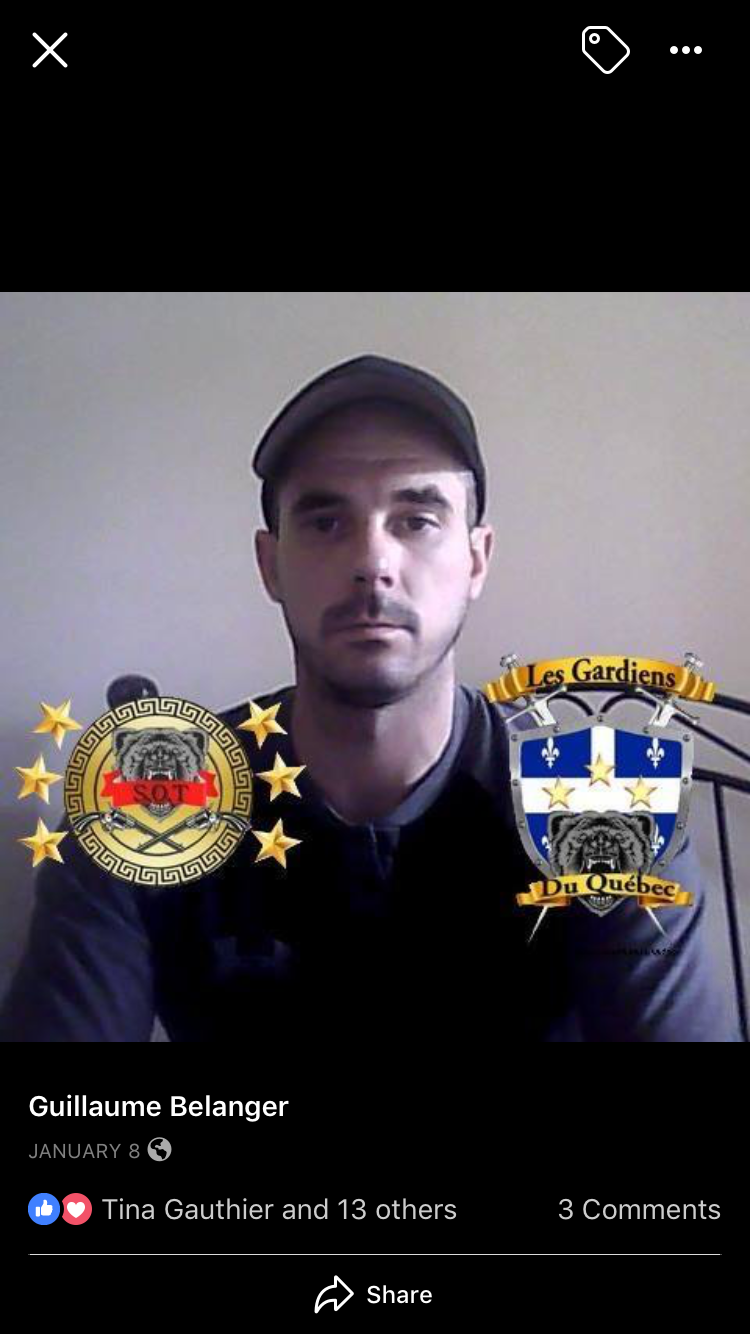 — The Front patriotique du Québec (FPQ) and its Groupe de sécurité patriotique (GSP) led by Robert Proulx gathers together a fair number of the usual suspects found at identitarian gatherings, including Mario Dallaire, Robin Simon, Sylvain Lacroix, and Stéphane Dufresne, who was recently the subject of an article on the Montréal Antifasciste website for proposing a fake terrorist attack. Over the last two years, the FPQ was behind spring demonstrations that in a certain sense were the precursor to the "Vague bleue" (April 23, 2017; April 15, 2018). The GSP is very close to the III % Québec, an anemic imitation of the far-right patriotic militias that arose in the U.S. in 2008. Their mission is to dress up like members of the cast of a GI Joe operetta and "protect" the various Québec identitarian demonstrations against imaginary enemies. It seems that the III%, under the stewardship of its "provincial commanding officer" Éric Vachon, is currently either dormant or in a period of restructuring.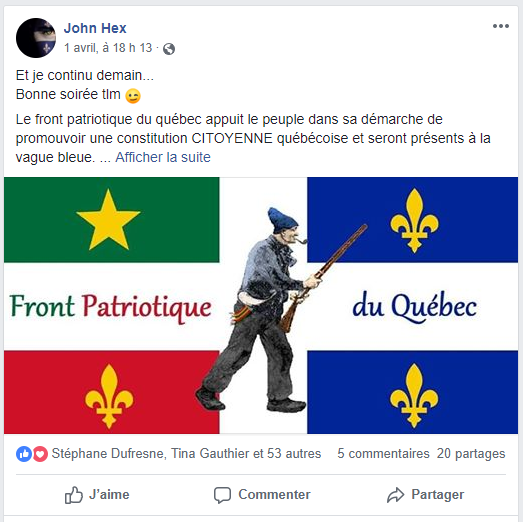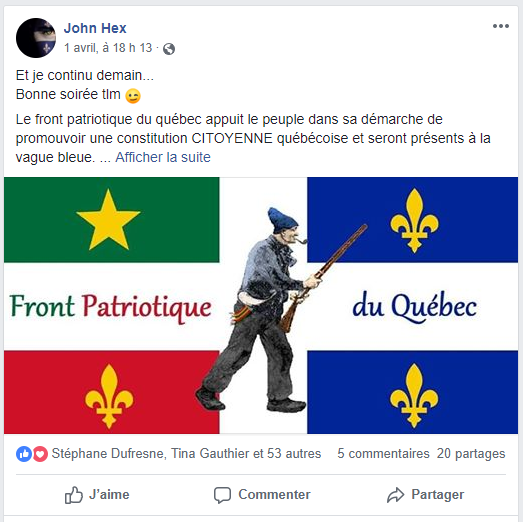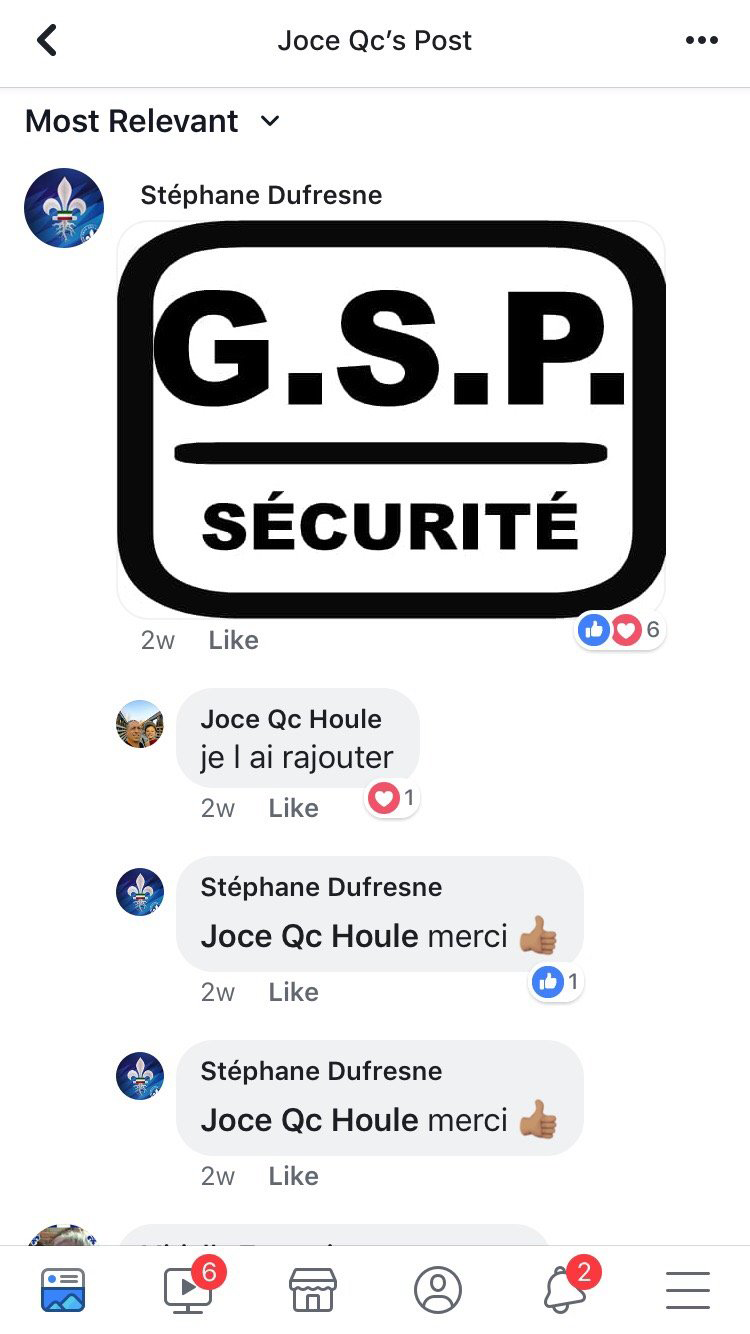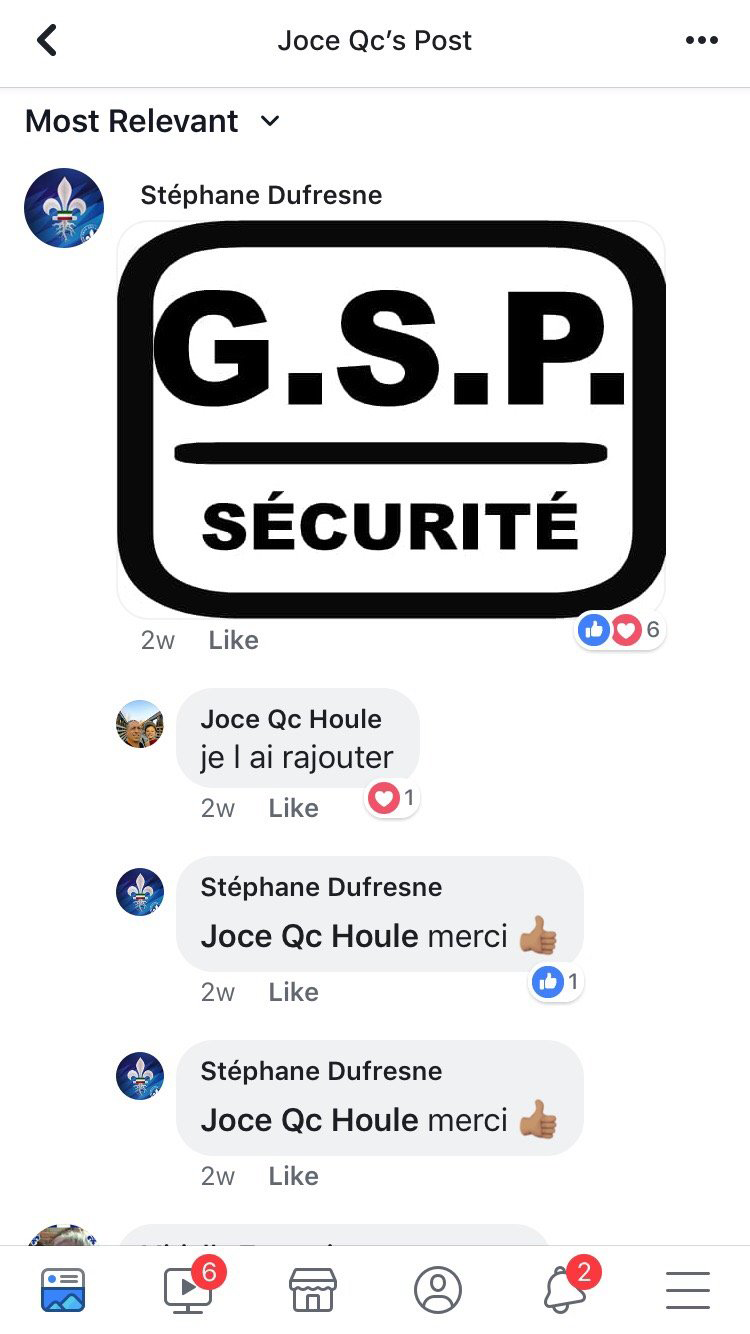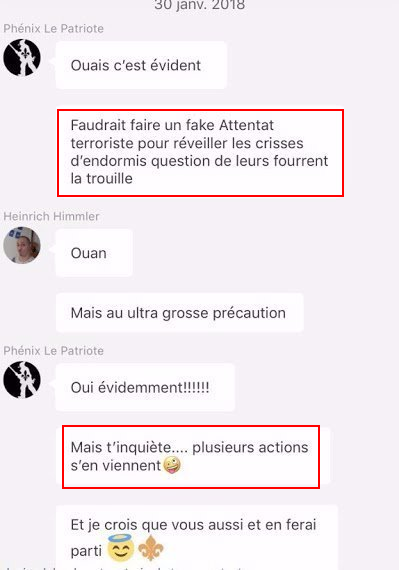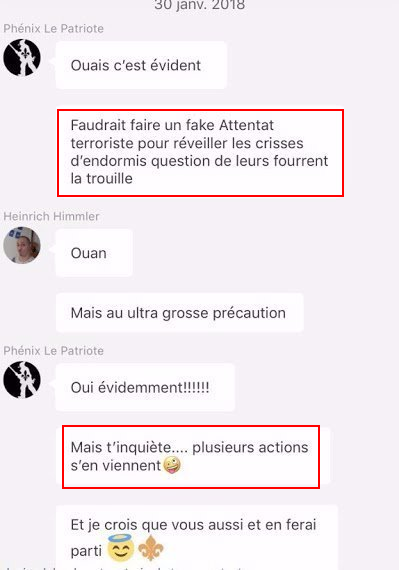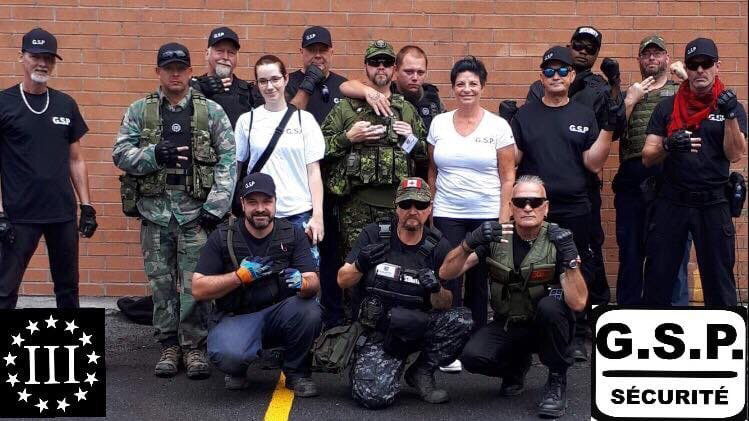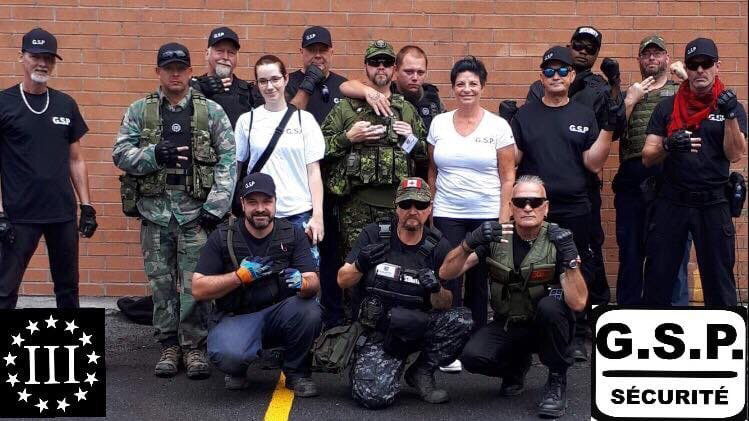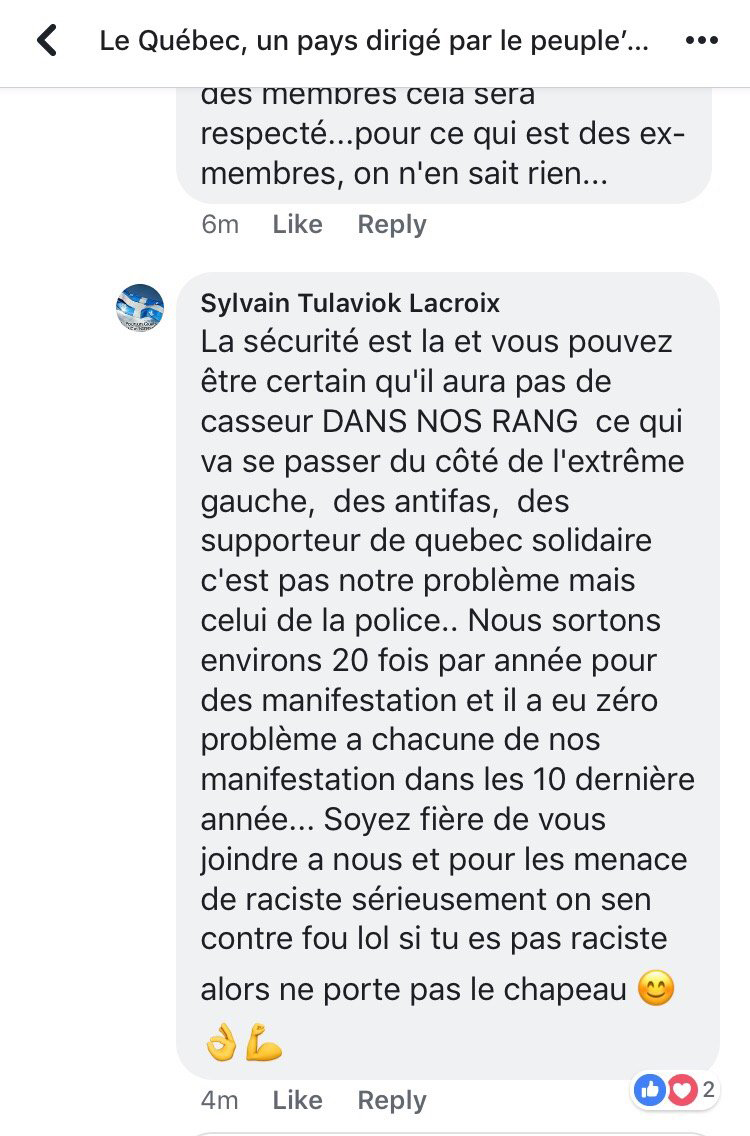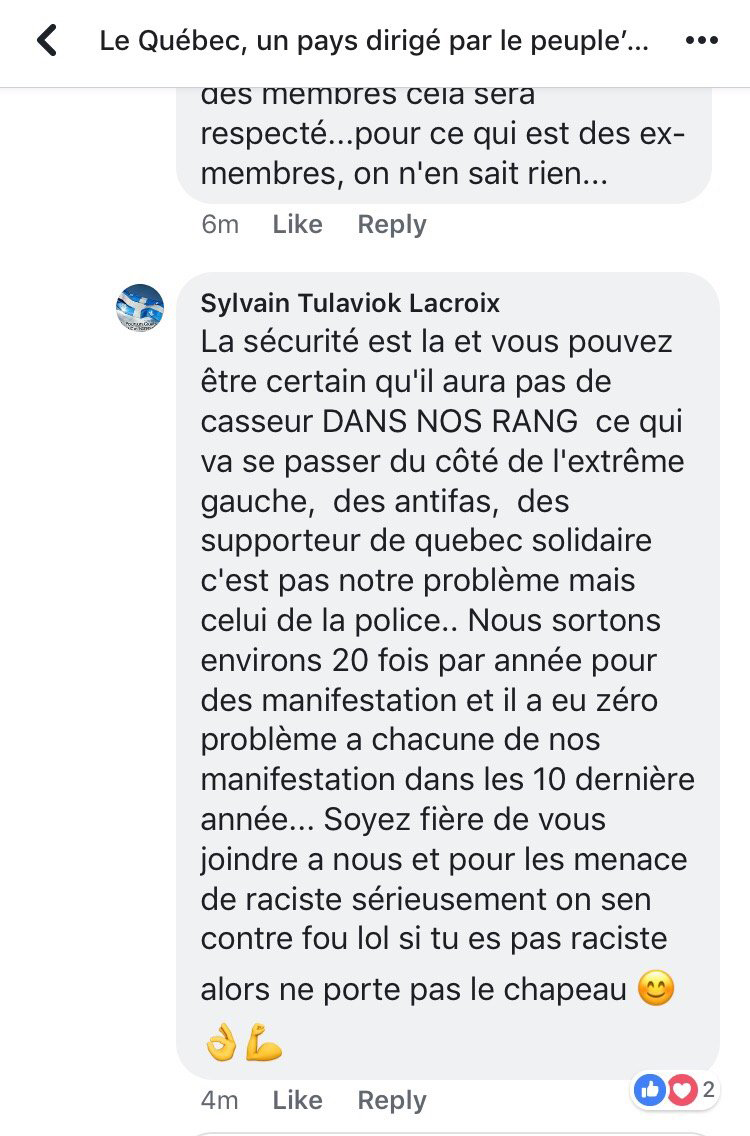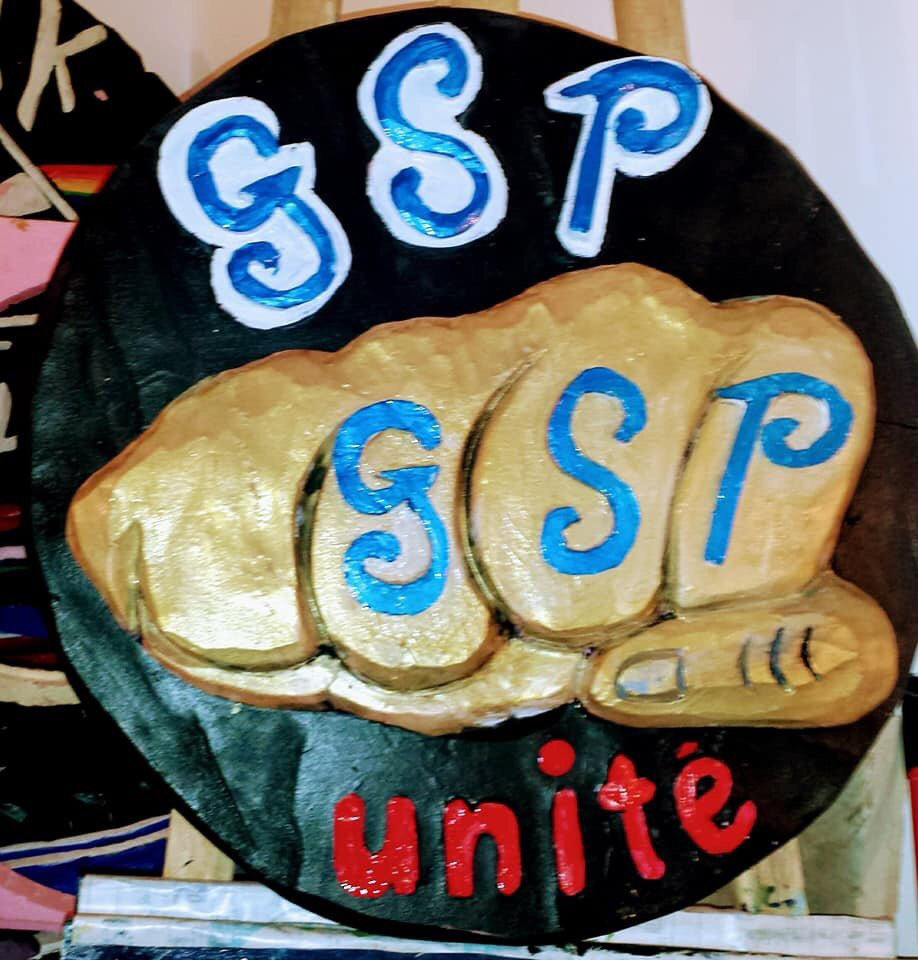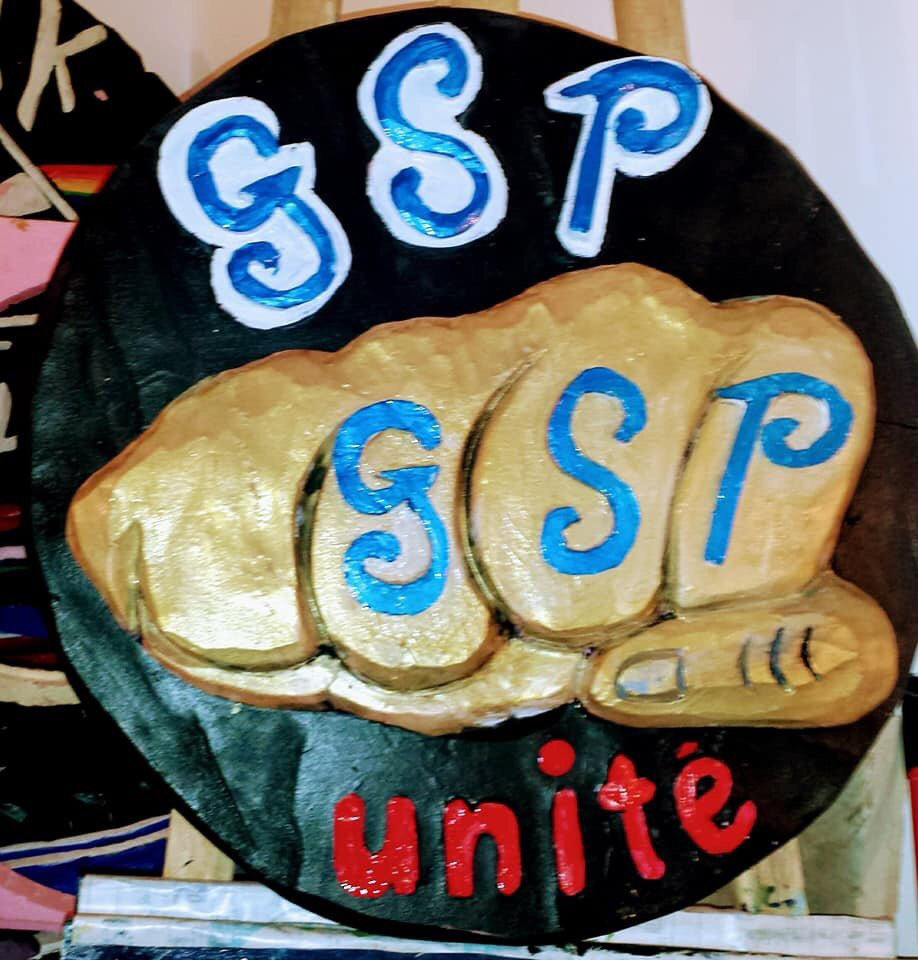 — The so-called
« Gilets jaunes du Québec »
 [Yellow Vests] (which has an extremely tenuous if not nonexistent link to the French movement of that name) brings together a handful of members and militants of various identitarian groups, a variety of free radicals, and a number of "special" people (including the "Patriot Pirate"
Michel Éthier
, and the Styrofoam goof
Claude Roy
, among others).
Michel Meunier
, alias Mickey Mike, a notorious white supremacist who
celebrated the massacre of fifty Muslims in Christchurch
and
hoped for another attack like that against the Muslim community in Québec City in 2017
,  volunteered to carry out the reconnaissance in the area where the "Vague bleue" is to be held, as well as coordinating the postering.
Luc Desjardins,
another "Yellow Vest," is also actively mobilizing for the "Vague bleue." A key figure in this gaggle of goofs is the super-clown
Pierre Dion
, whose unquenchable thirst for attention makes his presence a virtual certainty.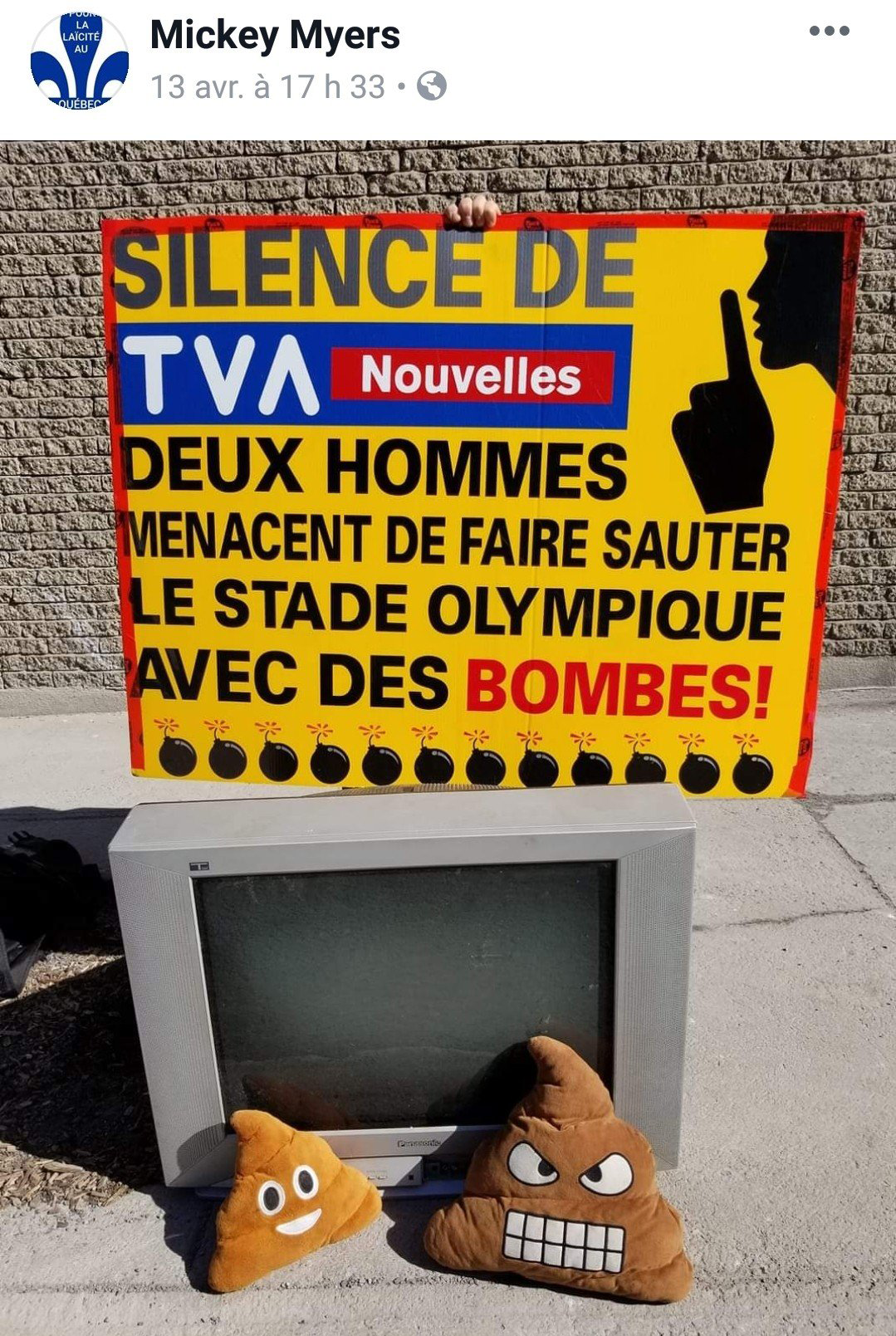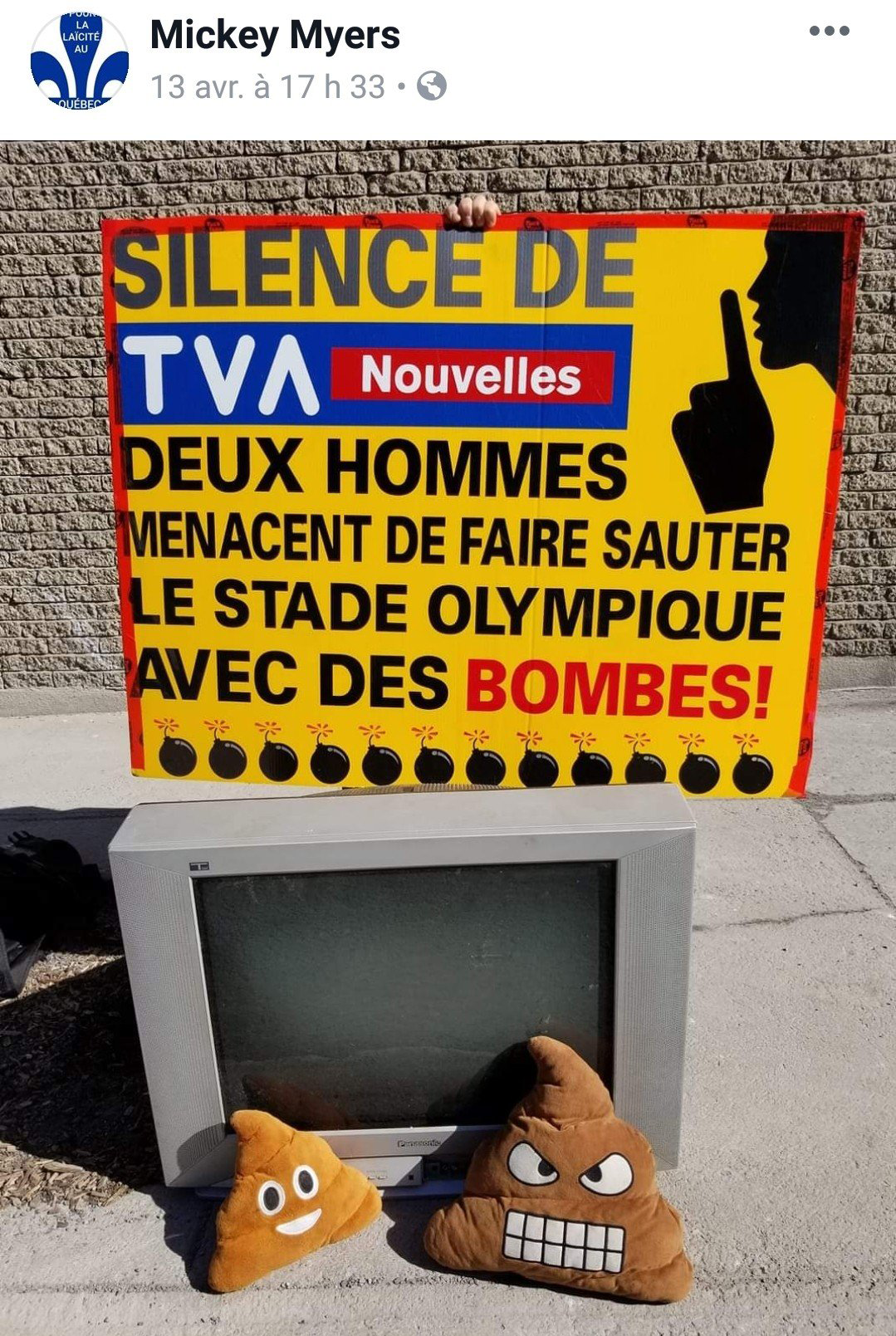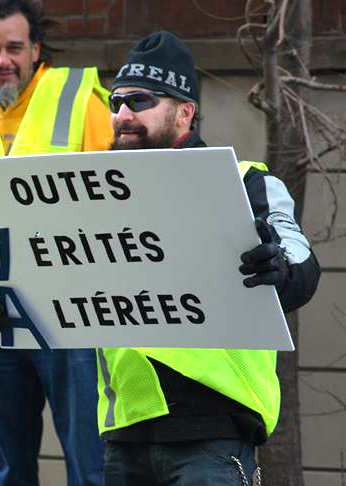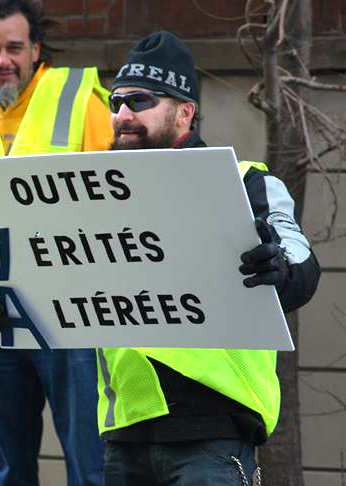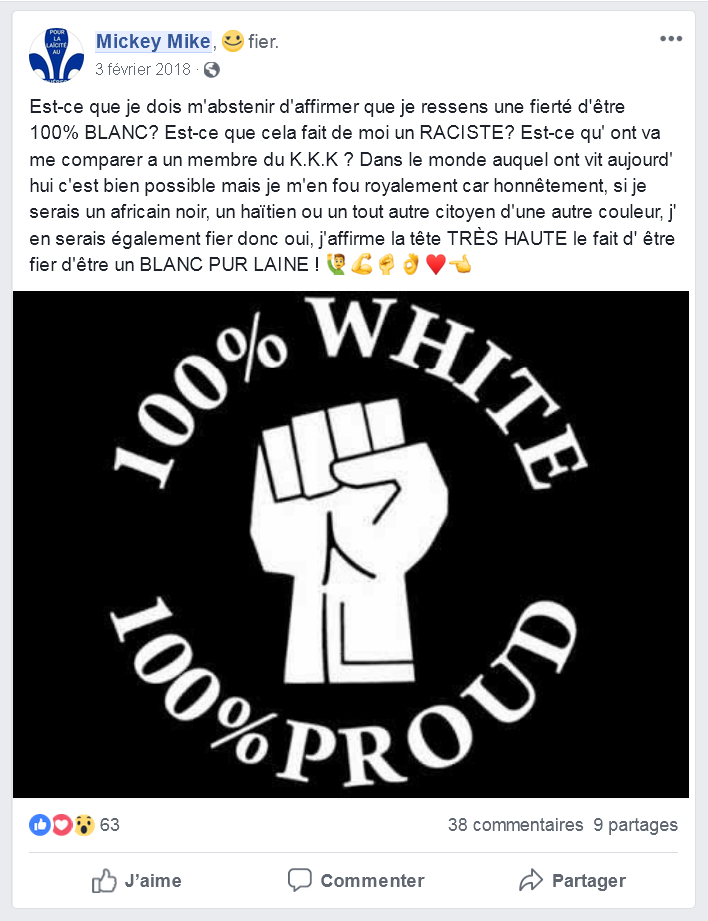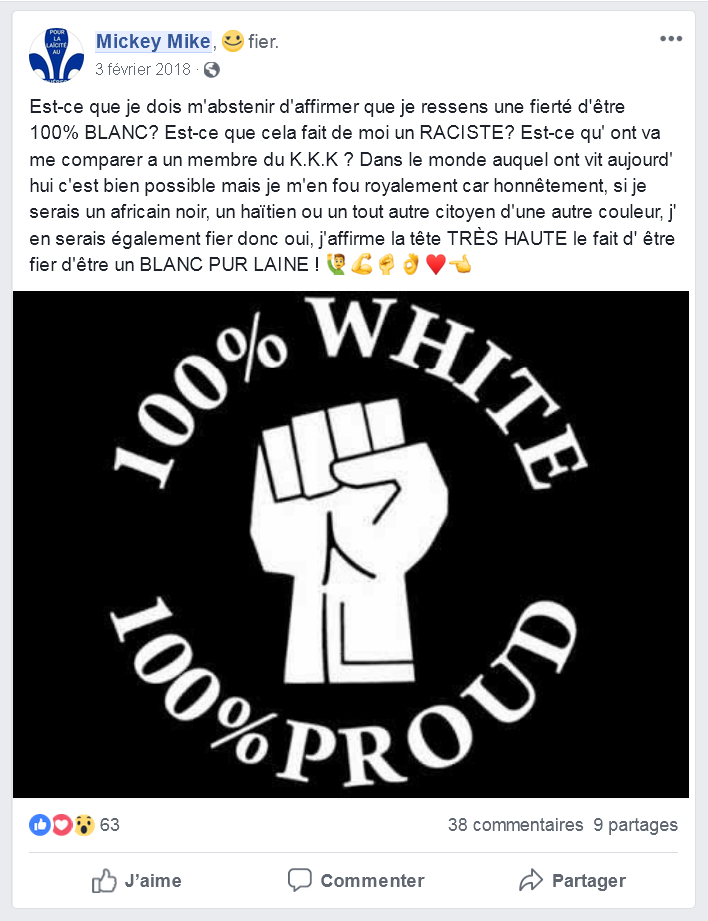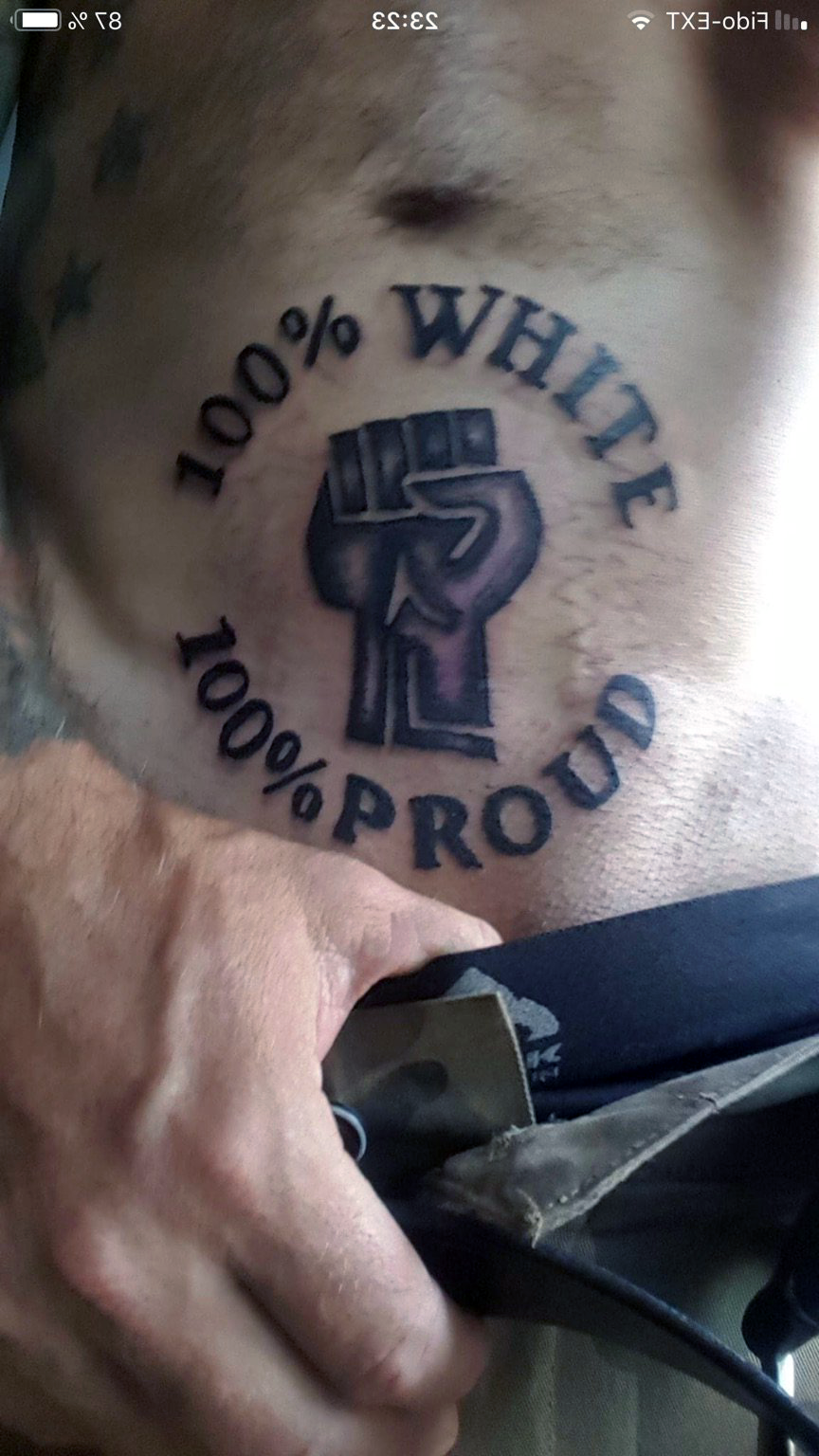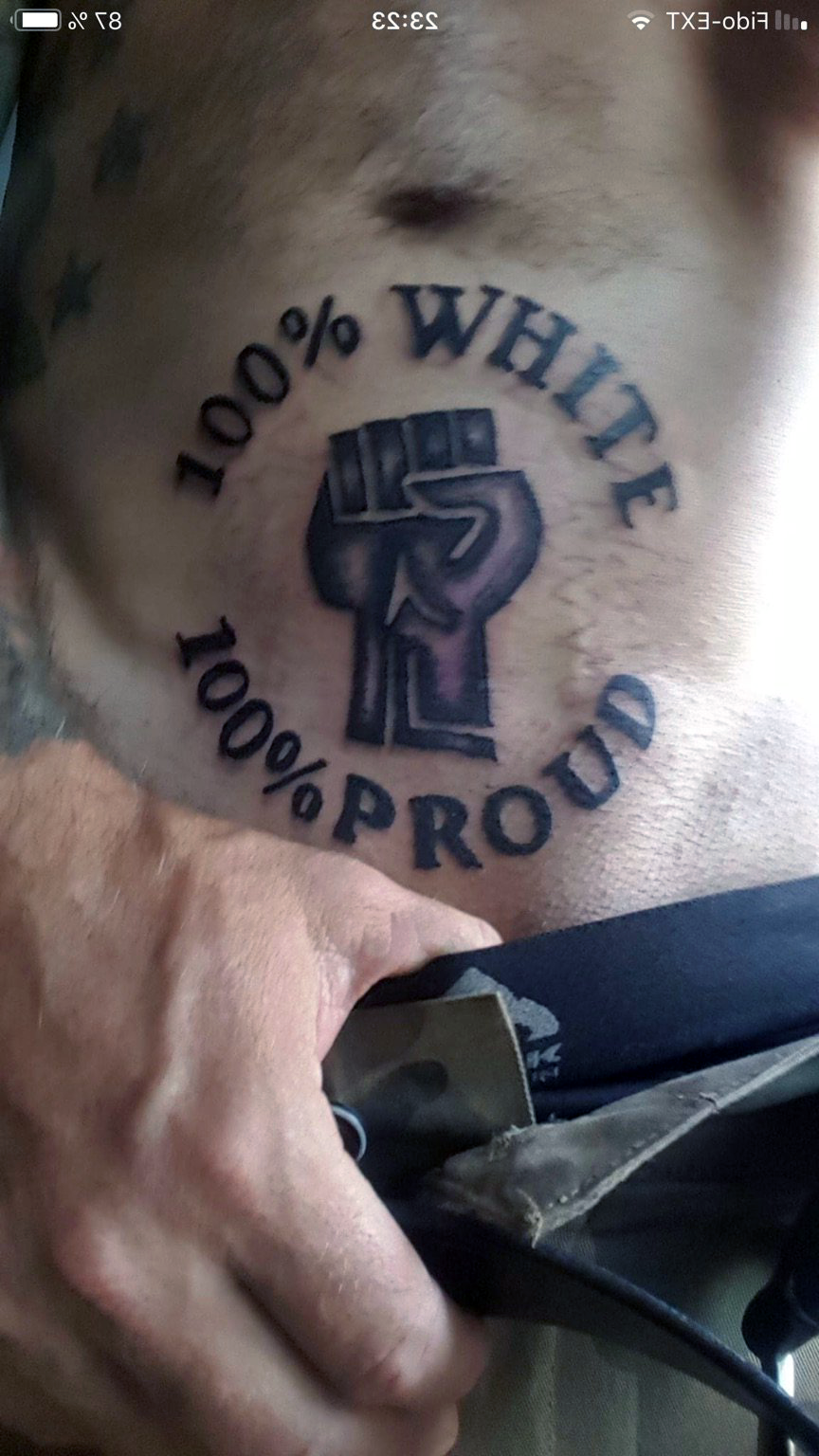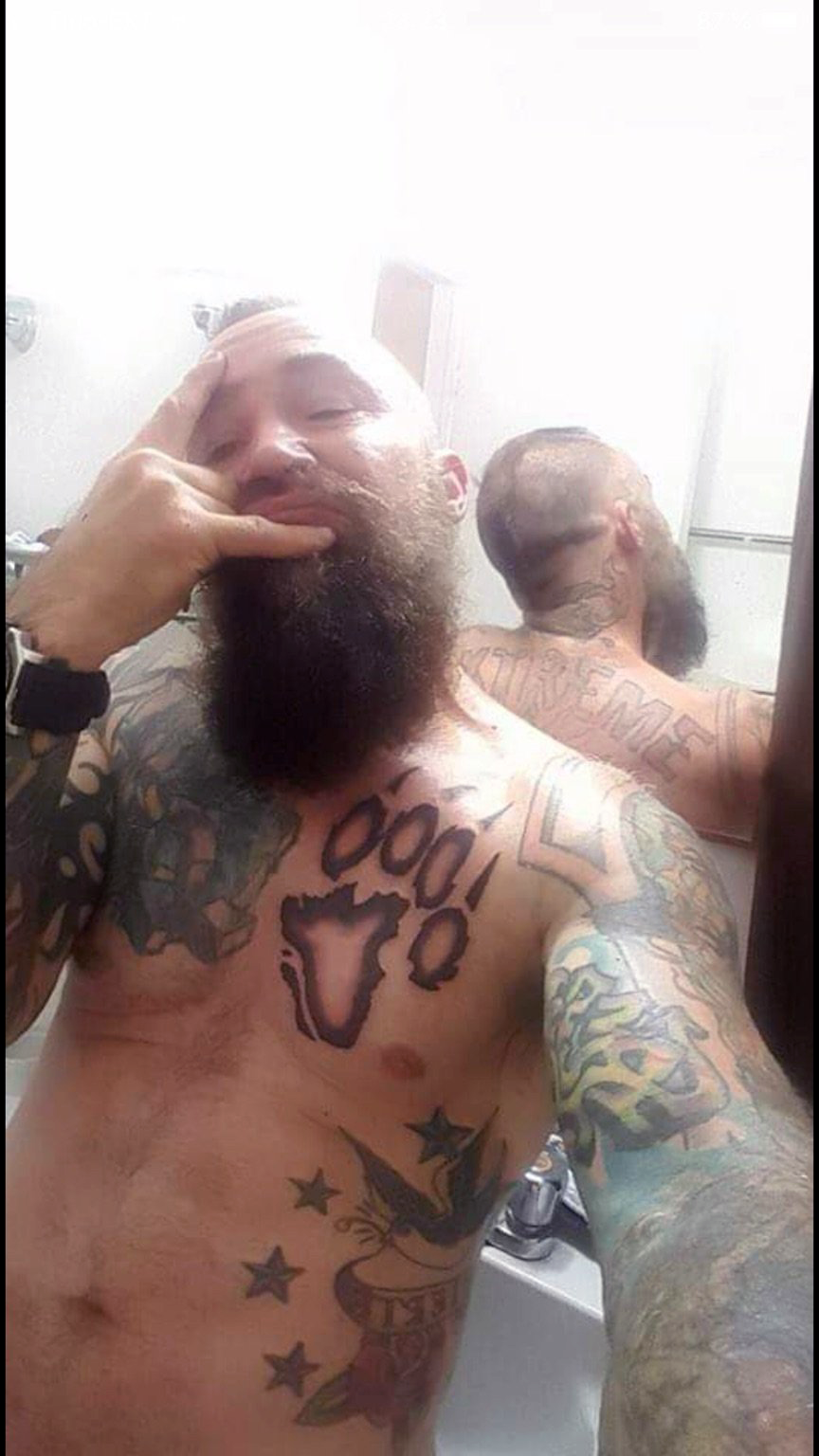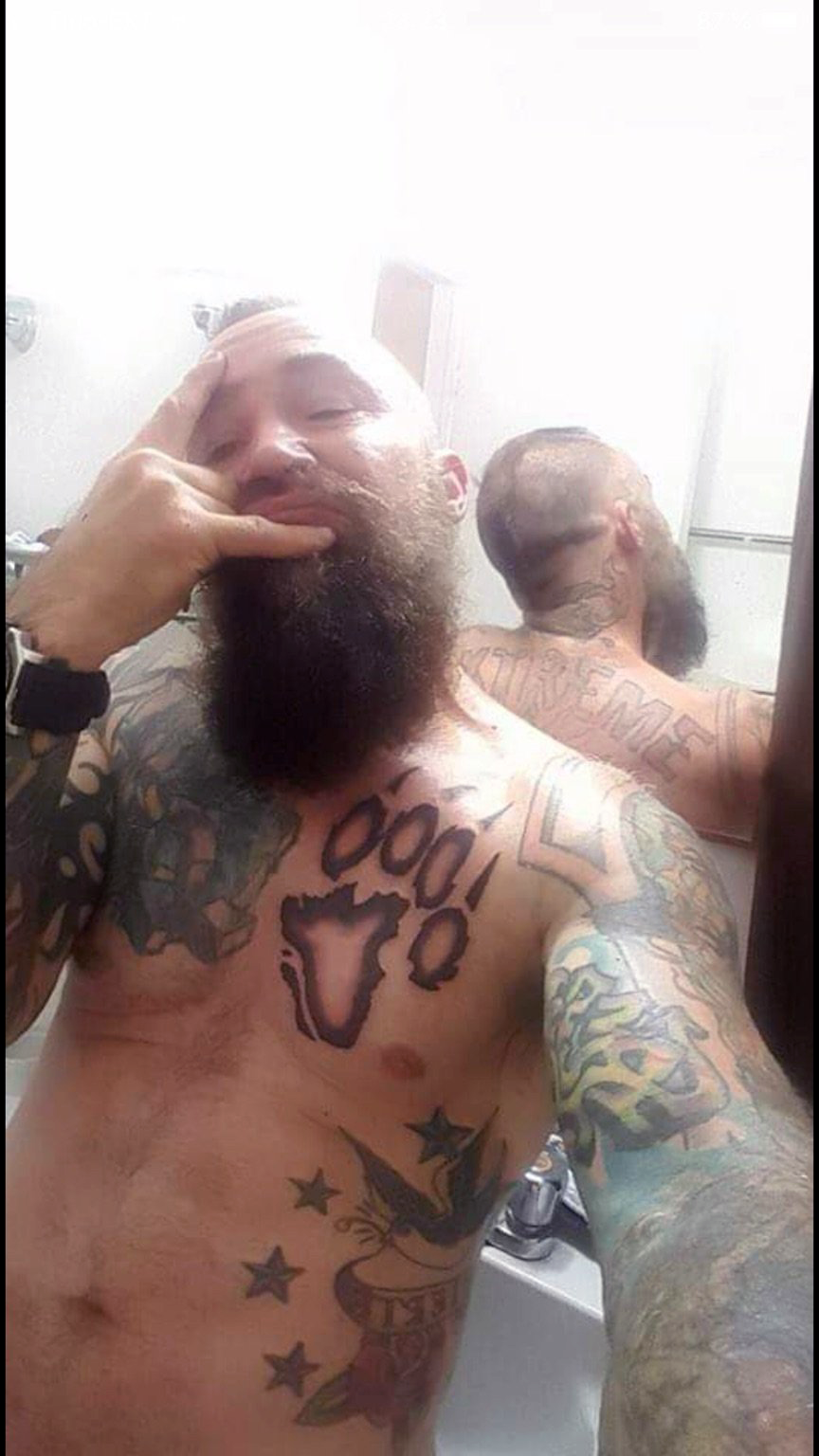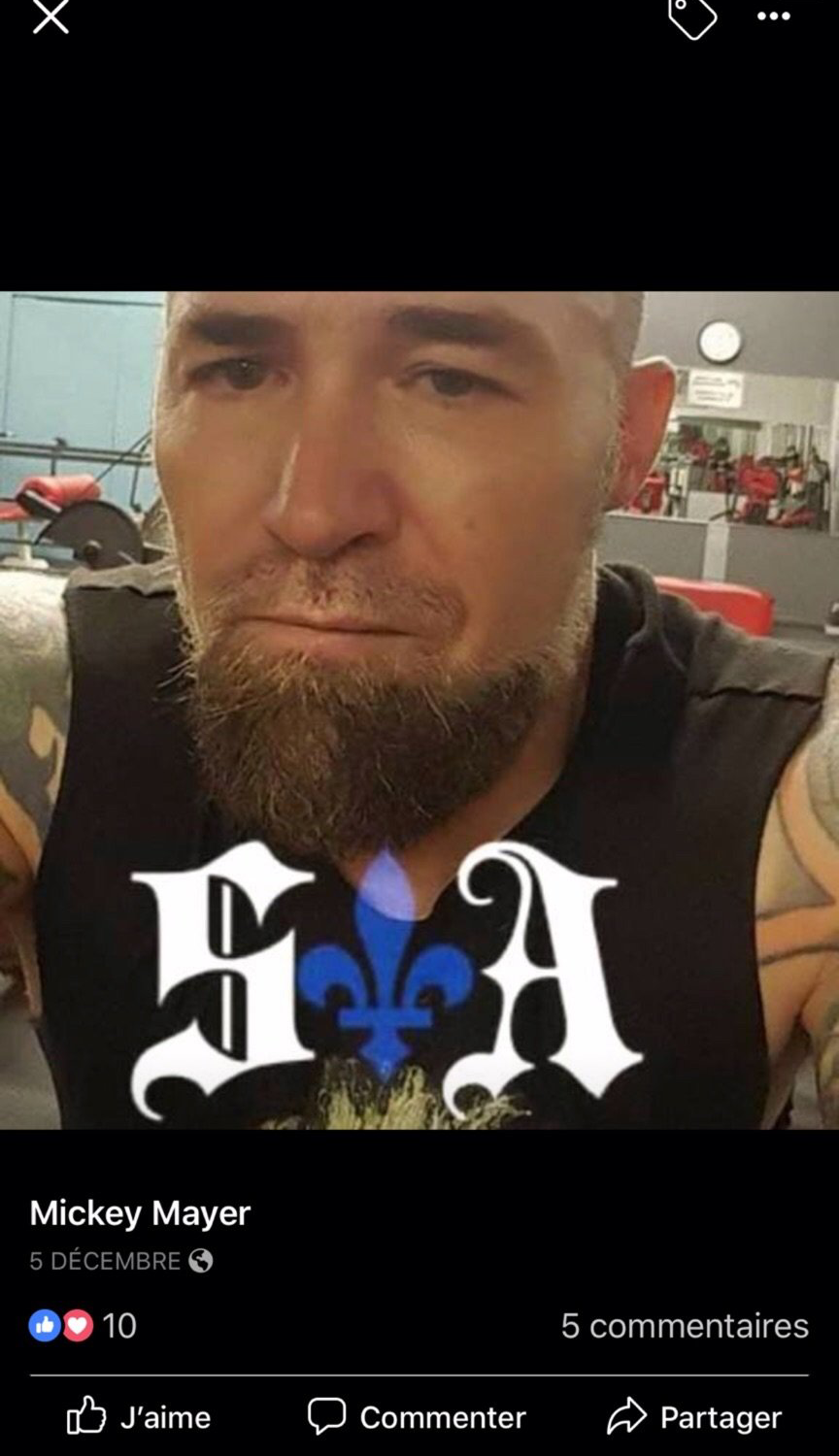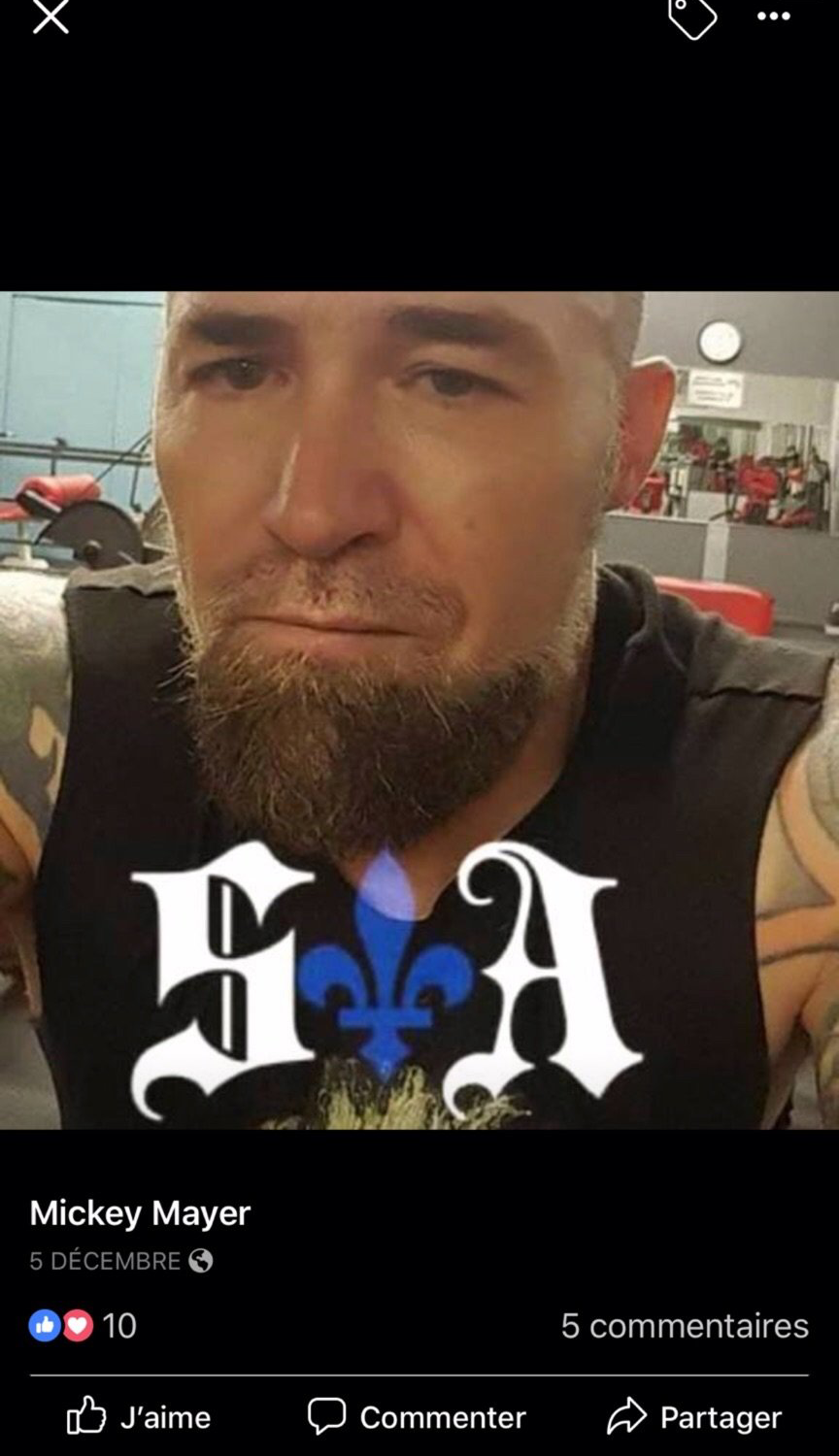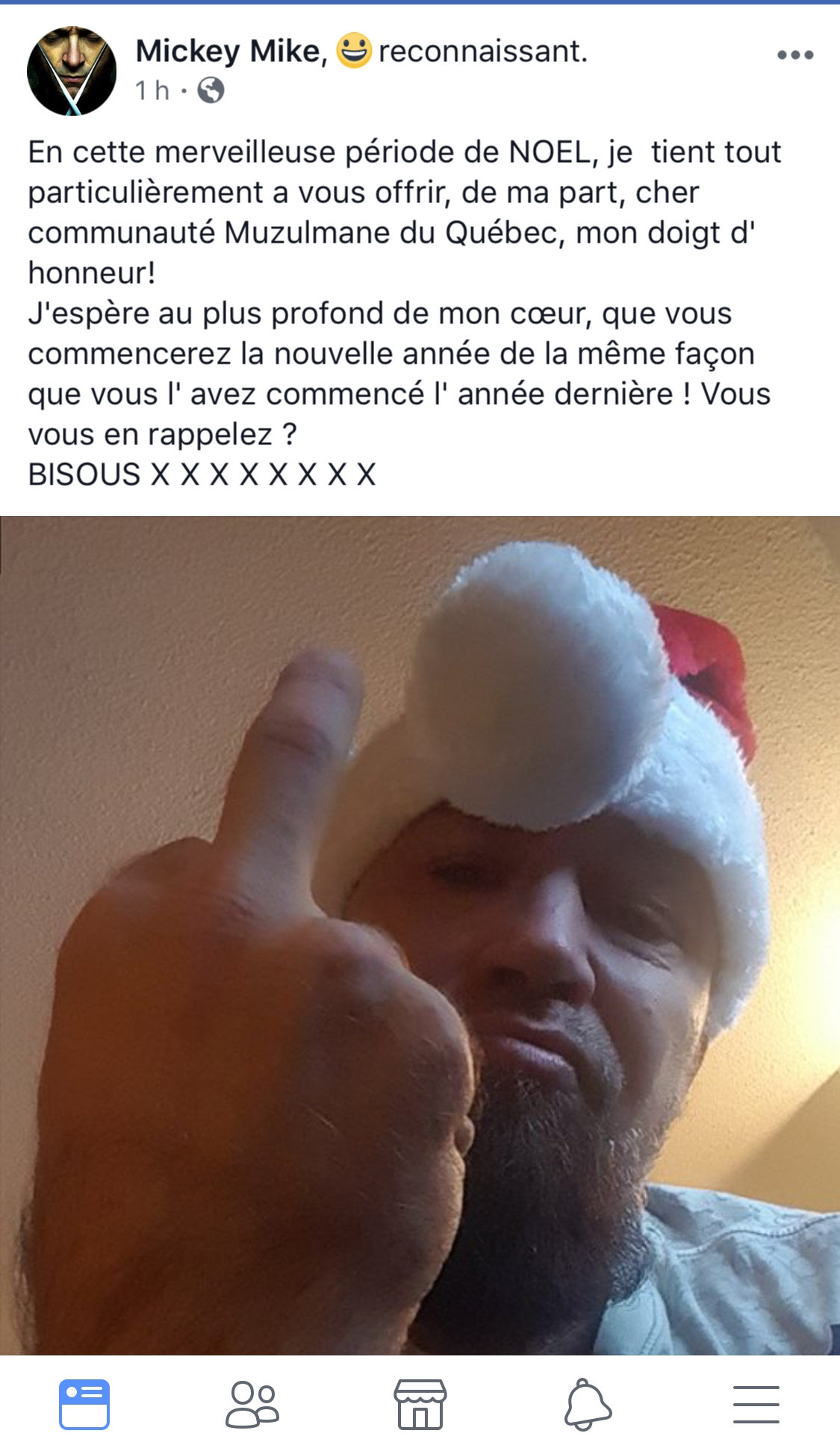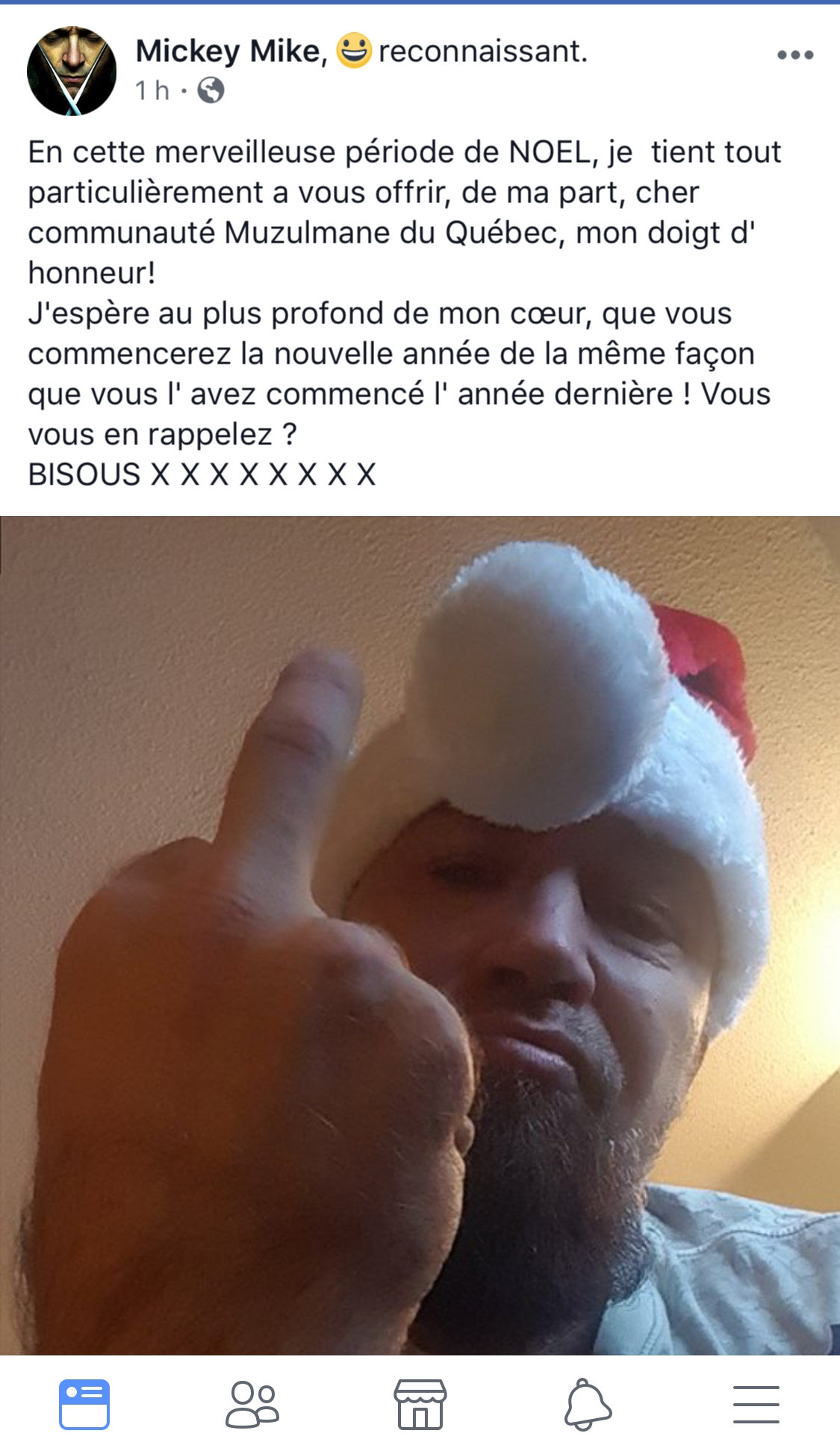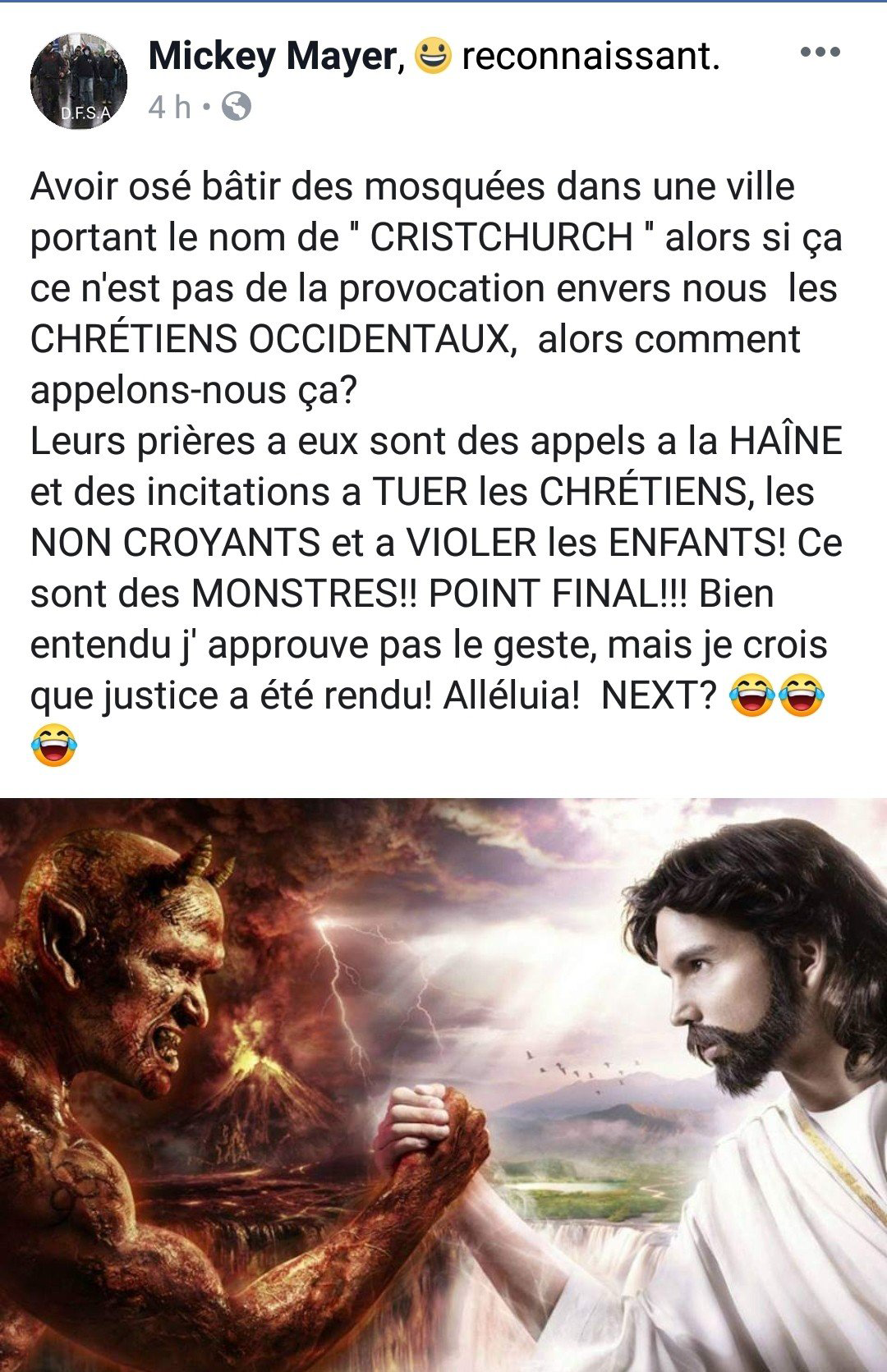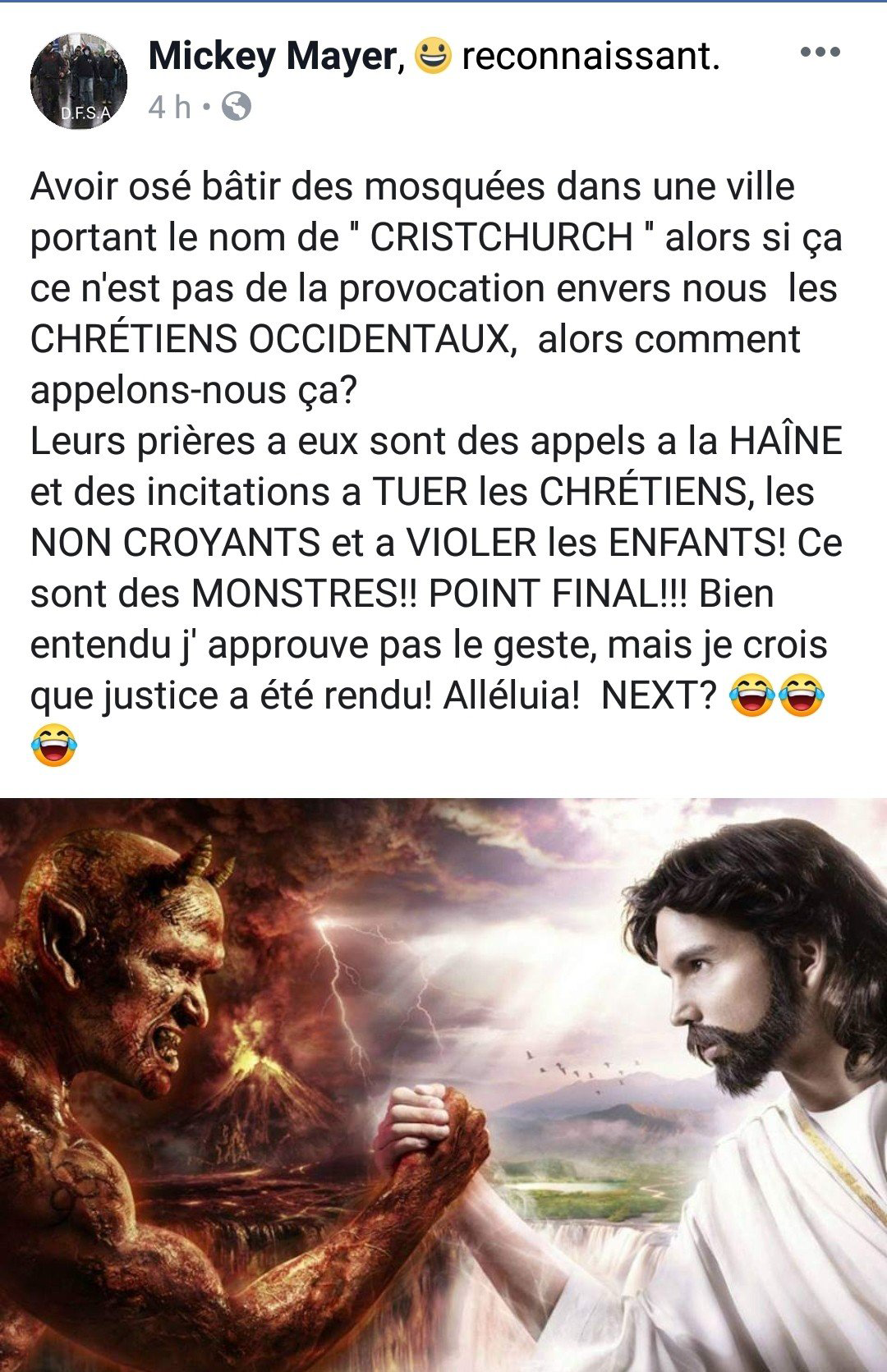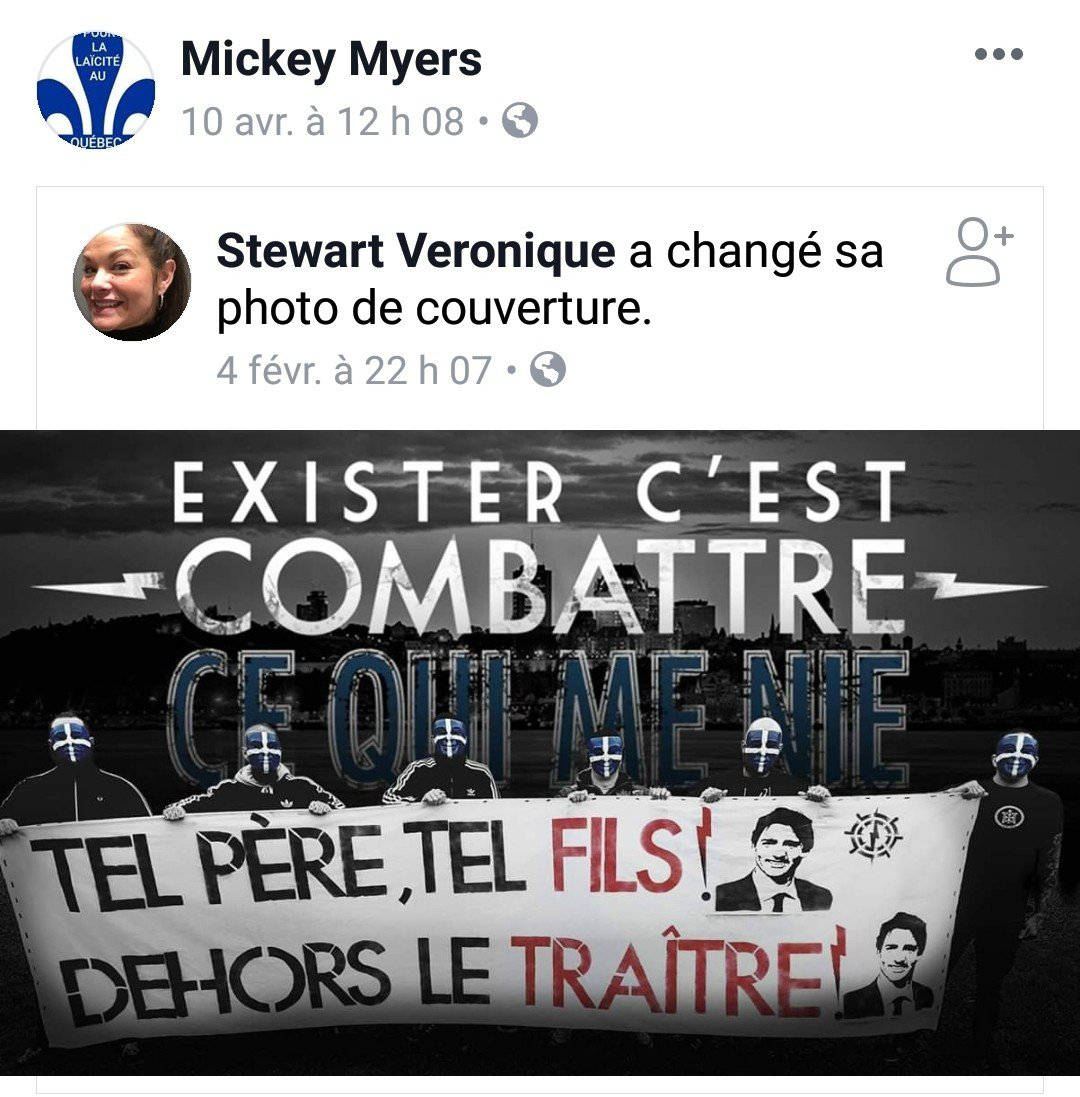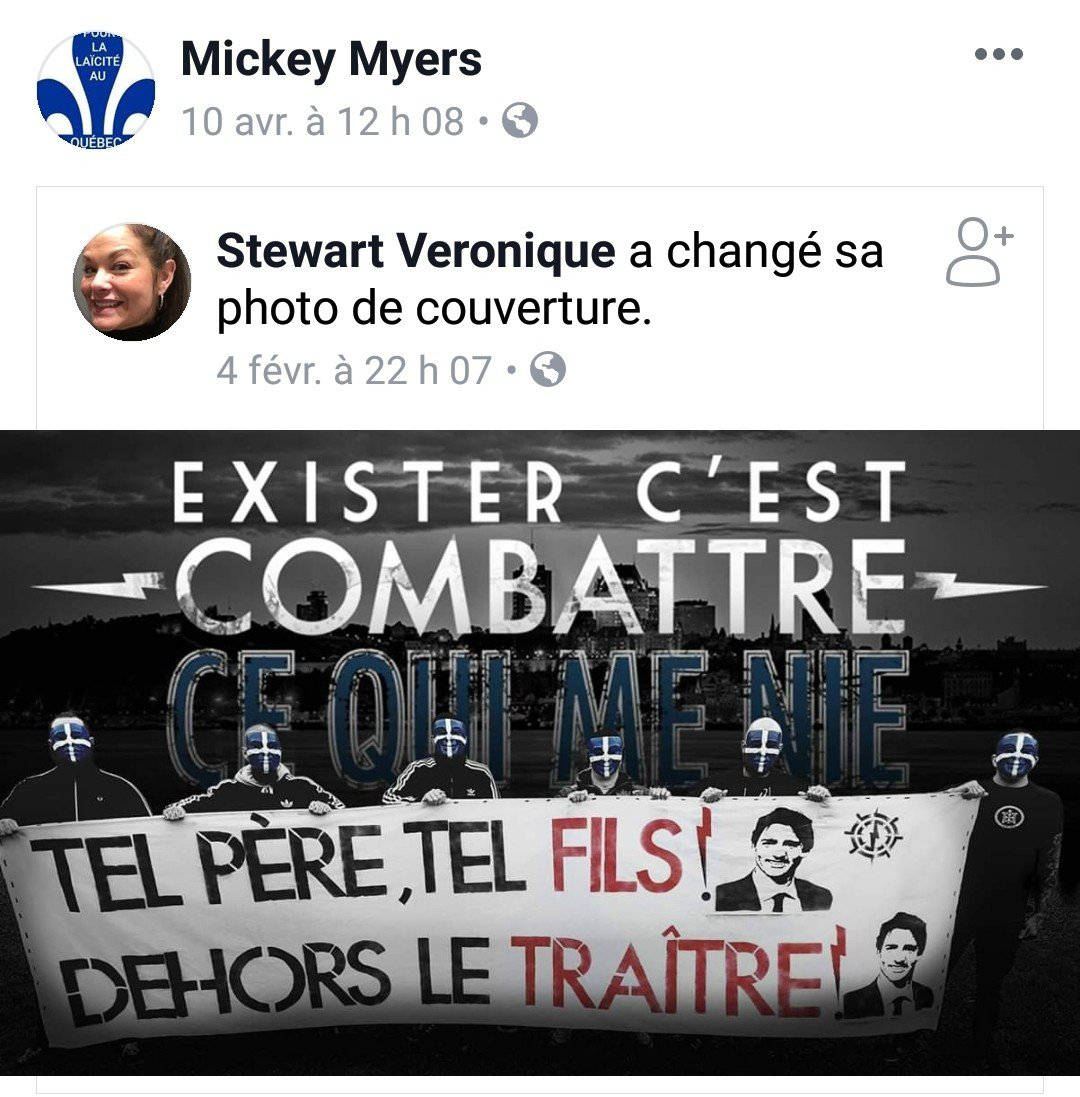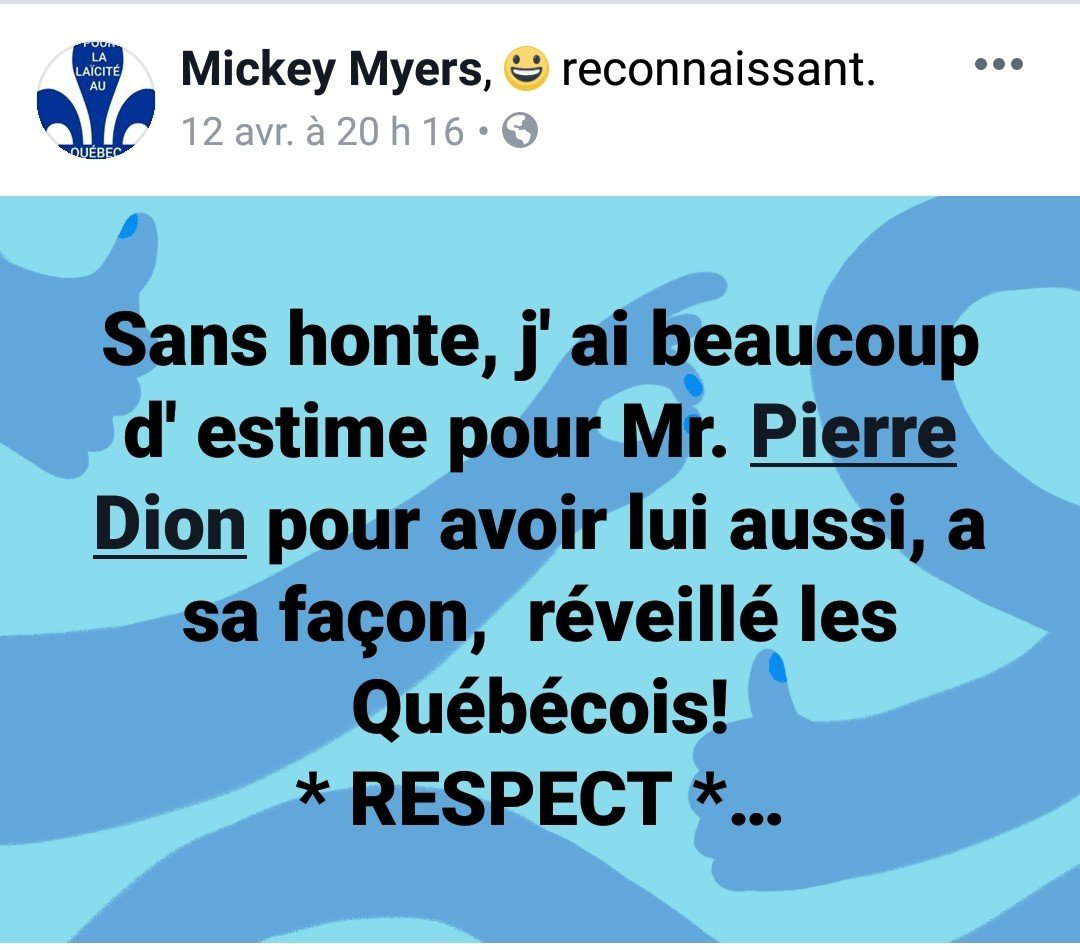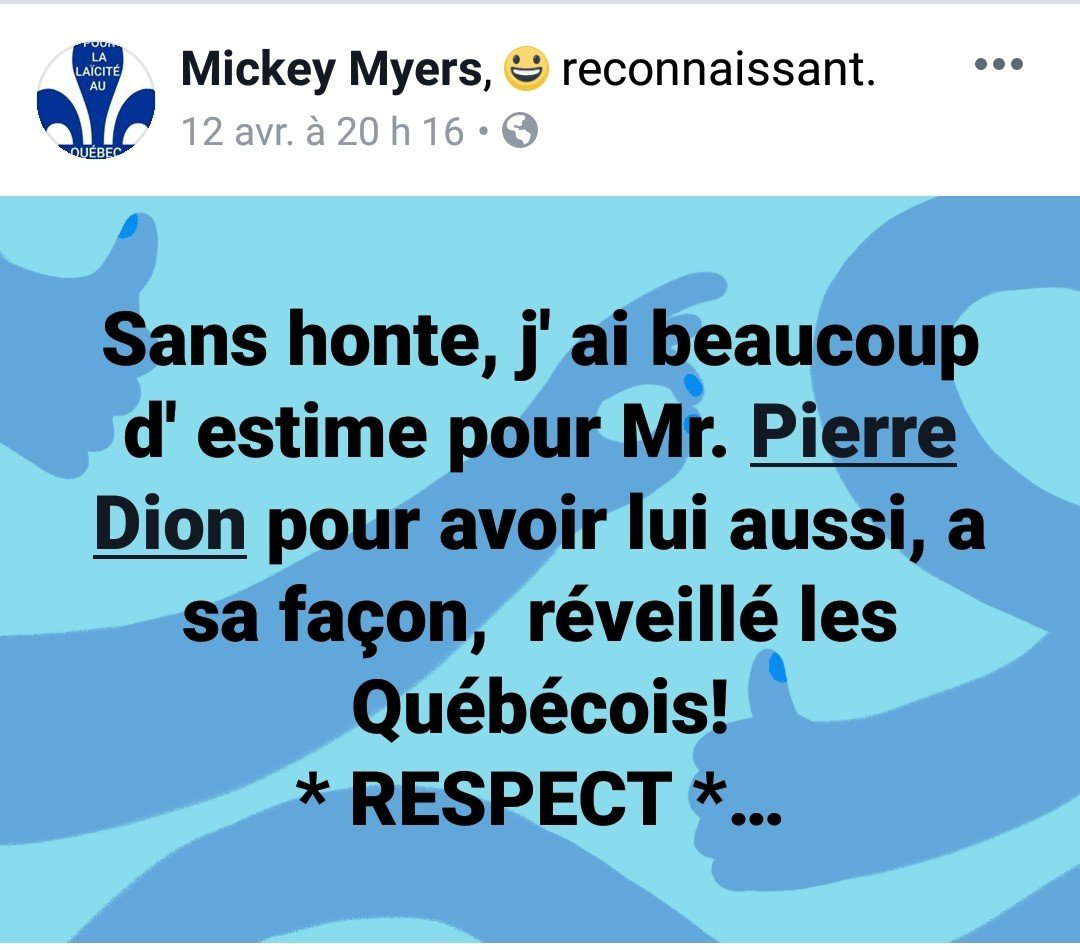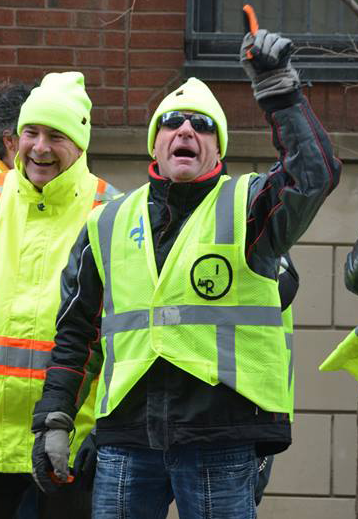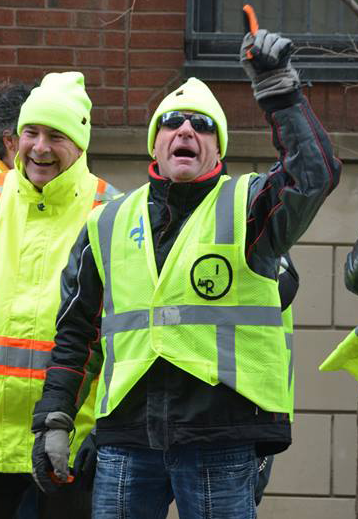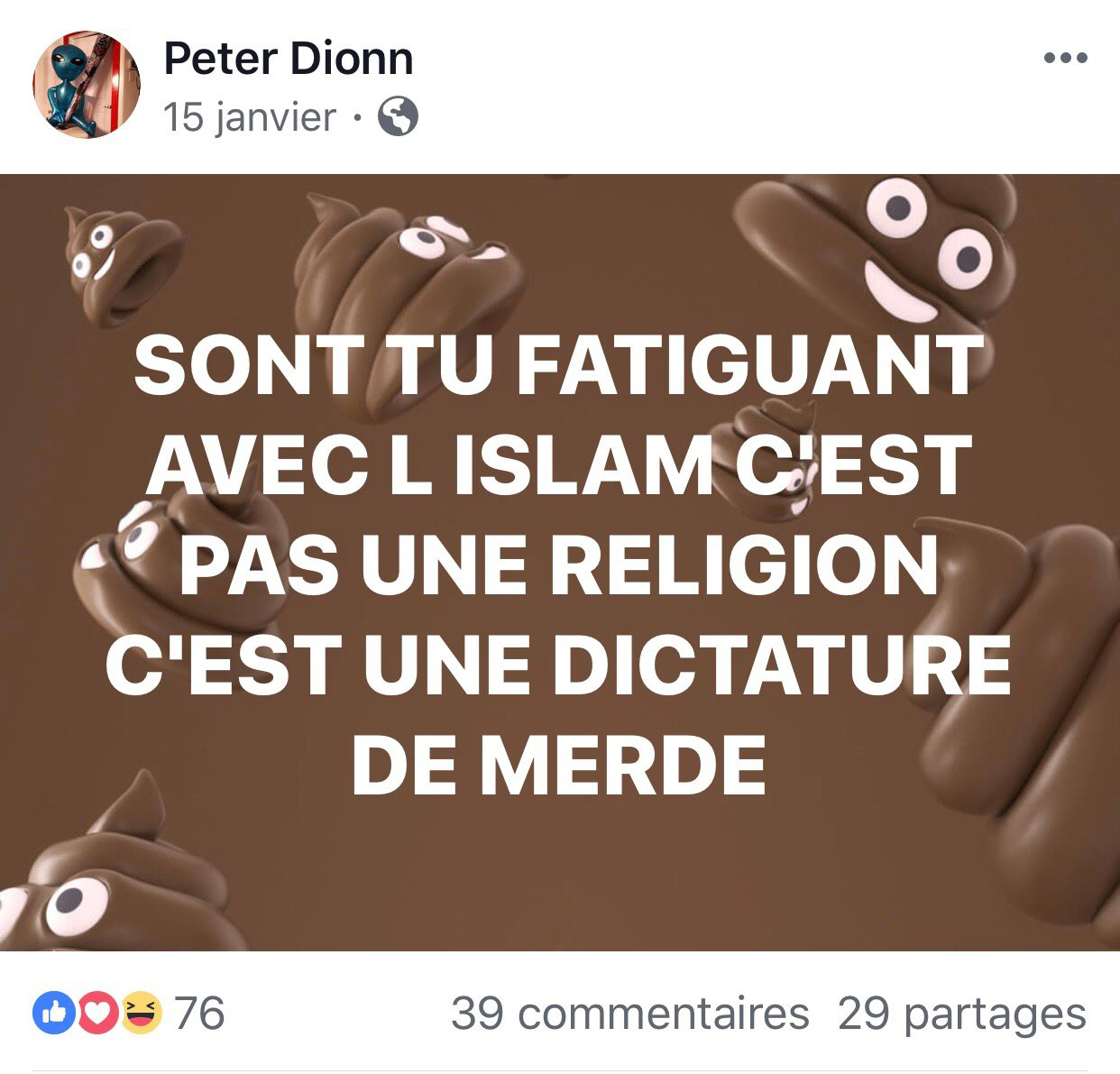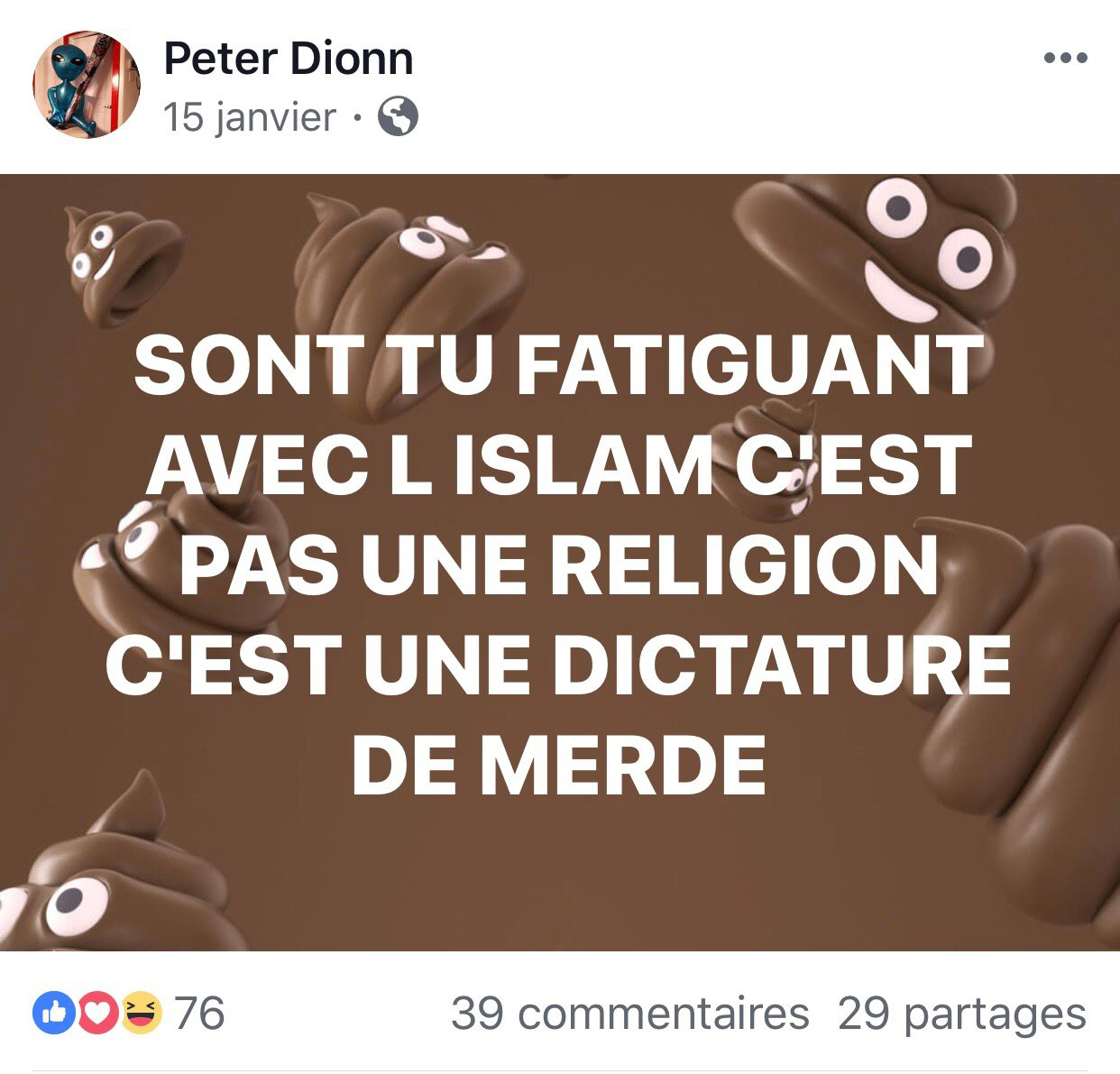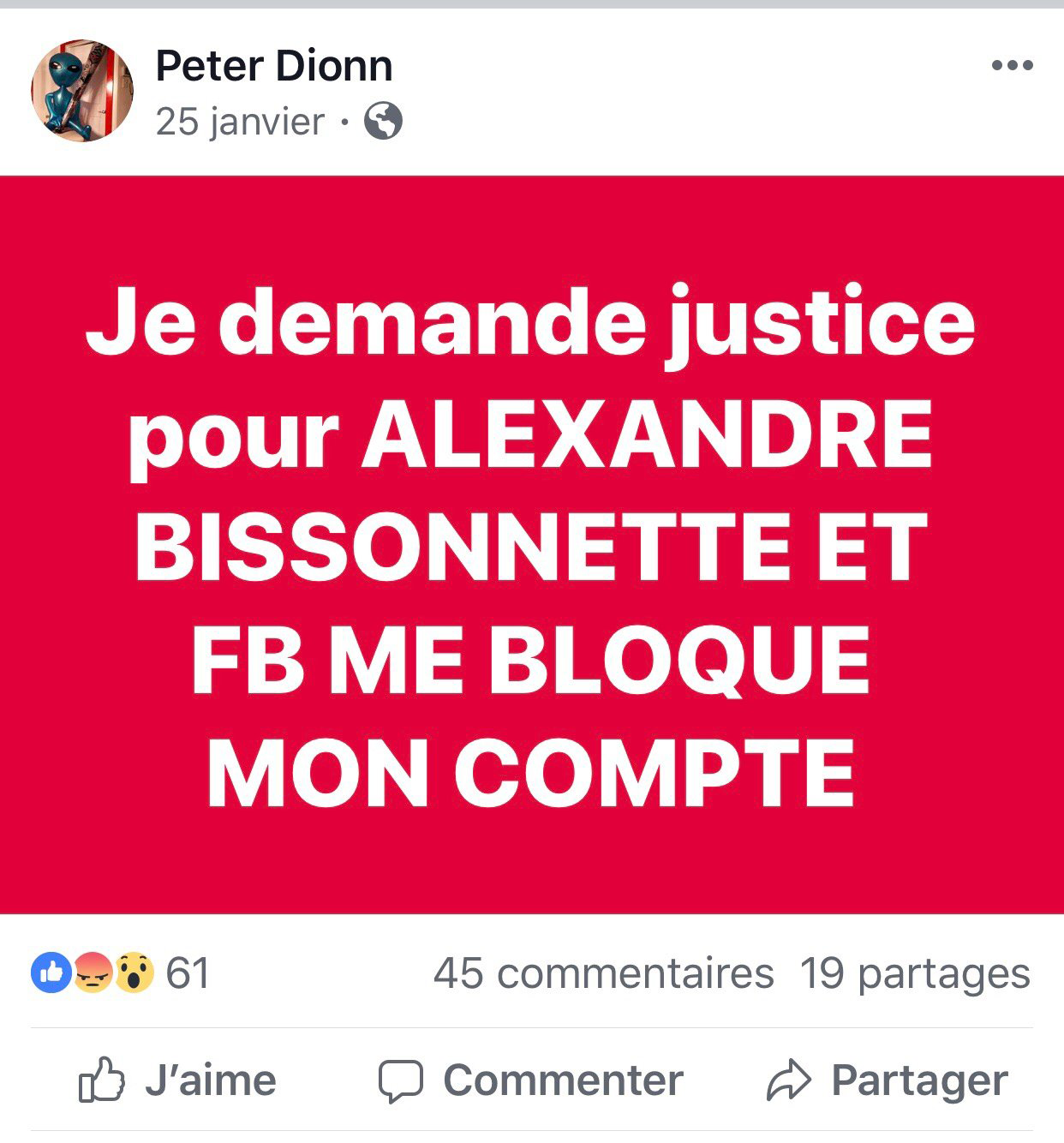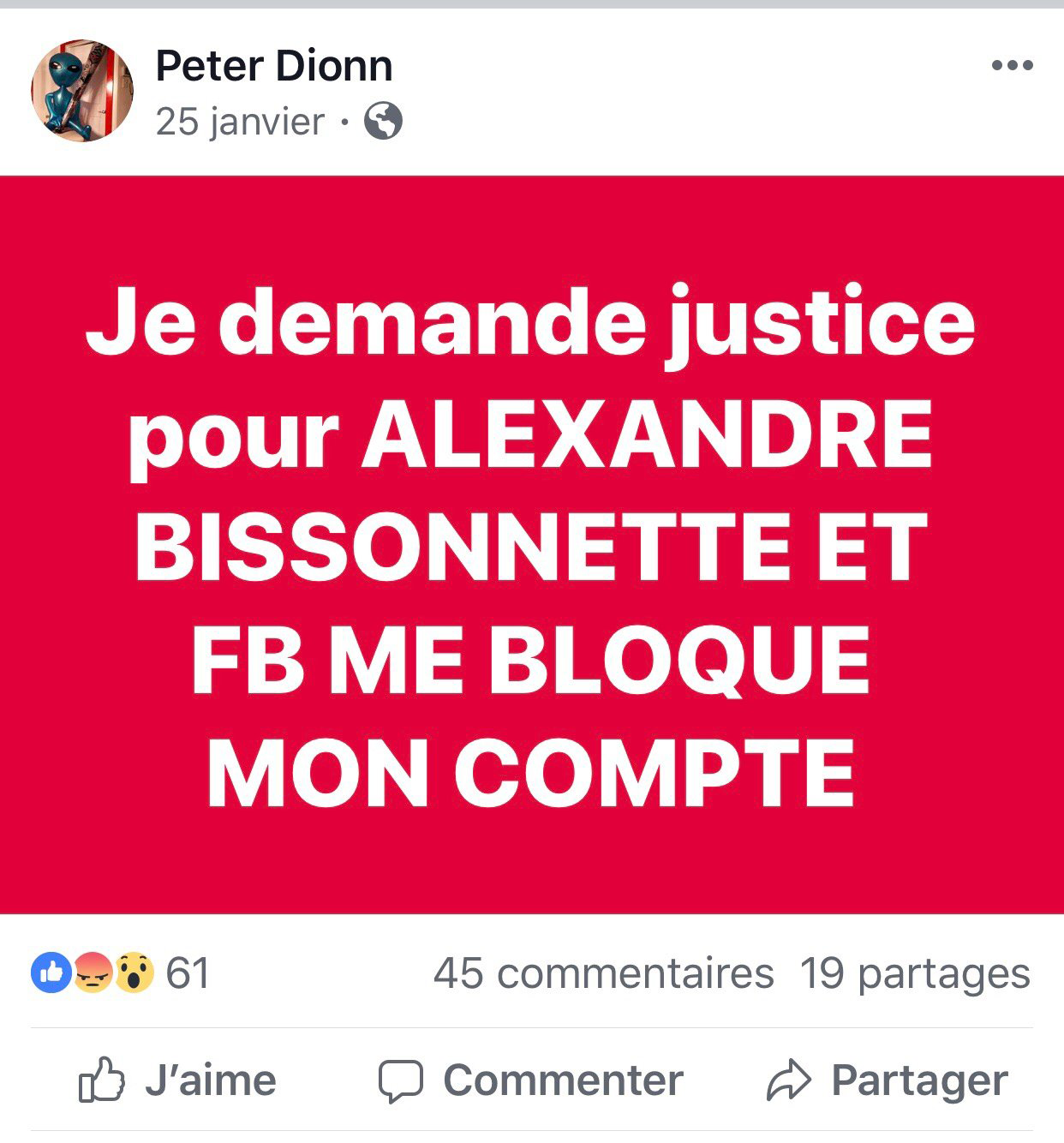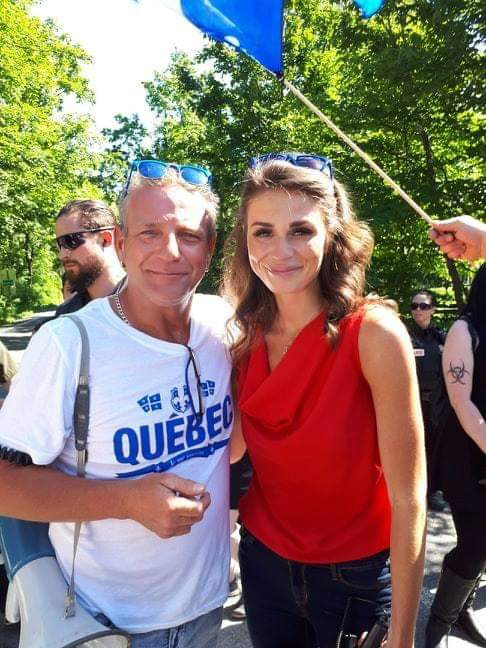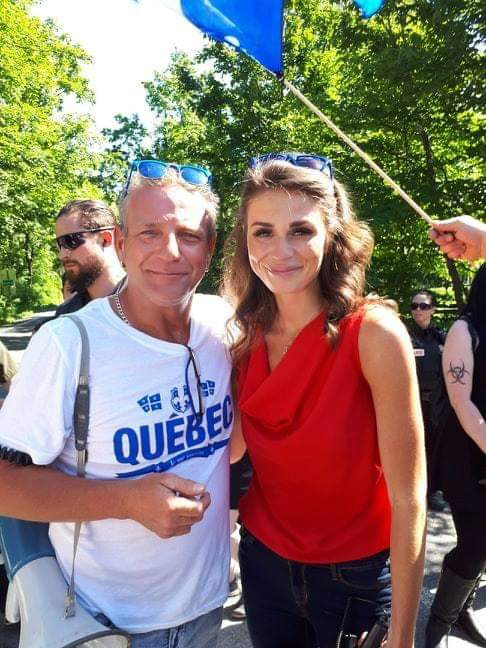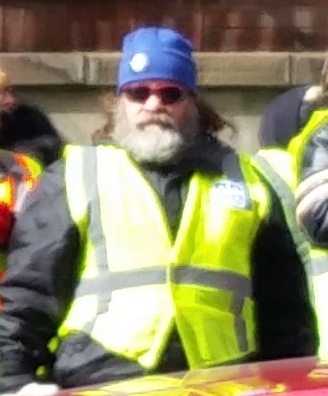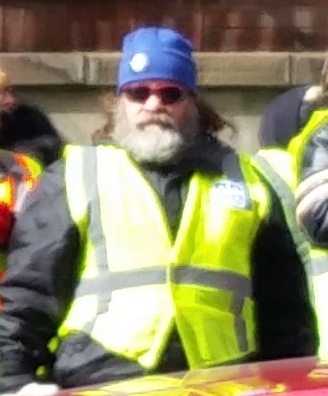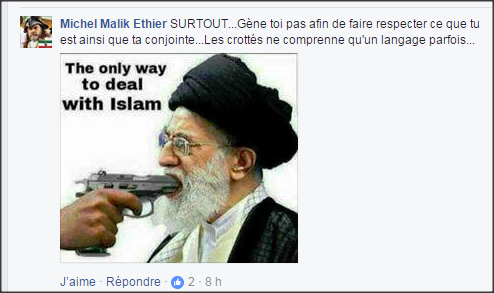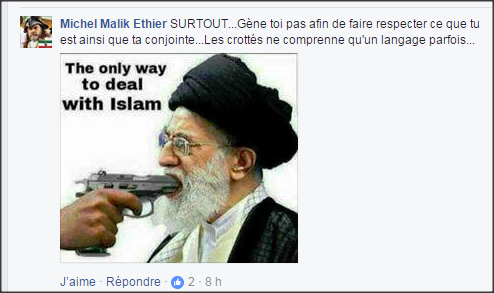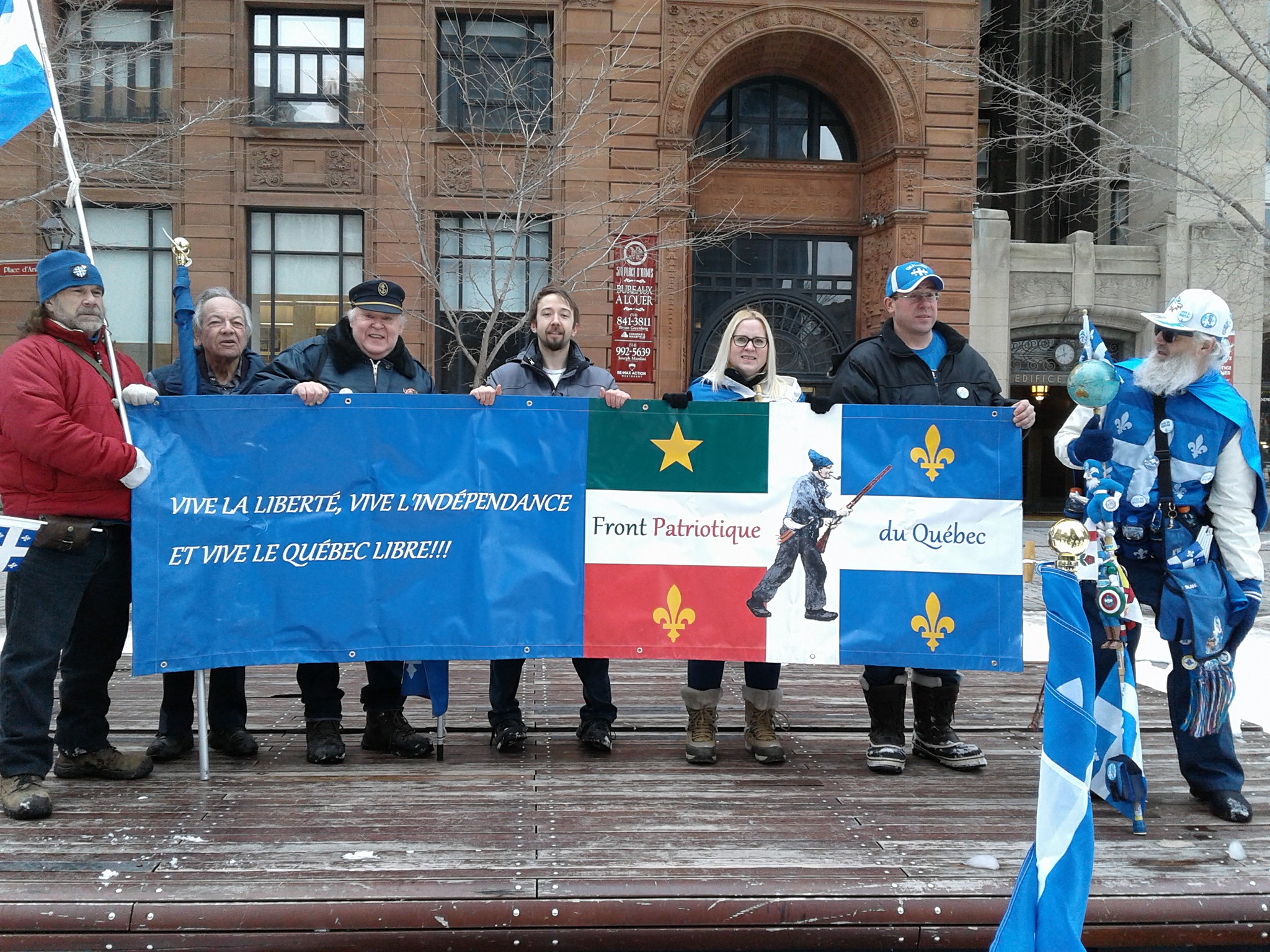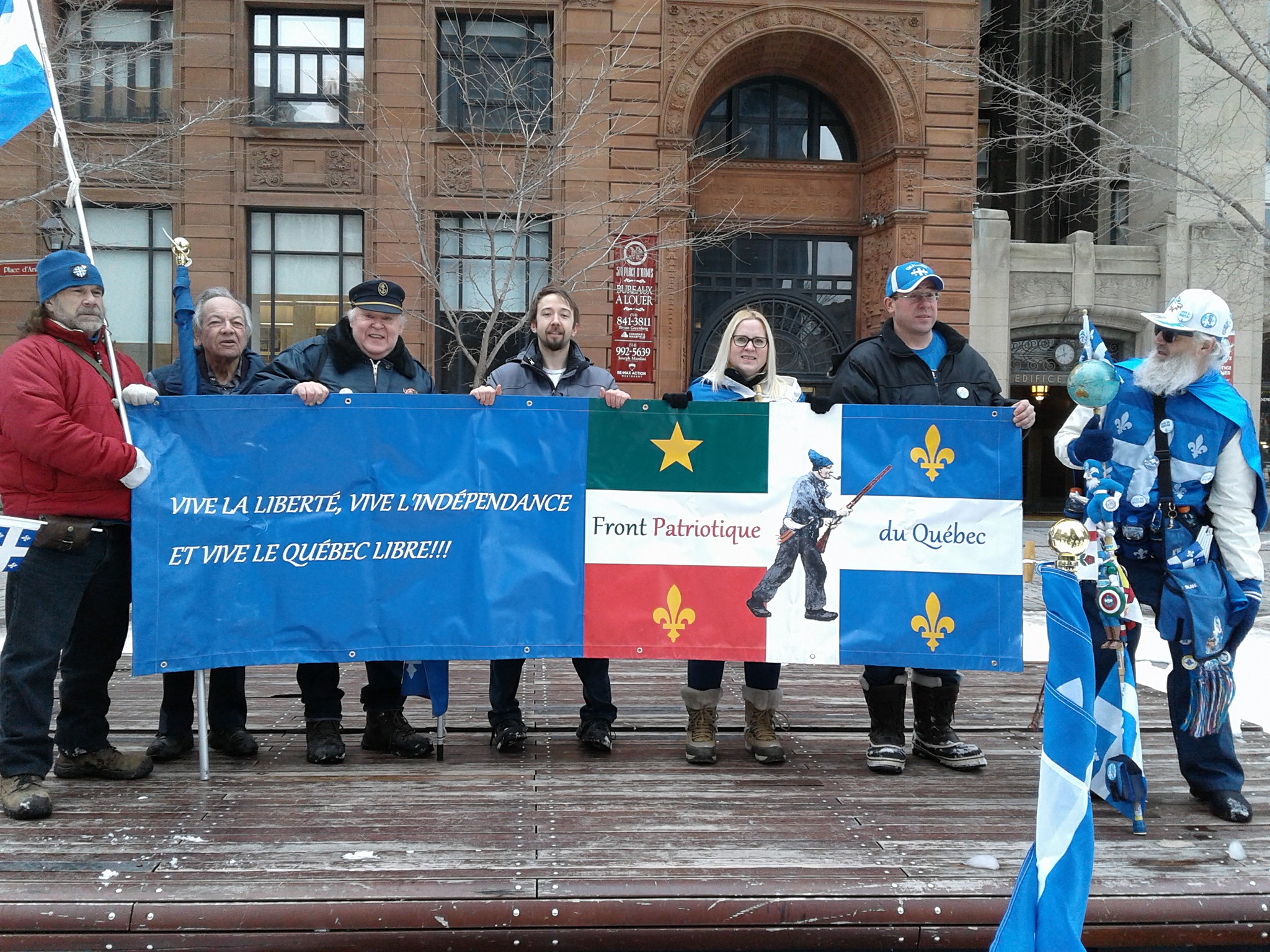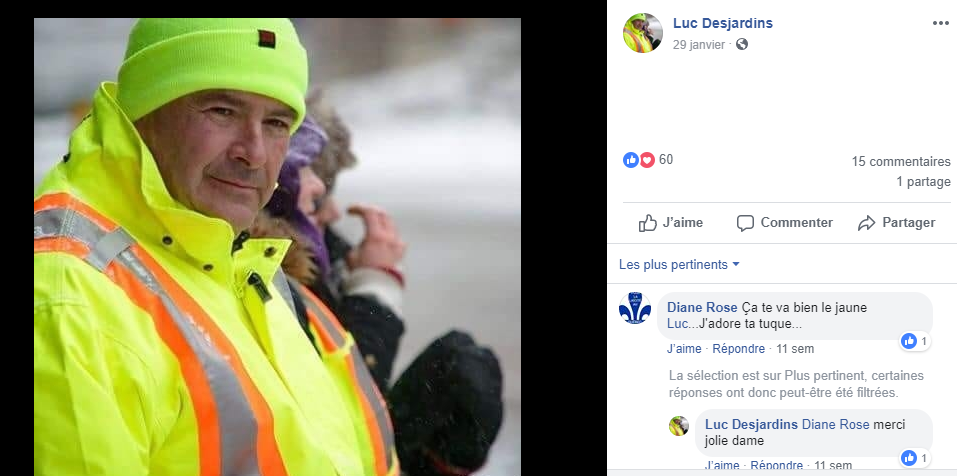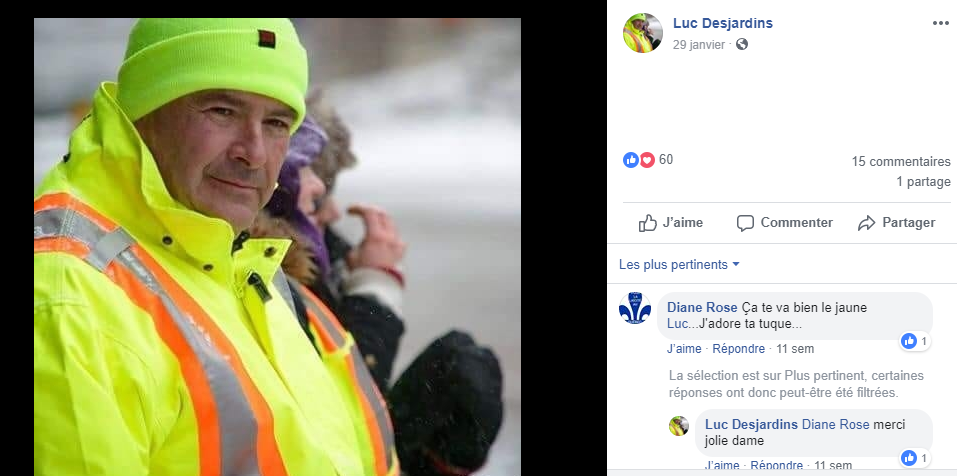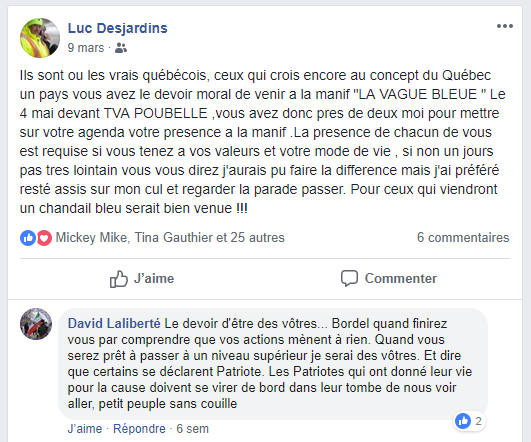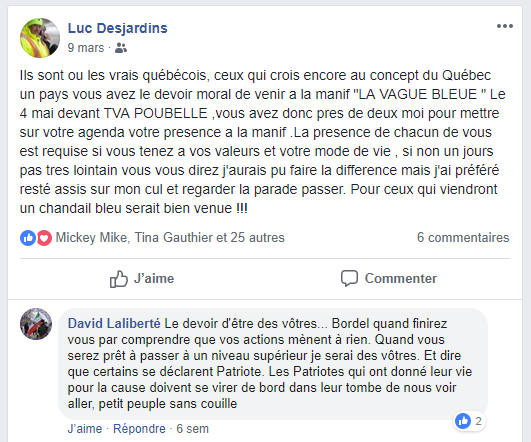 — Storm Alliance (SA) (and its security group, the "DFSA," which stand for Défense fortifiée Storm Alliance [Storm Alliance Heightened Defense]) is also calling on its members to attend the rally. SA, the result of a split within the Soldiers of Odin Québec, made a name for itself by organizing a number of anti-immigrant gatherings in recent years, particularly at the U.S. border. Nadia Fradette, alias Nadia Dumont, a Storm Alliance member, is organizing the buses to the "Vague bleue."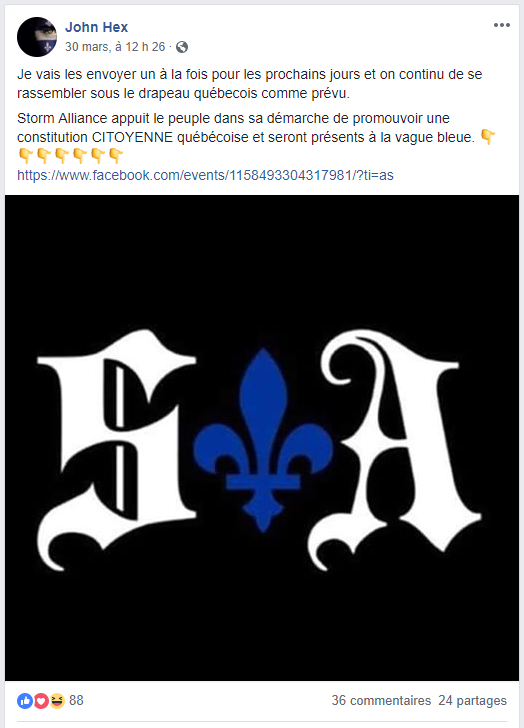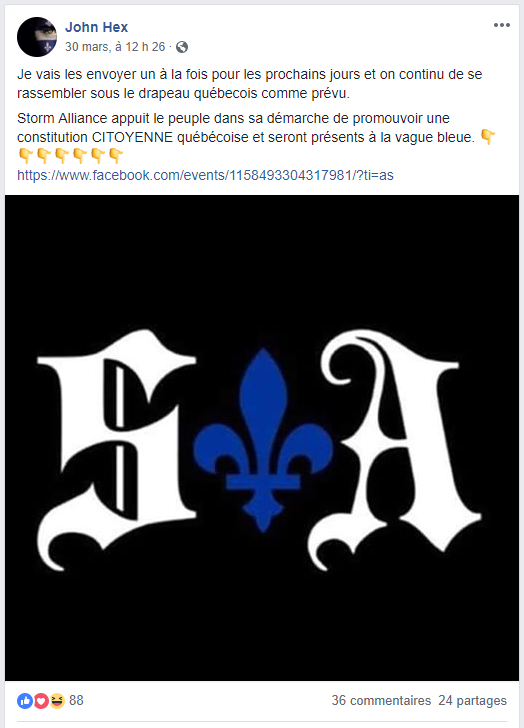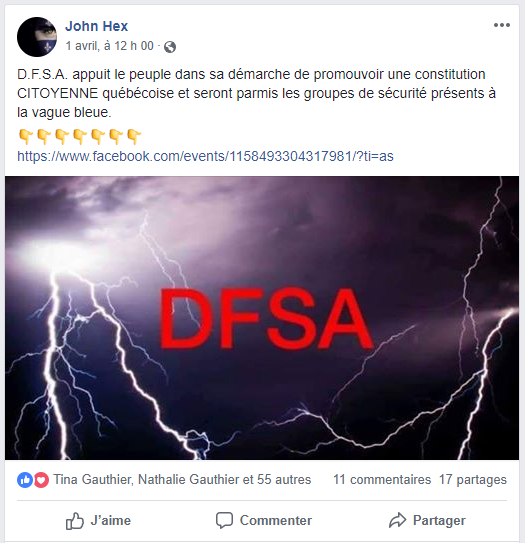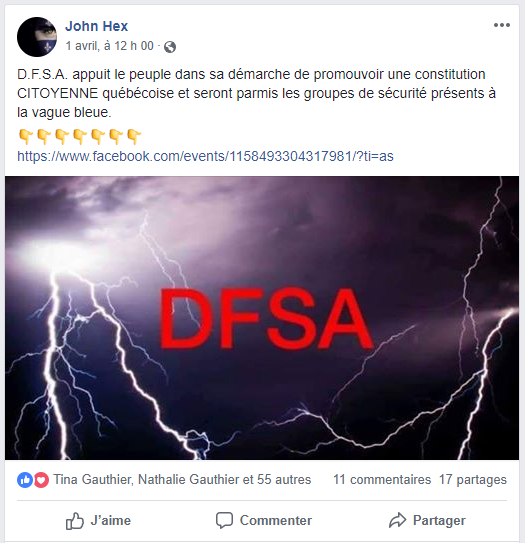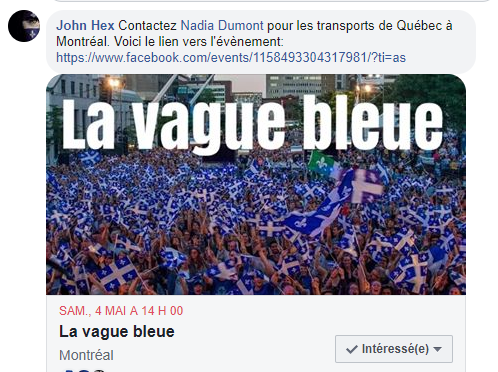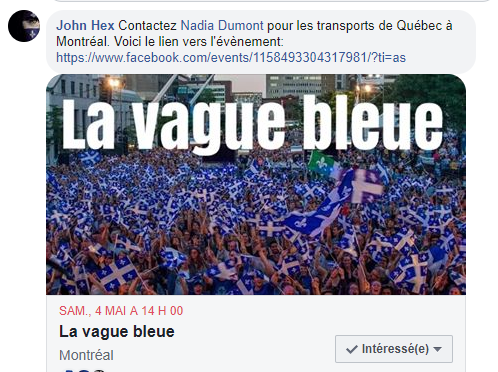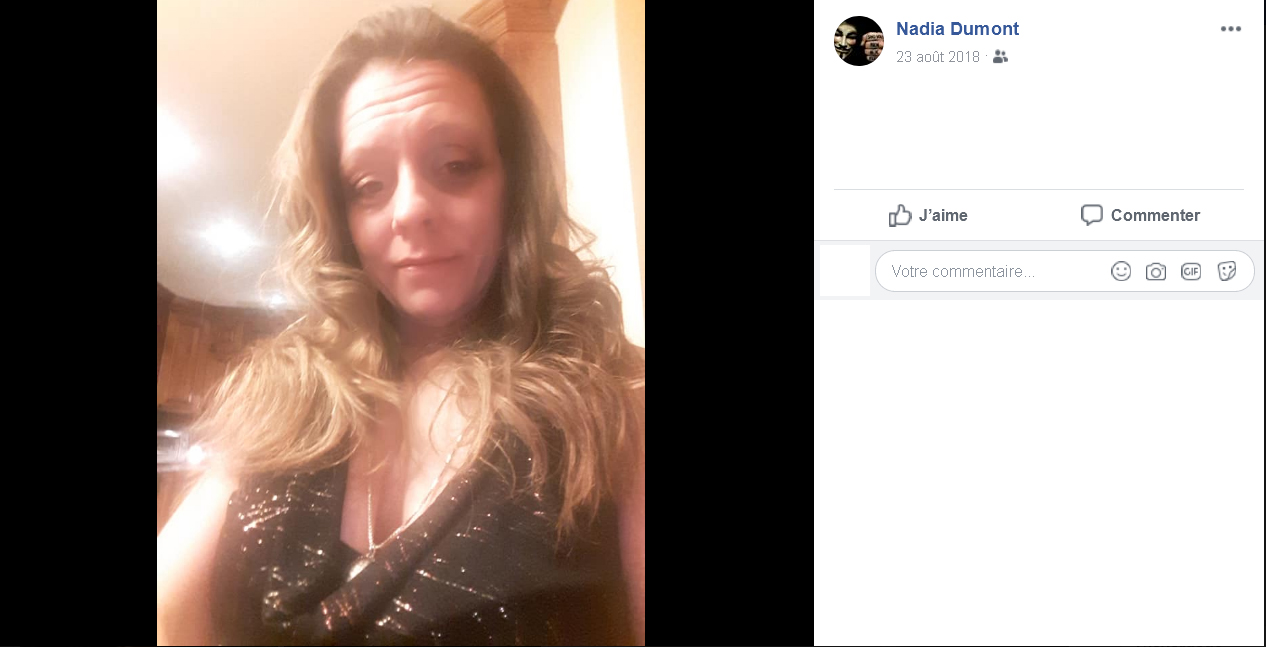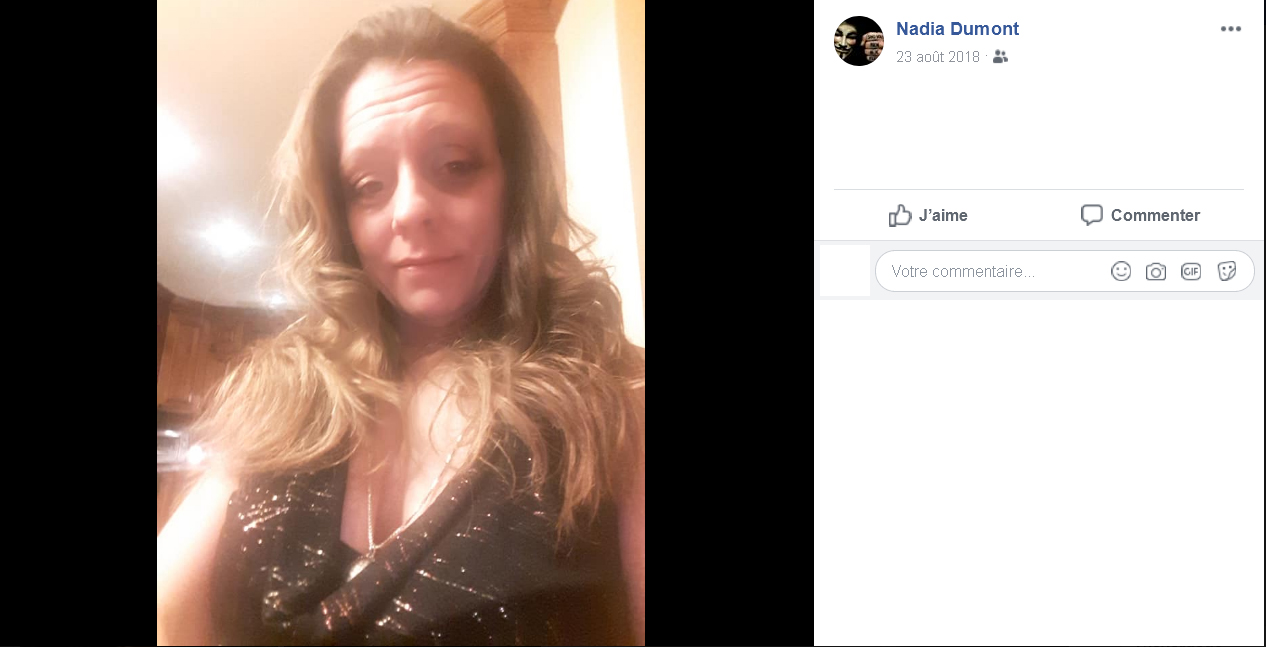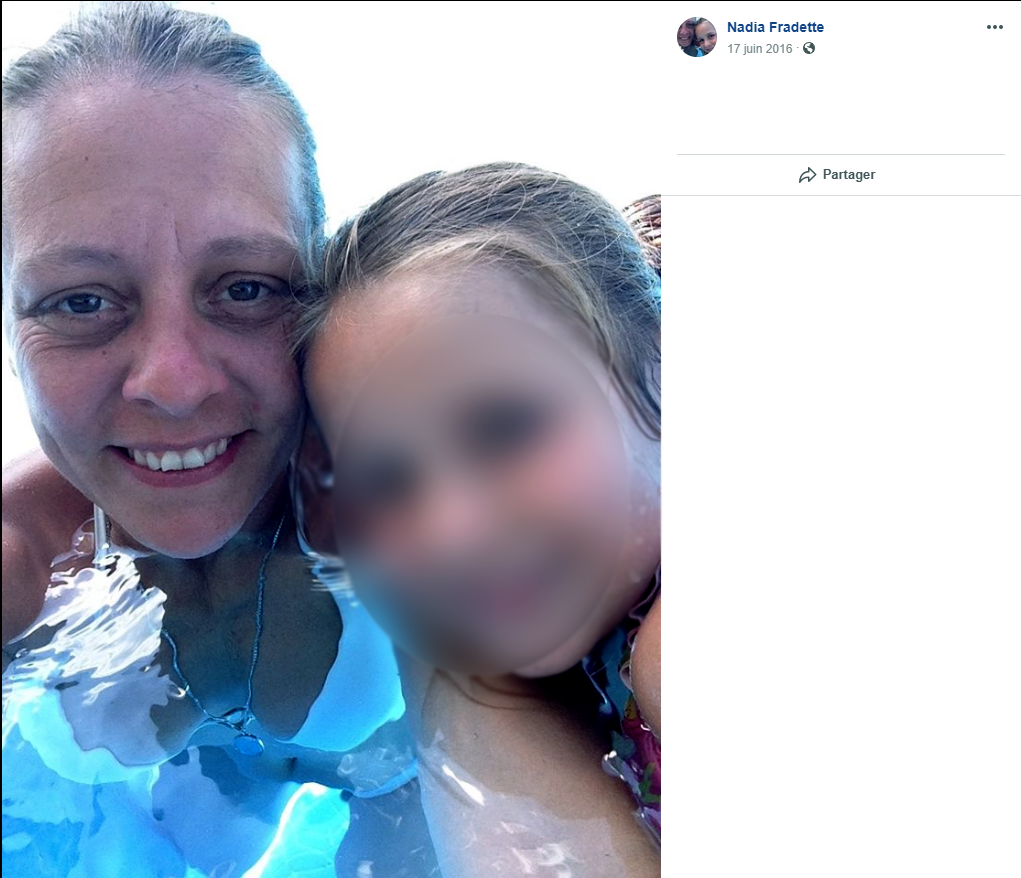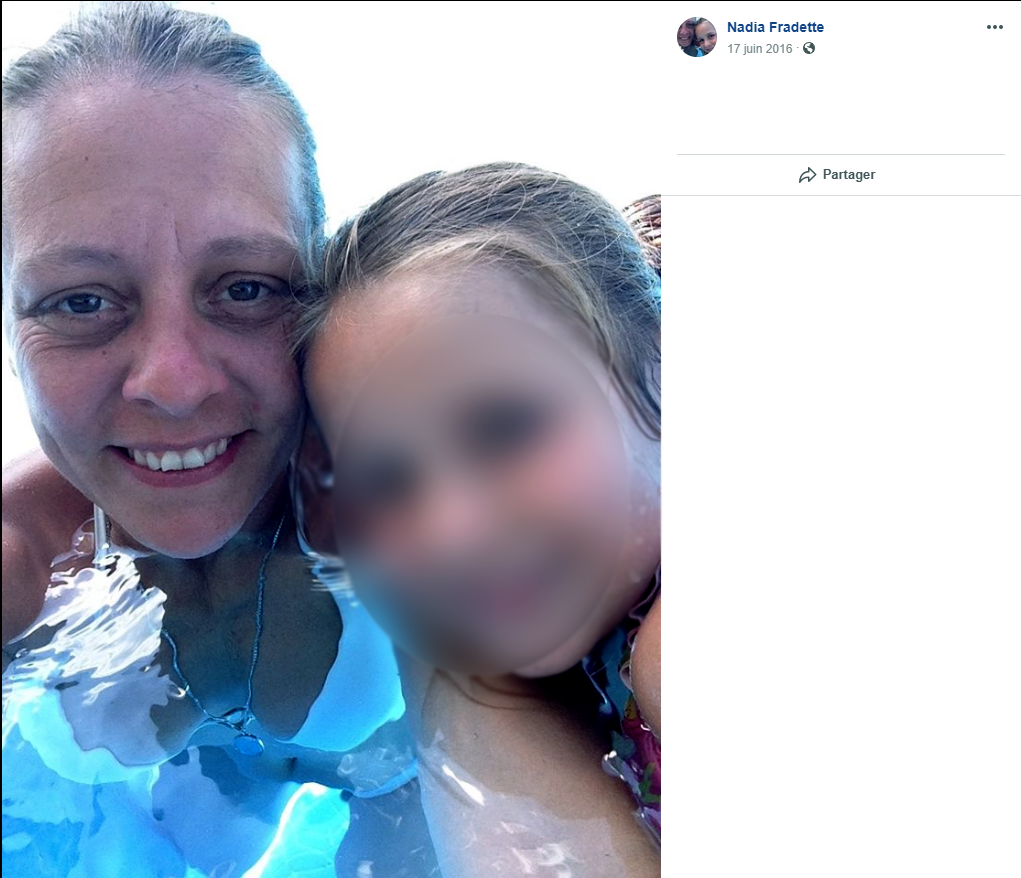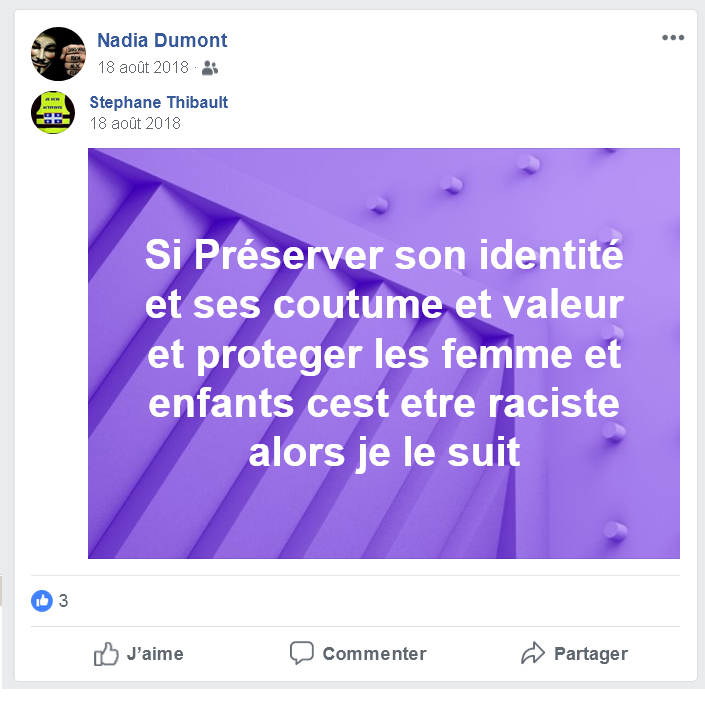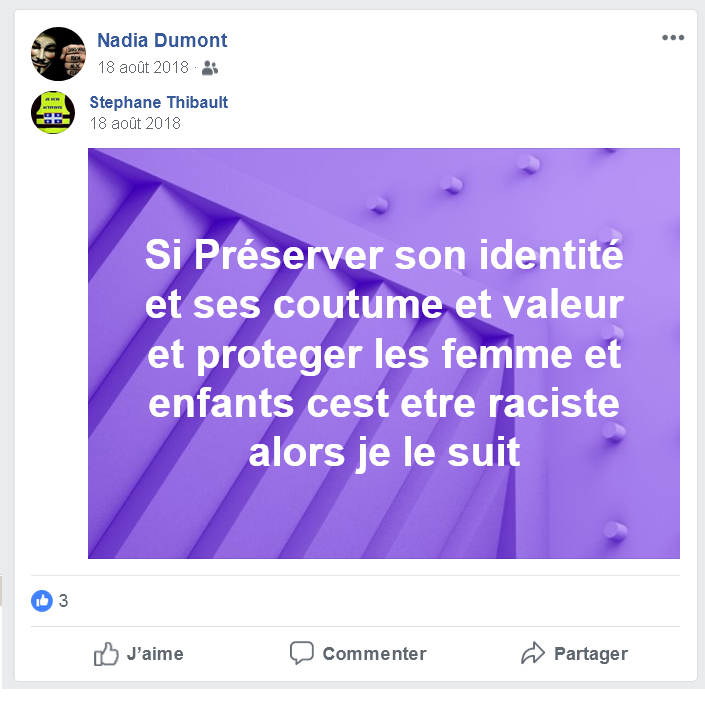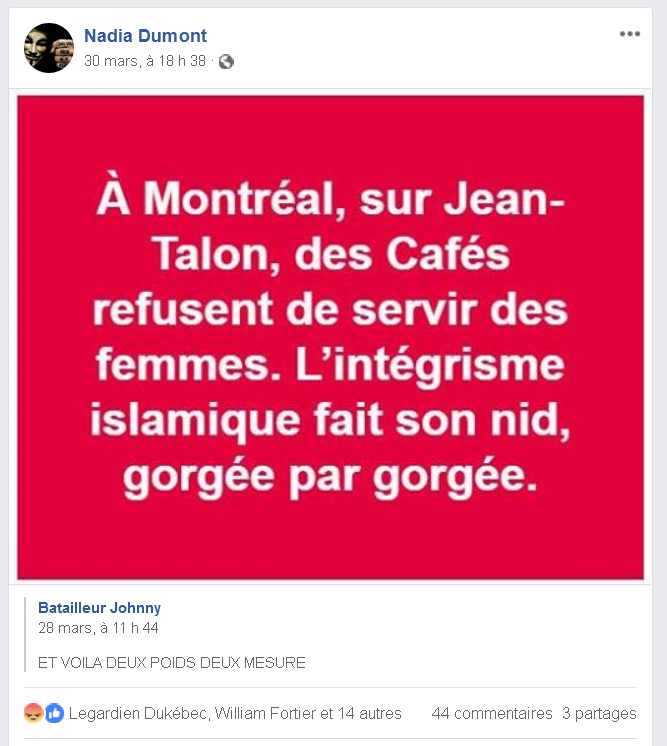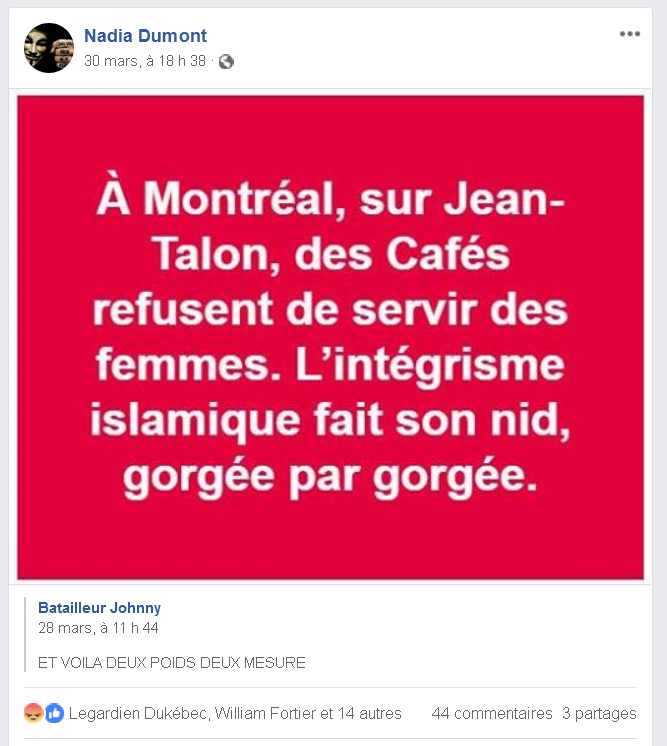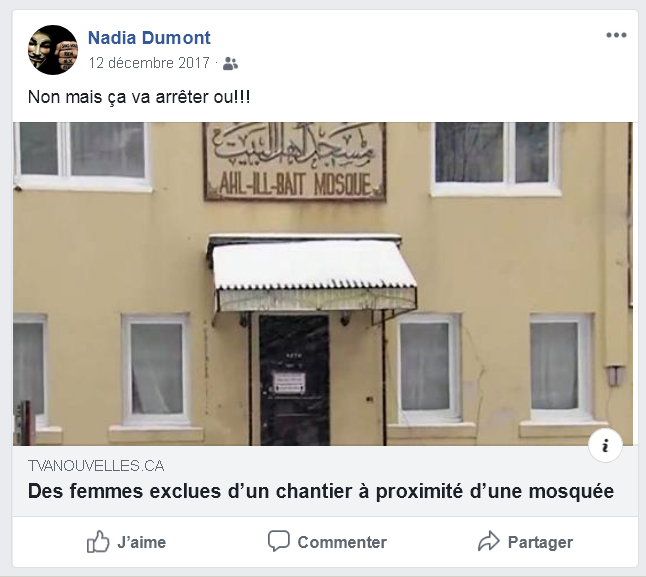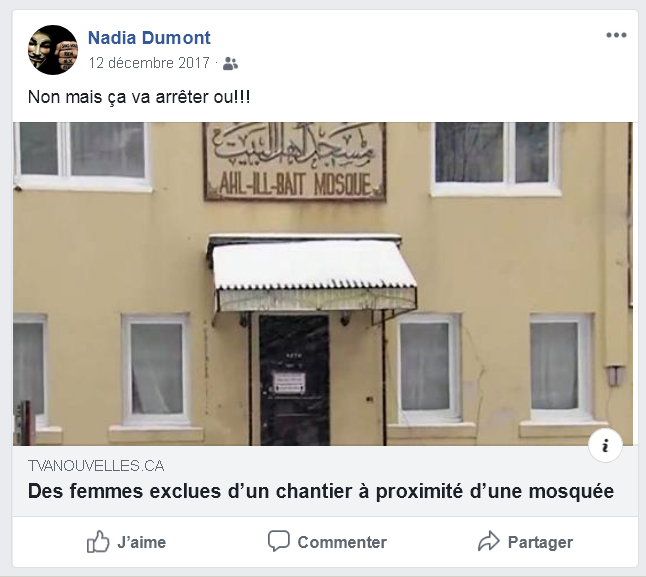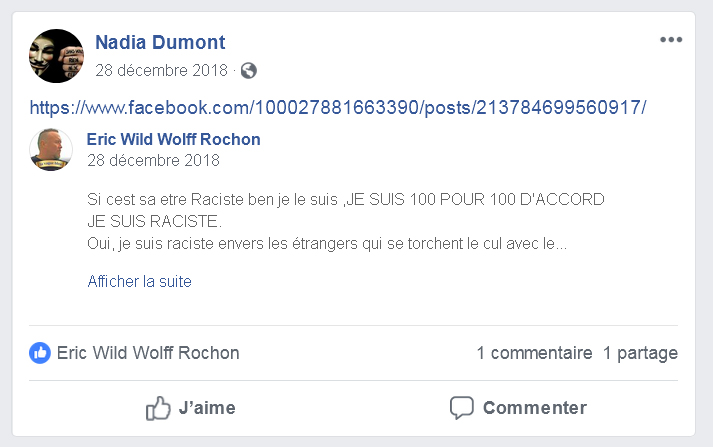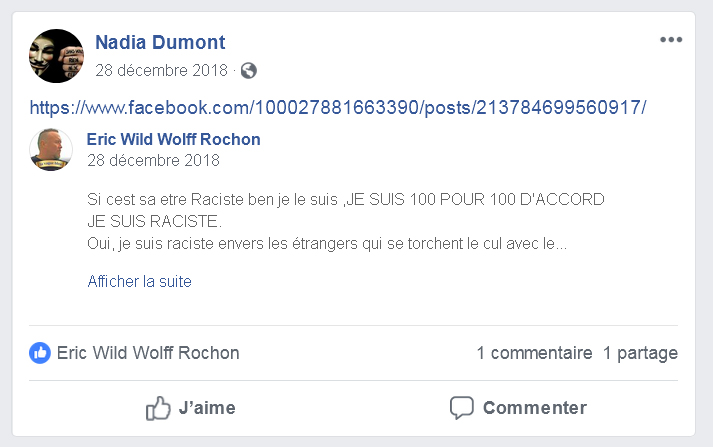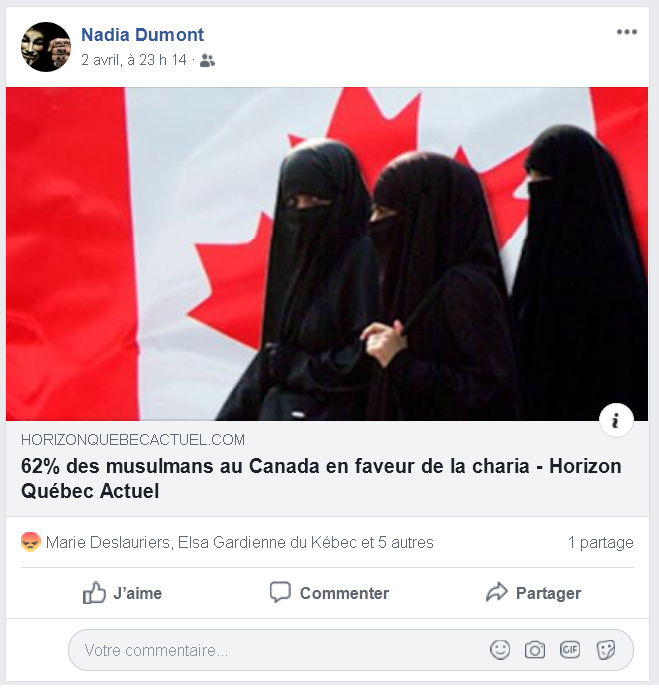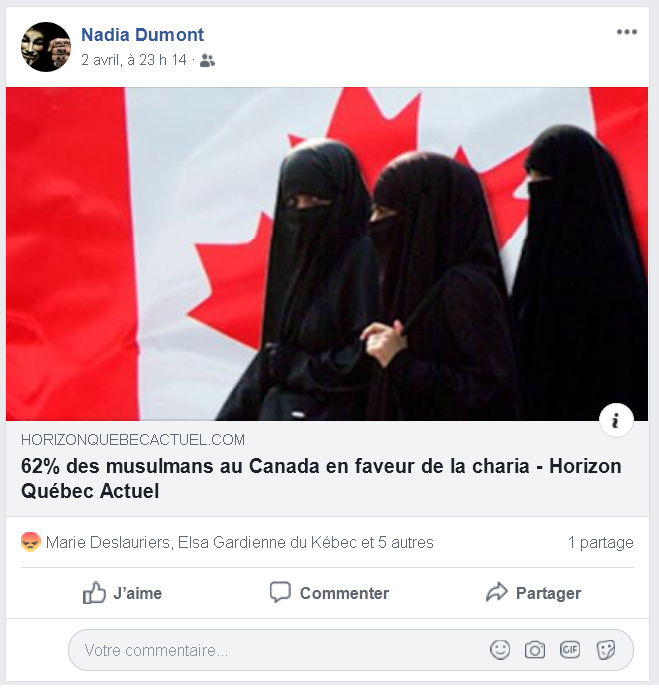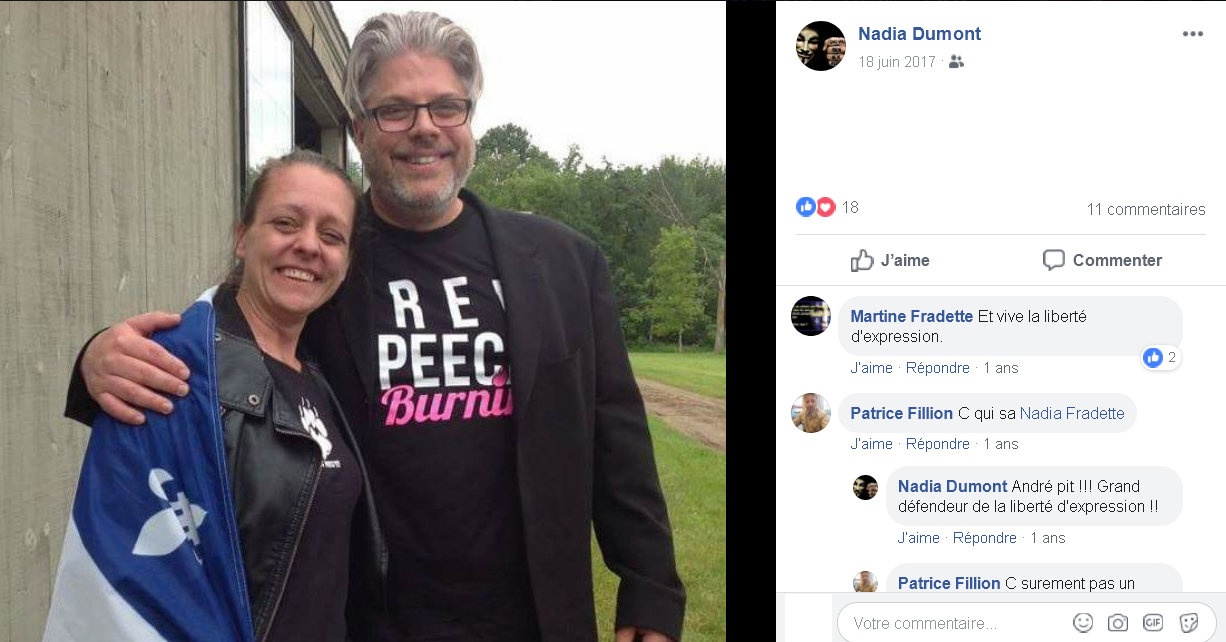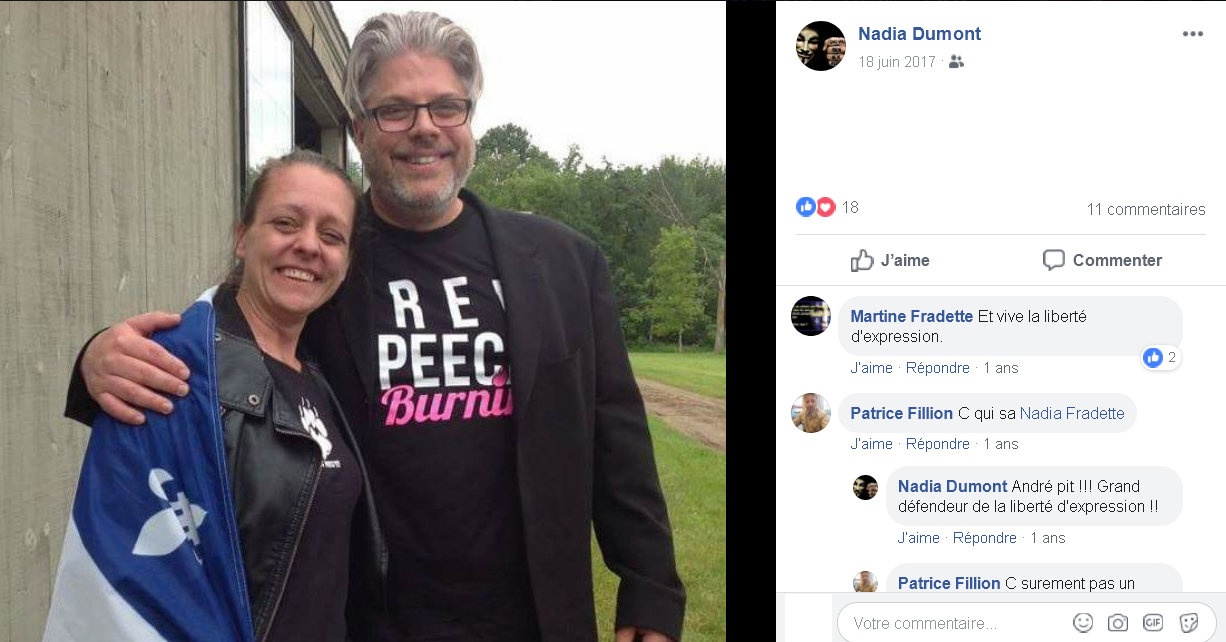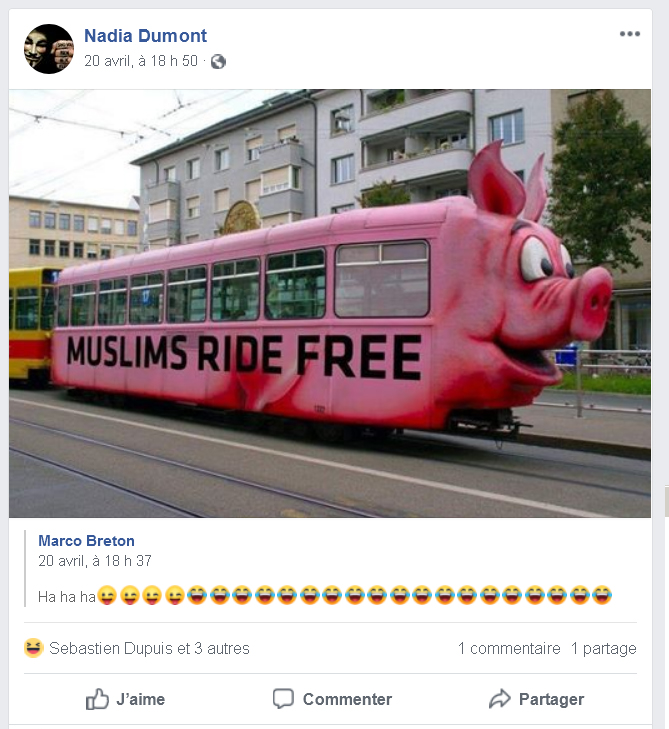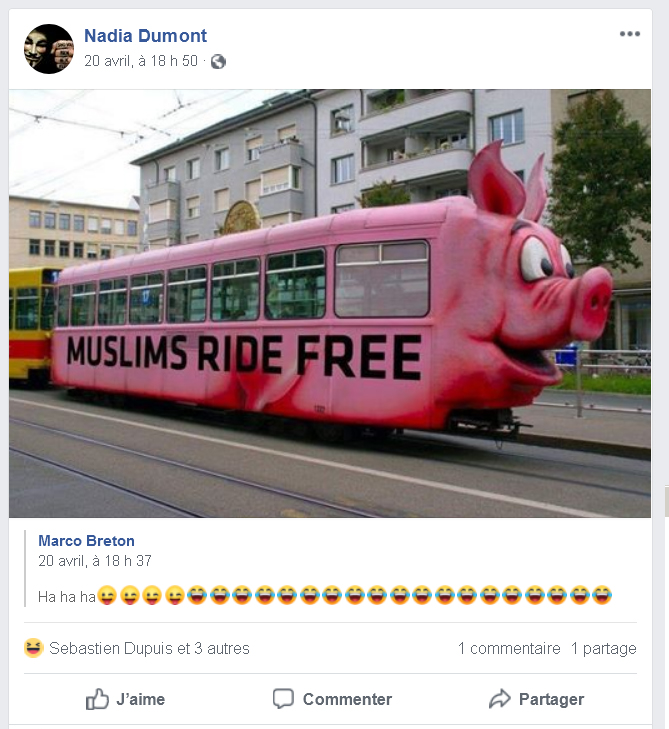 ///
Almost all identitarian groupuscules are mobilizing for this rally, the exceptions being La Meute, which, nonetheless, has authorized its members to attend without flying their colours,  and hard-line fascists like Atalante or the not-so-secret Nazi Fédération des Québécois de souche.
The fact that the presence of notorious Islamophobes and racists like Michel Meunier among "Vague bleue" organizers and the mountain of evidence of the organizers' racist intolerance has not led other militants to dissociate themselves clearly exposes the true nature of this event. It's not a pro-Québec rally but, in fact, an anti-immigrant and anti-Muslim rally.
Montréal is and will remain antiracist. The "Vague bleue" is not welcome in Montréal! It is only with the concerted action of the residents of our fine city that we can block the way for xenophobes and reaffirm the city's welcoming and diverse character.
Because that's how we live here in Montréal!
Anti-racist demonstration against the xenophobic "Vague Bleue" rally
May 4th, 2019, NOON Métro Papineau