Summary
In recent years, particularly with the influence of the U.S. alt-right, the far right has effectively adopted the main contemporary forms of alternative communication, i.e., social media, podcasts, and vlog channels. In Québec, one of the most important populist-nationalist vlogs is that of André "Stu Pitt" Pitre, who, under the pretext of defending freedom of expression, provides a vehicle for Québec's main far-right groups to promote their noxious ideas. Other projects—e.g., DMS—are means for diffusing reactionary, and at times explicitly hateful and / or antisemitic, positions. "Goy" George Tremblay provides another similar example.
André « Stu Pitt » Pitre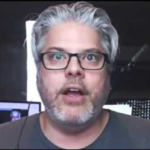 André Pitre is the host of the "TiMinouNoir" YouTube channel. After a professional life doing this and that (perhaps a specialist in feline behaviour?), Pitre reinvented himself as a vlogger at the service of the faschosphere in 2012, in particular offering his services to the Gauchedroitistan platform (another key site for right-wing propaganda) and to Douteux.TV. With the rapid rise of the right in 2016 and 2017—the election of Donald Trump in the U.S., the founding of La Meute, the rise of other populist-nationalist groups, and the Islamophobic massacre at the Québec City mosque in January 2017—Stu Pitt gained increasing popularity, principally serving as the main mouthpiece for La Meute beginning in the spring of that year. During the summer, he went on a Québec tour in "defense of freedom of expression," with La Meute goons providing "security" at his conferences.
In October, he attempted to organize a series of "debates" (really, panels of individuals who were more or less ideologically aligned) at the La Shop bar, in Montréal. Following the first event, and after announcing that he would be organizing a "anti–politically correct" Halloween party, it only took antifascists putting a little bit of pressure on the bar's administration to have the series cancelled. Doubtless inspired by Goebbels and Adolf, for whom a lie repeated a thousand times became the truth, Pitre has been a veritable broken record, endlessly ranting about antifascists being a "domestic terrorist group." He regularly hosts people from the faschosphere in his new "secret" studio and conducts a permanent social financing campaign to continue his activities.
DMS (Dans mes souvenirs)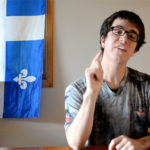 DMS is a duo of ultranationalist videographers, Maxime "DaMcLuv" Morin and Guillaume "Caporal Chef" Beauchamp, who have a serious penchant for the xenophobic, Islamophobic, transphobic, misogynist, and antisemitic.
Maxime Morin is a former Concordia student, who was actively involved in the campaign to strip student groups on campus of automatic funding. He launched his career as a "socially engaged" videographer shortly after being forced out of a demonstration protesting the inauguration of Donald Trump, in January 2017. He had a trouble with the rough handling he received from the antifascists present (to be clear, he showed up with a pro-Trump placard and a small megaphone to harass the protesters). Morin has since made it his mission to unmask the "antifa," producing (low-quality) videos that expose the alleged links between different individual militants and radical groups in Montréal. In September 2017, Montréal Antifasciste examined Maxim Morin's communications, in particular his Twitter account, only to discover that he shares a lot of former Grand Wizard of the Ku Klux Klan David Duke's explicitly or implicitly antisemitic tweets. He is also a strong promoter of the idea that the slaughter at the mosque in Québec City on January 29, 2017 was a "false-flag" operation.
Looking at the videos posted on the DMS YouTube channel, quickly makes clear the animators' reactionary, and particularly transphobic, sympathies.
If Maxime Morin is the "brains" of the operation, Guillaume Beauchamp undoubtedly fancies himself to be the man on the ground, the Maxime Landry of the far-right dunce club. He's the one who goes to the demos armed with a camcorder to film what interests Québec's racists and reactionary nationalists. It was also him who, apparently after nearly getting his ass kicked in December 2017, posted a hysterical video, where, fairly wasted and visibly shaken by the experience, he declared war "to the death" against the antifascists. The action film playing in his head was both badly written and poorly performed (but half a star for effort and for the good laugh provided). Beauchamp turned up again a few months later, this time disrupting a UPop course on the far right at the Zone Libre bookstore.
The DMS boys are constantly begging their fans for cash donations to continue providing their invaluable service (without actually producing very much). In November, they posted a video calling on their "fan base" to step up and help them get out of the financial jam they were in. In spite of the generosity of their admirers, Guillaume Beauchamp was nonetheless evicted from his apartment in December after having failed to pay his rent for two months (source: Régie du Logement). A little later, during an appearance on Stu Pitt's show, the boys were once again begging for money, this time to cover the cost of a "top secret" event. Once again, nothing came out of this fund-raising campaign, and the fans of these two clowns are still waiting for some return on their investment…
Following the leak of the Montreal Stormer Book Club Discord chat logs, a chat forum for closely vetted neonazi activists and sympathizers from the Montreal area, it was revealed that Maxime Morin had joined the neonazi group in January of 2018, shortly before the chat was deleted by its worried administrators.
George « Goy George » Tremblay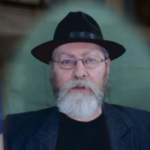 George Tremblay is a antisemitic conspiracy theorist active on YouTube. In a style that you might politely call "sluggish," if not to say "constipated," this guy, who ever so "cleverly" calls himself "Goy George," babbles incoherently about the hidden hand of the Jews and the globalists. But it doesn't stop there. The ever-agitated Tremblay takes on the entire political establishment, sweeping everyone and their dog into a grand conspiracy, including the populist-nationalist groups like La Meute and Storm Alliance! Tremblay only warrants being mentioned because he represents a current that trivializes antisemitisn in a way that directly calls to mind (and this is no exaggeration) 1930s Germany. History has taught us that it is dangerous to ignore or laugh off this sort of crap.
It is with some surprise that we note that this great mind has hundreds faithful followers on social media, including a fair number of the fascists profiled elsewhere on this site.
Nomos TV
Nomos is the online channel of the identitarian nationalist pressure group Horizon Québec actuel hosted by Alexandre Cormier-Denis et Sengtiane Trempe. For all intents and purposes, Nomos is a Québec-based Front National vehicle. The site hasn't been very active since Cormier-Denis's electoral campaign in the by-election in the Gouin riding of Montréal in spring 2017 proved to be a spectacular flop.
Les Exilés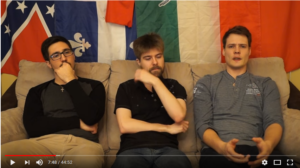 L'Occidé Québec is the Exilés's video channel. The Exilés are a trio of pseudo-philosophers, Félix Brassard, Michaël Lauzon, and Samuel Vanasse. While behaving as if they rise above the fray and placing themselves beyond of the left-right spectrum, their portrayal of "the politics of the day" locates the Exilés firmly within a current that normalizes conservative, right-wing, and far-right ideas. A quick look at their channel is enough to prove that they are resolute members of the nationalist right, which a closer examination quickly confirms.Their channel is the logical extension of the defunct nationalist vlog Les Fils de la Liberté.
In the "I'm no one in particular, and I don't have much going on upstairs, but I have an opinion, and you're going to hear it" category
At the same time as she proves that an opinion is like an asshole (everyone's got one), Josée Rivard also proves that an asshole can have an opinion—on everything! Rivard provides the most omnipresent example of a mode of expression that became very popular in Québec in 2017: the reactionary vanity video shot in a car. The concept is straightforward enough: film yourself in your car losing your mind about something in the news, usually about Muslims, immigrants, the Liberals, and / or the left's diabolical control of the government and the media.
There can be no clearer sign that these are the End Times than the fact that Josée Rivard has 26,000 Facebook followers.